Here's a treat for all you gear nerds.
A few weeks ago I found myself with a spare morning (or at least, the disinclination to fill it with anything more useful), and decided to spend it clearing out my panniers, going through all my stuff, tidying, itemizing, editing and repacking it all.
I was staying with a couple who have almost a century of hiking and bike touring between them, and who have, over the years, whittled down the amount they carry to almost nothing. The contrast with my bulging panniers couldn't be greater, and I'm quite embarrassed by how many duplicate pieces of kit I've been carrying, unused, for the last thousand miles – just in case. Of course, I didn't know when I started this trip exactly what I'd need to keep me alive, and was terrified of the thought that I might perish somewhere along the lonely wastes of the Alaska Highway for want of that fifth baselayer. For future winter rides, I reckon I'll be able to carry about two thirds of my current load.
So here's a peep into my panniers. I haven't edited the contents in any way – I just emptied out what happened to be in them on that particular day, so you'll get an authentic snapshot of what I might be carrying at any given moment, food wrappers and all.
Sleeping system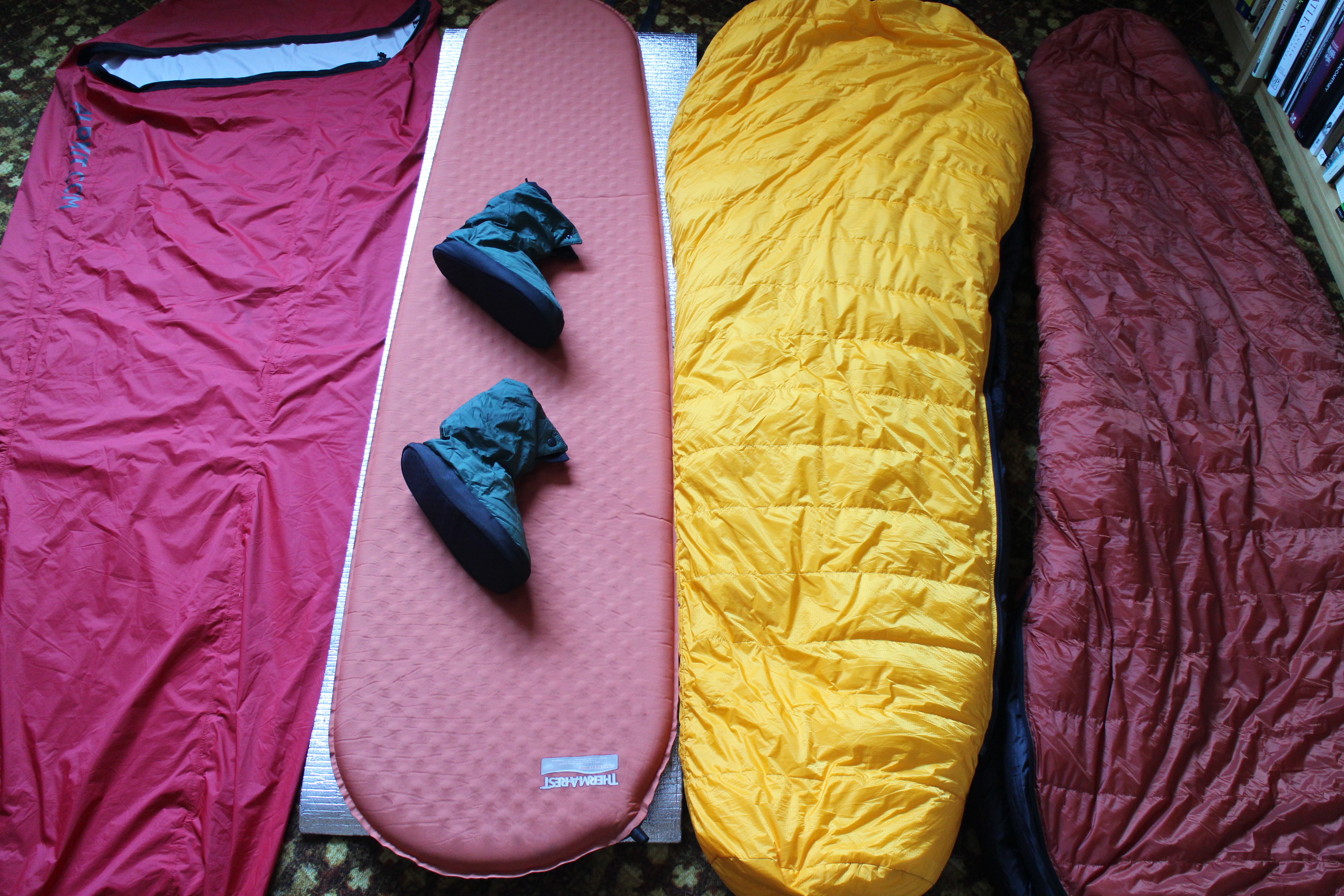 Here you see (l-r) a large bivvy bag (Alpkit Hunka), an inflatable mat (Thermarest), with a foil-backed foam mat (Mountain Warehouse) underneath it and my down booties (REI) on top. The yellow sleeping bag (PHD Hispar 600) is meant to be good down to -21C, and the orange one (PHD Hispar Combi) down to -6C). Together, I was informed, they provide a sleep system suitable for -45C, though I've found I get a bit shivery anywhere below -40. (Not necessarily an inadequacy in the bags – it could also have something to do with what else I'm wearing, how tired/hungry I am, how much moisture the bags are holding (if I don't get a chance to dry them for a few days, they end up losing a lot of their loft) and how long I spend sitting around cooking and eating after getting off the bike and before getting in the bags.)
To pack this up, I put the booties at the bottom of the yellow sleeping bag, put the yellow sleeping bag inside the orange one, and roll the result up with the (deflated) Thermarest inside the bivvy bag. That way it's all very quickly accessible in an emergency, and also makes for minimal faffing in that tired period after I get off the bike and just want to be asleep. The foam mat rolls up separately and sits on the top of my rear rack.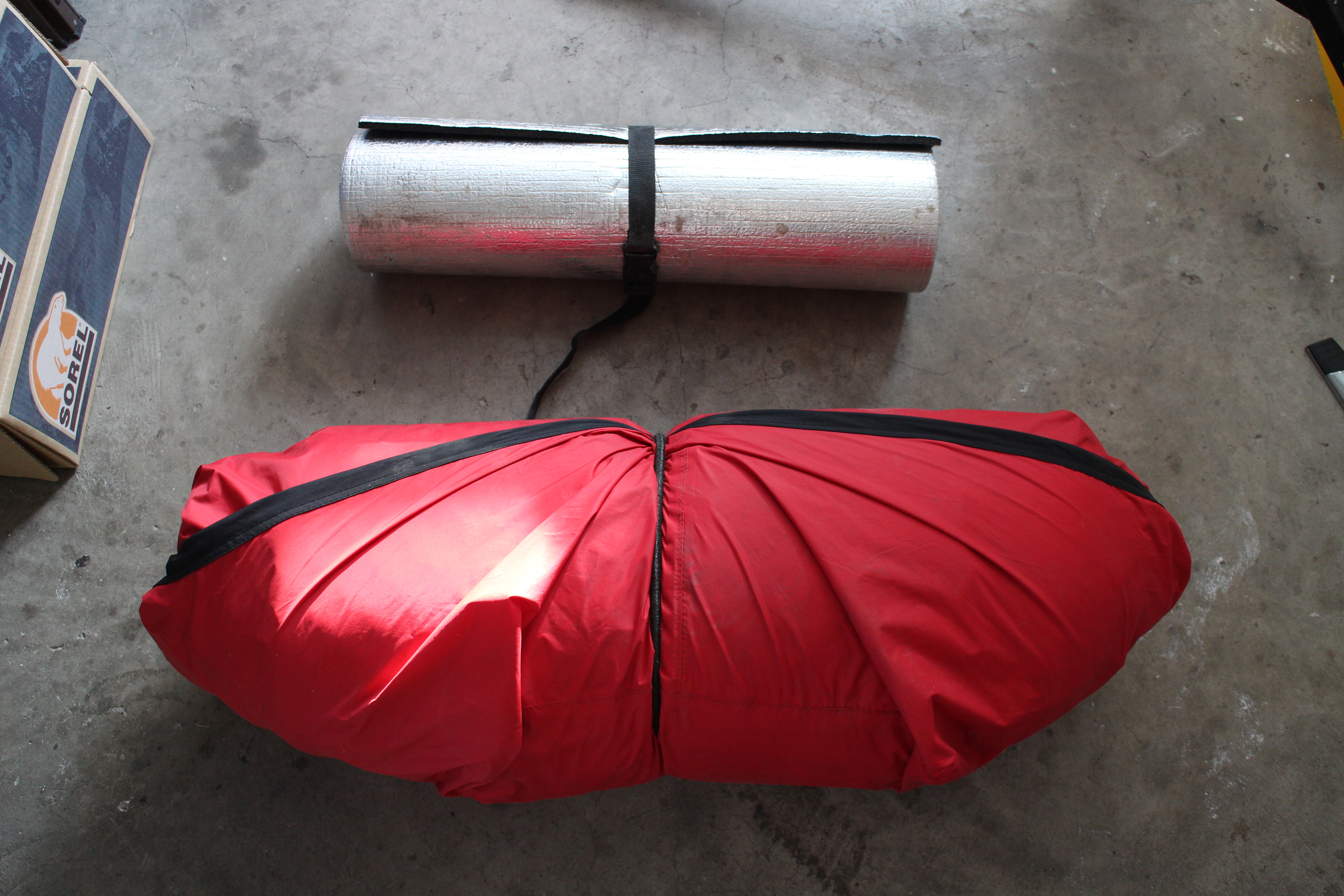 The final part of my sleeping system, I suppose, is my tent – in this case a Hilleberg Soulo, of which I'm very fond, because it's robust, cosy, freestanding (vital in conditions where the ground's frozen solid and you can't hammer in pegs), vents well and goes up and down very quickly. It packs into a neat bag which I strap onto my Alpkit handlebar harness.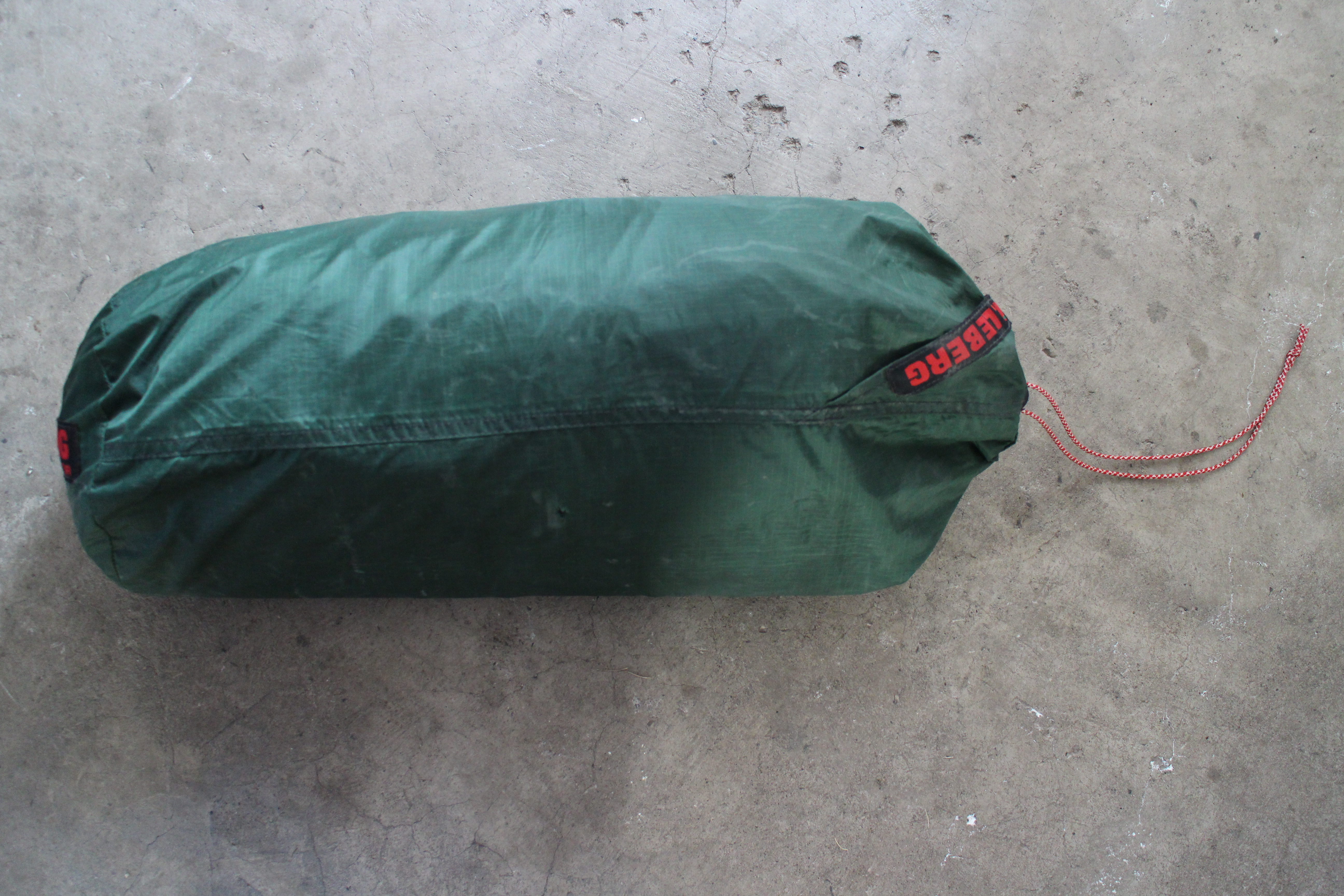 Rear left pannier
This is my more accessible pannier (since I always dismount on the left side of the bike and lean it on the right side), so it contains everything I'm going to need for a night in the tent, meaning that in many cases I can leave the other pannier attached to the bike. (Let's pretend this is motivated by efficiency rather than laziness.)
Here you see (roughly from top to bottom):
spare boot liners (courtesy of Tom in Palmer)
blue drybag containing (far too many) chargers and batteries
studded rubber soles for boots (courtesy of Richard in Iskut)
miscellaneous Ortlieb spares, elastic straps, plastic bags and puncture kits
small bag containing pens, and an eyeliner pencil I've never used
net bag containing titanium cooking pot, silicone bowl and cup, spork, and miscellaneous cooking stuff
firelighters
drybags, cotton bags and the stuff sacks from my sleeping bags and Thermarest
file of Important Documents
Heet for alcohol stove
MSR fuel bottle (currently empty)
MSR fuel bottle with MSR pump attached (currently half full)
stove (MSR Whisperlite Internationale), in bag that also contains spare pump (broken), spare matches and foil screen
spaghetti
pile of letters, photos, emergency LRB and other mementos
You probably want to know what's inside the drybags, don't you? Of course you do.
Here's all the chargers I'm carrying. I hate the amount of space they take up. This is one of the things I most urgently intend to address for future expeditions.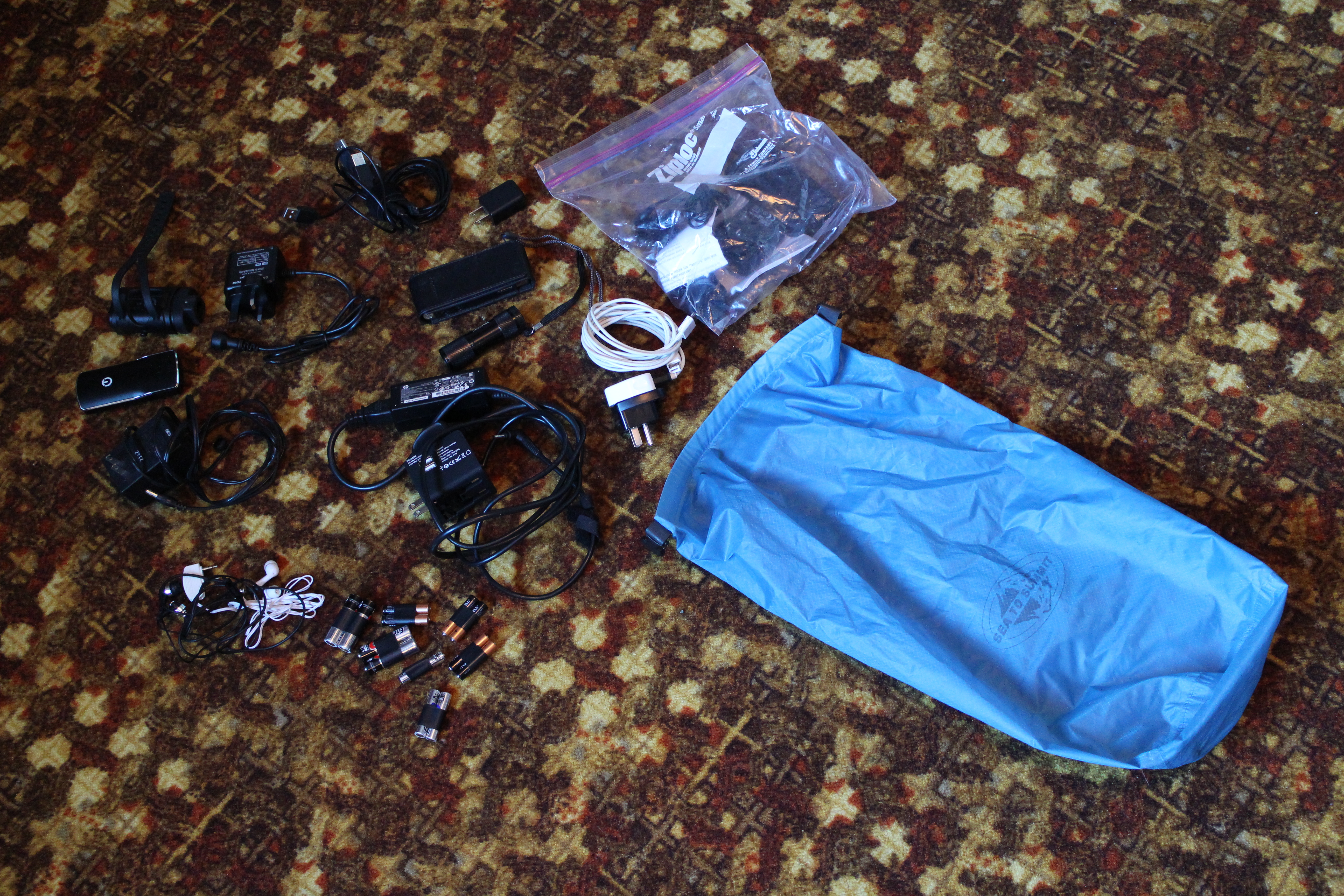 Roughly from top to bottom, left to right, this is:
spare battery pack for front light (Light & Motion)
charger for L&M batteries
handful of assorted USB connectors
USB converter
complicated universal charger for camera
dictaphone
external battery charger (for iphone; courtesy of Tom in Palmer)
small torch
iphone charger
charger for other front light (not currently working)
laptop charger
two sets of headphones I never use
spare batteries (AA and AAA)
And here's the contents of my cooking pot.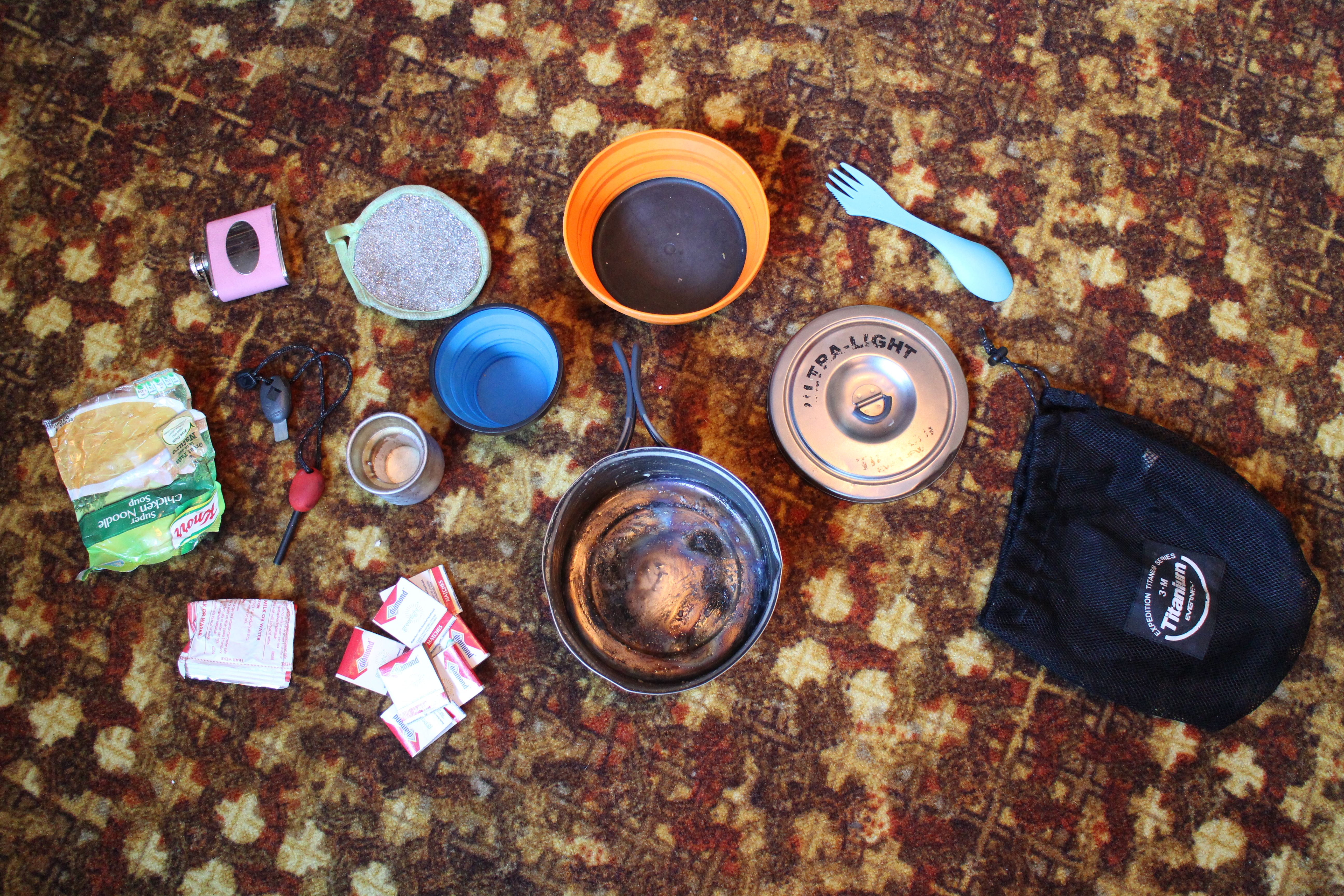 Moving left to right, we have:
a tacky pink hipflask (thanks brother) containing emergency single malt
a scourer I bought in Toudeshk, central Iran, three years ago
collapsible silicone bowl (rarely used)
spork (indispensible)
packet soup
fire steel (Light My Fire)
Whitebox alcohol stove (thanks Iain!)
collapsible silicone cup (also rarely used)
titanium cooking pot (unwashed; capacity 1300ml)
lid
sachet of hot chocolate
matches
Rear right pannier
This is the stuff I'm less likely to want to access every day; mostly clothing. It is currently so full I'm having trouble closing it, which means that once it is closed, I'll go to great lengths to avoid opening it again.
The Paddington Bear keyring was a present from my sister when I was in Pakistan.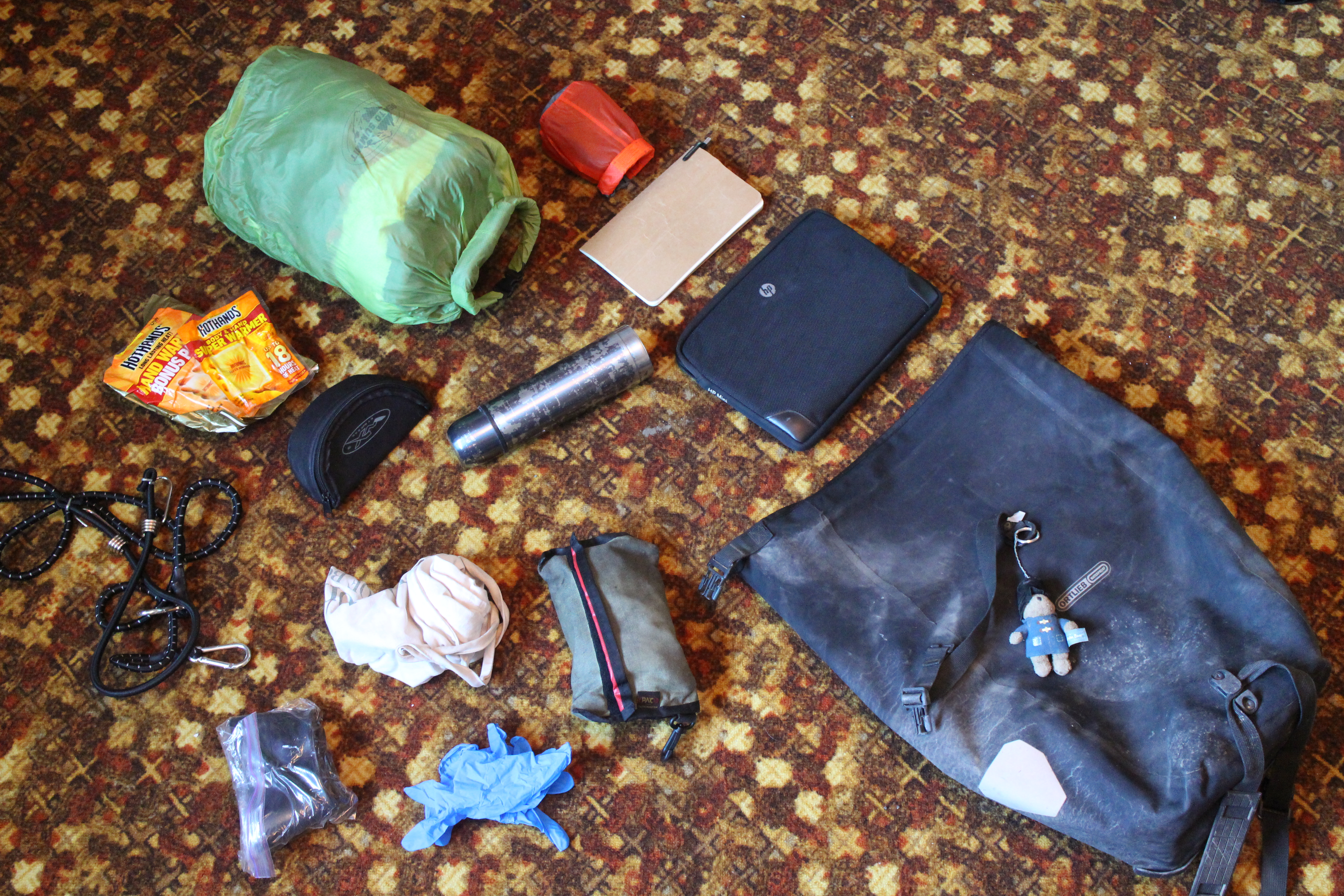 green drybag full of clothes
orange drybag containing case for GoPro (which usually lives on helmet)
notebook
chemical hand warmers
case for sunglasses
vacuum flask (rarely used)
laptop (cheap, disposable and infuriating)
spare bungees (unused)
canvas tote bag (unused)
PAC tool pouch
spare inner tube
non-latex gloves
And what's inside the green drybag? Far too much…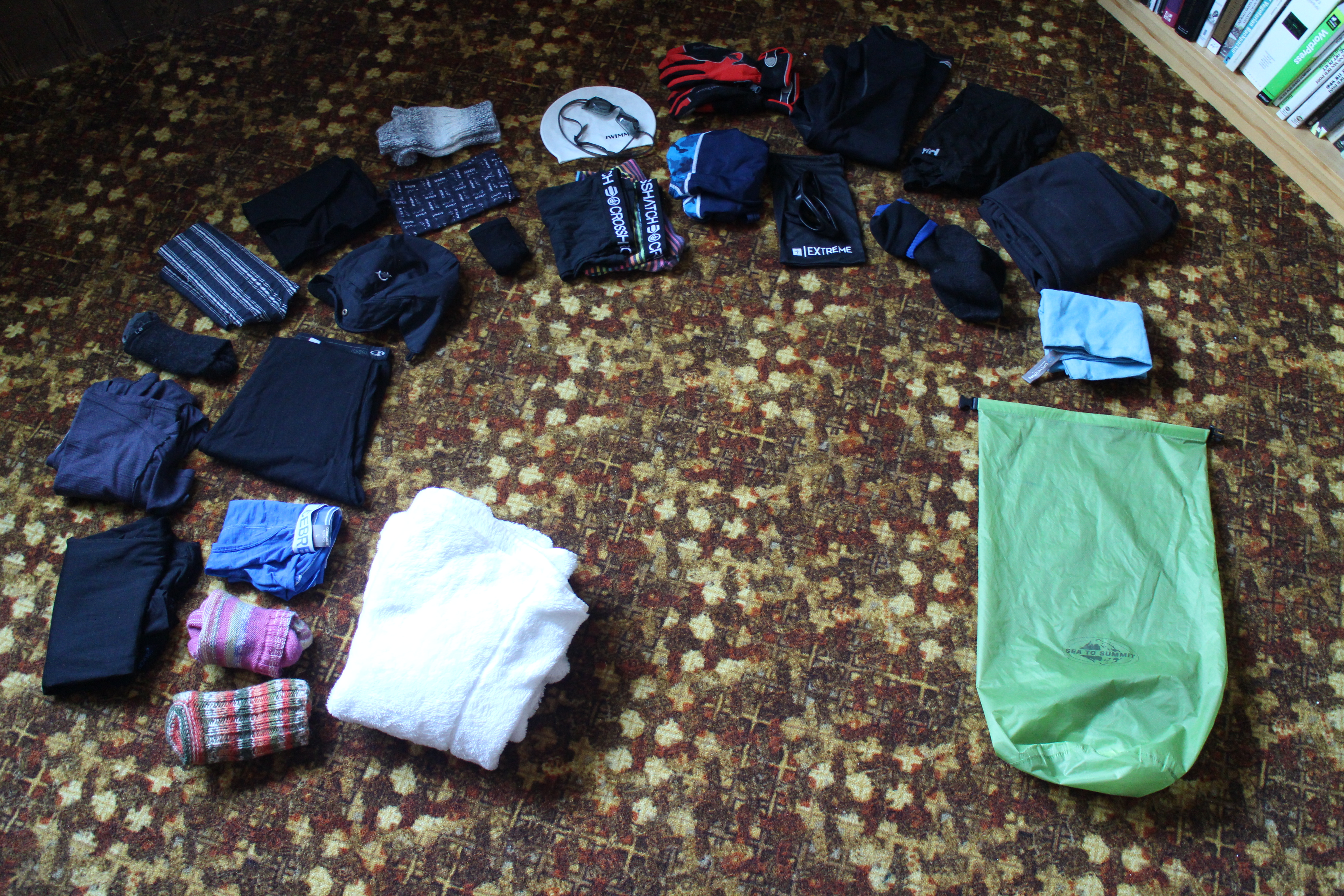 I try to pack in order of usefulness – i.e. things I'm less likely to need, like my swimming costume, are at the bottom; things I'm more likely to need, like a warm fleece and spare socks, are at the top. On reflection, I could have done without almost all of this. Half the baselayers I'm carrying have never seen the light of day.
In order of emergence:
fluffy white fleece (66 North)
handknitted socks (from a Finnish genius)
handknitted socks (from H. Outen)
merino boxers (Icebreaker)
merino baselayer (Howies)
merino baselayer (Icebreaker)
merino longjohns (Icebreaker – thank you S. Outen!)
merino socks (Pearl Izumi)
merino longjohns (Howies)
waterproof hat (Sealskinz)
bamboo cotton tshirt (Swrve)
handknitted gloves (thank you H. Outen!)
synthetic neckwarmer (Alpkit)
merino glove liners (Icebreaker)
swimming cap and goggles
2 x cotton boxers (unused)
waterproof gloves (Sealskinz)
swimming costume
thermal baselayer (Pearl Izumi; unused)
synthetic baselayer (Helly Hansen; unused)
waterproof socks (Sealskinz)
cotton trousers (Swrve)
travel towel (Lifeventure)
What do I actually wear then?
Here's my typical on-bike attire. (Obviously it varies according to temperature.)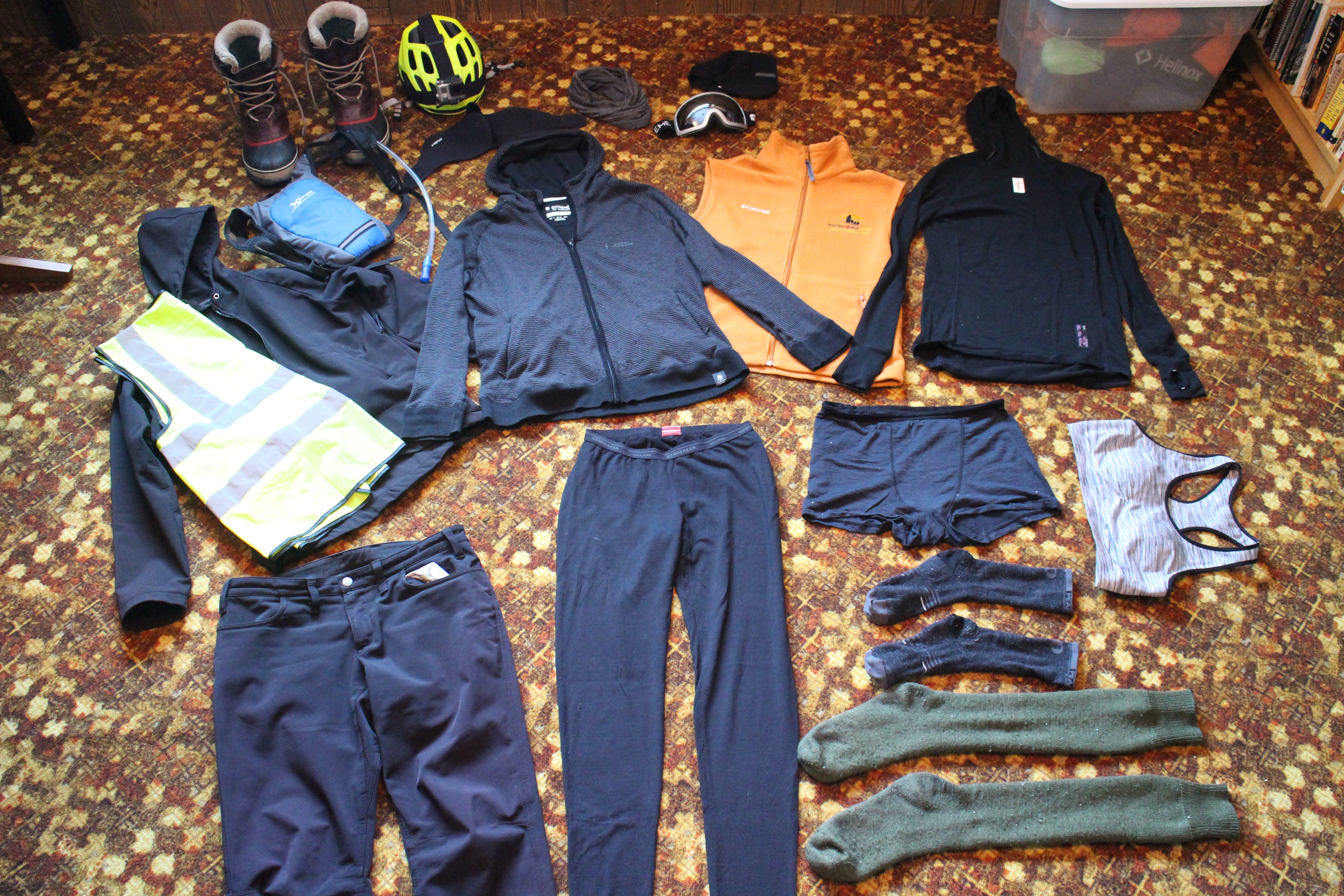 From the top:
winter boots (Sorel Caribou)
hydration backpack (worn under jacket to stop contents from freezing)
helmet, with GoPro camera (not mine; property of PHD)
ski mask (Mountain Warehouse)
neoprene face mask (here be icicles)
windproof gloves (acquired in Gorgona in Veliko Tarnovo, autumn 2011)
merino buff
merino cycling cap (Swrve)
Swrve Milwaukee hoodie (an old favourite)
hi-viz tabard
merino mid layer (Mountain Warehouse)
fleece gilet (courtesy of Loretta at Jake's Corner)
Rapha deep winter merino baselayer
Swrve winter trousers (on their fourth season)
merino longjohns (Icebreaker)
merino/silk boxers (Kathmandu)
sports bra
merino socks (Pearl Izumi)
woollen hiking socks (from my grandmother)
I don't have front panniers, by I do have a couple of drybags attached to the Salsa Anything Cages mounted on my front forks.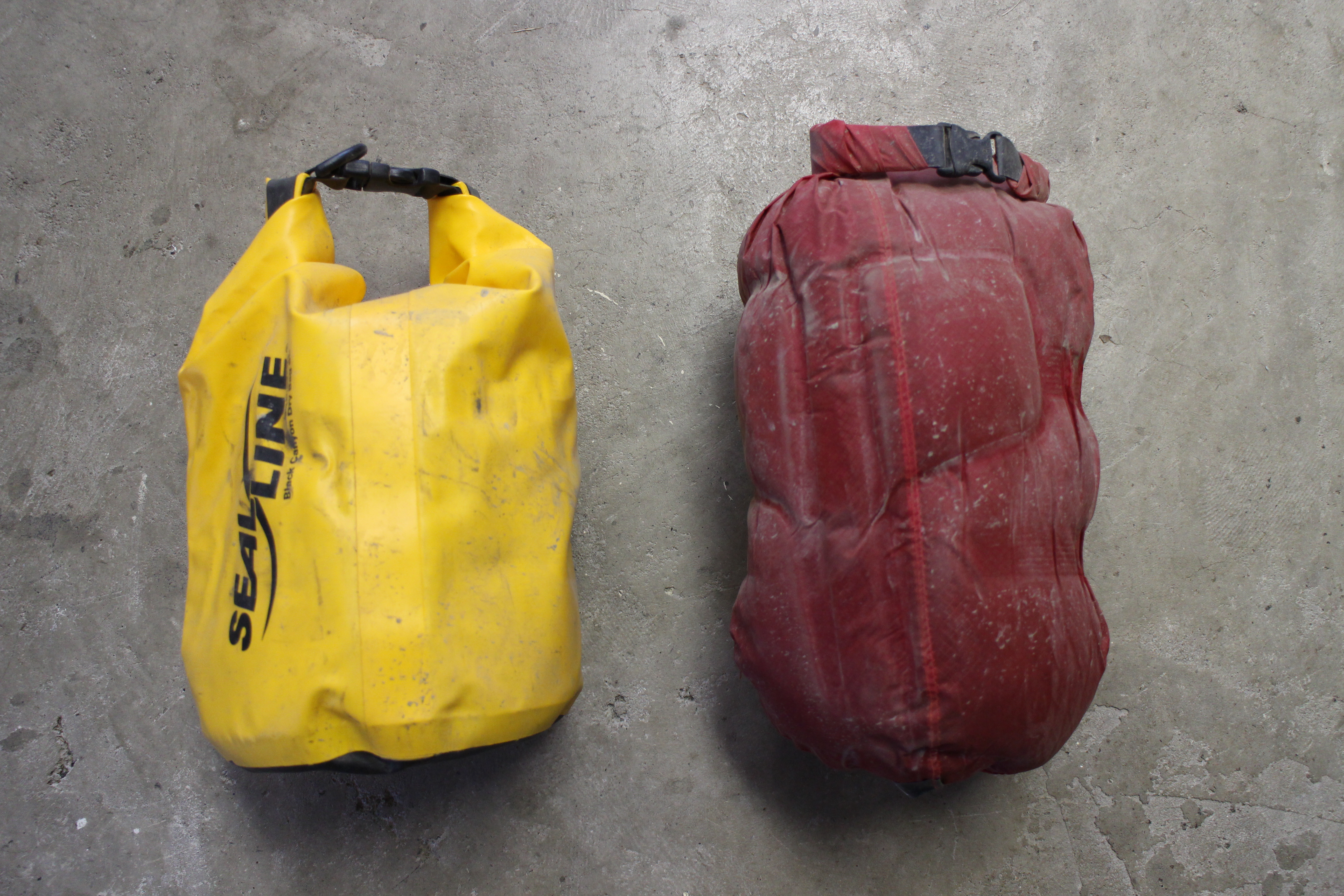 Originally they were both red (from Alpkit), but the one containing food didn't strap on so well when only half full, and fell off one day when I was preoccupied with riding through a blizzard, so I had to replace it when I got to Whitehorse.
The red one contains a down jacket (Alpkit Filo).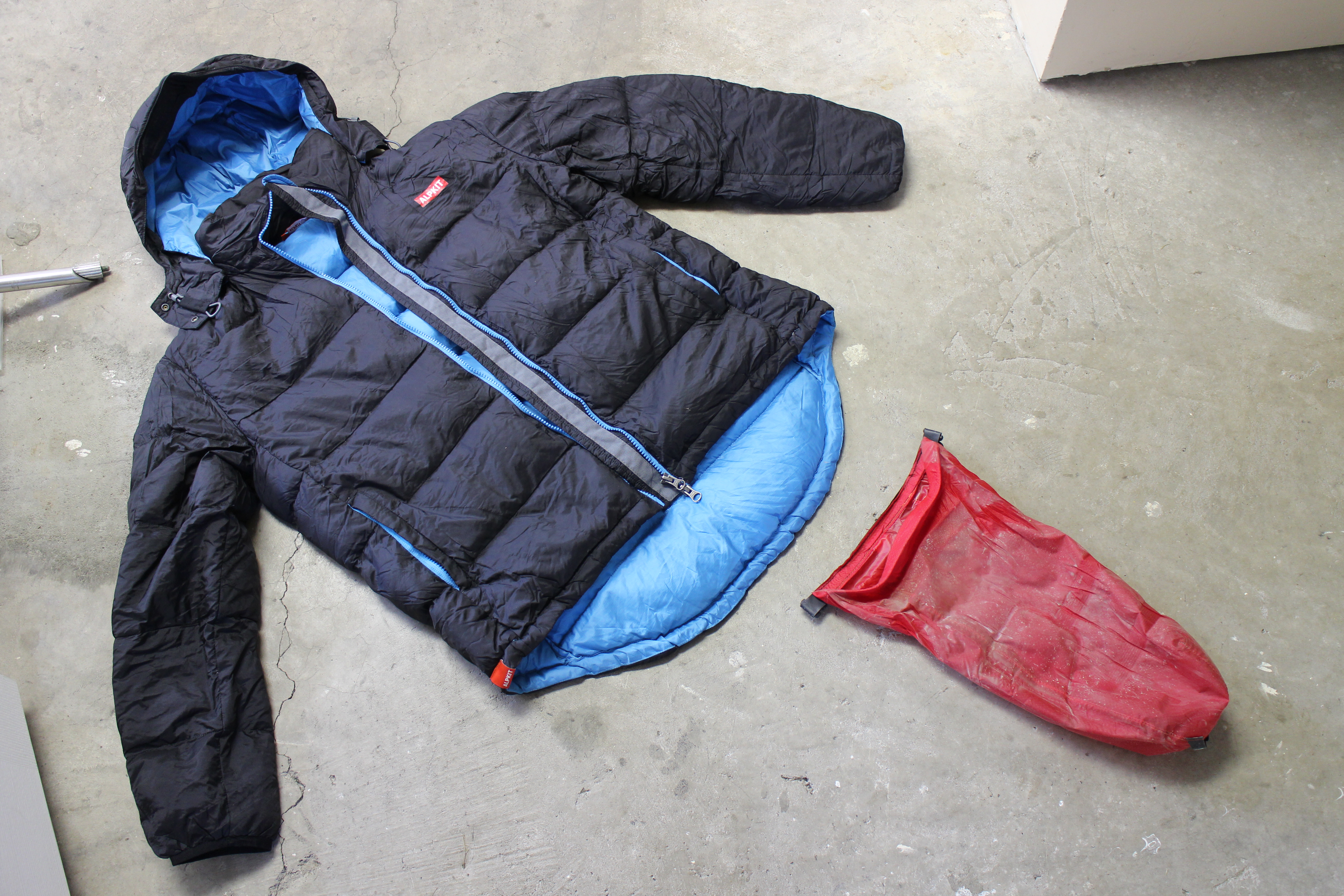 The yellow one currently contains two sachets of instant mashed potato, a bag of home made porridge mix (usually there are 3-5 of these), a box of halva, a small bag of dried fruit and a bag of glove liners and hand warmers, given to me by a very kind man near Kluane Lake.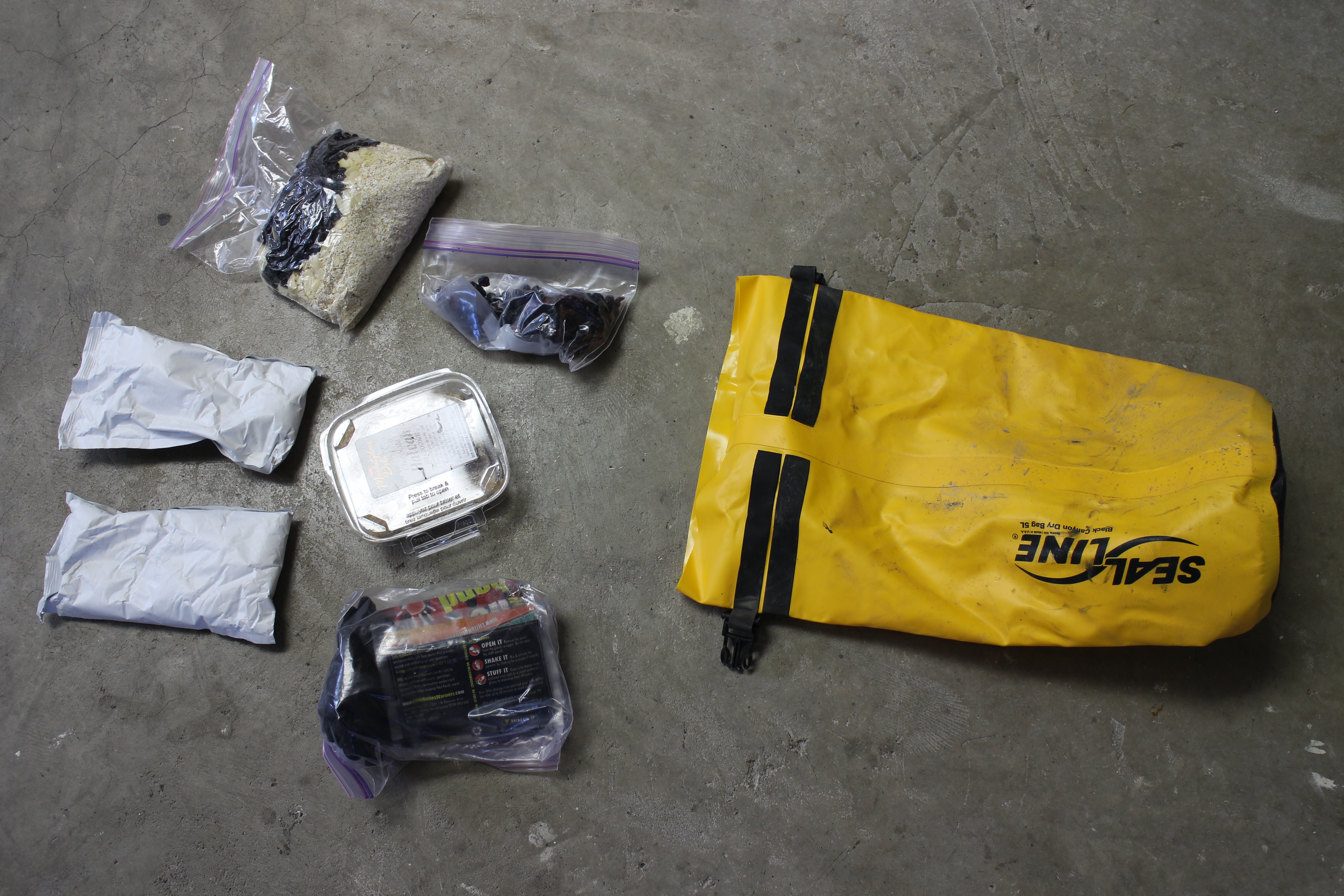 My Alpkit fuel pod (on the top tube) contains:
snacks
tissues
chewing gum
hand warmers
spare rear light
temperature logger
electrical tape
pen
emergency cigar (chocolate)
spare spoon
Reese's peanut butter cups (i.e. crack)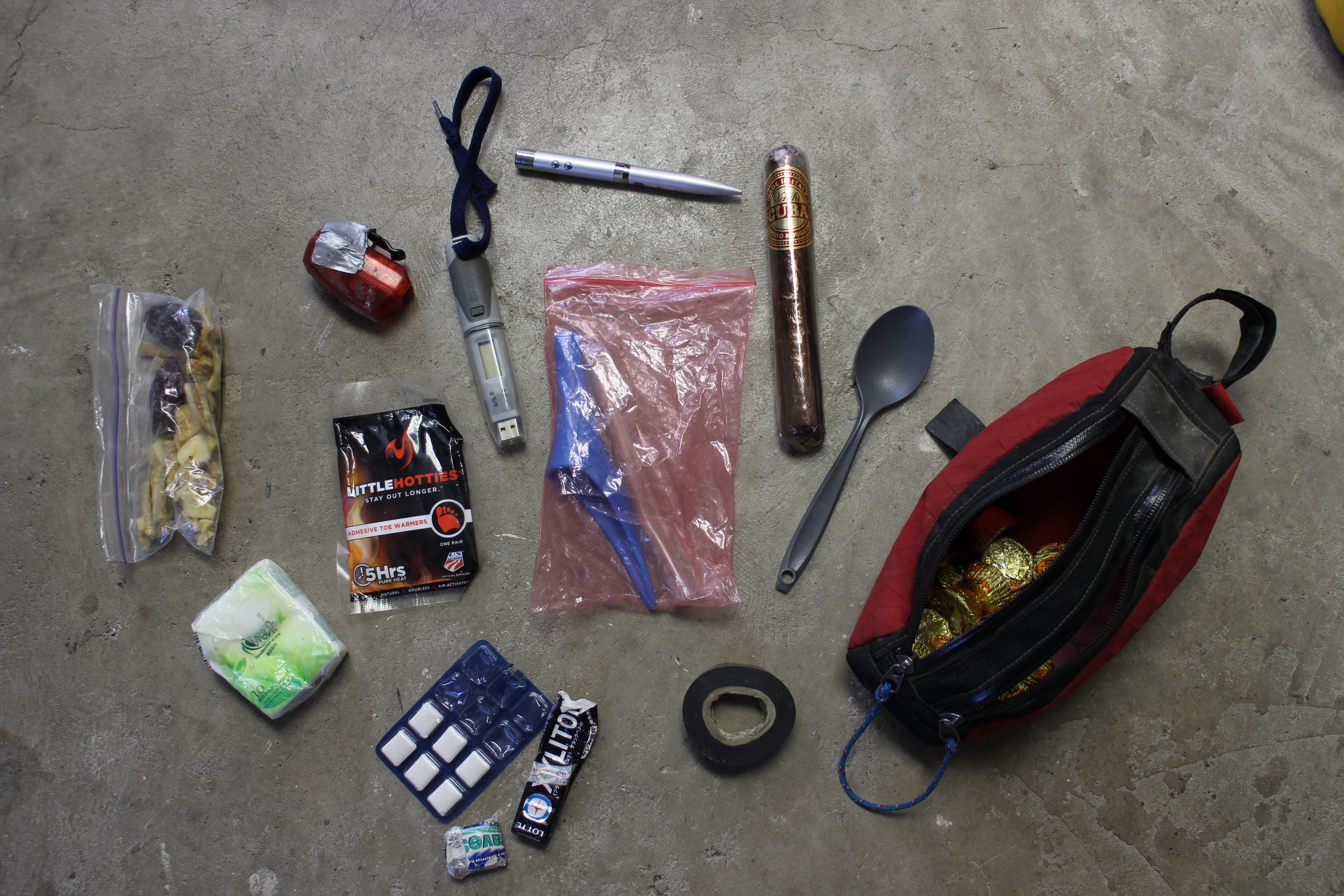 My Alpkit frame bag contains:
sausages (garlic flavour)
butter (old; needs to be binned)
spaghetti
assorted energy bars, cereal bars and protein bars
hand warmers
chocolate
packet soups
easy-cook rice
battery pack for my front light
bag of chocolate almonds
two pumps (Lezyne and ?)
dog-earred map of the Cassiar Highway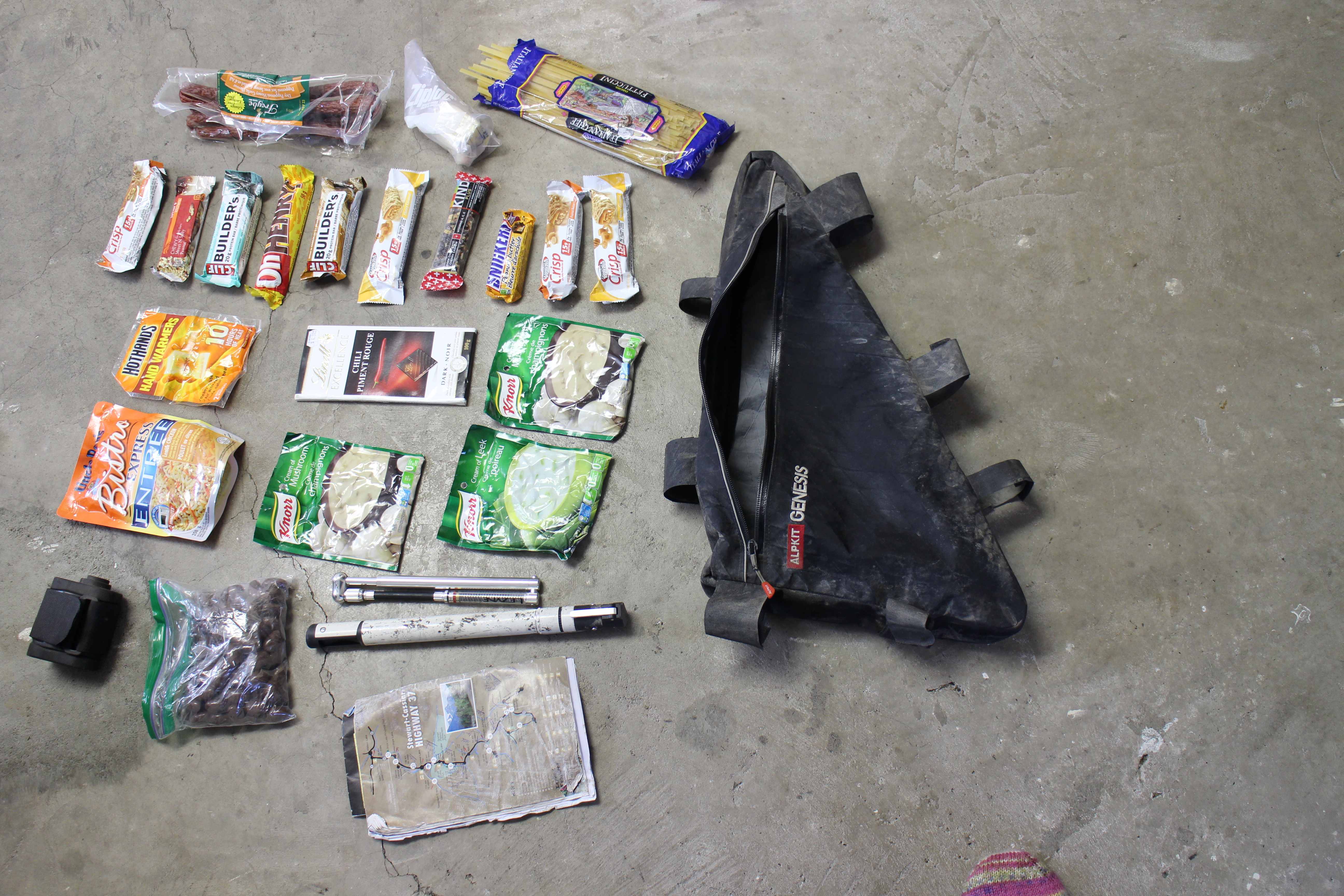 My pogies – the thermal hand-protectors that cover my handlebars – tend to be used as nosebags, or just useful places to stash things I might want to grab quickly, or can't be bothered to put away. Here's their current contents, unedited.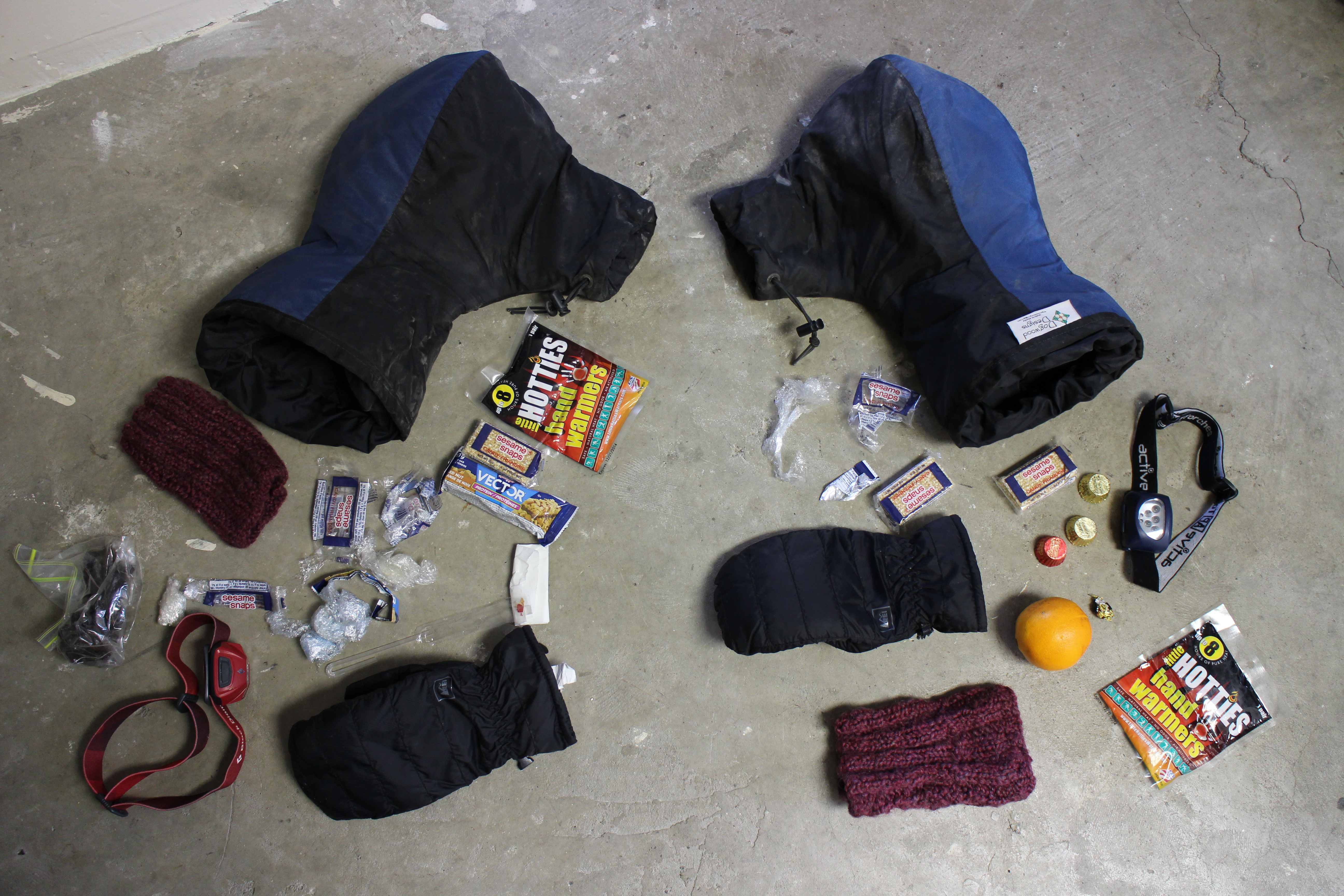 That's a couple of pairs of mittens, hand warmers, assorted snacks (jerky, seasame snaps, peanut butter cups, an orange), and a spare headtorch on each side, for some reason.
Bungeed to the back of my bike I usually have a slightly worn-out carrier bag, containing yet more food – some of it things I'll want readily accessible during the day; some of it things that have sifted to the bottom and been lying there for many week (just in case of emergency).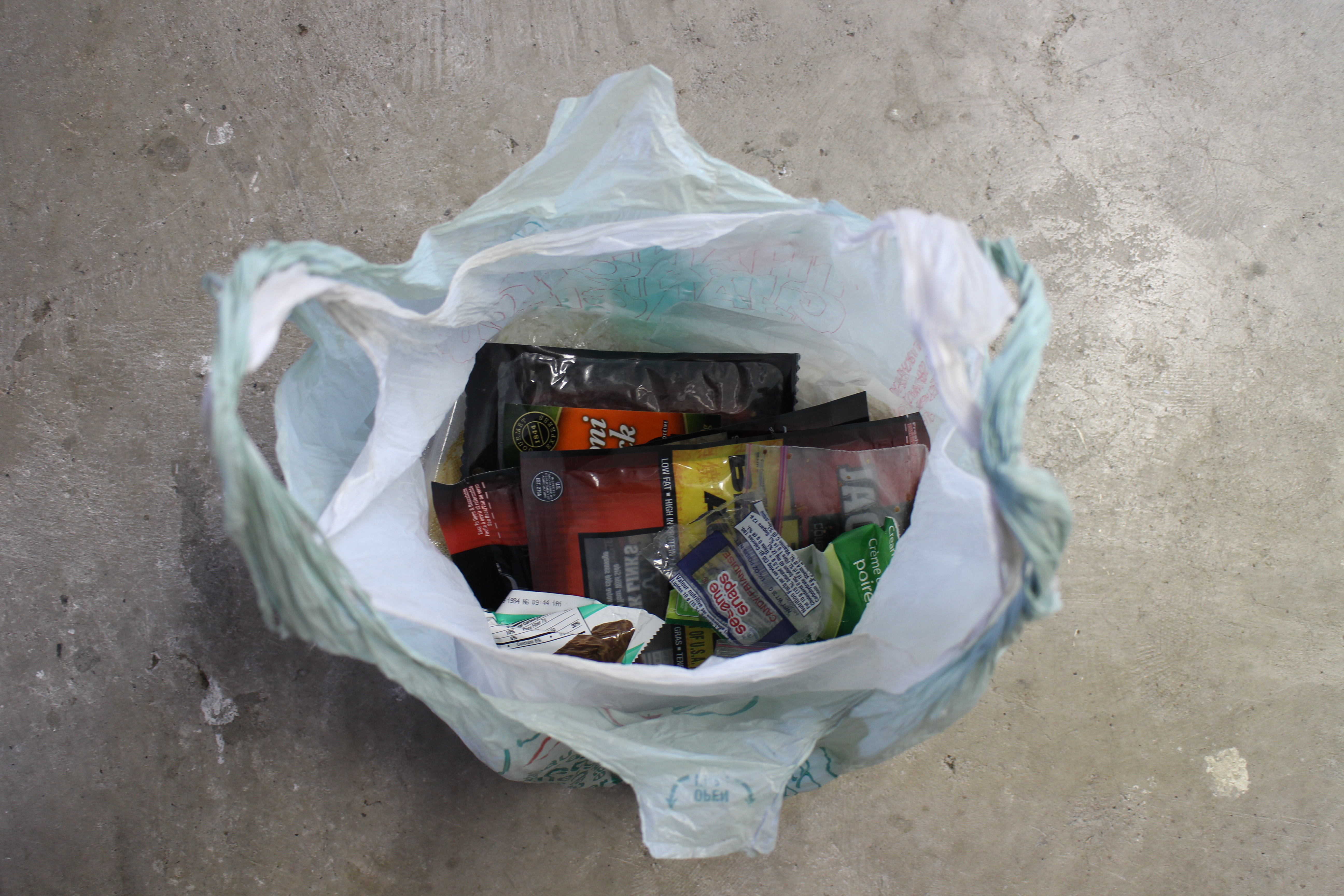 Here's what's currently in the bag.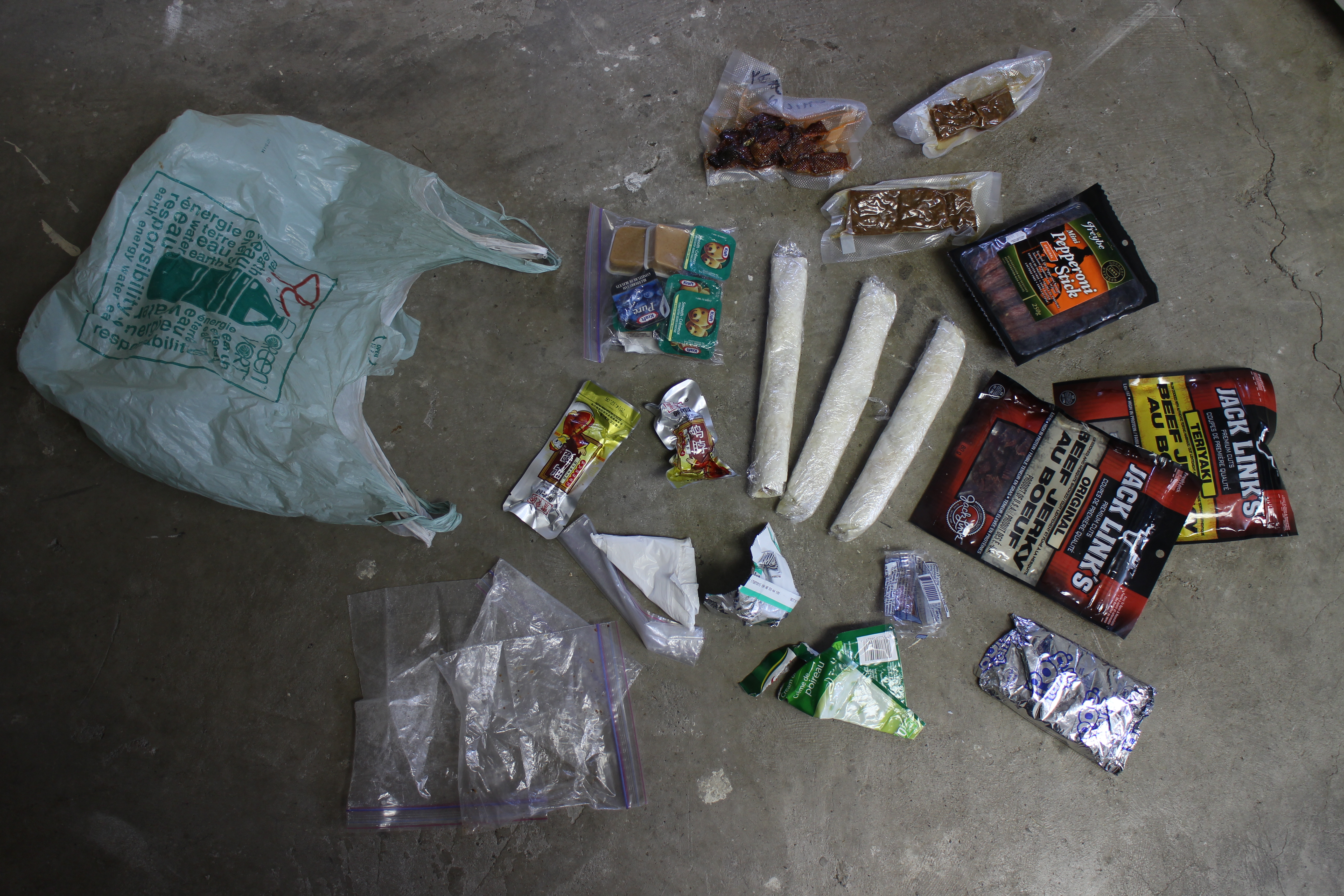 Contents of the bag would appear to be:
Three vacuum-packed chunks of pecan slice (from Miche in Whitehorse)
Assorted mini-packs of peanut butter and jam (from Linda at Rancheria)
Three tortilla wraps, rolled up with cheese and meat
Assorted sausages and jerky
Discarded wrappers and spare ziplock bags
Alongside the bag, tucked under another bungee, there's my Nalgene water bottle, with its thermal cover, which stops my water from freezing even down at -30C. This is one of my happiest discoveries of the trip.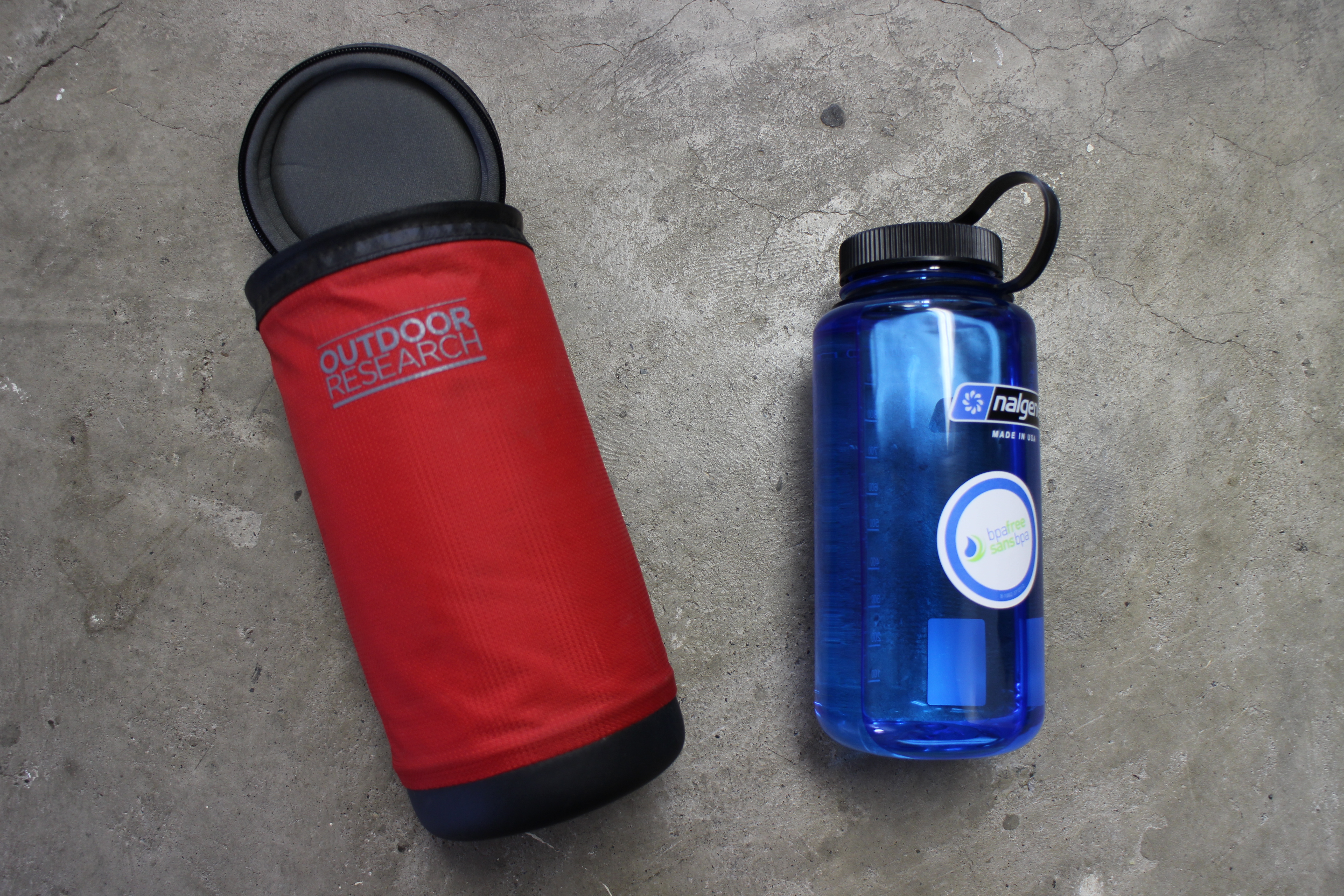 On the front of bike is a small zippered pocket that contains things I thought I might want in an emergency, but in reality have rarely looked at.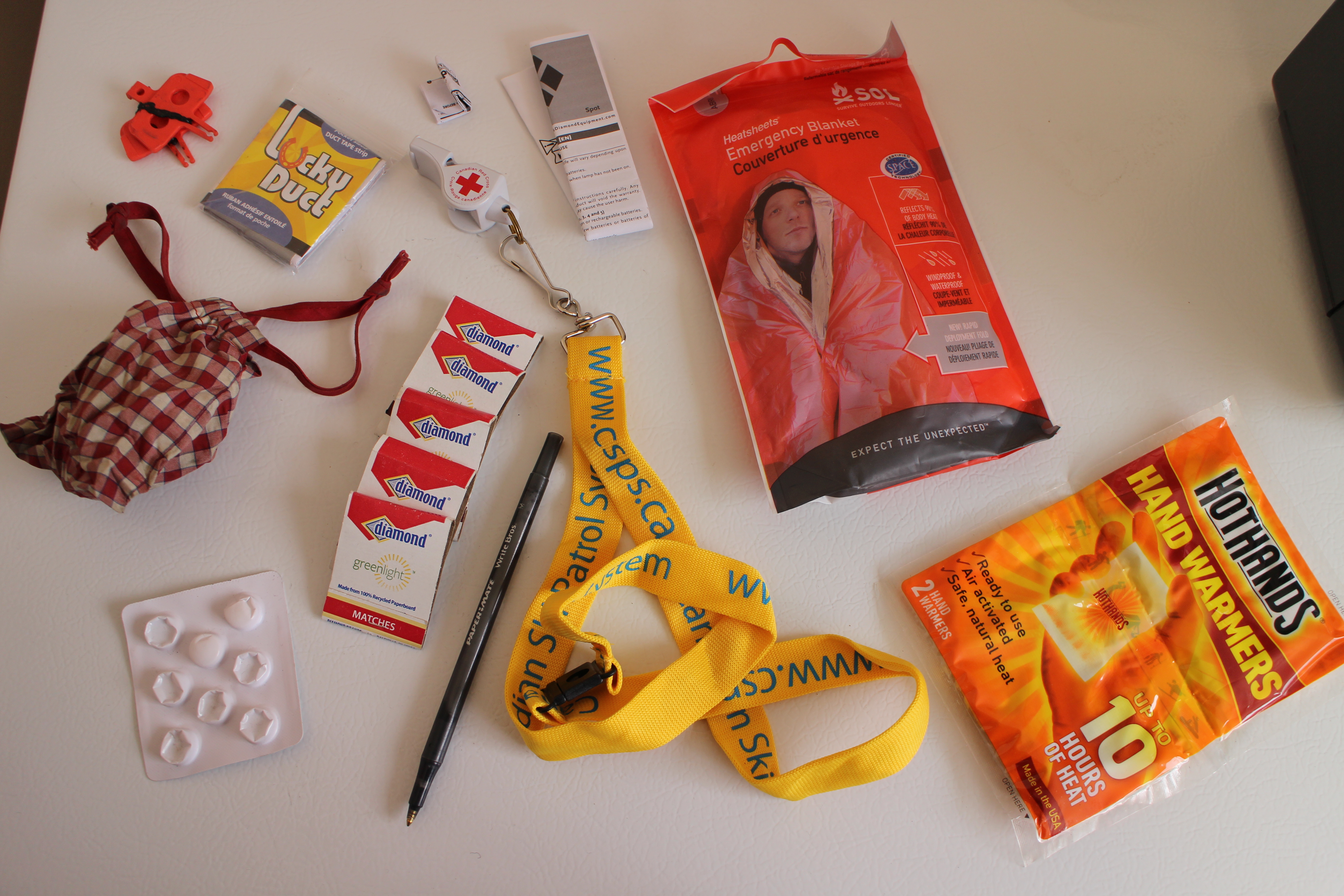 From top left:
disc brake divider thingies (for when bike is dismantled for flying)
duct tape
whistle
instruction manuals for recently purchased lights
space blanket
matches
painkillers
pen
hand warmers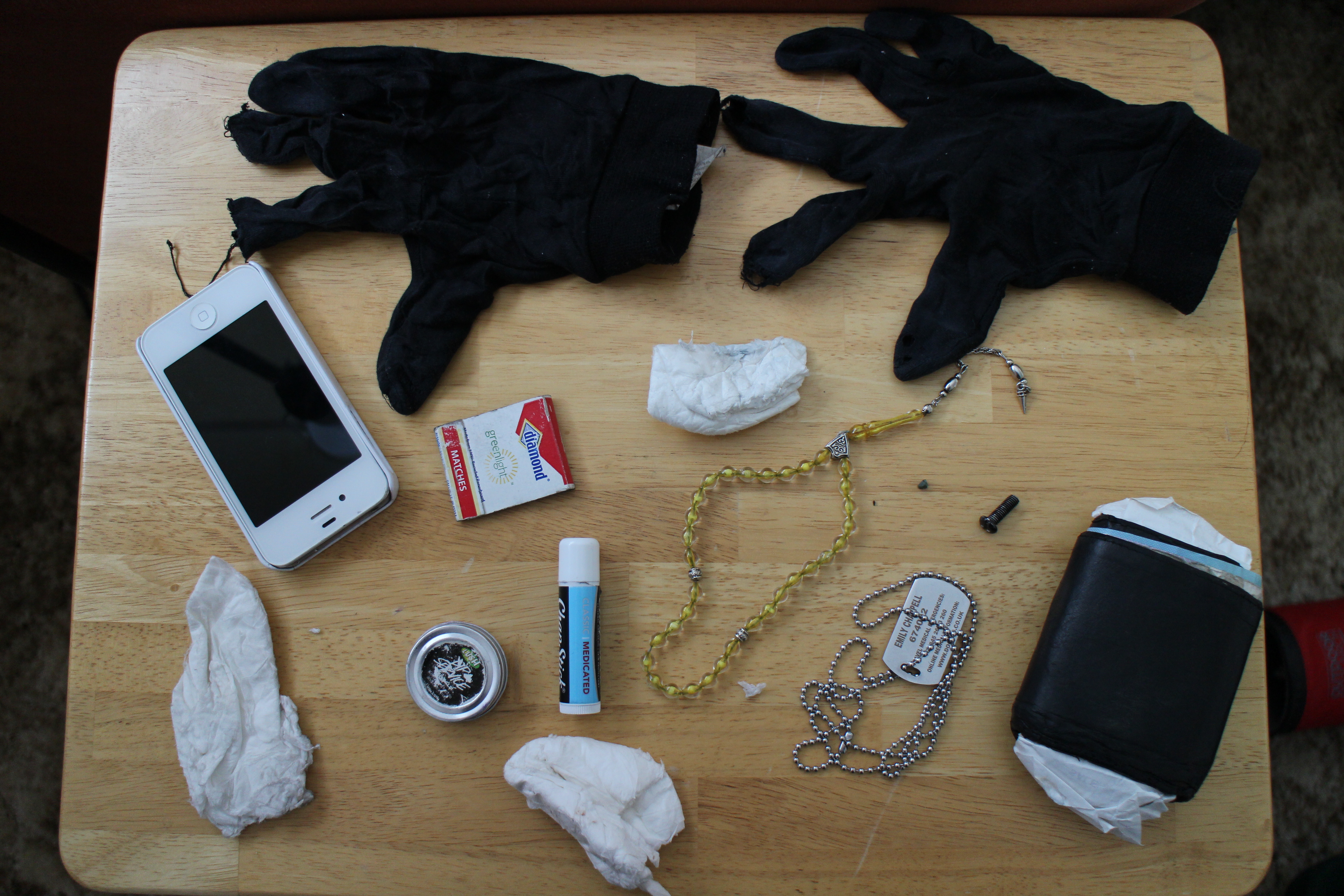 That would be:
worn-out glove liners (silk; from Decathlon)
iphone
matches
tissues
lip balms (thank you, Tamsin and Michaella!)
lucky charm from a man I met in Ankara, three years ago
Dogtag insurance 'document'
miscellaneous screw
wallet
And that really is everything! I am very very interested to hear everyone's comments, feelings, advice, and even (for once) criticism, since I'll be looking to reduce this load significantly for future trips. (I reckon almost my entire wardrobe could have been left behind, with only minor inconvenience.)
And here's what it looks like when I put it all together, and add a rider.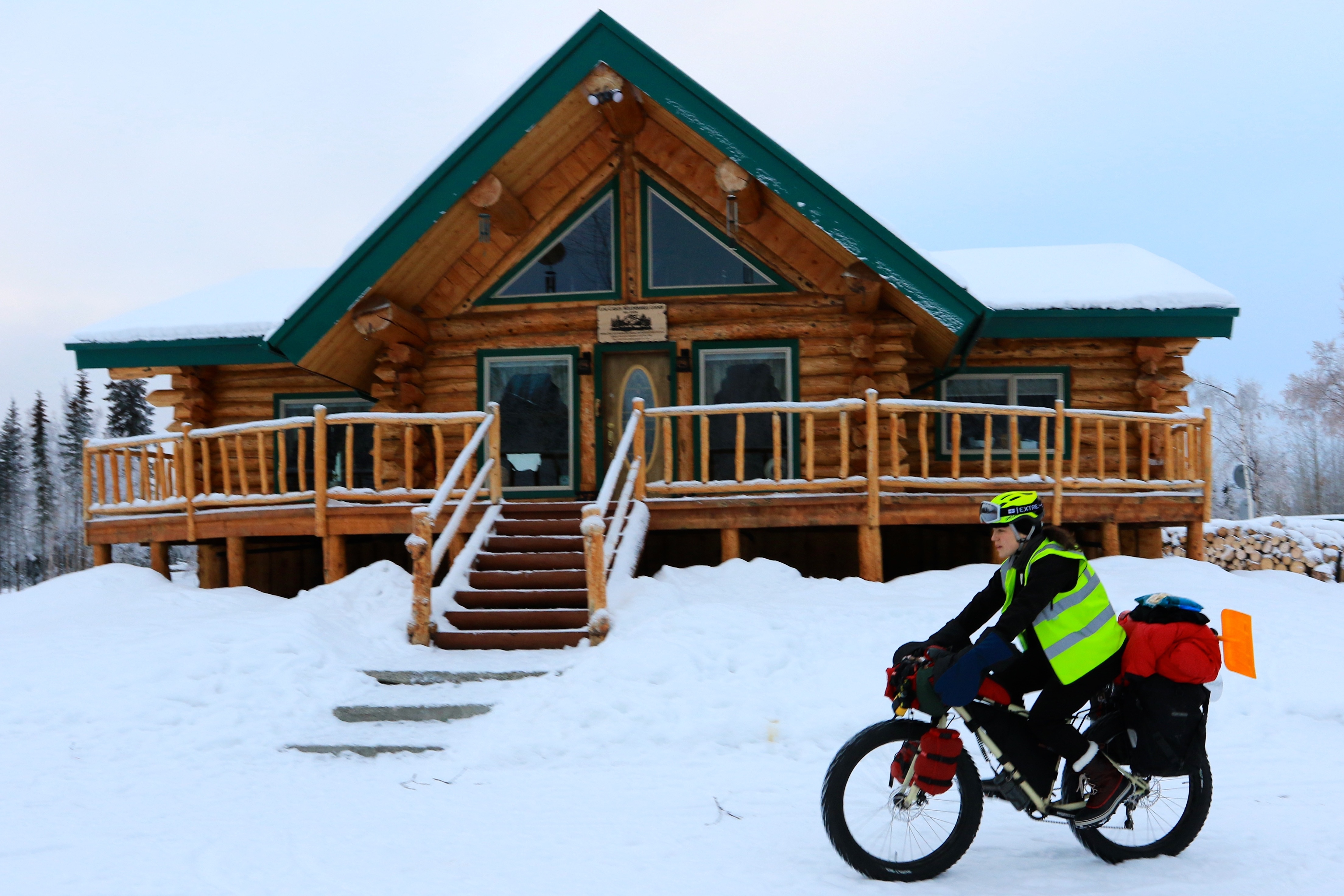 Photo credit: John Rusyniak