I quite often get to the end of a ride and say to myself 'that's probably the toughest day I've ever had on the bike!', and then remember all the other times I've said that, and briefly try to figure out which day was actually the toughest, and then decide that I don't really need to know, that there's no point trying to rank my experiences so strictly, that a tough day is tough in itself, without needing to be compared to any of the others, which were all pretty tough as well, in their own way.
And the same goes for the people I stay with. There were a lot more of them on this trip than I anticipated (leading to constant low-level guilt regarding the sleeping bags I was supposed to be testing), and practically every time I stepped into the Warm Glow Of Arrival, or rolled away the following morning with a wave, a tear and a backward glance, I said to myself 'these are probably the best hosts I've ever had' – and then guiltily remembered all the other hosts I've thought that of over the years (practically all of them, if I'm honest), and realise again that superlatives are largely redundant here.
I'd like to write a 2,000-word blog post singing the praises of every single person, family and household that has taken me in on this journey, because to single out only some of them feels like a betrayal of all the others, but I don't have time, and if I'm honest, the accounts would probably end up getting rather repetitive, even though the love and admiration and gratitude I felt for all these wonderful people was just as sincere in Seattle as it had been in Anchorage. So a few of them will make appearances in the posts I have yet to write, in the talks I'm soon to give, and in the anecdotes I'll be telling over dinner for the rest of my life. Others may not, but I hope I've been a good enough guest that I was able to make it clear to them in person just how much their generosity meant to me.
Perhaps you'd like to know what these people did that was so wonderful? Well, as my friend Nhatt says, it's not rocket surgery. Touring cyclists ultimately have pretty low standards. If you're able to offer them a warm shower, a dry bed and a hot meal, you will, for the next 24 hours, become their very favourite person in all the world. If you want to go a bit further than that, here are a few useful tips:
How to be a truly excellent host
1. Feed your cyclist, feed them again, and then feed them some more. Particular credit here must go to Hector and Miche in Whitehorse. When I arrived I was so weak I could barely hold the bike up, and had lost so much weight that I could fit both fists into the waistband of my trousers. Worried as I ever am about eating people out of house and home, I kept a stash of my own food in the kitchen, which I could fall back on if the gaps between meals proved too long for me. Hector and Miche took this as a challenge, and saw it as a sign of failure if they heard me opening one of my packets of tortillas. Every couple of hours one or other of them would initiate a sort of feeding frenzy, handing me bowls of soup, plates of pancakes, toasted cheese sandwiches, hearty salads, homemade cakes, succulent morsels of local fish and meat, crudités, canapés, tapas, titbits, nibbles and morsels, and would stand watch over me, placing plate after plate in front of me until finally my gorging slowed. And then two hours later they'd do it all over again. After a week of this I had grown back into my trousers, and built up a useful buffer of body fat to see me through the next thousand miles.
2. Send them away with more food. Just about everyone I stayed with loaded me up with sandwiches and energy bars when I left. Rion and Rebekah in Tok went one better, and sent me off with a goodie bag of jerky and sausages, from the moose they'd shot and butchered a few months back, as they did every year, to see themselves through the winter.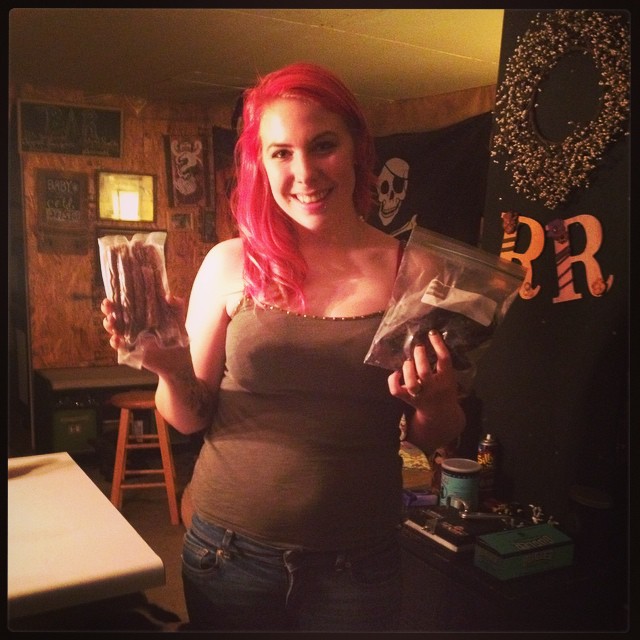 3. Give them some alone time. Amie and Ollie got this exactly right. Having spent three years on the road themselves, they completely understood that sometimes your social faculties are as exhausted as your legs, and you want to sit in a cave on your own and ignore the world for a while. Initially, their plan had been to move themselves onto the sofabed in their living-room-cum-workspace, so that I could inhabit their bedroom and be able to close a door behind me when I wanted some privacy – but in the end their neighbour went on holiday and left them the keys to his apartment, so that became my cave while I was there, and I was enormously grateful for it, as I was for the fact that Amie and Olli so clearly understood and had experienced this feeling that I didn't need to feel guilty about it.
4. Give them access to your workshop and your spares shelf. Credit here obviously goes to John Rusyniak, and also to Dee Jay and Kerry, who I stayed with in Houston, and whose toolkit contained everything a cyclist (and bicycle) could possibly require, including a wide variety of substances that Dee Jay insisted on rubbing into my chain, boots, zippers, saddle and panniers, to keep them going long enough to make it to Seattle.
5. Offer them a lift. Because not all cyclists are entirely scrupulous about riding every inch of the way – especially if they're nearing the end of their journey and you live at the end of a 10km dirt track that winds steeply off into the mountains, as Tyler and Naomi did. Tyler very kindly picked me up from the main road and dropped me back at the same spot the following morning. Special mention here must also go to Amie and Olli, who not only picked me up from Port Townsend, but also drove me to the airport, saving me from the nightmare of navigating public transport with more luggage that I can carry.
6. Give them something to do. In some cases all your cyclist will want to do it flop pallidly around your house for a day or two, catching up on their email and sleep and laundry, and eating almost constantly. But in some cases they'll be tired of living a life that revolves entirely around themselves and their journey, and especially of answering the same questions again and again and again about where they're going, why they're doing this, and whether they're crazy. When Judy invited me to volunteer at the Chistochina checkpoint for the Copper Basin 300 dog race, I jumped at the chance to get involved in someone else's project for once, and to move away from the centre of attention for a while.
7. Lend them spare clothes. Dee Jay and Kerry have been cycle touring together for over 35 years, and it shows, in their phenomenal attention to detail as hosts. One of the touches I most appreciated was the drawerful of clean tshirt and hoodies and tracksuit bottoms – so that I could wash everything in my panniers, not just my cycling clothes. (By this point my off-bike outfit was beginning to smell almost as bad as my on-bike outfit.)
8. Don't forget to rehydrate your cyclist. Because she may well forget herself. I am very bad at remembering to drink enough, and all too eager to accept the chilled beers and pints of G&T that many hosts would thrust into my hands on arrival. Tammy and Don got this exactly right. From the moment I arrived they kept up a steady stream of juice, water, and various herbal teas. I could almost feel my body sighing with relief.
9. Remember to take as well as giving. In Lillooet I stayed with tandem enthusiasts Ken and Mary Jane, and we got into the predictable (lengthy) discussion of our kit strategies and preferences. They were kind enough to ask if there was anything they could give me, but at that point what I needed most was to get rid of things. Owing to the wonderful (and very welcome) generosity of almost everyone I'd met along the way, I now had a lot more kit than I'd started with, including several items I knew I wouldn't use again, since I was now only three days' ride from Vancouver. So I left Mary Jane and Ken with the majority of my fuel, and a few other odds and ends, assured that they would either dispose of them accordingly, or press them into use on one of their own tours.
10. Offer them an escort. Especially if you live in a town or city that's difficult to navigate. Meeting Dee Jay and Kerry on their bikes at the top of Hungry Hill was a supremely happy experience, and Brek Boughton earned my eternal gratitude when he not only guided me into Vancouver, patiently tolerating the vastly different speeds of our two bicycles, but also got up at 5am the day I left, in order to show me an intricate back route through the industrial edgelands of the city and south towards the border.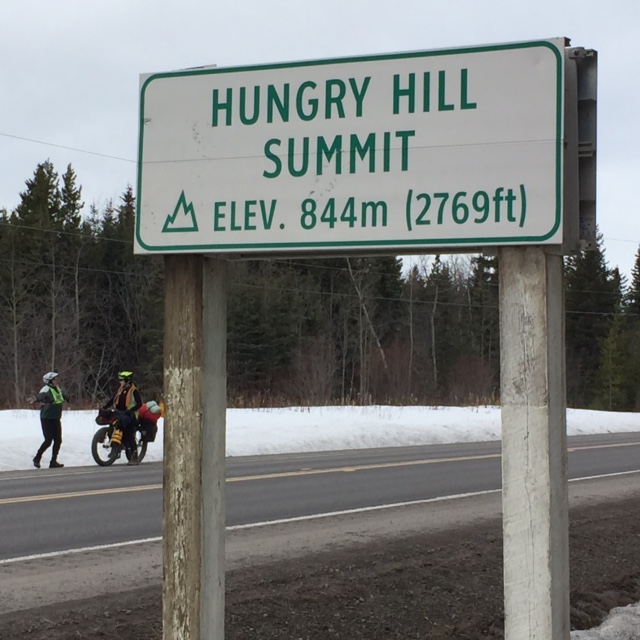 11. Make them part of the family. Oddly I was more homesick at the beginning of this trip than at the end – but the wonderful Cameron family absorbed me into the tail end of their Christmas celebrations, and provided me with a warm, raucous crowd of adoptive parents and pseudo-siblings, very much like the ones I was missing back at home.
12. Practice your skills on them. Particularly if you happen to be a qualified massage therapist, like Christine in Quesnel. Thank you Christine!
13. Take them by surprise. I wasn't planning to stay with Yojiro and Miho in Pemberton – in fact, I wasn't planning to stay anywhere in Pemberton, and just hoped that I would be able to find somewhere convenient and unobtrusive to pitch my tent, eat my instant mash, and sleep off a challenging day of rain, headwinds and 13% gradients. Instead, I was ambushed by Yoji, who was packing his fishing things into his car about 20km out of town, and ended up making two wonderful new friends, who washed and dried my filthy clothes, made me up a bed in their spare room, cooked me the best Japanese meal I've eaten since …Japan, and made me wish I could stay up all night listening to their stories.
14. Put them in touch with other hosts down the road. Pam and Jim in Whitehorse were particularly good at this. I met up with friends, relatives and former students of their all the way down to Vancouver, and by the end of the trip they had spawned a family tree of several generations of hosts, each contact begetting one more, a little further along the road. Special mention also goes to Terry and Joanna in Smithers, who put me in touch with so many people that I couldn't stay with them all!
15. Share your books and music and recipes with them. Susan in Marsh Lake gave me a blank sheet of paper and asked me to recommend all my favourite travel books and novels, then sign and date it as a souvenir of my visit. Her husband John had the most zany, eclectic and delightful range of music I'd ever come across. When I stayed with Kate and Kate we spent the whole visit firing book and film recommendations at each other. Christine in Quesnel gave me the recipe for her incredible granola (full of nuts and ginger and maple syrup), and I'm looking forward to making it and then thinking of her every time I eat it.
16. Encourage them to deviate. A week or so before I reached Quesnel, I received an email from a couple called Kate and Tim, who had met cycling across Canada a couple of years previously, and were now married and running an organic bakery in the tiny, artsy, picturesque and isolated community of Wells, a day's ride up the hill from Quesnel. Kate's email admitted that I might not consider it worthwhile making a detour that would add an extra 160km to my journey, not to mention over 1,000m in altitude, but, as I informed her in my response, she had offered me three things I find it very difficult to resist: 1. food, 2. a good climb, and 3. the company of other cyclists. And I didn't suffer a moment's regret. After a lovely long climb, on the last properly snowy road I'd experience on the trip, I rocked up at Tim and Kate's beautiful house, was fed all the leftovers from the previous evening's pizza night (three whole pizzas), followed by dinner, and spent the evening listening to their stories as I slowly fell asleep. (If you ever find yourself in the Quesnel area, make sure you find The Bread Peddler and eat some of their bread, because it's delicious.)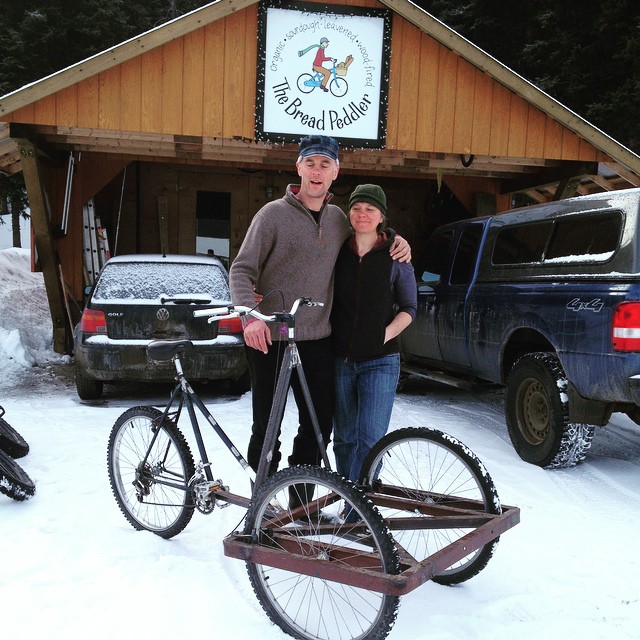 17. Look out for the signs of exhaustion they may not have noticed themselves. I found out from a later host that Jenny in Watson Lake, when I rolled up at her house after (as I said to myself) 'my toughest day on the bike ever', being a trained and experienced nurse, had taken one look at me and decided she was going to keep me there for at least a couple of days. I thought I was fine, and that a hot meal and decent night's sleep was all I needed to be back to normal. I didn't realise until I rode out of Watson Lake a few days later, finding the whole thing so much easier than I had when I'd arrived, that I'd been quite so exhausted, or that those two quiet days of sitting and eating and reading had been so desperately needed.
18. Give your cyclist cake. Cyclists love cake. Diane in Soda Creek got a lot of things right as a host, but I think the crowning glory was the great big sticky lemon drizzle cake she baked for my arrival (along with a chocolate cake and an apple crumble, both of which I polished off with alacrity).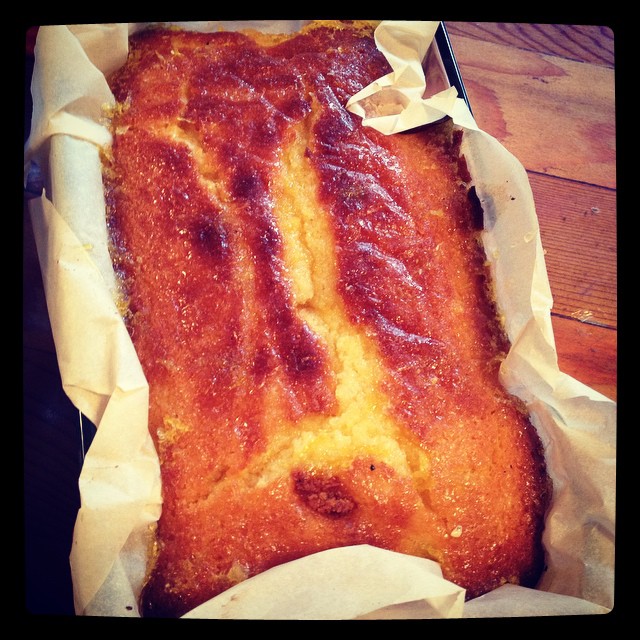 Seeing how much I enjoyed it, and how voraciously I ate it, she produced another one the day I left, and even included a couple of birthday candles, just in case it lasted that long.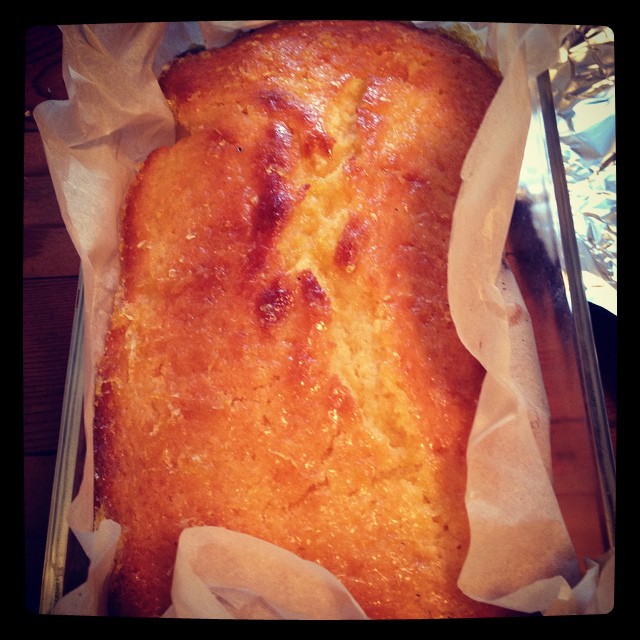 19. Let them know they're welcome to stay as long as they like (unless of course they're not). I was immensely grateful, when my seat post snapped on the way out of Stewart, that Maria's parting words to me that morning, as she drove off to Terrace for a hair appointment, had been an assurance that if by any chance anything went wrong, I was welcome to come back and stay an extra night or two. And Jef, the wonderful man whose spare room I colonised for a week in Port Townsend, was entirely tolerant of my constantly evolving departure date, and regularly told me I could stay as long as I liked. He even emailed me just now to say "you are welcome back anytime for as long as you want".
20. Geek out about bikes. Because, despite spending every waking (and sleeping) minute on one or in very close psychological proximity to it, your cyclist will probably still want to talk about gear inches and punctures and tyre lifespans and steel versus alloy and headsets and bottom brackets and Brooks saddles and old-school British framebuilders. I particularly enjoyed staying with Ann and Ivor in Williams Lake. She and I started planning a ride up the Karakoram Highway we'd like to do one day, and he introduced me to his beautiful 1970s Roberts, which he rode across Canada on in his youth, and which was built just a couple of miles from where I'm sitting now.
21. Take a chance on them. Here I must thank Mary, the school bus driver who just happened to pass me as I was inspecting a potential camping spot on my last (freezing) night in Alaska, and even though I was a strangely dressed foreigner she'd only just met, invited me back to her cabin for caribou stew and her amazing homemade bread, kept me company all evening, and sent me off with an enormous cinnamon roll in the morning. And Mark and Michaella in Anchorage who, despite the fact that I was only a distant internet friend of an acquaintance of their daughter's, invited me into their home without the slightest hesitation, treated me like a queen, and followed my journey (via Twitter and my YB tracker) all the way to Seattle, as proud as if I were one of their own.
___________________________________________________________________
But this is all very well; what I really want to know are the equivalent guidelines for how to be a truly excellent guest, since I am much more often on that side of the equation. I've figured a few things out over the years, but there are probably loads more little touches that haven't occurred to me yet. So, if you've ever hosted cyclists (or anyone else for that matter), and can give me some ideas of how to make my hosts as happy as they always make me, let me know in the comments.