Notes on finishing a journey.
'It is not the goal but the way there that matters. And the harder the way there, the more worthwhile the journey' Wilfred Thesiger
I am all out of order at the moment. That's to say, things aren't happening in the sequence that I expected or assumed they would. This ride was, all along, supposed to begin in Anchorage and end in Seattle – and it's been in the making for over two years, longer than I'd ever planned anything before. 'Anchorage to Seattle' was a solid presence in my mind, and in fact, one of the most unambiguous goals I'd ever set myself. (Round-the-world was so ambitious as to be effectively open-ended, and Iceland was not so much a journey as just an attempt to spend a lot of time riding over snow, in whichever direction (which I did).)
But last week, riding triumphantly out of the mountains, out of winter, into spring, and round the corner of Horseshoe Bay to see the Vancouver skyline, with all of its mountains and skyscrapers and magnolia trees, spread out in front of me, I felt very much like I was at the end of my journey.
This was only the second time in my travels that I'd reached a city by bicycle that I'd previously visited by plane (the other one was Lahore), and somehow, as a perceptive friend suggested it might be, my personal psychogeography was irrevocably changed as a result. Flying into a city, it's almost as if you teleport, from one anonymous, synthetic airport terminal to another, with several intermediate hours of bad food, recycled air, and swollen ankles. A grainy map on the back of the seat in front tells you approximately which oceans or continents you're flying over, but really, you have little more sense of place or of movement than you would simply by opening an atlas on your bedroom floor and tracing a finger across the relevant pages.
Cycling into a city is completely different – and often just as unexhilarating as flying (although in a very different way), because most big cities, before they give up their treasures, oblige you to ride through many miles of suburbs, strip malls, industrial wasteland and long, dull, crowded highways, overhung with concrete overpasses, lined with supermarkets and automobile showrooms and storage units, and plied by lumbering local buses, full of fed-up-looking people glaring sullenly at the passing traffic.
Not so Vancouver. It is, I can say with reasonable certainty, one of the very best and most spectacular cities to cycle into – especially if you've taken Highway 99 through the mountains, via Lillooet (which clings to the edge of a dry, desert canyon that reminded me very much of Pakistan's Indus Valley), Pemberton (where I was quite unexpectedly taken in by a very kind Japanese couple, who turned out to have done long journeys by bike and kayak themselves, and fed me the best Japanese meal I've eaten since Tokyo) and Squamish (where my hosts collected me from the main road and drove me and Hester up a long winding dirt track lined with tall mossy evergreens, deep into the mountains where they lived in a house composed entirely of wood and glass). Gradually, as you edge south, the canyons loosen, the climbs lessen, the air lightens, and finally you emerge onto a broad, immaculately surfaced highway, winding along the coastline with the ocean on one side and the mountains on the other.
Brek Boughton, my Vancouver host, and also one of my main winter cycling mentors (he's the veteran of two separate attempts to cycle from Vancouver up to the Arctic Circle, which you can read about on his very engaging blog) came out to meet me, and despite my warnings that I am riding a heavily loaded fatbike with very low gearing, and that I would be exhausted after seven consecutive days (and one night) in the saddle, he had come out in full carbon and lycra. So we rode along as a mismatched pair, which I'm sure attracted a few odd looks, as well as obliging him to crawl along at half his preferred pace for much of the remaining 50km (although he did occasionally race ahead and get some pretty good photos).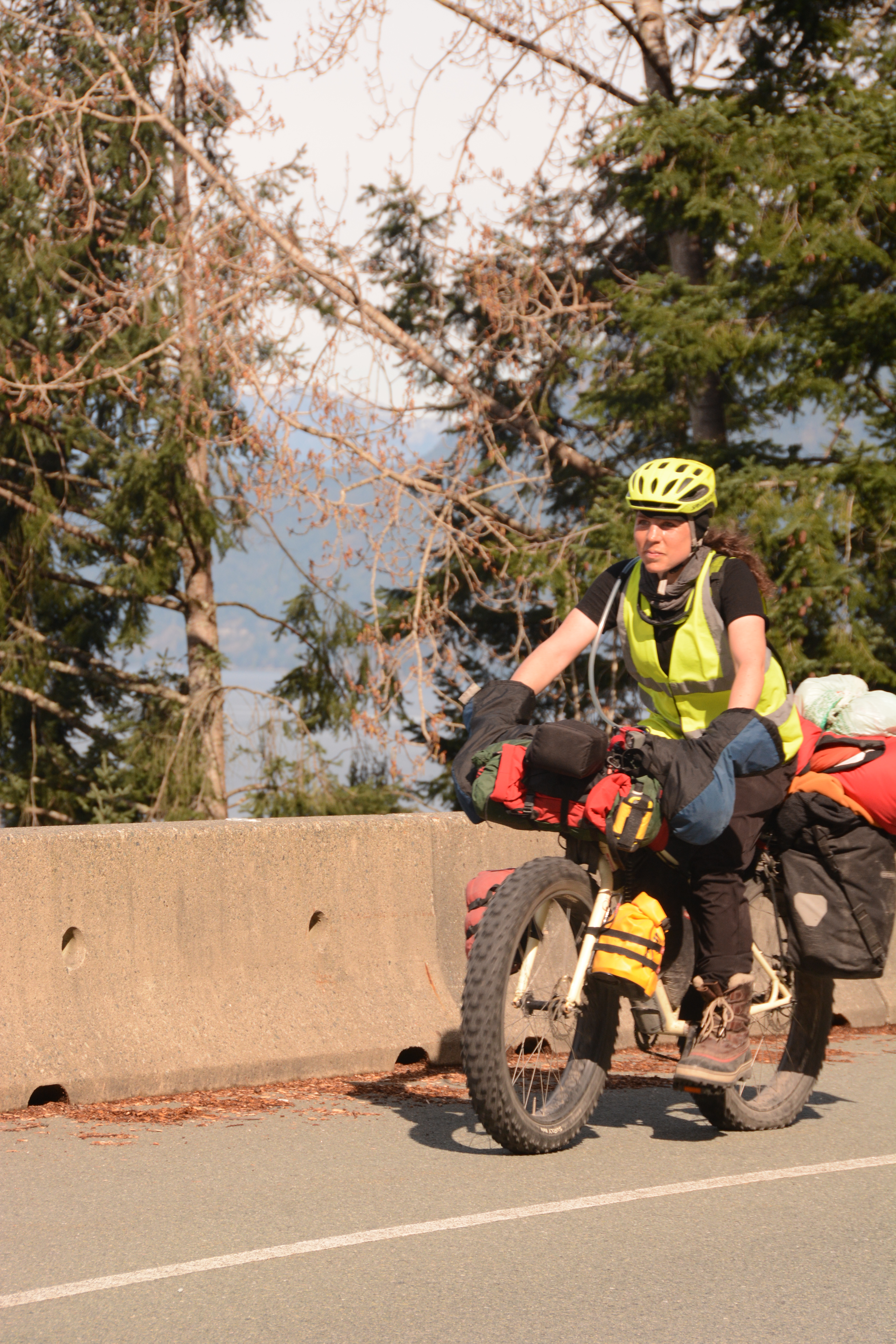 I enjoyed the boost though (I always ride faster when I have company), and appreciated having someone to navigate me into the city. Although I'm habitually an urban rider (and Vancouver was in fact the very first city I cycled in, over a decade ago, when I spent three weeks there on a theatre tour and bought a cheap second-hand racer because it added up to less than I'd otherwise spend on bus and boat fares), I'd barely touched cities since I left London, and most of the small towns I'd visited were so small that I never had any difficulty finding where I was supposed to be staying, and if I did, I could ask almost any passerby and they'd turn out to know my host personally and, as often as not, personally escort me round to their house.
It was my 33rd birthday. The rain and thick grey clouds of the past few days had blown away overnight, leaving the city, the glistening ocean, the shoreline and all its islands and inlets bathed in bright golden sunlight, blue reflecting on blue, successive breaths of magnolia and hyacinth and cherry blossom floating past me like fragments of a dream, that slips from your memory like Euridice into the underworld, even as you try to hold onto it. As Brek led me through the mansions and summerhouses of Marine Drive, and then up the ramp onto the Lions Gate Bridge, I had a sense of closing a loop, of tightening a knot. This was the bridge I used to cycle over on my way to perform Twelfth Night in churches and community halls on the hills of North Vancouver, when I was a girl of 22, and had no idea of what was to come. As I passed over the sparkling water, I found myself singing (a sign of my increased fitness on this trip is that I can now sing riding uphill as well as down), remembering the delicate melodies our composer had set Shakespeare's words to, wondering to myself whether anyone else – even he – still recalled them.
Oh mistress mine, where are you roaming?
Oh stay and hear, your true love's coming
That can sing both high and low.
Trip no further, pretty sweeting,
Journeys end in lovers meeting.
Every wise man's son doth know.
I still had two or three days' ride before I reached Seattle, but somehow I knew this was the real end of the ride. I had done what I set out to do; everything else was a mere formality.
I am not very good, I have realized, at observing the great symbolic moments of arrival and departure. I failed (and I use this word in the lightest possible way, no longer caring about it even slightly) in my attempt to cycle around the world, starting and finishing in the centre of Wales. It only occurred to me as I rode out of Anchorage that I should have picked some sort of monument to set off from, or perhaps dipped my wheels ceremonially in the Pacific before I left. As it was, I just rolled out of my hosts' garage, just after 7am on the 2nd January, found my way to the highway, and kept going.
Some cyclists are very good at setting out from Trafalgar Square, at rallying friends and family and media to see them off, at posting smug and triumphant photos from Sydney Opera House, or Table Mountain, or the Hagia Sophia. Some will meticulously draw a line on the road (real or imaginary) to which they'll return after any break or diversion. Most will insist on cycling every inch of the way, whether it's the record books or their own personal standards that demand it.
I tried to be this sort of cyclist, but found that I'm just not very good at it. A journey is, as we frequently remind ourselves, just as much internal, spiritual, psychological as it is geographical. And most of the time, I find that my journey has effectively reached its end before the pedals stop turning, before the line is crossed. There is a purity – a clarity – in riding between two specified points, in sticking to a pre-ordained plan, in wrapping things up and finishing them off just as you intended. And I envy this purity, because the way I do things is so often messy, vague, compromised, inspecific.
I was offered two lifts on this journey. The first was from two men in a pick-up, twenty miles west of Watson Lake, just after sunset. I was over 60 miles into my longest day on the fatbike so far, and already so exhausted that I was crawling along at walking pace. The temperature was somewhere below -30, meaning that I was also starving and dehydrated, since whenever I stopped to eat or drink I'd become intolerably cold within minutes. Covering the remaining distance to Watson Lake seemed impossible, and that's precisely why I said no (and wished as soon as they drove off that I'd said yes). Several hours later I rolled up at my host's house, barely able to stand or speak, but glowing with the triumph of overcoming my own doubts and limits. This is what I came here for.
The second lift I accepted. I had taken a detour off my main route (at that point the Cassiar Highway), to ride the 40 miles downhill to Stewart (which you'll remember, from a few posts ago, as the place where I broke and replaced my seatpost). A few miles in, I was flagged down by a stout, bearded young man who introduced himself as Wade, the road superintendant, and told me that I couldn't go any further, as he was about to close the road, so that an avalanche expert in a helicopter could drop a bunch of dynamite into the thick snowpack that had built up on the towering mountain slopes all around us, sending it safely down into the valley below. I dithered for a couple of minutes, wondering if I should give up on my chance to visit Stewart, turn back, and carry on towards my next pitstop, a few days hence, or whether I should wait around for the road to open, which might take many hours if it ended up buried under snow. Accepting Wade's offer to drive me 30km down the road, beyond the danger zone, immediately seemed like the right thing to do, and I have never regretted it. I got to spend a few days getting to know the wonderful Maria. I visited Hyder, Alaska. I spoke to the local school. And I was in exactly the right place when my seatpost snapped – had I not gone to Stewart, it would have happened somewhere in the lower reaches of the Cassiar Highway, and I would almost certainly have had to flag down another lift, and miss out on the three days of cycling it would take to get me to Smithers, 300km away. Plus, there's only one road in and out of Stewart, so I made up the relevant distance on my way back to the main highway, and this time it was uphill.
Reflecting on these two episodes quickly becomes a reflection on the ultimate aims of my journeys. I am proud that I refused the lift to Watson Lake. I often hope, on difficult days, that I will not be offered a lift, because I worry that I would accept in the heat (or the cold) of the moment, and then regret my decision forever more. I am as pleased that I had the courage to say "no, but thanks for offering" as I am that my trembling legs and wavering will eventually propelled me to the end of my 83-mile day, and one of the best post-ride glows of the whole trip. For a lot of that day I felt as if I wouldn't make it, but I did. That glow, that satisfaction, that heady, honest exhaustion, and that pride, are the reasons I do what I do. Whether or not I maintain an unbroken line seems to matter very little in comparison. And I still have no regrets about accepting the lift down to Stewart. I gained more by saying yes than the futile and empty purity of saying no.
So I have reached my journey's end, even though I'm still not in Seattle. A few days before I reached Watson Lake, while I was sitting in the café at Johnson's Crossing, drinking hot chocolate and trying to warm myself up after another day so cold that my breath formed a long icicle protruding from my neoprene mask, and condensed on my eyelashes so that they occasionally froze together and obscured my vision, I read an email from my old friend Nhatt, who left London two years ago and has been living in Brooklyn and Martha's Vineyard ever since. She was tired of the East Coast, she said, and had decided to move back to Port Townsend, across the Puget Sound from Seattle, the closest thing she has to a hometown. She should be there in time for the end of my journey.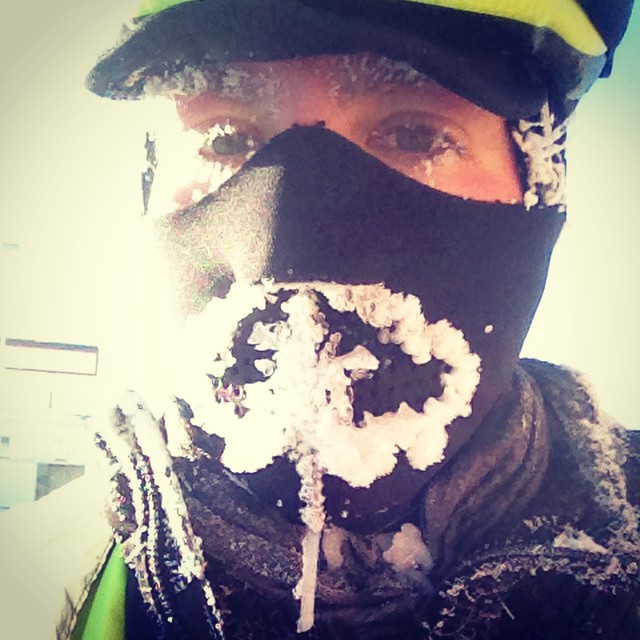 All of a sudden I had a goal. I hadn't really known what I was aiming for in Seattle, and had had a vague idea that I'd prop my bike up in front of some appropriately iconic landmark, take a photo, call that the end of the journey and then go and buy myself a beer. But now I knew that the real finale would be when I stepped off the ferry to Port Townsend, and saw a familiar, long-lost and much-loved face waiting for me. "Journeys end in lovers meeting" I kept thinking to myself, although Nhatt isn't a lover, but a very dear friend, a kindred spirit and a fellow restless spinster. Still, the sentiment somehow holds. One way of ending a journey is to return – in whatever way – to the familiar, the intimate, the heimlich. Arriving in Vancouver, I rediscovered an old haunt, crossing the same bridge I once had as a weedy 22-year-old student, now with thousands of wintery miles in my legs and the same song on my lips. And when I reached the ferry port at Coupeville, gazed out at the Puget Sound and the enormous open sky, and knew that Nhatt was just on the other side of the water, I also knew that this was the end of the road for me, at least for now.
When Nhatt told me Port Townsend was a Victorian seaport, I'd somehow imagined it might look a bit like Brighton or Eastbourne, with sheer, weatherbeaten terraces braced against the salty wind, and winding alleys crawling up the hills from the shoreline, bustling with tourists and roaring with frustrated traffic. Instead I've discovered a haven of space and light and quiet. Compared to the tiny island nation I grew up in, North America still rejoices in an abundance of land. No one is crowded here. The houses are large, ornate and beautiful, with gables and turrets and bay windows overlooking the ocean and the distant cliffs and forests of the mainland. Each is set in its own grassy lot, fringed and sheltered by statuesque Douglas firs and monkey puzzles and a flouncy efflorescence of cherry trees. The roads are edged with turf, rather than paving slabs, and there is anyway so little traffic that you could walk down the middle of them if you wanted to. From the top of the hill, where my host lives, through the trees, I can see blue water on three sides of me. Down at the shoreline, the beaches are strewn with ancient tree trunks, dried and polished by decades of salt water before being washed up here for children to play on and tired cyclists to sit on while they daydream. And up above us all, the sky, ever-changing, ever-constant. Sometimes it's a solid blue infinity, riding above the sparkling water from the hinge of the far horizon, and on the very clearest days, I can see a line of sharp snowy peaks, a long way off, beyond the sandy cliffs and pine forests of the surrounding islands and peninsulas. Sometimes it ripples with a thin veil of cloud; a quiet symphony of greys and golds, fading to blue at its edges as the mists pile up on the slopes of the distant Olympic mountains. More than the friendliness of this small community, and all of its graceful Victorian architecture, I will remember its air, its space, its light, its sky. I have the same sense I had that wonderful week in South Korea, of clinging to the edge of a continent, to the end of the world, and knowing that beyond the horizon there are no more roads, no more people, nothing but endless perfect blue. It was a mistake, I realize, to accept that blue is the colour of sadness, of misery, of melancholy. Here, now, for me, it is the freedom of a space I don't have to fill; it is brightness and freshness and motion; it is an amiable emptiness; it is a height and a depth and a distance that is greater than me and all of my earthly worries; it is light; it is life.
I realized when I arrived here that I was exhausted, and that this wasn't just the sort of exhaustion that follows a few days on the bike, and can be solved with a day off, a good sleep and five or six square meals. It's easy to notice when your body's tired – it aches persistently, and complains when you try to walk up a hill, or ride your bike more than a couple of miles. Noticing when your mind's tired is a lot harder, and I can really only do so because I've been here before, last time I came home from a big trip.
Just as much as the weather, the temperature, and the avalanches and landslides and herds of bison that I was warned might impede my progress through Alaska and Canada, I've found my feelings and emotions to be almost entirely ungovernable, and often very different from what I had previously anticipated. We all assume, I think, at least for our first trip, that during our grand finale and triumphant homecoming, we'll be glowing with well-deserved pride, ringing with elation, grinning with joy, singing from the rooftops. It seems to make sense that the post-ride high should be commensurate with the depth of our pain and suffering and self-doubt over the preceding months. In fact, what seems to happen with me is that all of this emotional energy is used up on the ride itself, and as soon as I reach a safe harbour, my feelings dry up entirely. When I got back to London from Japan two years ago, I was puzzled and embarrassed by how little emotion I could muster, how little I seemed to care and anything, even when reuniting with friends I'd missed painfully; even when being driven up the lane to my parents' house, and passing through the gate I'd set off through 18 months previously. When I arrived in Port Townsend, met Nhatt after more than a year, hugged her, and settled down with a pint of ale to savour our reunion and watch the light playing across the far-off cliffs as the sun sank, I realized I was forcing myself to display an excitement I wasn't really feeling. I was as happy to see Nhatt as I ever have been, but my mind simply didn't have the energy to do very much about it. The same happened a couple of days later, on a day where the sun was so bright and the sky was so blue that all anyone wanted to do was be outside and exclaim constantly over how beautiful the world was. I couldn't bring myself to do more than notice.
The end-of-trip elation, I realized, had all happened in anticipation: as I rode into Vancouver, and as I sat waiting for the ferry in Coupeville. Perhaps, it occurs to me, every time I cycled along through the snow and the wind, cheering myself up with elaborate fantasies of my triumphant homecoming, I was using up the emotion, rashly squandering it in advance, leaving myself nothing to live off once I finally got to the end of the journey.
But being on the road was a joy in itself, and often felt like far more of a luxury than I really thought I deserved. Cycle touring is often so demanding that I have no spare energy to live or think anywhere beyond the moment that I'm in, and life consists simply and purely of long, hard, cold days on the bike, cosy evenings in the tent, and regular encounters with all of the wonderful people who take me in, spur me on, and quite regularly bring tears to my eyes with their kindness. My mind will miss these heady alternating peaks of joy and anguish the way my body will miss the punishing days of cycling for 12 hours at -35.
Although I felt like I was in excellent shape, mentally and physically, when I began this trip, I've been slightly concerned that it would be followed by another nine months of cataclysmic depression the way the last one was. These concerns are now exacerbated by the fact that I've noticed some of the same thought patterns repeating themselves. As well as the curious dearth of emotion, there are other little mental oddities, most of them seemingly illogical or at least inexplicable. I'm more prone to loneliness. I'm more needy, and yet also less tolerant of human company. I find myself looking at the world around me, the people, the houses, the jobs, the demands of civilization, and wondering how I could possibly ever keep up with it all.
One crucial difference this time is that I've been here before – rather than being frightened or daunted by these feelings, I recognize them. They're just part of the process of ending the journey, and although it may be a longer process than I'd like, and often a difficult one, my mind will eventually resolve and rebalance itself, and I'll be ready for the next thing, whatever it may be.
Another comfort is that I'm not alone this time. Since I finally plucked up the courage to write about my mental health last year, I've built up a network of other adventurous travellers, who have said (publically or privately) "yes, me too". Solidarity is a wonderful thing, as I rediscovered when exchanging emails with Kate Harris, who has recently returned from her own expedition, skiing wild borderlands in the Pamirs, and admitted "Right now I'm fighting the lassitude I inevitably feel after every trip concludes…so many emails to write and things to wrap up, sponsors to placate with photos I can't bring myself to look at right now, such a crushing inability to do anything but stare out the window, read poetry, and go for long walks. I'll shake it off eventually…" When I emailed Amie and Olli, old cycling friends who'll be hosting me in Seattle, explaining that I needed to spend as long as possible doing nothing in Port Townsend, and that I might not be the most sparkling company when I finally made it to the city, they completely understood. "We call it cave time" Amie said, and shortly afterwards offered actually to drive out and pick me up from Port Townsend, so I don't even have to cycle to the ferry.
So the physical part of my journey is well and truly over and, if you choose to measure things that way, I have failed to cycle to Seattle. But the challenge I set myself was effectively complete the day I rode out of the mountains towards the Vancouver skyline. And many of my other journeys – the more complex, less tangible ones – still continue. The road goes on, and some part of me still yearns to dissolve into the fading blues of the horizon.