Oh, where to start, where to start? When I've been on the road for three weeks, and so much has happened, and so many people have told me they're eagerly watching my blog for updates?
I'll start at the beginning, of course, in Anchorage, just a few hours after I stumbled exhaustedly off my third flight of the day, and woke up in my clothes on a strange sofabed, with a cat scratching insistently at the door and a body that couldn't quite decide how awake it was, or which time zone it was in.
Kirk solved all of this by taking me to Darwin's Bar. Kirk, in case you haven't heard of him, which you probably haven't, is the only bike messenger in Alaska – or, to be slightly more emphatic, the only person in the world hard enough to be a bike messenger in Alaska. I have known him, and known of him, for years, thanks to messenger forums like Moving Target, which brought us all together despite the thousands of miles and differences of opinion that separated us.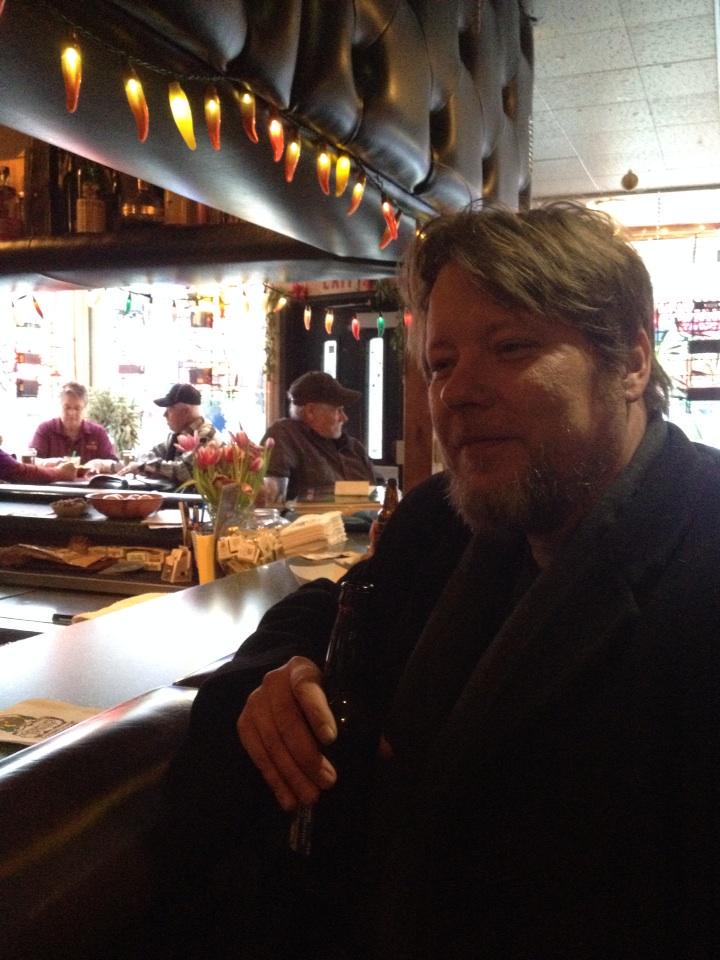 Kirk was a lonely, sometimes jovial, sometimes belligerent, sometimes obviously drunken voice on the other side of the world, chiming in with the badinage and in-jokes of the London circuit as if he were sitting behind a laptop in Peckham or Clapton, just like the rest of us. Occasionally he'd respond to an invitation to an alleycat, or other messenger gig, saying he wished he could make it, and hoped we'd all have a good time without him. Once or twice he issued a plaintive symbolic invitation to us all to come over for a barbeque he was having that weekend, or to join him at Darwin's for a few beers after work, saying that he knew we wouldn't make it, but we were welcome nonetheless.
Sometime in 2010, after I wore a dress to a courier industry awards ceremony, and was greeted with lecherous approval by my company's fleet manager ("Phwoar, they'd better not sit me next to you! I'll be perving over you all night – won't be able to face you in the morning."), Kirk left a comment on my blog: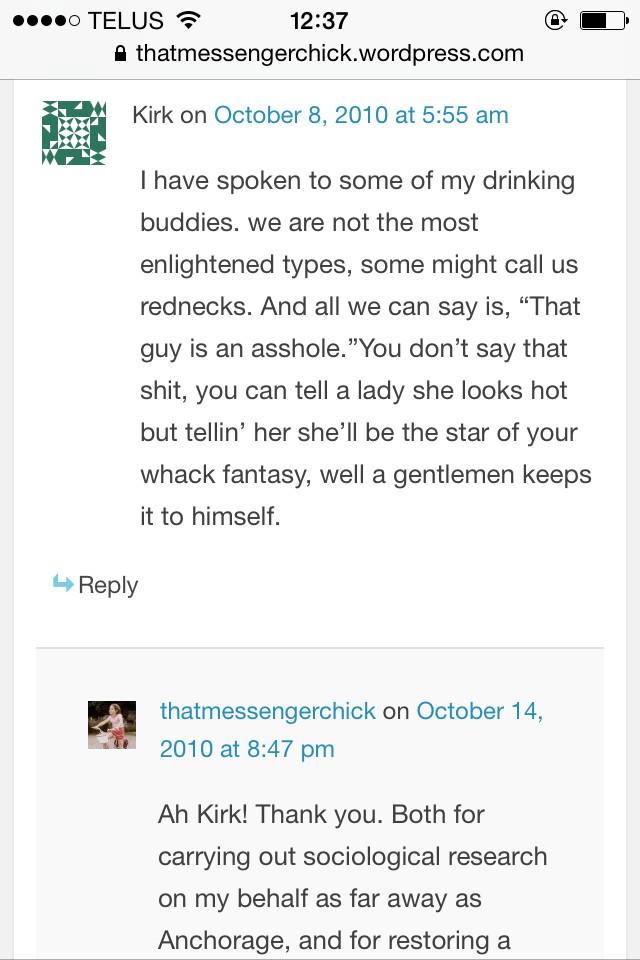 I have rarely been more touched. This person I barely knew, in a city far away, had read of my outrage, and been so outraged himself that he had gone out to his local bar and discussed the situation with his friends before coming back to reassure me.
I thanked him profusely, and promised:
I AM going to ride over and see you one day, by the way. You may think that's an idle threat, but it's not.
It felt like an idle threat at the time, but, over four years later, here I was.
Kirk was just as I'd imagined him (gruff, irreverent, fatherly), and Darwin's was just as I'd hoped. Everyone knew my name before I even arrived, since Kirk had spent the preceding weeks announcing my arrival and broadcasting my plans, and to my relief, no one expressed anything other than approval that I was planning to cycle the AlCan Highway in winter. I had been worried that Alaskans would insist that it was impossible and that I would die trying, which, even if they turned out to be wrong, is not a nice thing to have hanging over you as you start an expedition.
Instead I met Catherine, a geologist who's spent years of her life rummaging around the more frozen parts of Alaska, and bombarded me with all sorts of advice I hadn't yet heard. (Apparently women's thighs and hips are most susceptible to frostbite – those down-filled skirts you see, which I assumed were just a fashion accessory, are actually an essential piece of equipment.) And I met American John, so-called because he's recently been naturalised (originally he's from Leeds), who wryly wished me luck on my "trip of certain death", and who never quite got round to telling me how he had ended up in Alaska. But then, almost everyone in Alaska seems to have ended up there somehow. Most people I've met (in fact, all apart from Kirk and a few young children) weren't born here, but came here, deliberately or accidentally, fell in love, with an Alaskan or with Alaska itself, and never left. It's a story I've heard again and again over the subsequent weeks, with many different twists and sub-plots and details, depending on who's doing the telling, but always with the same outcome, of living happily and hardily ever after, in downtown Anchorage, or in a tiny isolated cabin in the woods, or running a roadside lodge, or drilling out on the North Slope, or teaching or doctoring in remote villages, only accessible by plane.
Alaska's a dangerous place. As well as the bears, and the wolves, and the moose, and the frostbite and hypothermia, there's the ever-present risk that you might never leave. Almost everyone I've met has tried to convince me to return. If I'm not careful, I could easily spend the rest of my life here.