Quite unexpectedly, Night Of Adventure turned out to be one of my greatest achievements to date.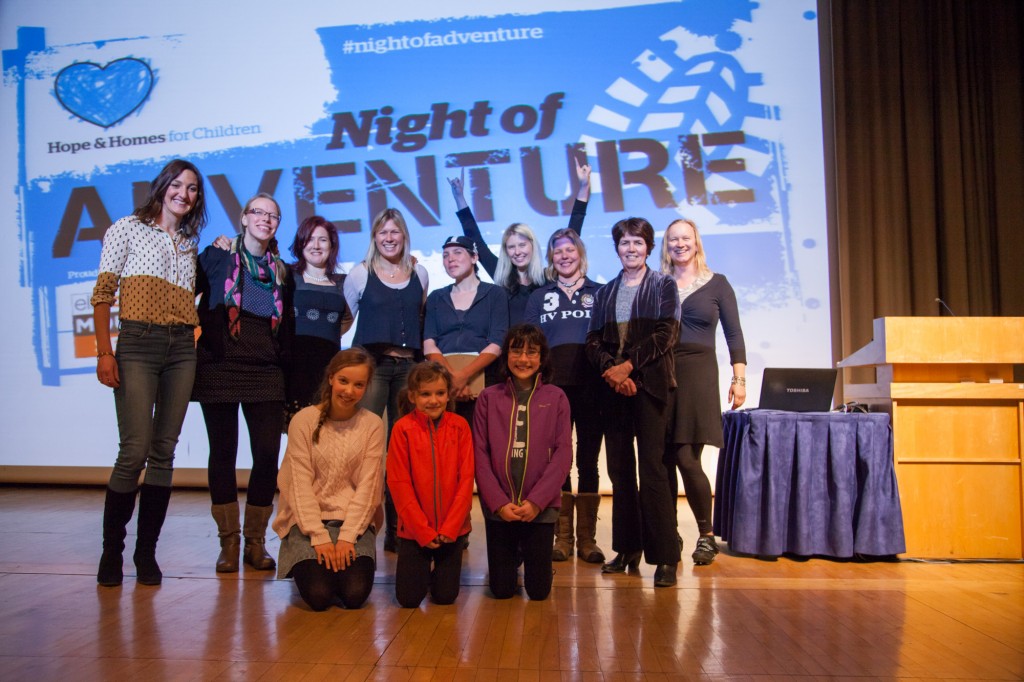 [Photo: Jools Whitehorn]
I'd been worried about all sorts of things: concerned that, as Lois Pryce later put it, it might turn into "a novelty women's thing"; afraid that we simply wouldn't find enough interesting female adventurers, and would have to fill in the gaps with people who didn't really deserve to be there. Or maybe no one would buy tickets. Perhaps, in my role as MC, I'd accidentally find myself trotting out tired old cliches like "girl power" (eurgh), or "anything they can do we can do better", when the whole point of this event was not to show that women are different, or superior, but simply to demonstrate that they are as adventurous, strong, intelligent, funny, resourceful and ultimately human as anyone else on the adventure speaking circuit – good enough at what they do that their gender needn't really come into it.
And as it turns out, the only person who mentioned gender was me (ahem), in my opening and closing addresses. The rest of the time, as several audience members remarked, we all forgot we were at a 'women's' event, and just enjoyed the fantastic range of speakers. One of the Hope & Homes staff, who's been to just about all the events since Night Of Adventure was founded in 2010, said it was the strongest line-up yet and, casting my mind back, I'm not surprised.
Almost by accident, we ended up with eleven speakers whose ages ranged from 8 to 50+; whose travels had taken them from the humble Welsh mountains to the Gobi Desert and the South Pole; whose adventures had varied in length from a couple of hours to four years. They had cycled, motored, walked, climbed, ridden, skydived, snowboarded, paraglided, kayaked, sailed, caved, coasteered, and camped in all kinds of weird and wonderful places. Several of them were record-holders, and several more have published books, or are writing them.
Some of the photographs they showed had me covering my eyes in fear – most notably Emily Tolhurst's pictures of kayaking the Channel (which she did when she was fourteen), and Holly Budge's of skydiving Everest. Others, such as Hannah Engelkamp's struggles with her recalcitrant donkey, as they walked the perimeter of Wales, had the whole audience howling with laughter.
So in the end there was no need to make any patronizing final address about what certain special women can achieve when they really put their mind to it. It was enough to acknowledge the eleven exemplary human beings that stood before us, and to thank them for inspiring us to be stronger, to try harder, to live better and to pursue our own adventures, wherever they might take us.
I couldn't be prouder.
_________________________________________________________________
EDIT: Actually, yes, I could. I'm very much aware that we had an exclusively white line-up. I tried very hard – and ultimately failed – to find any adventurous people of colour to speak at the event. But I'm sure they must exist. If anyone's able to help me out with links, leads, suggestions and collaborations for future events, please get in touch.