The other night, sheltering from a blizzard in Reykjavik's youth hostel, I ran into the only other cyclist I've met on this trip – a cheerful Bahraini entrepreneur called Yassir, who made it his New Year's resolution to travel more, happened to watch The Secret Life Of Walter Mitty, and booked a passage to Iceland the very next day. He turned up on the east coast with a backpack and a brand new bike, having never seen snow in his life, and with no idea what he was letting himself in for. His holiday didn't seem to have gone quite to plan (predictably, he covered more miles on buses than he did on his bike), but if nothing else, he appreciated the break it had given him from running his own business (he's just sold one, and is about to launch another), which he said had taken up almost every waking hour of the last six months.
I knew what he meant. We compared notes on the joys and pitfalls of self-employment – neither of us would have it any other way, but we both confessed to a lack of work/life balance. I don't even feel this term really applies to me – most of what I do (riding bikes and writing stuff) is 'life' rather than 'work', and it seems merely coincidence (and luck) that I get paid for enough of it that I don't need to do anything else. There never comes a point in the day, or weekend, where I decide I'm going to stop doing work and get on with the rest of my life, because I don't really have much of a life outside bikes and writing. Even when I go to the pub, it's usually to talk about bikes or books with one of my equally unoriginal friends.
I've no real complaints about this state of affairs – I am constantly and gleefully grateful to have somehow stumbled into a life where I get to do almost entirely as I please, all the time. But it does make taking a break more difficult than just booking my annual leave and getting on a plane to Majorca. Talking to Yassir about how I've spent my last two weeks, I realized that my most reliable escape route lies in finding loopholes in my 'normal life', into which I can disappear. And in Iceland, I managed to disappear very effectively.
One of the manifold advantages (and also disadvantages) of bikepacking is that the amount of kit you carry has to be whittled down to a bare minimum. When I cycled across Asia I had four panniers, plus a tent, a barbag and a daysack full of spare food strapped onto my rack. To some extent this was necessary (after all, it was a long trip, and I had to carry all the kit I'd need for several seasons on the road), but I did end up erring rather too far on the side of caution (most of the 7kg of tools and spares I brought went unused). But on this trip I was limited to only a framepack – there was no room for luxuries, and even the category of 'necessities' ended up being ruthlessly redefined.
I ended up leaving Reykjavik without my laptop, without books, and without even a notepad. All I had room for was the map, squeezed in alongside several days' worth of packet soups, porridge oats and cheese (because there are no shops in the Icelandic interior). It would be, I decided, an interesting social (or rather, antisocial) experiment – not only to cut myself off from the outside world for a while, but also to leave behind anything that might provide distraction or solace from the world immediately around me, and to remove the temptation to carry on thinking about all my worldly obligations – all those emails that need to be sent, events that need to be organized, obligations that need to be fulfilled.
And it worked a treat.
Following Emil's directions, I rode north-east out of Reykjavik, following the tourist buses to Þingvellir, where I spent the night snuggled up at the edge of the American tectonic plate.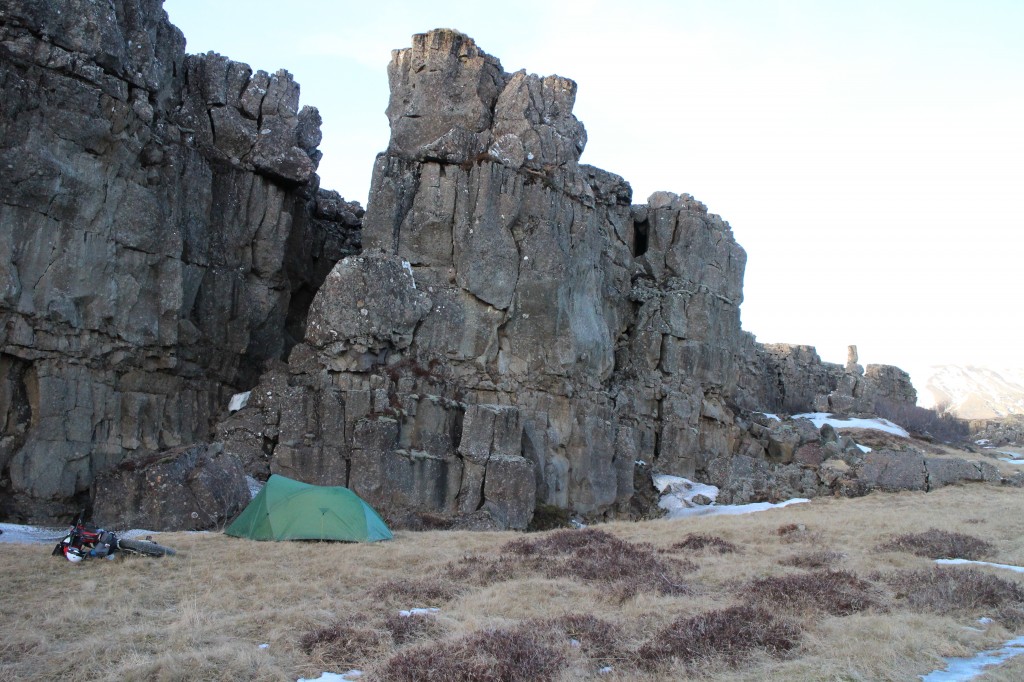 I spent the following day cycling round Lake Þingvallavatn, partly because it was so heartstoppingly beautiful; partly because I was nervously procrastinating Kaldidalur. I still found some pretty good ice.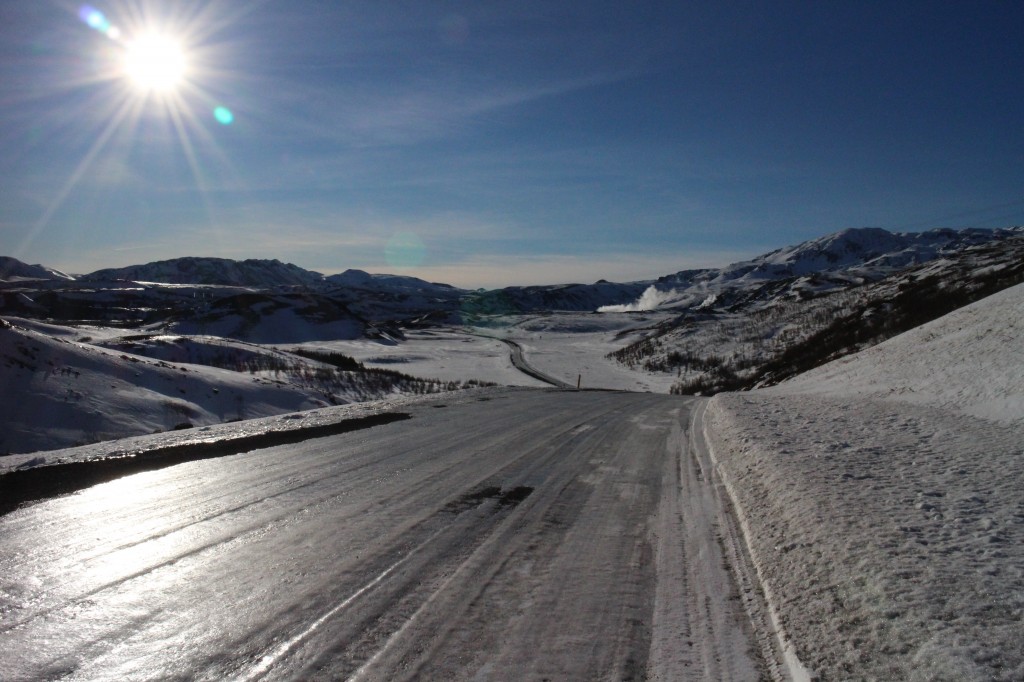 And some spectacular views.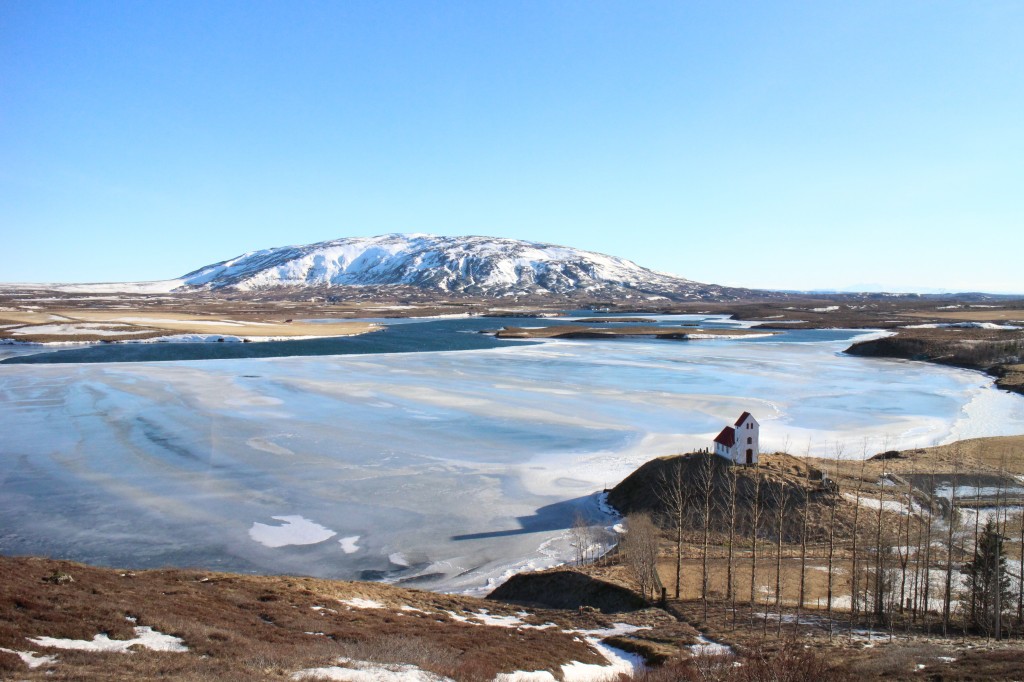 And there were almost no people to share them with me. One of my most striking impressions of Iceland is the contrast between its gigantic landscapes and the tiny scraps of civilization scattered amongst them. What's marked as a village on my map will often just be a house or two. And even these are few and far between. Much as I enjoy being on my own, the sense of being such a very very long way from any other human being was almost vertiginous. Even though reason told me that I had enough food and tools to survive for a few days without human contact, and a mobile phone in case anything did go wrong, I instinctively missed the fleeting comfort of passing cars and wayside petrol stations; of the occasional conversation and company they usually offer me when I'm touring.
But after 24 hours of this, I felt my mind beginning to unfurl itself like a flower. Stepping back into the familiar rituals and routines of touring was like slipping into a fast-flowing river in which I'd swum since childhood – of course, the water will be different every day, but its rhythms, its rapids and its rockpools will be the same as they always have. Like the streets of London, which are paved and piled with the memories I've written and rewritten as I rode along them, the process of hunting out a hidden campsite in the Icelandic hinterland, putting up my tent, and cooking my dinner took my mind back to similar wintery campsites in Bulgaria, Turkey and Iran, so completely that there were moments where I'd forget which country I was actually in – much like that watershed morning two years ago when I woke up in an unfamiliar bed in central Iran, experienced that moment of disorientation all travellers know so well ('where am I?'), but then noticed that it no longer contained its usual note of panic. I was content not to know, to take as long as I needed to to remember, and perhaps to fall asleep again before I did, because, after all, I was somewhere, and the previous day I'd been somewhere else, and the following morning I'd be somewhere else again. As I remarked at the end of China, whereas most travellers try to capture 'a sense of place', I seem inadvertently to have cultivated a sense of placelessness, or rather, a curious transcendent feeling of all places being contained and echoed in each other, much as I found reflections of every other city I've known and loved in Istanbul, and much as I now cast my eyes over the rolling golden-brown expanses of Iceland, and felt exactly the same way I did when approaching the centre of Turkey, now over two years ago.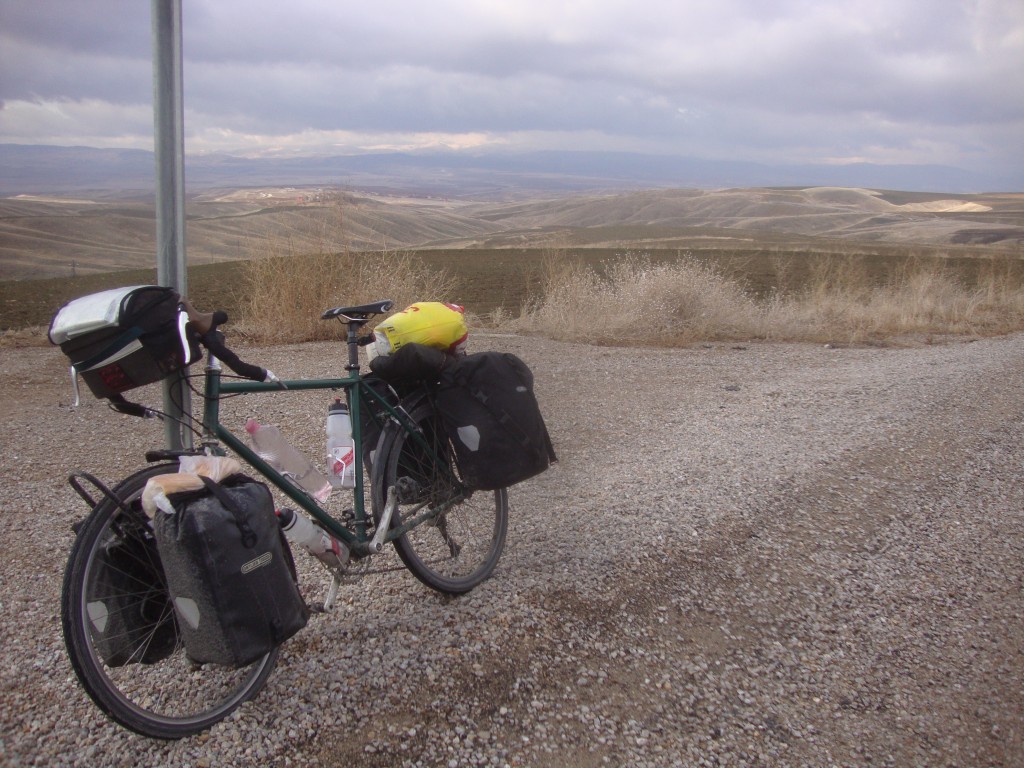 [Another bike, in another country.]
The following morning I ate my porridge sitting on the ramparts of Þingvellir: perched on the edge of a continent, watching the sun come up over another, and illuminate the tiny farmhouse in between that is the official summer residence of Iceland's prime minister. (The previous evening I'd cycled round it and peeped through all the windows – a far cry from the iron gates and body scanners and security guards at the end of Downing Street.)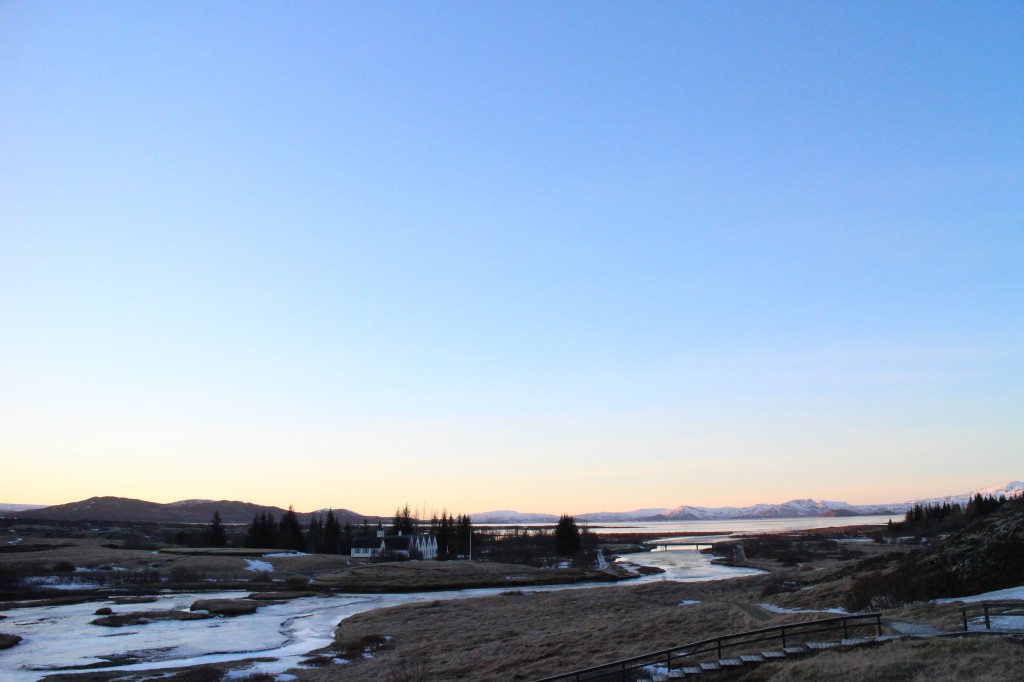 And then – enough excuses! – it was time to tackle the 'impassable' road up to Kaldidalur. It branched off from the main Reykjavik road, and as far as I could see it was clear of snow and flawlessly tarmacced. But right in the middle of it was a large red-and-yellow sign saying
ÓFÆRT
IMPASSABLE
I eyed it nervously as I sped past, with no real idea what conditions might make a road 'impassable'. I pictured snowdrifts higher than my head, and wondered how far I and my snowbike would get before I either had to turn back, or ended up so irretrievably stuck that I'd have to call out the mountain rescue. The road (still tarmac) wound around the northern end of the valley, deteriorated into gravel, and then reared up ahead of me, getting steadily gravellier and icier as it snaked off into the mountains.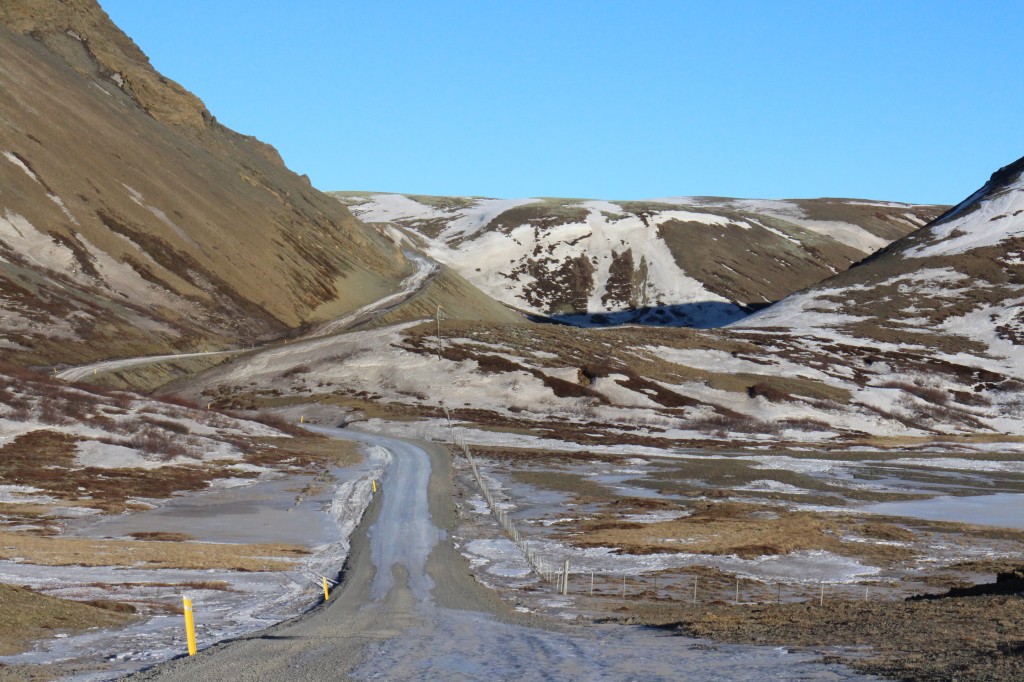 I struggled up towards the pass, cast a final, wistful glance back towards Þingvellir, and then plunged down the other side. And, as often happens when you cross a mountain pass, I found another world.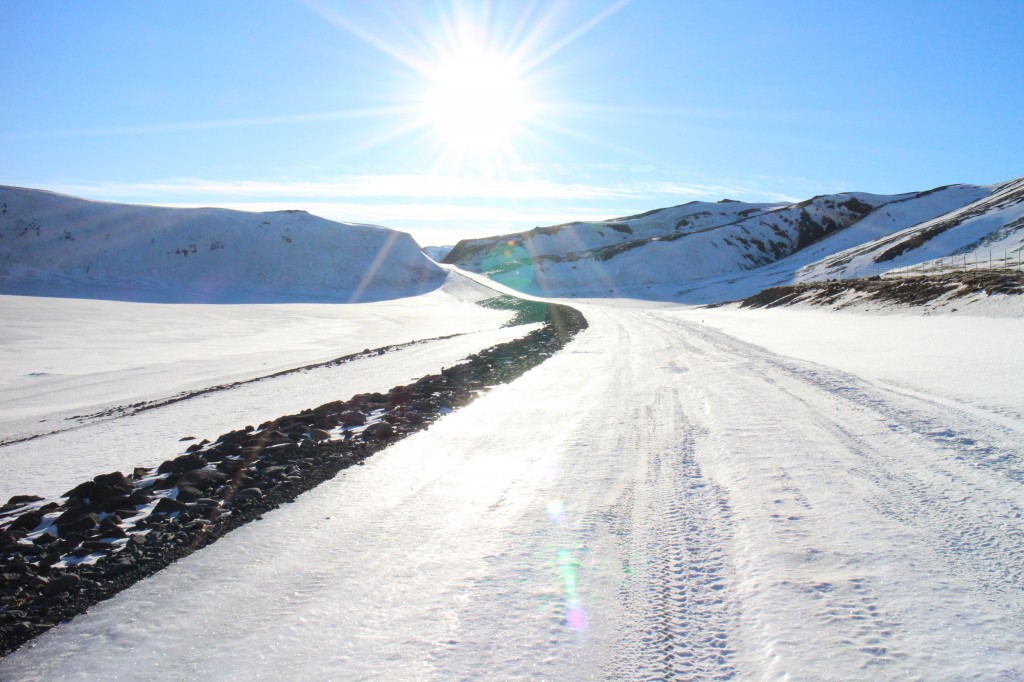 Or, rather, just another part of the same world. Because the exhilaration that coursed through me as I crossed this vast, empty, undulating, snowy brilliance was in the same key as that I'd felt as I rode out of Soltaniye towards Hamedan: a swelling chorus of elation, with a minor note of fear.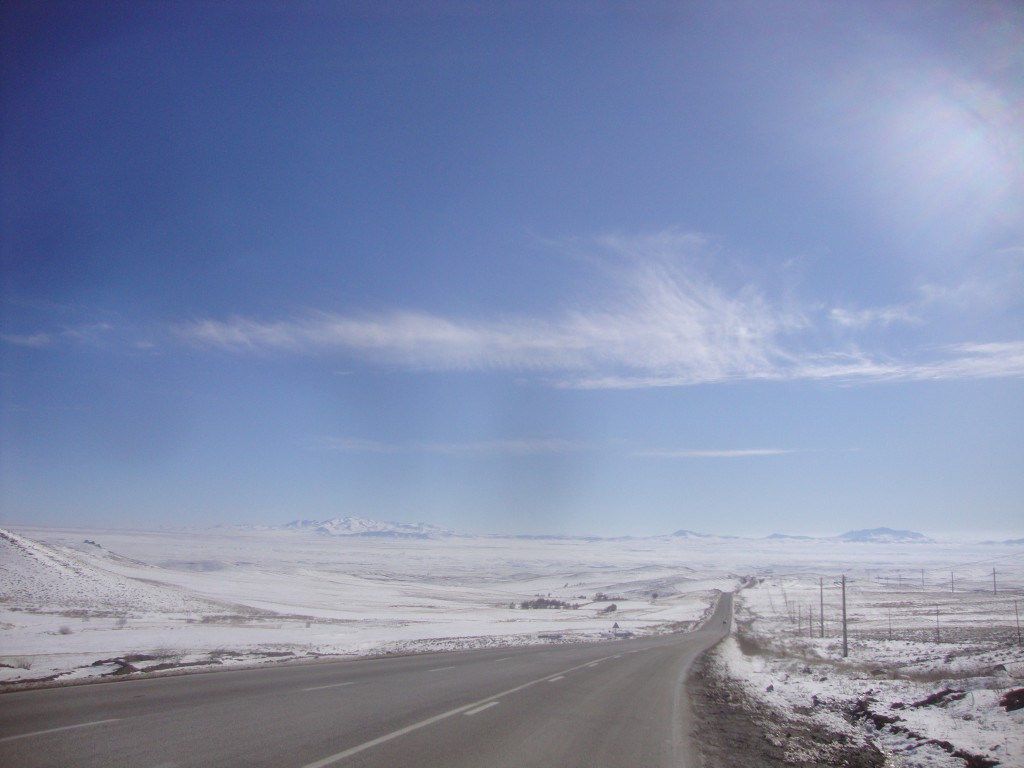 [Different country; same feeling.]
Both days I'd been transfixed by the beauty that surrounded me, but also frightened by the cold, the isolation, and by not knowing what would happen to me if I failed to reach my destination before nightfall.
The road wasn't completely impassable – there were jeep tracks, that I followed even when the road itself was invisible, but I didn't see another person or vehicle all day. Kaldidalur was unlike any other road I'd ever taken. Sometimes the road was corrugated like a BMX track.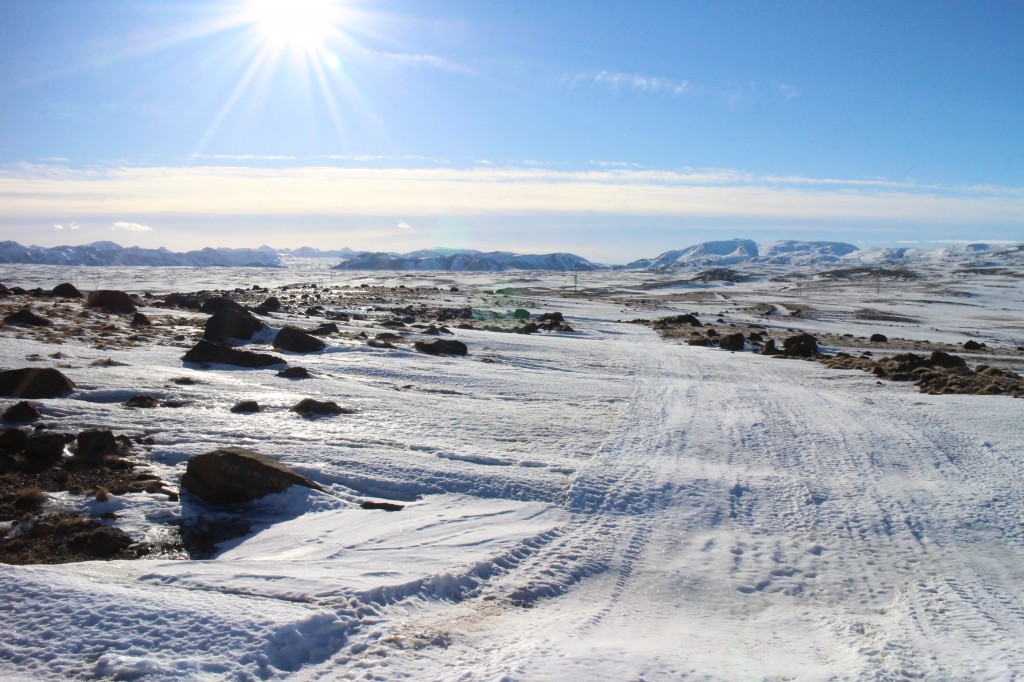 Sometimes it was a solid river of ice.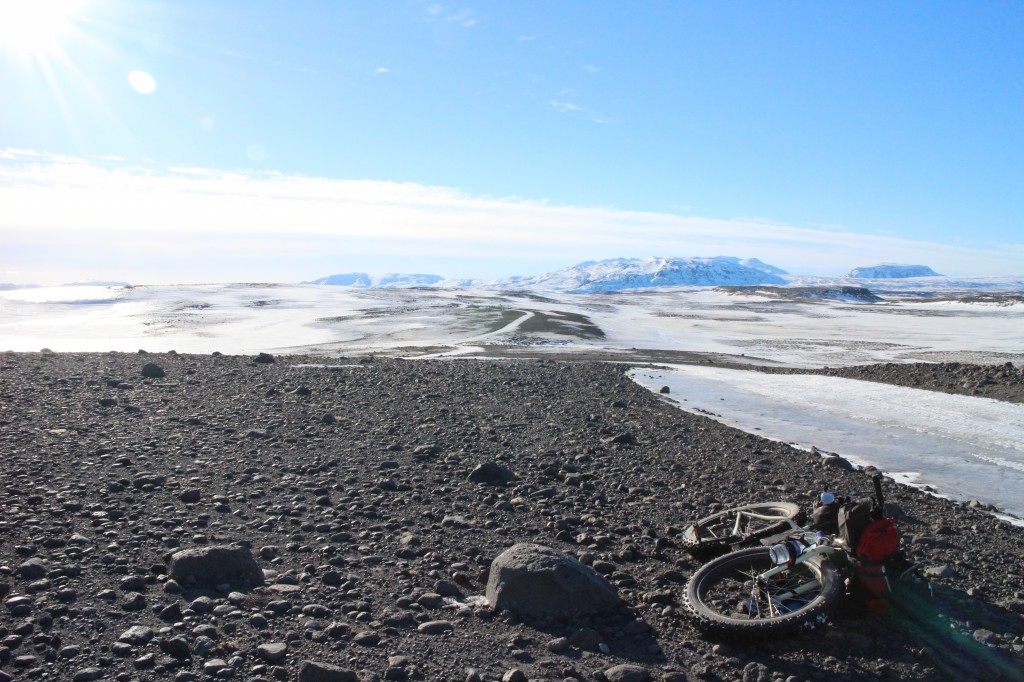 Sometimes it could barely be seen.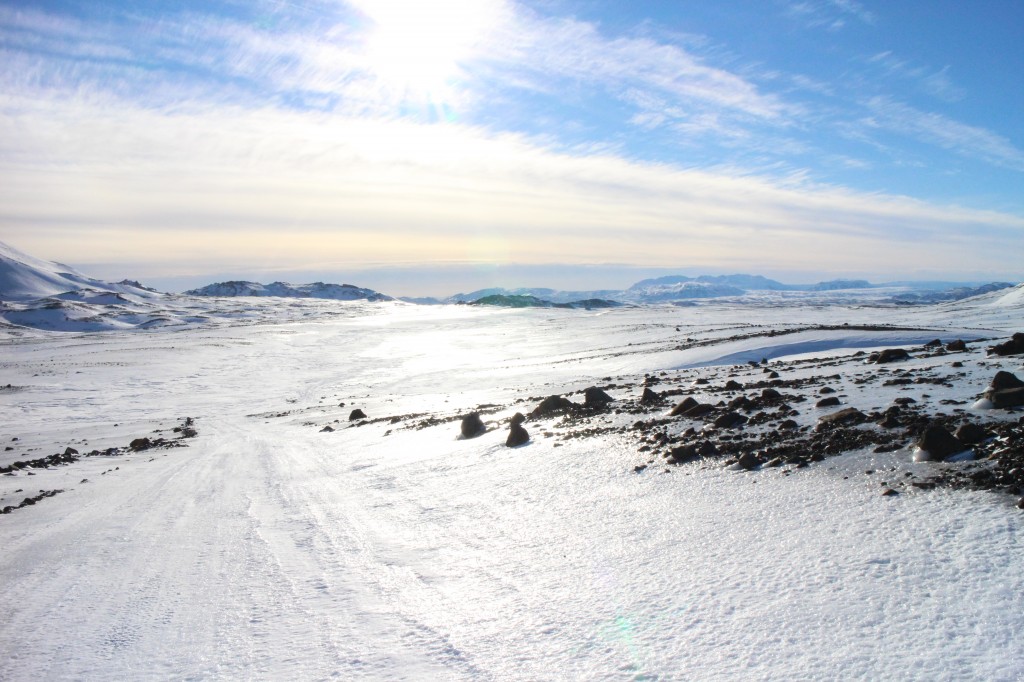 Sometimes it was visible for miles.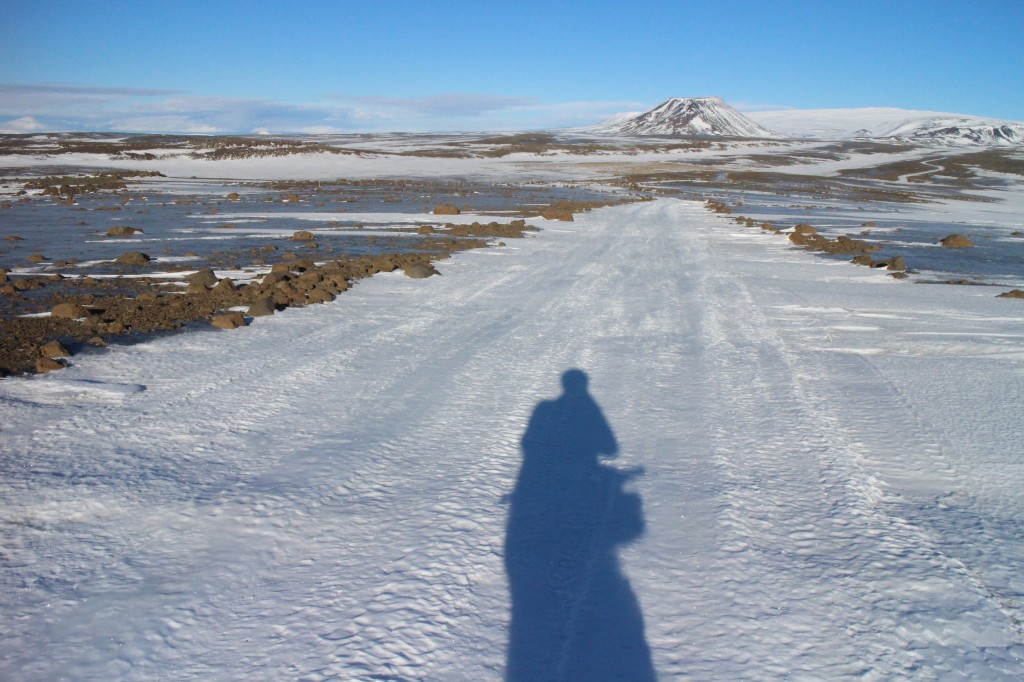 And finally, just as the sun was sinking below the hills and my muscles were beginning to tremble with exhaustion, I rolled carefully down the final hill and along the frozen river valley towards the tiny hamlet of Husafell. I stopped briefly, as I passed the red-and-yellow sign saying
ÓFÆRT
IMPASSABLE
to take the photo that would have been hubristic to take at the start of Kaldidalur, and which you've seen already, of course, but I can't resist sharing it again.