After three weeks in the country, my father concluded that Pakistan is a wonderful place, but it doesn't make life very easy for the foreign traveller. And I have to agree. I've fallen more heartily in love with Pakistan than I have anywhere else I've travelled so far (although Iran and Turkey offer stiff competition), but this is also the country where I've spent the most time being held up, turned back, diverted, detained, accosted, arrested, escorted and invited to drink interminable cups of tea with very charming policemen, when really I'd rather be on my bike.
And the section that lies ahead of me is the most challenging of all. The Karakorum Highway – that 800-mile ribbon of tarmac that connects the plains of the Indus with the remote wastes of Western China, via the highest border crossing in the world – was always going to be one of the highlights of my journey. (In fact, my original plan was to ride just that stretch, and then things got out of hand.) I look back fondly at my fear of the Alps – mere pimples in comparison to what I'm about to tackle. I'll be climbing higher than I've ever been before, and as I approach the 4695m Khunjerab Pass I'll experience the effects of altitude for the first time in my life – dizziness, breathlessness, headaches, and, if I'm not careful, potentially fatal swelling of the brain or water on the lungs.
But, as is usually the case in Pakistan, there are far more challenges than just the straightforward physical ones to contend with. Part of the Highway has been underwater since 2010, after a landslide blocked the flow of the Hunza River. (Two German cyclists I met in Lahore assured me that it's possible to get a boat across.) And a few weeks ago there was an inconvenient eruption of Sunni/Shia violence in Gilgit, which left the town under curfew for 25 days and led to the evacuation of all foreigners in the area.
And before it reaches the famously friendly areas north of Gilgit, the KKH wends its way through Indus Kohistan, possibly one of the most hostile and dangerous areas in all of Asia. For centuries the Kohistanis have been known for their lawlessness and suspicion of outsiders. The British never fully conquered this area, and nowadays apparently even the police are nervous of journeying through Kohistan's vast, arid canyons. Most people who need to get up north will fly into Gilgit or Skardu, and even the normally fearless Laura Stone cautions that "Foreign women should not ride the section between Besham and Chilas alone." Try as I might, I've been unable to find any adviser who didn't echo these predictions of doom. This was looking like it might end up worse than Balochistan.
I started to reconsider my options. Copping out and taking a bus as far as Gilgit was, of course, out of the question. And then I discovered the Kaghan Valley, which follows the Kunhar River, just east of the Indus, with high mountains cutting it off from the unfriendly Kohistanis. According to my map there was at least a dirt track leading up the valley, rejoining the KKH at Chilas, and when I started asking around, I discovered that a lot of this track was now a fully paved road, with the possible exception of the Babusar Pass, which at 4170m is nearly as high as Khunjerab. And Kaghan is a friendly valley, green and picturesque, popular with the wealthy and overheated denizens of Lahore and Karachi. It suffered severe damage in the earthquake of 2005, and is prone to landslides, but according to everyone I spoke to, it would be a safe, easy and probably rather spectacular alternative to Indus Kohistan.
So last week, led, followed and occasionally accompanied by my parents, I left the KKH at Mansehra and started riding up the Kaghan Valley, planning to get as far as I could, draw an imaginary line on the road, and then return once I'd deposited them at the airport, to carry on towards Chilas. But, this being Pakistan, we quickly ran into problems. A jeep-borne recce up towards Naran revealed that, although we're now into May, the roads are still blocked by snow. And this isn't just a small sprinkling, of the kind you could ride over, given good balance and the right sort of tyres. Over the winter, great avalanches of snow have thundered down between the spurs of the Kaghan Valley, carrying tonnes of debris (rock, tree trunks and the like) with them, and solidified in great impenetrable bulwarks across the road, some of them as tall as buildings. The locals call them 'glaciers' and, while this is strictly speaking incorrect, there is nothing they resemble more.
Here's the biggest we saw, just south of Naran. (Apologies for squint photo – it was taken from a moving vehicle.)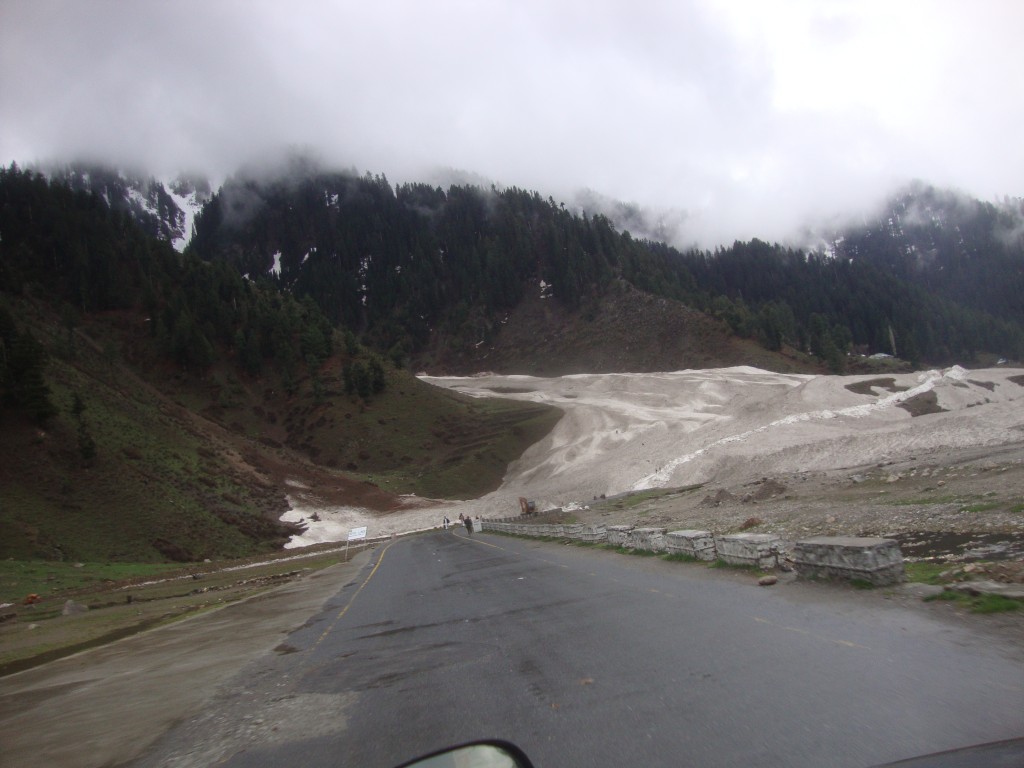 And here's one the army have already blasted through (with parents for scale).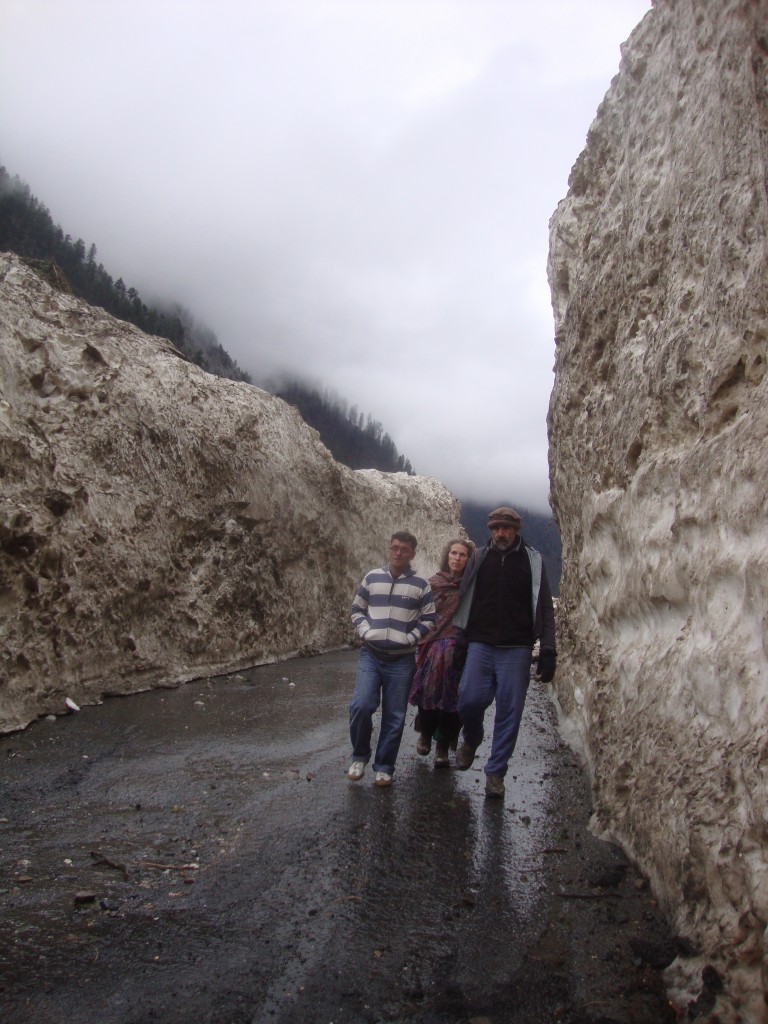 The army are hard at work clearing them, but nobody expects the Babusar Pass to be open to traffic before mid June (long after my visa expires), and even the most intrepid of cyclists would have trouble hauling her load over some of these obstacles. (Our driver managed to get his jeep over one that had been partially cleared, just before Naran, but then broke his drive shaft trying to get back across to take us home.)
And so, once again, I find myself reconsidering my options. I can attempt to haul myself, my bike and 50kg of luggage over the Babusar Pass, probably mostly on foot. Or I can brave Kohistan after all. Or I can compromise my principles yet again and take a bus to Gilgit.
Thankfully, as ever, Pakistanis have come to my rescue. I'm planning to set off (I know not yet in which direction) on Tuesday, after (inshallah) picking up my Chinese visa on Monday. And this afternoon, thanks once again to the phenomenally well-connected Khans, I have a meeting with an army colonel, who's in charge of the area between Chilas and Sost, and knows the region extremely well, and has offered to help me make the decision and sort things out. I couldn't be in better hands, really.
So, watch this space.