Let's start at the very beginning. It's a very good place to start. And it was a very good start. I had been slightly mournful, I think, that I hadn't got my act together to enter this race in one of the years it set off from London. It would have been surreal, and rather magical, I thought, to leave Westminster Bridge and ride out along the familiar roads of South London, down to the sea and further and further away, until finally I arrived in Istanbul. But I have actually already done that once, and in reality I would have stayed awake all night in my flat, fiddling with my bike and my route, thinking of items I suddenly had to pack or unpack, and worrying about all the things I'd forgotten.
As it was, I closed my front door behind me with over 48 hours to go. I was driven down to Dover, I stepped off the boat after midnight, and the 100-mile ride to Geraardsbergen was just as I had hoped – dark, swift and silent. I arrived a few hours into the morning and spent the rest of the day sitting in cafes with the wonderful Juliana, before falling into a deep 12-hour sleep in a yurt surrounded by cornfields. By the time the day of the race rolled around, and the streets of Geraardsbergen began to fill up with eccentrically packed bicycles and anxious men in lycra, I was ready, and I felt it. As with any trip, beginning is almost a relief, because it means the stress is over, and now all you have to do is ride.
The race set off at midnight, from the top of the Muur van Geraardsbergen and began with a lap of the town before reascending the Muur – which of course meant we had to ride up it twice, once after the starting gun, and once before. But it felt funny to mind about that, given that we had 4,500km ahead of us, and goodness knows how much climbing. Half a mile or so on steep cobbles should make no difference really.
I had felt drowsy and exhausted all afternoon, but I knew, from night rides past, that this was part of the process – that it might even be my body's way of conserving energy, by keeping me lazing limply around in the build-up to the ride so that I can go like a bat out of hell as soon as I'm on the bike. (My body often seems to know better than I do about matters like this; I'm slowly learning to trust it.)
As darkness fell, the riders collected at the top of the Muur, even though there were still several hours to go before the start. Most of them were already observing one of the time-honoured maxims of ultra-racing – that unless you're riding, eating, or sleeping, you're wasting time. And since the ride still hadn't begun, there was nothing worth doing other than eating and sleeping. The restaurant was crowded with carb-loading cyclists, the waiting staff increasingly wild-eyed and ragged-looking as the evening wore on. And here and there, under tables, on the grass outside, were prostrate bodies, muffled in what scant waterproofs and knee warmers they had brought for the first chilly hours of northern France, their cycling caps over their faces, trying to catch up on the sleep that anxiety had deprived them of the previous night, and cycling would deprive them of over the coming ones. A few were still huddled in corners, hunched over their laptops, making last-minute tweaks to the GPS files or, in at least one case, planning their whole route from scratch.
I found Juliana tearing into a steak, joined her and ordered my third dinner, having already had two (pasta and chips) down by the river. Even though I hadn't started cycling yet, my body readily – even eagerly – seemed to absorb everything I put into it. It's almost as if it knew what lay ahead. Then, with nothing more to do, and nothing more to say, we found a slightly quieter back room, stretched ourselves out under adjacent tables, and spent the last two hours before kick-off resting our eyes, and in my case sometimes almost managing to doze off. At one point I was faintly aware of the noise of a camera, so I wasn't entirely surprised to receive this image from official photographer Camille Macmillan after I got home.
With half an hour to go before midnight we stumbled out into the crowds, and realised that, as well as all the cyclists, a sizeable number of ordinary people were gathering as well – some of them the friends and relatives of the riders; others clearly interested locals who had turned out to see us off. We fought our way through to the bar, ordered a couple of espressos and toasted each other with a grin. I tried to remind myself that we were effectively rivals – our ride up to Edinburgh in June had shown us to be reasonably well matched (though she claimed to have done almost no training at that point), and since the previous year's female winner – Pippa Handley – had been kept out of the race by injury, I was the only female entrant who stood any chance of challenging Juliana's domination.
It was strange that we liked each other so much, I thought, and, in fact, strange that our mutual affection seemed to have almost entirely supplanted any sense of competition, to the extent that we were relishing racing together no matter what the result. "You're chasing my tail, I'm happy. I'm chasing your tail, I'm happy" she had said in an email a few weeks previously. Perhaps it wasn't that we'd lost our sense of competition. Perhaps it was more that we both knew we'd be competitive anyway, no matter who we were chasing, and it was comforting to have someone to chase who felt the same way, who knew that, no matter how sincerely either of us might strain to overtake the other, the real race would always be against ourselves. We'd agreed that whoever made it to Istanbul first would have a beer waiting for the other one, and I was already entertaining two different fantasies – one in which I ground to a triumphant halt by the Bosphorus, looked all around for Juliana and realised that I'd beaten her; the other (more likely) in which I staggered into the final checkpoint to find her waiting for me with two cold bottles of Efes.
Photo by Kate Lines
As the riders began to empty out of the bar towards the start line, I noticed that my whole body had started to fizz with excitement, as if someone were opening bottles of champagne behind my ribcage. Juliana smiled indulgently at me. She herself seemed rather more distant and preoccupied as we hugged, and wished each other good luck, and went our separate ways – her to the front of the crowd of riders; me to the back where I found my friend Leo, and a fresh-faced young Irishman called Ultan Coyle, whom I'd met earlier that afternoon, and who Leo had whisperingly informed me was a former UK 24-hour time trial champion.
"I'm trying to think of some last-minute support I can offer you" said Leo's girlfriend Kate, reminding us that we only had eight minutes left until the starting gun went and we were on our own, immediately out of the race if we accepted any outside assistance. I realised that she'd be alone too, along with all the other friends and family members who had come to Geraardsbergen to see the racers off, and wondered how the atmosphere would change once we'd finally disappeared into the night, and they had nothing left to do but trudge back to their lonely beds. Some of them would be flying out to Istanbul to meet us at the other end; others would spend the following two weeks anxiously refreshing the Trackleaders map, watching 200 orange dots spreading out across a continent. We couldn't think of anything any of us needed, so we settled for hugs all round, and then she stepped back into the crowd.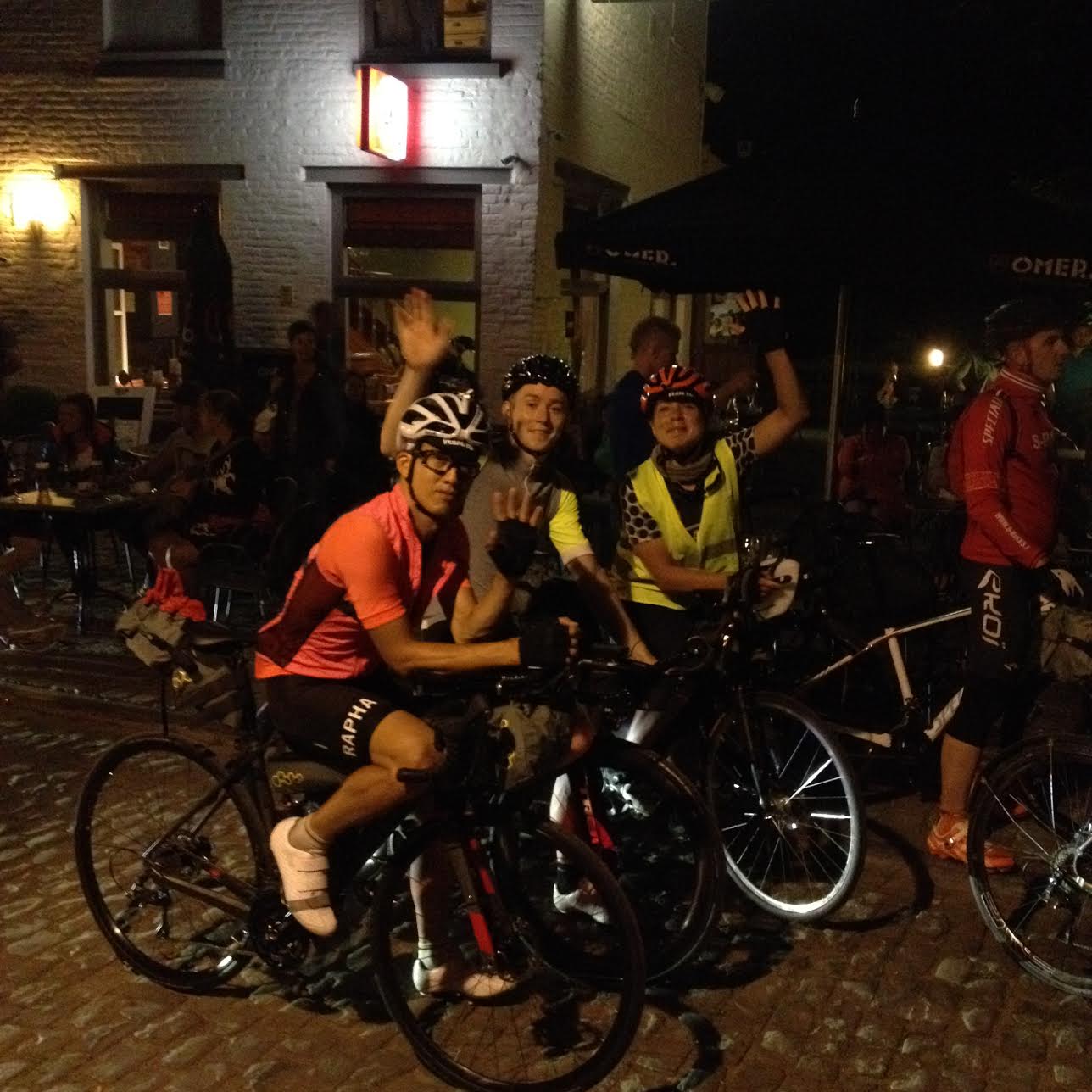 L-R: Leo, Ultan, me (excitement very clearly visible). Photo by Kate Lines
Up on the hill beside the church, the torches were lit, and our ears rang with the cheering of the crowds and the clanging of their cowbells. I found myself grinning uncontrollably, as much with embarrassment at the absurdity of it all as with the excitement and happiness of finally being about to start cycling. It felt very much like the day the Pakistani National Cycling Team welcomed me to Lahore, and I followed them to the velodrome on my loaded touring bike, aware that I was being filmed from at least two press cars, and trying to stop my face contorting with amazement, disbelief and – yes – embarrassment.
And then we were off! The pack immediately thinned out as we soared down the tarmacced hill back into the town, and a few minutes later it thickened again as we returned to the Muur and the narrow cobbled lane curved up into the trees, clogged with struggling cyclists. I had reminded myself repeatedly that I'd probably get left behind in the early stages of the race, and that that was OK, because I'd have over two weeks to catch up – but once again I proved to be faster than I'd thought, and I caught up a lot of the people who had lost me on the initial descent, darting in and out of the hordes of sweating men, and picking up my pace even more as the roaring of the crowds (and the clangour of the cowbells) came back into earshot.
"Go on girl!" shouted a few people, and I thought once again how visible the few women in this race inevitably were, and how that could become both a blessing and a curse.
And then we rode over the top, once again, past the church, past the last few familiar faces, and out into the great streetlit silence of Belgium, our next stop Mont Ventoux, a thousand kilometres to the south.