I am really really really really really really really really really really excited.
It's a lovely feeling, and not one you're treated to very often as a grown-up. Even though my life is, by some people's standards, a lot more exciting than the average, it's often difficult to see it that way from the inside.
"Yes, being a cycle courier is loads of fun, and makes me happy every day that I do it – but am I wasting my life? Shouldn't I own a flat by now? Am I just being self-indulgent and irresponsible? And what's that funny noise my bike's making?"

"Yes, being discovered by an agent and offering a publishing deal sounds like a fairytale – but the day-to-day business of writing a book is hard, and often quite boring, and involves much less sense of achievement than writing a blog, and what if in the end no one buys it, and I get lukewarm reviews, and all this work turns out to be for nothing?"
You'll have noticed, I'm sure, if you've read much of this blog, that I'm a worrier and a doubter, with a tendency to overthink things, and to distrust my own good fortune. Well, not at the moment. Aside from the stress of still having thousands and thousands of words to write before I disappear on Christmas Day, all I'm really feeling these days is excitement.
I'll be spending the first three months of next year cycling from Anchorage to Seattle – the longest period I'll have been on the road since 2013 – and I can't wait.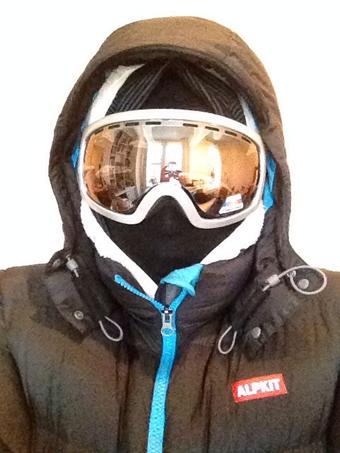 [My excitement is not visible in my winter kit]
And then…
Then for something completely different. To my surprise (but apparently no one else's), I've decided to enter next summer's Transcontinental Race. In case you don't know what that is, which you may well not, it's a non-stop, unsupported bike race from Belgium to Istanbul, roughly 4,000km in length. The winner will finish in (I estimate) nine or ten days. I will be aiming to get to Istanbul in time for the afterparty, which gives me 15 days. (To put this into perspective the 2015 Tour de France will cover 'only' 3,344km, over 22 days.)
There's no official route, but to make sure riders don't just pick the fastest and flattest roads, Mike Hall, a race director from the same sadistic mould as Henri Desgrange (his continuing mission: "to make the world less boring and more painful"), has written in four checkpoints, most of them at the top of high mountain passes.
The start will be on the famed cobblestone farm tracks of Belgium, the first checkpoint will be on the bald summit of Mont Ventoux. The second checkpoint will be on the Strada dell'Assietta, requiring riders to ride a 40km section of alpine gravel track on the French-Italian border. The third checkpoint at Vukovar will draw racers away from the comfortable Croatian coastline onto more remote Balkan roads. The fourth and final checkpoint before Istanbul will once again be on Montenegro's Mount Lovcen [writes Jack Thurston on the Brooks Blog].
I have never entered a race before (apart from that unofficial one against the triathlete earlier this year). The thought of competing against other people, with nowhere to hide, and no means of rewriting the rules when things don't go to plan (as I have frequently done in the past), terrifies me. (Perhaps this is why I've deliberately entered a race so awesome in its scope that even getting to the end is worthy of respect.) I have never been a particularly fast rider, and although I've done some long distances under difficult conditions, my experience is nothing compared to that of champions like Hall, two-time winner Kristof Allegaert, my personal hero (and beer buddy) Juliana Buhring – or indeed, any of the UK's hundreds of Audax riders.
If I do finish in a respectable time, I'll be more than doubling what I think I'm currently capable of. I have only once or twice ridden over 300km in a day – this summer I'll be trying to do that for 15 days in succession, over a course deliberately designed to make as many riders as possible give up before the end. I have never ridden more than a mile or so on cobbles. I have never climbed Ventoux. I have never ridden on gravel. I haven't been on a road bike for years. I feel a bit stupid for even dreaming that I might be capable of this. I may well have bitten off more than I can chew.
But then, biting off more than I can chew is something I'm used to. I was always a greedy child (and am still a greedy adult), and the literal sensation of finding my mouth so full of food that I have to gurn and grimace to manoeuvre parts of it between my teeth, so that I can slowly grind down the edges and eventually manipulate it into something I can swallow is extremely familiar to me. It's very undignified, and you look stupid while you're doing it, and the only thing that gets you through is the knowledge that if you give up and spit it out half-chewed you'll look even worse – very much like bicycle racing.
And besides, I somehow still have the same sense of excitement about the Transcontinental as I do about my next meal. Don't ask me why. Or, if you do, don't expect a good answer. Maybe it's just the kilos of baklava I'm going to reward myself with when I get to Istanbul.