On the other side of the world,
you pass the moon to me,
like a loving cup,
or a quaich.
I roll you the sun.
(Carol Ann Duffy)
We don't seem to get winter in London any more. Last year the weather stayed so mild that I carried on wearing my fingerless gloves all the way through, and had to go to Iceland to test out my new snowbike. (Well, I'm pretty sure I could have tested it out in some of the snowier parts of Scotland, but my feet were beginning to itch in a way I knew I couldn't scratch on home ground.) And this year – well, we're definitely out of summer now, there are leaves all over the pavement and I have to start and end the day with my bike lights on, but it still feels like winter's a long way off. I've added a baselayer to my usual outfit. That's about it.
So I was perhaps unreasonably excited this week to see news footage from Buffalo, NY, that showed snow drifting up to 7 feet high, burying roads and cars and even houses, much to the delight of local children and the consternation of their parents.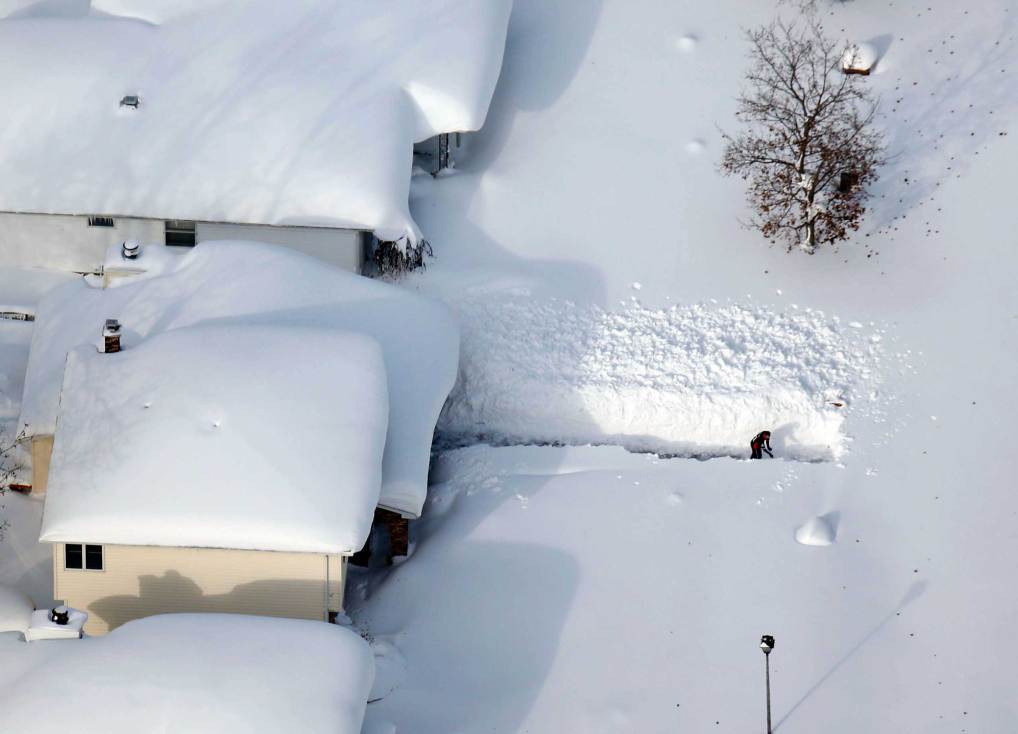 [photo from an amazing set on Time's website, which I encourage you to check out]
I just had an email from (everyone's favourite messenger hero) Rebecca Reilly (a Buffalo native) who says, with her characteristic wit:
In our favor, Buffalo is the land of snow ninjas.  Noone [else] knows how to clear snow, drive on snow, sled off their house, keep the keg of beer in a drift, apply the right amount of salt, flick a 20lb shovelful approximately 10 ft up in the air and aim it so it falls in precisely the right place.  We're all given antifreeze shots as babies so we just shrug, sigh and the whole block goes out to shovel snow throughout the day as if we were all on the same schedule.  When I asked Mom if she got any snow she said no, "only 2 feet, not worth mentioning."
Winter's on its way, and even if most of that snow won't make it across the Atlantic to London, I'll soon be flying west to meet it in person. Admittedly it won't be the same snow – Buffalo is almost as far from Anchorage as it is from London – but it'll be the same winter. It amazes me sometimes, how the seasons follow their ponderous course and we, with the agility of mechanised travel, or simply by shifting our altitude or latitude, meander in and out of them.
This first struck me back in 2012, when, after surviving the coldest winter I'd ever experienced in Turkey and Iran and then sitting around on the plains of central Pakistan while the summer took hold (by May the temperature in Islamabad was regularly hitting 45C), I headed north, into the Karakoram mountains, where there was still snow on the ground and some of the roads were blocked by avalanches – effectively I was riding back into the same winter I thought I'd left behind three months previously.
A month or two later I'd found summer again, and was cycling through the Taklamakan Desert, struggling with headwinds, dehydration and sunburn, and often riding at night, when the temperature was slightly more bearable. Hearing that my brothers were planning to do the Dunwich Dynamo, I struck upon the conceit of riding through the same night, eight hours before it reached them, imagining the great darkness rolling around the globe towards Essex and Suffolk, carrying with it gusts of my breath and wisps of my memories. But as it turned out, their ride coincided with a much-needed rest day, and my unseemly desire for an air-conditioned hotel room far surpassed my capacity for whimsy, though in hindsight, it would have made a nicer story.
And now, I watch the snow pile up in Buffalo, and I spy on Anchorage via webcam, and I track the progress of the wonderful Sarah Outen, as she makes her way across Canada ahead of me, and I think: that's my winter – the one I've been waiting for for over two years now, and soon I'll be there.