Courier vs Triathlete
I was up at dawn this morning, and felt like I'd been semi-conscious all night. But I no longer really felt nervous – at least not about the foolish competition I'd so rashly entered into. Whether Lucy Fry beat me or I beat her, it would be fine – as long as I didn't entirely disgrace myself. We both had adequate excuse for failure: she's formidably fit in a a whole range of disciplines, but relatively inexperienced on a bike; I might well be sabotaging my own efforts by attempting the notorious gradients of Kent and Surrey on a fixed gear. All the roadie friends I've consulted this week have looked worried, and informed me that yes, it'll be very  tough. Another triathlete I spoke to said "oh, well if you're on fixed and she's on gears, of course she'll beat you". Not encouraging.
But what I was really nervous about was the suffering – I'd forgotten what it's like to grind a fixie up a 15% gradient, but I had a distinct suspicion that it was painful, and feared that my resistance to such pain might have been diminished by the relatively short distances and forgiving gradients I cover in the course of a day's work. Why, even the Karakorum Highway was accomplished on a bike with 24 gears (admittedly I couldn't get down into the granny ring by then, but still). And the sky was full of leaky grey clouds, with the forecast promising worse to come, and I was woefully underdressed (still following my ill-advised summer waterproofing strategy of 'wearing as little as possible').
I got to Dulwich Park far too early, and found Fry in the queue for the toilets, nervously rearranging her energy bars in her pockets and checking her emergency gel was securely taped to her top tube.
"This has got all sorts of important proteins and amino acids in it" she informed me, pointing at her bidon. I was pitifully under-equipped in comparison.
"Err, this is a banana", I explained, fishing my own nutrition strategy out of my pocket. "I'm not sure what it has in it."
We both peered at the skin – me  hopefully, her scathingly – but the ingredients weren't listed, and nor was the nutritional information.
Fry was similarly dismissive of my pocketful of trail mix, so I went to join the queue for the track pump, marvelling at both the numbers and the uniformity of the other riders. There were about 3,000 of them, and almost all of them were men, in their 30s-50s, wearing expensive lycra, wheeling high-end road bikes. I didn't see a single person I recognized (unusual for me, at a bike-based event) and I felt helplessly out of place; over-exposed in my unaccustomed lycra, and embarrassed by my BMX helmet and rattly home made bike.
Fortunately, Fry seemed as nervous as I was. In fact, neither of us had any idea how this was going to play out. As we fell into place among the hundreds of riders waiting to set off on the 'medium' distance of 104km we alternated between bravado and reassurance, each apologizing to the other in advance in case she was left waiting around in the rain at the end of the race.
And then we were off. A chorus of clipping in, and a wave of lycra swept out of the gate and off up College Road towards Crystal Palace. As the road began to rise, I picked up speed.
"Oh, there she goes!" grimaced Fry.
"I can't help it!" I protested, "You can't climb slowly on fixed."
And that was the last I saw of her until the finish.
I'd worried that by riding fixed I'd be restricting myself to a much narrower range of speeds, since riding much faster or slower than my usual cruising speed requires unsustainable levels of effort (or is simply impossible  – I have never been able to relax my legs enough to descend at anything much over 20mph). Thankfully, cruising speed seemed to be more than adequate for this event, and I spent most of the ride overtaking people, particularly on the uphills. My lead might have suffered on the flat sections, but there weren't really very many of them.
It was a beautifully designed route. We seemed to leave the city behind within twenty minutes or so, and the first half of the ride was all on quiet country lanes, winding up and down the rolling hills of Kent, their lush green hedgerows occasionally giving way to panoramic views of the surrounding countryside. None of the gradients gave me any trouble – except for one short sharp beast of a hill, narrow, impossibly steep, overshadowed by trees, and so choked with mud and leaves that I was worried I'd skid and lose control of the bike. As it was, I barely made it to the top. So much force was required to keep the pedals turning that standing up and using my body weight and forward momentum wasn't enough – I had to sit back on the saddle and push forward with my legs, one by one, stroke by agonizing stroke, bracing each one against the opposing hand and using all the strength I could muster. Thank goodness the crowds were fairly thin at that point – if anyone had got in my way, I'd have stopped and failed to start again. I passed one man walking his (geared) bike to the top. I wondered how he'd feel being overtaken by a girl on fixed. He probably didn't notice.
At the top of the hill was a wood full of bluebells. It was worth the struggle just for that.
I waited for Fry at the first feed stop, feeling vaguely guilty for having abandoned her within minutes of setting off, and thinking that it didn't seem like a proper race if we never actually caught sight of each other. But after a while she still hadn't turned up, and I set off again, wondering if perhaps she'd managed to slip past me without my noticing, like a riding buddy did on the Dunwich Dynamo one year (we worried the whole night that we'd left him behind, and he turned out to be waiting for us on the beach).
I should perhaps have been more concerned that she might catch me up, and storm past me and off into the distance at a speed I could never hope to match. But, as at the start of the race, I seemed to have moved beyond worry. I was enjoying myself too much, getting into my stride, making friends with other riders' calves and jerseys for a few minutes before picking up the pace and overtaking them, remembering all of my happy cycling songs that I haven't dug out since similar rides, to Brighton and Eastbourne and Cambridge, back in the days before I was a courier, and could get out with my cycling friends at the weekend, instead of sitting on the sofa trying to rest my legs and replenish my calorie deficit. It was glorious.
And as I mounted Box Hill, I found myself breaking into Nina Simone's 'Feeling Good'. Contrary to its reputation, the hill was no trouble at all – in fact, it was a joy and a pleasure. Some of the finest tarmac I've ever ridden on, beautiful woodlands and wildflower meadows on either side, and the perfect gradient – just enough to get you out of the saddle on the bends, and huffing and puffing nicely towards the summit, but not so steep that you feel like you're lifting weights (like the earlier hill, and like Ditchling Beacon, which is an absolute bugger to ride on fixed).
And after that it was a relatively easy 20 miles back to the Herne Hill velodrome for a lap of honour and a medal.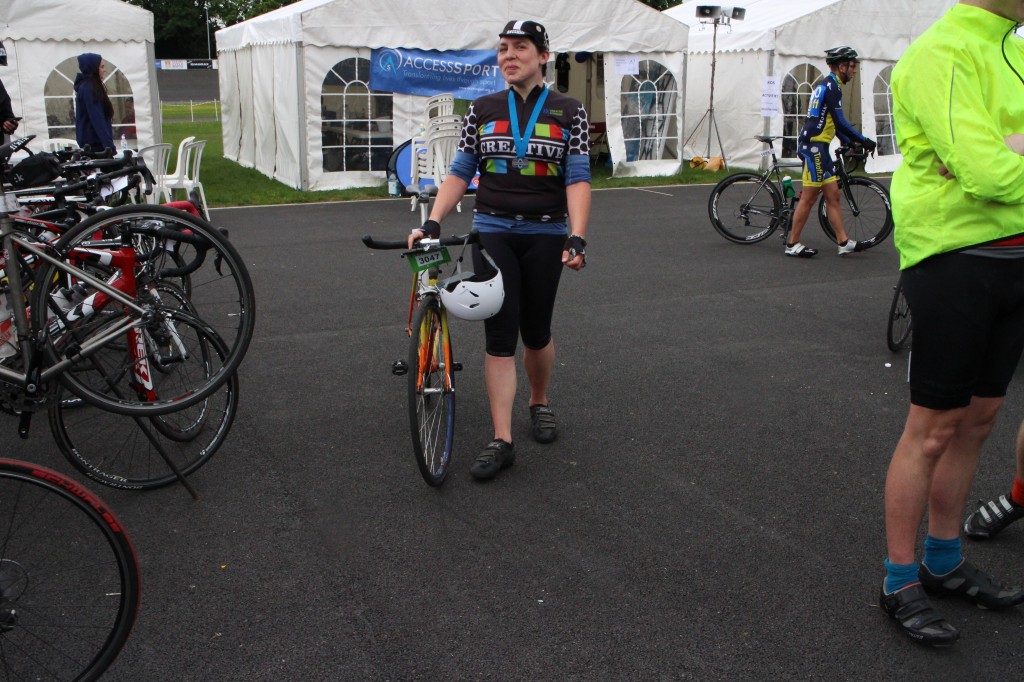 Shortly afterwards Fry rocked up, dishevelled and disgruntled after what had been (for her) an extremely difficult ride. I felt less guilty about the fact than I'd beaten her than I did for bouncing around enjoying my post-ride glow when she was clearly so glad to have the whole ordeal over and done with. She still liked me enough to drag me back to Tooting for bacon butties though, and a few chin-ups in the garden soon restored her self-respect (since I can't do a single one). Perhaps next time we'll try a half marathon instead – or I'll let her convince me to have a go at triathlon. I think I might have found a worthy opponent.
_______________________________________________________________________
A big thank you to Human Race Events, for organizing the sportive, and to Lucy Fry, for laying down the challenge and for tolerating my insufferable smugness in the aftermath. You can read her version of events over on her blog, sometime very soon.