And once again, as I did many moons ago, I find myself surrounded by half-packed bags and slightly too much kit, contemplating my imminent departure with the same mixture of nervousness and excitement, even though I should really have grown out of this by now.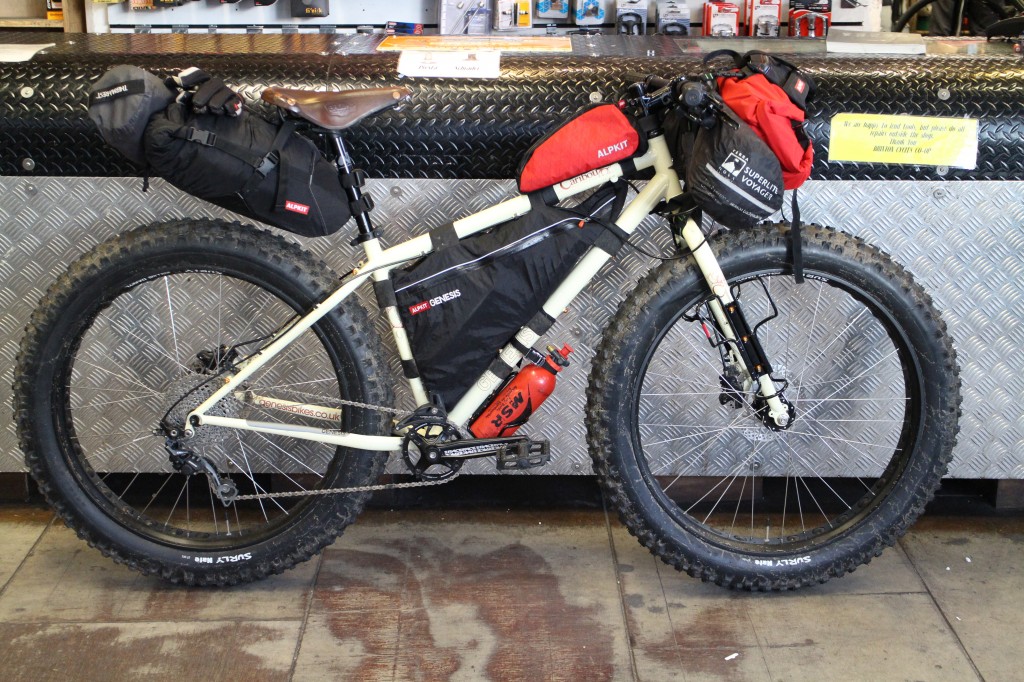 [Thanks to Genesis for the bike and Alpkit for the lovely  bags.]
The only difference is that both are suffused with an incongruous sense of calm. I'm right to be nervous – it's a while since I was on the road, Iceland is new to me, and no matter how much you read and research, you can never be sure of what challenges a road holds until you're on it – things can all too often get blown out of perspective by rumour, scaremongering, and straightforward differences in perspective (i.e. one person's mountain is a another person's molehill). I'm under-prepared, and most of my kit is brand new, untried and untested. But I've set off into the unknown a few times now, and not only do I know that things almost always turn out to be less frightening than I expect – I've also got used to looking after myself, keeping my head, fixing things when they break, and finding solutions when things go wrong. When people warn me of Iceland's frozen roads and gale-force winds, I worry momentarily, then remind myself that I'm no longer as wet behind the ears as I was back in September 2011. I've climbed icy mountain roads and ridden through blizzards in northern Japan; I've camped at -25C and struggled through strong winds in eastern Turkey. That's not to say I won't still be defeated by Iceland, of course, but at the very least, my experience will make me a better judge of the weather, the road, and my own abilities – I'll know when it's safe to press on, and sensible to turn back.
And unexpectedly, but also unsurprisingly, there's a deep, quiet sense of joy. I feel as if I'm going home: back to life in the saddle (if only for three weeks); back to early winter nights in my tent; back to hardship and discomfort; back to not  knowing what's round the next bend in the road, or where I'll be sleeping that evening, but being sure that whatever happens, it will all be OK, because it always has been.
Hopefully there will be dispatches from the road. But in the meantime, I'd like to invite you to a very exciting event I'm organizing for when I get back. Have you heard of the Nights Of Adventure, invented by Alastair Humphreys, to raise money for Home & Homes for Children? I was invited to speak at one last March, I think mainly because they were desperate to get a few more X chromosomes up there, because when I arrived, I realized that I was one of only two women (the other being the fabulous Arita Baaijens), and the rest of the speakers were an intimidating phalanx of dashing (male) explorer types. I had been specifically asked to speak about the challenges of being a woman on the road, something I'm always ambivalent about, because on the one hand I very strongly believe in doing everything I can to encourage women to ride bikes and go on adventures, but on the other hand, I often get fed up with being told how 'plucky', 'intrepid' and 'feisty' I am (along with other adjectives rarely applied to men), and having my achievements ignored or diminished because people are so keen on focus on my gender.
I was mulling this over as we all took our seats and, glancing along the ranks of chiselled jawlines in the front row, I caught the eye of Alastair Humphreys, the organizer.
"Pssst – Al!" I whispered. "Why don't you make the next event all-female?"
Al was busy composing himself for his opening address, and would probably rather not have been interrupted.
"That's a great idea," he replied. "Why don't you organize it?"
And so here I am.
And here, on the 26th March, will also be ten other adventurers, explorers, daredevils and travellers (perhaps more), among them pioneers, record-breakers, and a good number of my personal heroes. It will be an all-female line-up, but I'm determined not to make it too much about 'being a girl'. After all, if we all have this one thing in common, then hopefully we can stop talking about it altogether, and concentrate on the fun stuff.
And with that, I'm off to the airport. See you on the other side.
____________________________________________________________________
You can buy tickets for  the Night Of  Adventure here. They're already selling pretty fast!