I instantly felt at home in Tokyo, and after three weeks of exploring, socializing, sitting around and occasionally attempting to further my career, I realized that if I didn't make an effort to leave, I might end up staying there forever. And if I really do attempt to ride through the Alaskan winter, it wouldn't do to let my fitness slip, or my body thermostat creep upward. So I packed my bags, got on my bike, and set out in search of adventure and discomfort.
I habitually cycle alone, but for one reason and another, most of the past few thousand miles had been with other people – from the friendly Frenchman I ran into at the ferry port in Busan, and persuaded to accompany me to Shimonoseki to the two Tokyo friends who accompanied me out to Mount Fuji on the most beautiful autumn weekend of the year.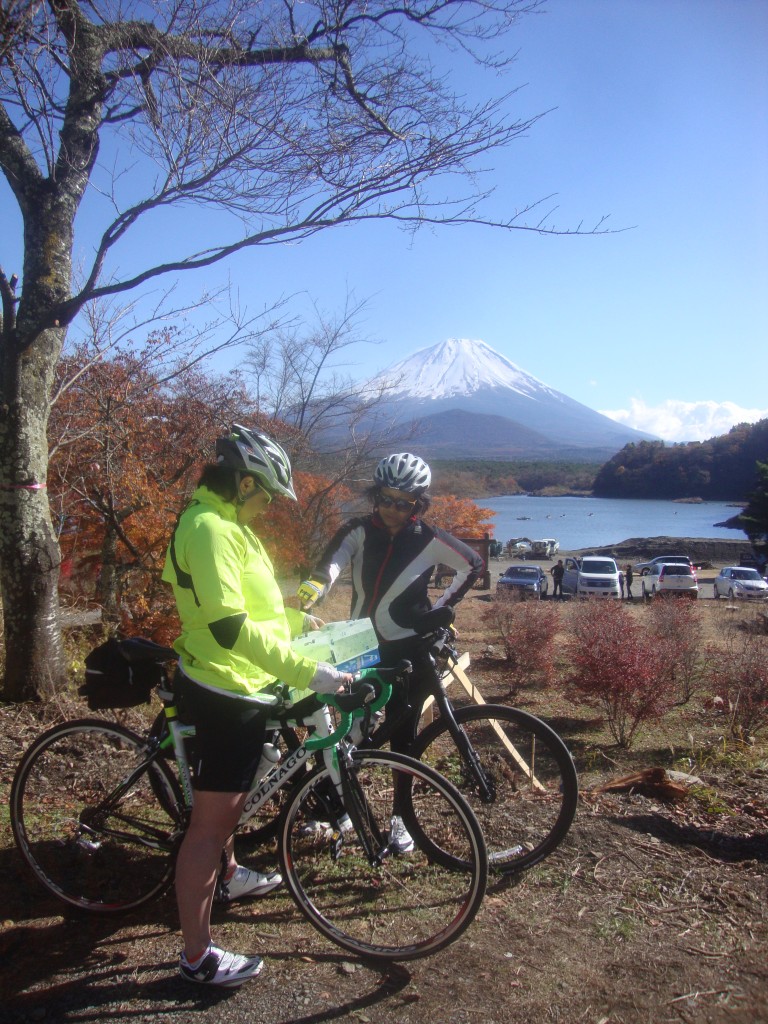 I've long believed myself to be the kind of antisocial hermit on whom the company of other people will always grate after only a day or two, so it's been both a delight and a relief to discover that riding companions can be almost an unadulterated joy. When I rode with Kate and Jen for three weeks, even with all the stress of dealing with Kate's stomach problems, Jen's hub problems, my stove problems, Kate's knee problems, Jen's cold problems, my back wheel problems and our collective inability to make a single decision without half an hour of patient discussion, argument and consensus, I was nonetheless constantly happy to have them around, and willing to put up with almost any amount of hassle in exchange for the pleasure of their company. Phew. Turns out I'm not as horrible a person as I feared.
But I think I'll always ultimately be a solo cyclist. Wonderful and reassuring as other people's company can occasionally be, it's when you're on your own that the magic happens.
I quickly found the hardship I was looking for. The mountains of Japan aren't as cold as Eastern Turkey, or as high as Northern Pakistan, but the snow hadn't been cleared from the passes, which made the going slow and treacherous.
I had to admit defeat and walk my bike over the final hilltop, and then nearly froze my fingers off on the 20km descent that followed, unprepared for how suddenly the temperature would drop when it got dark.
Thankfully, that evening I was staying with Rocio, a charming Spanish cyclist who had stumbled across my website just as I arrived in Japan, and excitedly invited me to stay with her, should I end up passing through the small town where she lives, on the edge of the Japanese Alps.
I rarely turn down an invitation if I can help it, and when I arrived at Rocio's flat I was extremely glad I'd made that detour. Rocio wasn't at home when I turned up, but she'd left the door open, and a long and detailed letter, welcoming me to her home, offering me the contents of her fridge and the services of  her washing machine, and warning me of the eccentricities of her shower. Best of all, there was a large basket of food sitting on the kitchen counter, labelled "Food for hungry cyclists travelling round the world."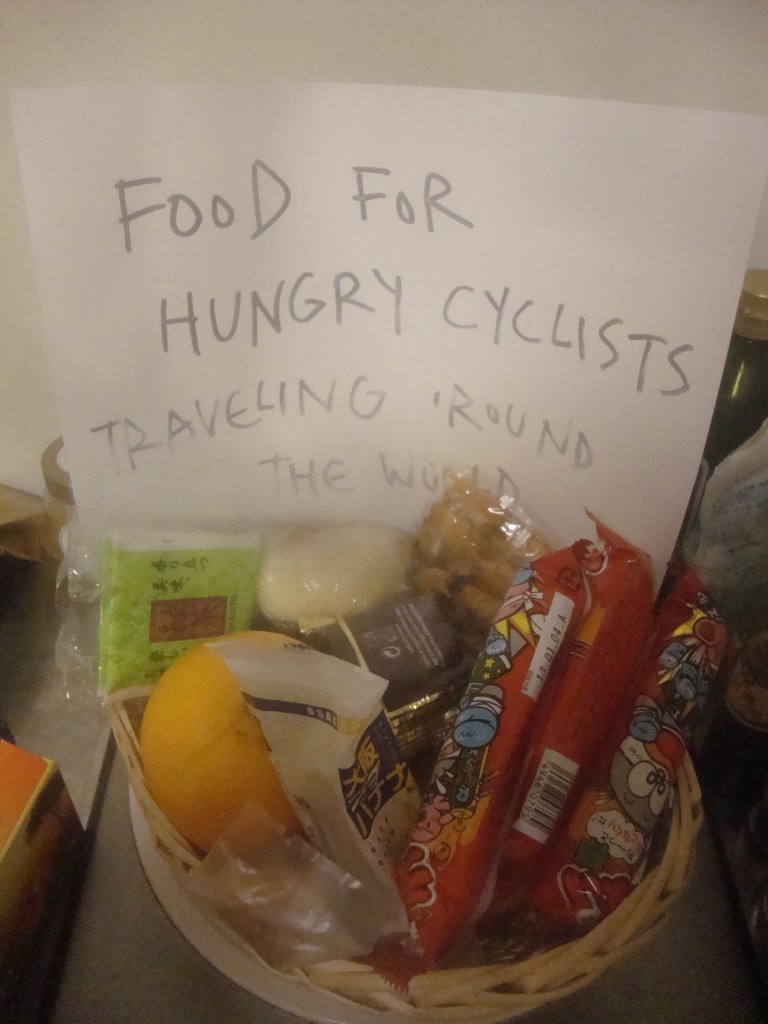 This could only mean me. So I sat down and tucked in, and only realized when a warm, happy, smiley glow settled over me how hungry I must have been.
Rocio couldn't have been a better host. Having travelled by bike herself, she recognized the almost simultaneous need for company and for privacy, as well as the importance of vital creature comforts like a hot shower and the opportunity to wash and dry one's clothes. She also understood the fascination of those 'places in between' that one discovers when cycle touring – the medium-sized towns, like Nantwich, and Gorizia and Kirsehir, and also now like Ueda, which I would otherwise never have had any reason to visit or to linger in, but which often turn out to be more memorable than the big cities you'll find in the guidebooks.
I spent the following afternoon in a newly opened arthouse cafe, run by Nobuko, a friend of Rocio's and a former professional snowboarder, who has now retired to Ueda to raise her family and to delight her customers with all her homemade objets d'art and delicacies like the Earl Grey waffles we were given to take away with us.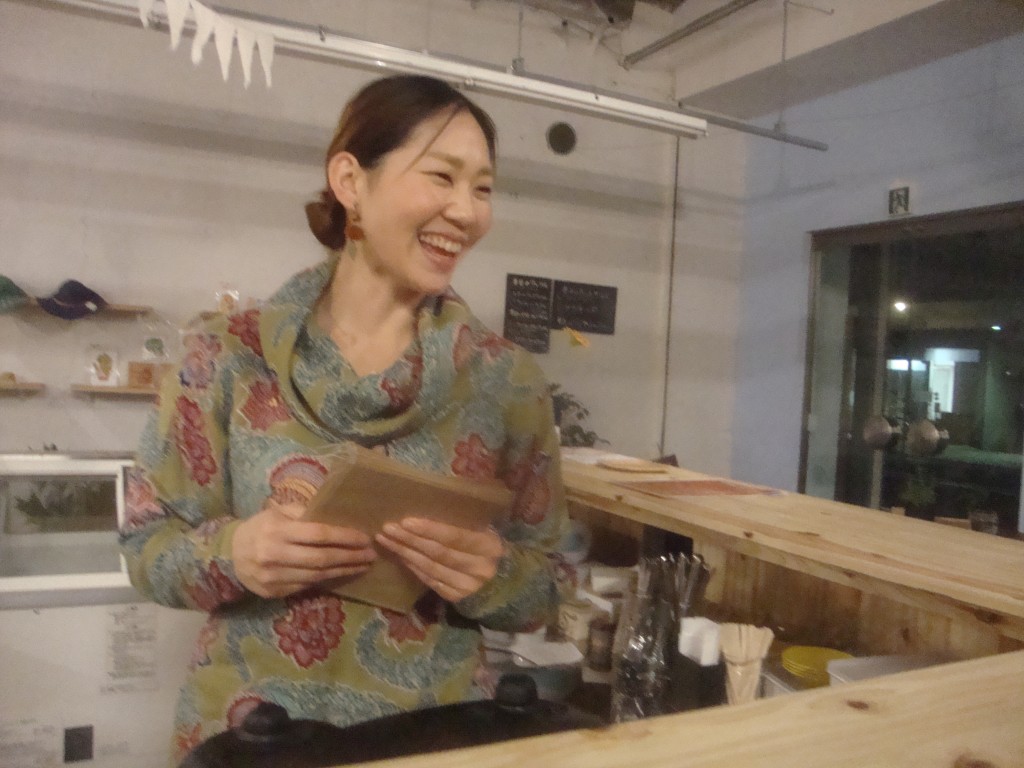 And then it was off to another friend's house -Tomoko – for homemade pesto with a Japanese twist, and lots of laughter.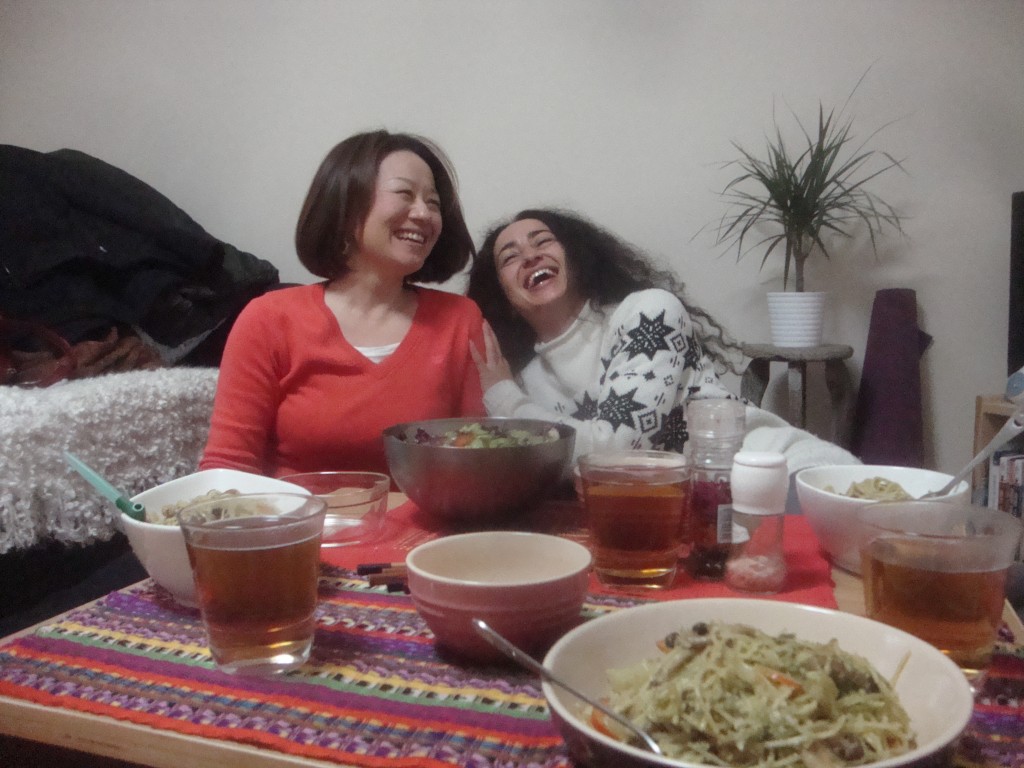 I was reminded of a post I wrote almost a year ago, back in Eastern Turkey, after spending a happy evening with a gang of friends that I had only met hours before, remembering all the friends I'd left behind, who might even now be getting together over pasta and cheap red wine, sitting round someone's kitchen table laughing and joking and enjoying each other's company, and looking forward to all the friends I hadn't yet met, who were waiting for me in as-yet-undiscovered towns and cities across the next few continents. I recalled this sentiment as I stood on the roof of an Urumqi skyscraper six months ago, watching the sun set over the city and being stuffed full of barbequed goodness by my hosts and their friends. And it came to mind again over Tomoko's coffee table, as I realized that Rocio and her friends were some of the people I'd been looking forward to back then, without even knowing it.
After one more fabulous breakfast, I reluctantly bade farewell to Rocio, got on my bike, and pedalled off into the mountains.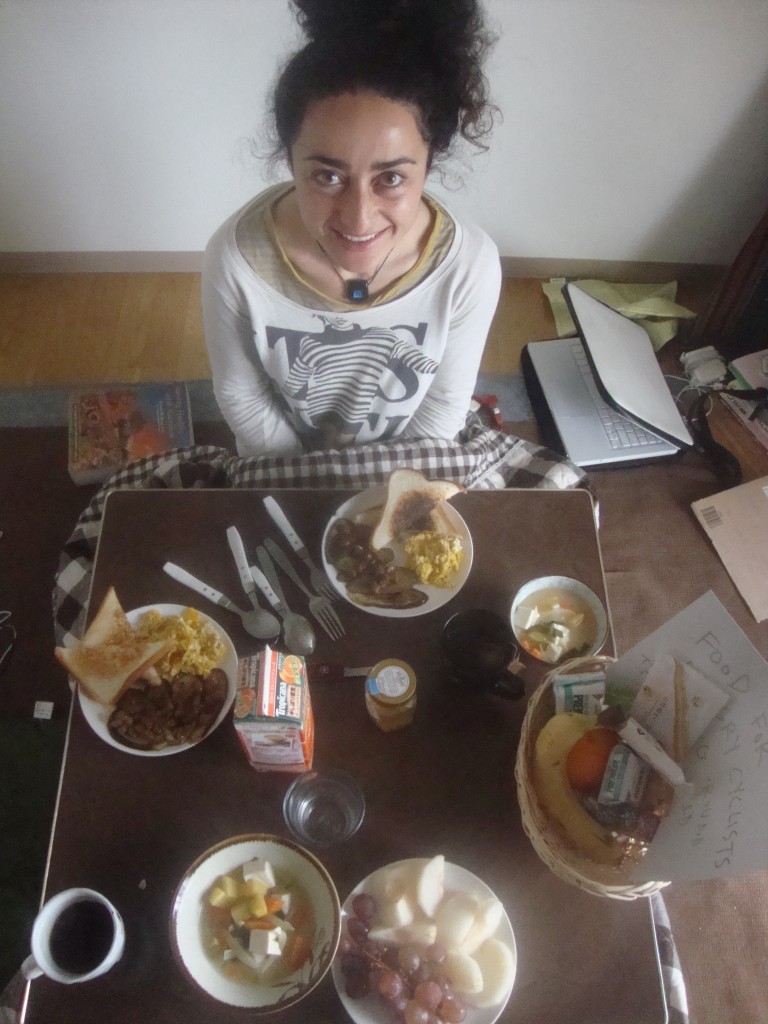 (Rocio is planning a big bike trip of her own. If she ends up passing your way, please do take her in, feed her copiously, and give her a bed for the night. She's an angel.)
That evening I found myself rolling along a snowbound river valley, extremely beautiful, but rather short on comfortable places to pitch a tent.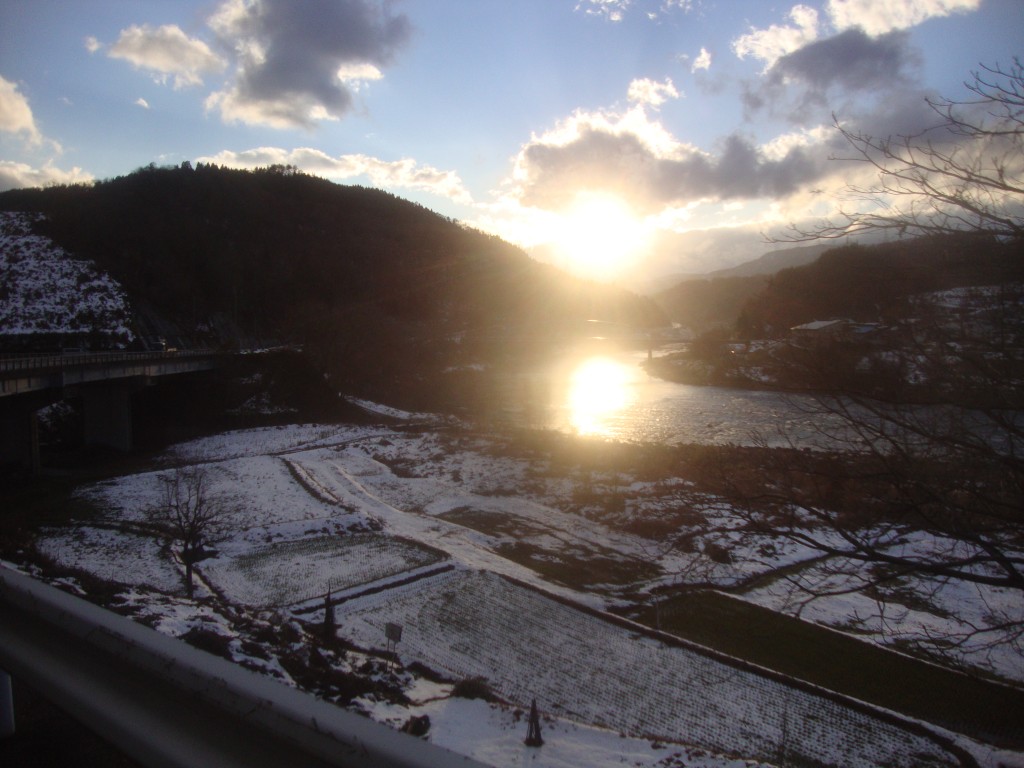 But I wasn't unduly worried. Not knowing where I'll be sleeping that night is no longer something that worries me, because no matter where I am, or how unlikely it seems that I'll find somewhere, I always have.
As twilight was falling I spotted a weatherbeaten sign with a faded picture of some tents next to a lake, apparently only 1km away. Perfect. It was unlikely that any campsite would be open at this time of year, but I could at least find somewhere to pitch my tent, and maybe even running water, or a washblock to shelter behind. So I ziggzagged my way up the hillside, higher and higher, watching the road get snowier and snowier, until eventually I could go no further. If there was a campsite, it was nowhere to be seen.
So I rolled cautiously back down the hill, and began to inspect the village for likely camping spots (secretly hoping that if I camped somewhere semi-public I might be spotted and invited to stay in someone's house, as has happened many times before). The station seemed promising, but when I found it there was nothing but a windy carpark, with an unsteady-looking gentleman urinating in the only decent camping spot.
Further down the hill was a large, well-lit building with dozens of cars parked outside – it might have been a hotel or spa, were it not for the lack of signposts and logos. As it turns out, it was a nursing home – warm, bright and comfortable, and staffed by extremely friendly people, who invited me in, sat me down with a coffee, and started making phonecalls to the powers that be to see if I might be allowed to spend the night there, rather than camping out in the cold.
After nearly an hour of this, the main English-speaker came out of the office, told me she was sorry that I wouldn't be able to stay with them after all, and then presented me with a carefully drawn map, sending me 2km back up the road to the house of Mrs Hando, their boss, where the whole family were looking forward to meeting me.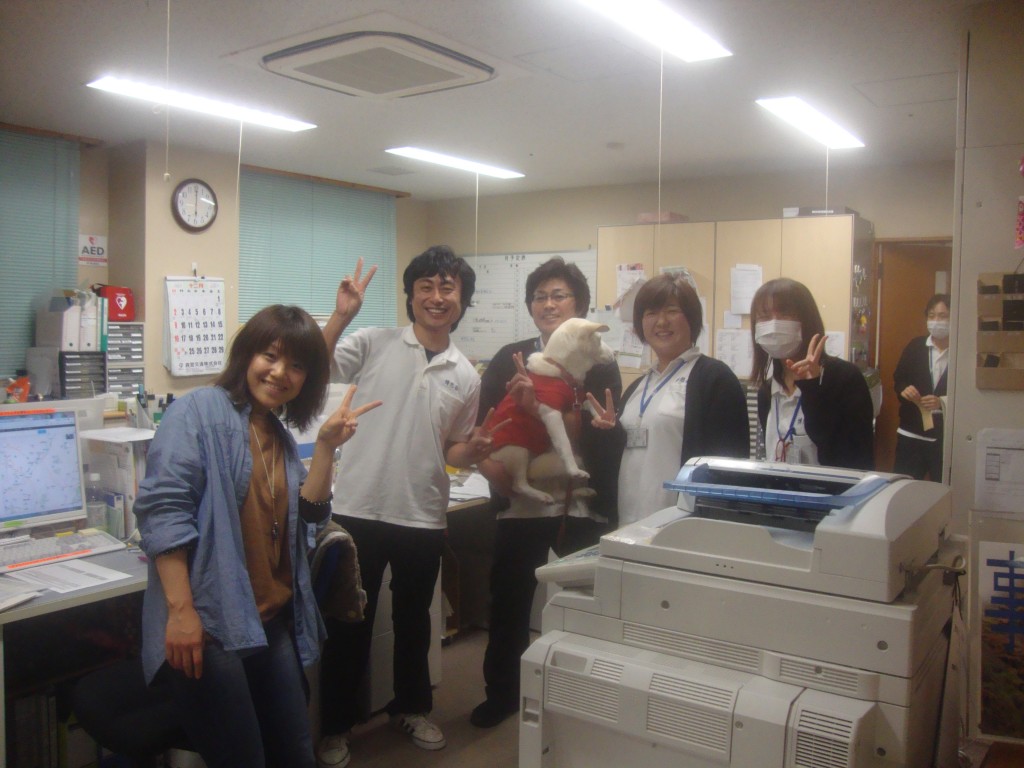 So I battled back up the hill, through the first flakes of a snowstorm, and was welcomed into a spacious wood-panelled house by Ayi, who had recently been to London and had hundreds of photos to show me, and her smiley father, who insisted I drink some hot sake, and made sure I was well tucked in under the heated table, fringed with blankets, that is the perfectly sensible and civilized centrepiece of Japanese homes in winter. Mrs Hando herself was still out at work.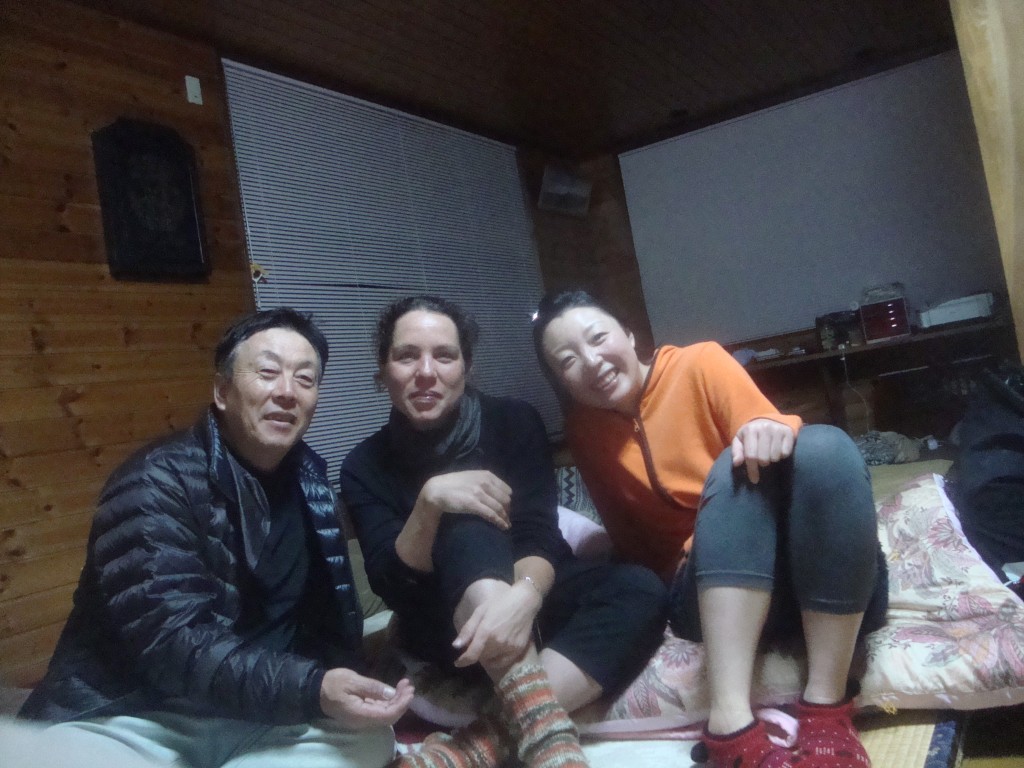 Having expected to spend the night shivering in my tent, I was given a warm bath, several dishes of hot mushrooms (picked that day by Mr Hando himself), a bowl of steaming ramen and then a blissfully comfortable futon where I fell asleep almost immediately and woke up just before sunrise, marvelling at how perfectly comfortable and rested I felt, and how remarkable it was that I'd managed to fall on my feet yet again. Mrs Hando fed me an enormous breakfast, and handed me a generous packed lunch, and then I rode off into the sparkling snowy sunlight, turning back again and again to wave at the Hando's, who were lined up outside their house, waving back, and wondering if I'd ever see any of them again.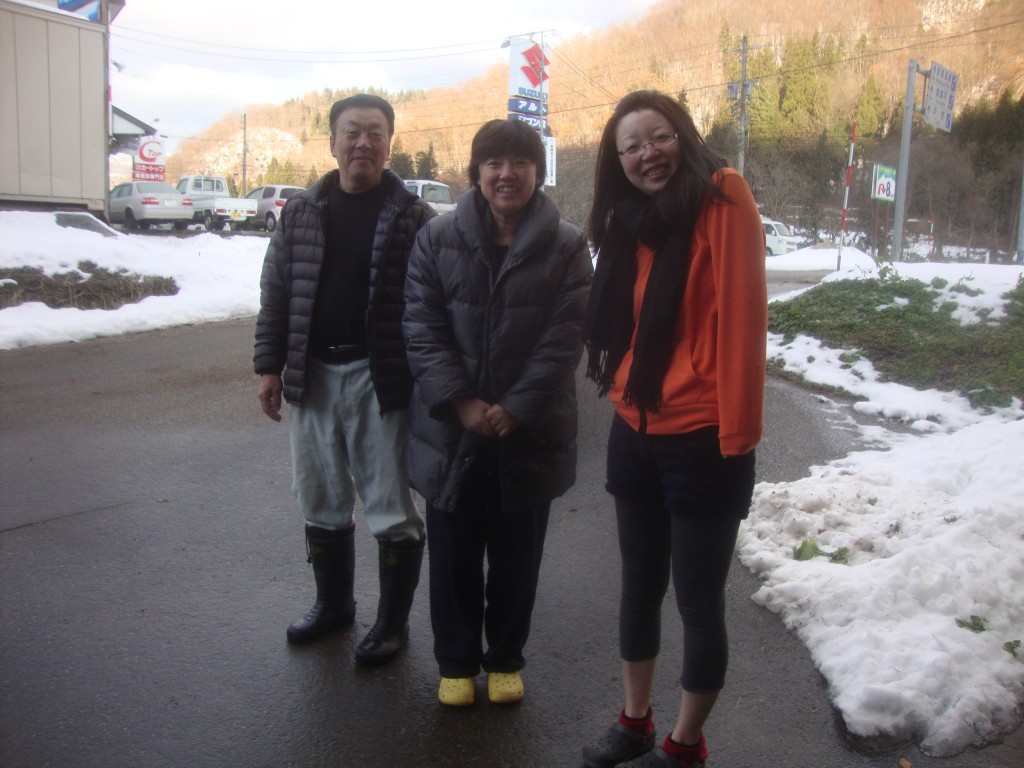 The day went downhill from there, literally and metaphorically. A harsh wind blew up, clouds rolled over the sparkling sunshine, and it started to rain, and then to sleet. Within a couple of hours all my waterproofs were soaked through. I decided to cut my losses and set up camp under a bridge, hoping the weather would have improved by morning, hung up my wet clothes, cooked up a pot of miso, and settled down to shiver myself to sleep. Just before 5am I was woken by an enormous roar of thunder, and shortly afterwards the tent porch was blown inside out and the wind thrust in like a fist, showering me with freezing rain.
There was no option but to get up and get on with it, so I did, reasoning optimistically that at least it was good to get an early start. The rain was still lashing down, the icy wind was still blowing, and the clothing was still wet from the previous day, which any cyclist will know is a recipe for painfully cold fingers and toes. These were actually some of the worst conditions I'd ridden in so far – I felt almost guilty for being disgruntled, since on balance I'm clearly extremely lucky. I've met some cyclists who had to cope with non-stop rain for weeks.
I carried on, grimly, following the road that would eventually take me to the warm dry flat of my next warmshowers.org host in Akita, still two long days' ride away. It led me briefly along the coast, where violent crosswinds threatened to blow me into the path of moving traffic, then into the shelter of some hills, and then up over an unexpected mountain pass. I kept scanning the grey sky for signs of brightness, but there was no end to the clouds, and as I neared the top of the pass, the slushy rain turned into snow, stinging my face as I rode into it, and turning the road into a treacherous mess of slush.
Descending in cold weather is always a nightmare – your body loses all the heat it generated during the climb, and if your gloves are wet, within a few minutes your hands will be too cold even to grip the brakes properly. I also quickly discovered that my brake pads had worn down to nothing – another hazard of wet days. It was after 3pm by now, and I knew I only had another hour or so of daylight to get myself back to sea level, and try and find somewhere remotely sheltered to camp. I was tired, hungry, and shivering uncontrollably, and my nerves were finally beginning to fray.
So I stopped in the first village I came to, and made a beeline for the convenience store, to warm up, and perhaps treat myself to a hot drink. As I walked in I was greeted by a tall, bearlike man, who most definitely wasn't Japanese.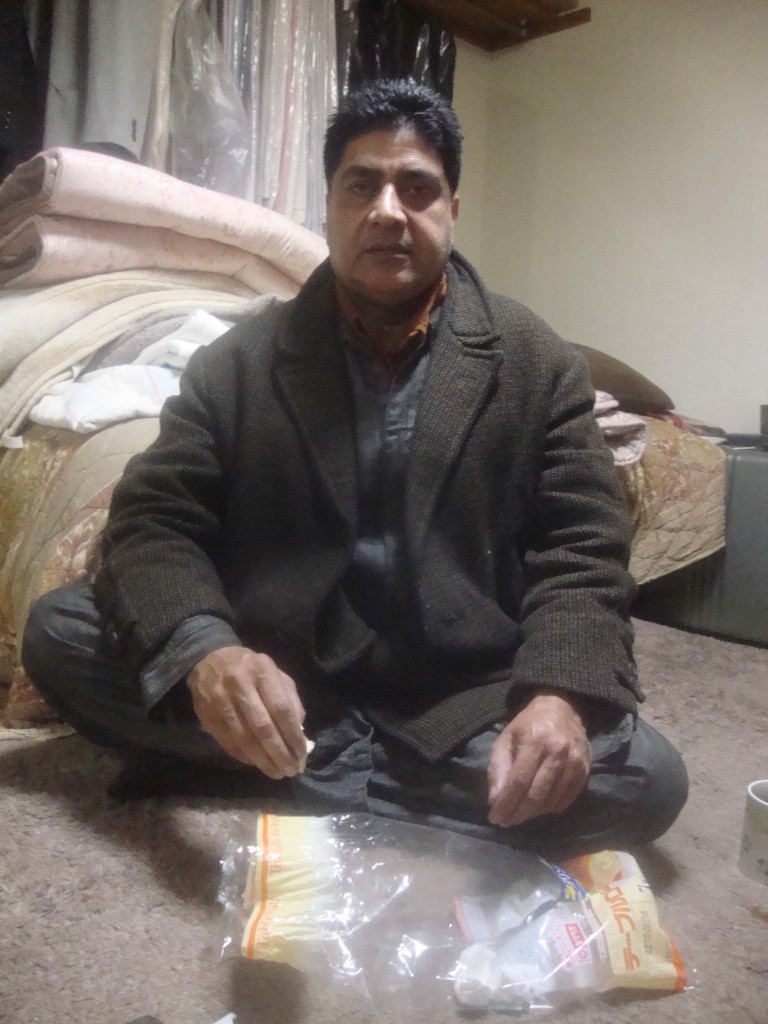 "Hello – where are you from?"
"I'm from the UK – where are you from?"
"Oh, I am Pakistani."
And he really was. I could tell this because within minutes I'd been invited into his house, sat down next to the heater, wrapped up in a blanket and given a hot drink, a pile of Urdu magazines and a plate of jeera biscuits, which I hadn't tasted since Khunjerab. (Yes, I have a favourite biscuit in every country I ride through – don't you?)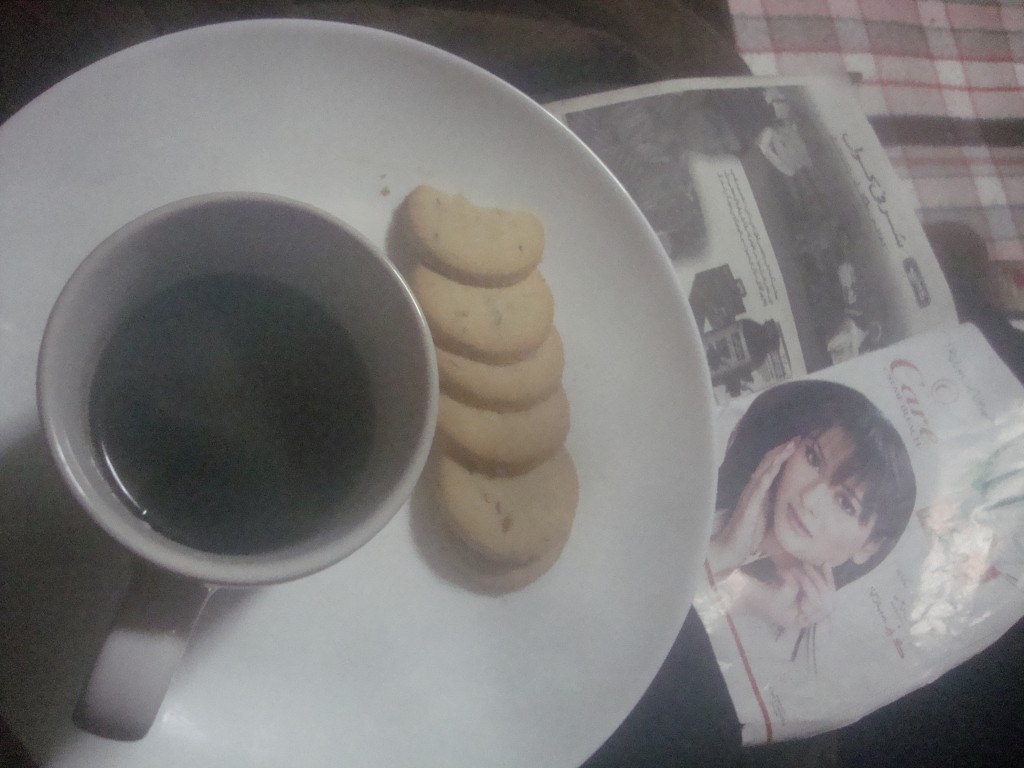 So I spent the night curled up on Najeeb's living room floor, rather than in my sodden tent, and the next morning set off at 7am to ride the remaining 100 miles or so to Akita. It was still windy and rainy, and for the first few hours I was riding along the coast, with enormous waves crashing into the breakwaters and occasionally sending their spray right over the road.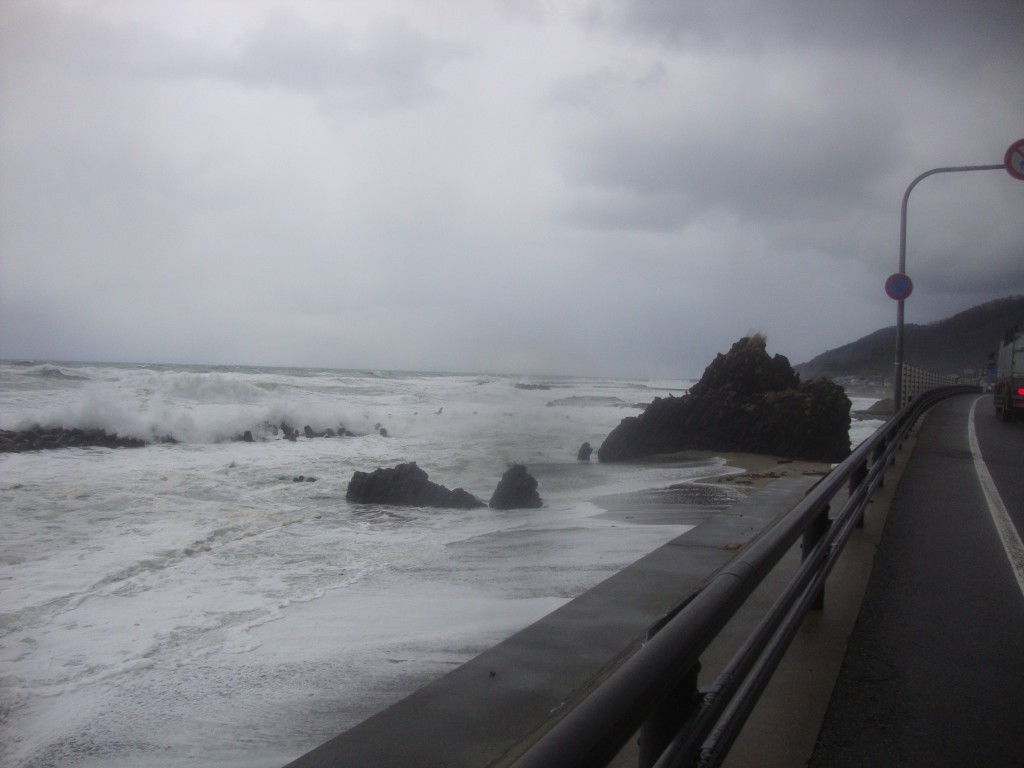 Towards the end of the afternoon it finally stopped raining, but there were further woes in store. Suddenly the bike felt unusually wobbly, and I realized I'd snapped another two spokes (and cursed myself for not getting round to rebuilding the wheel when I was in Tokyo). I stopped, did my best to true the wheel, and then had to stop again a few kilometres down the road, to true it again. And then the earthquake struck. I found out later, when I got in to find an inbox full of panicked emails, that it had been quite a big one – big enough to make international headlines – but where I was there was just a few minutes of the world going all wobbly, which I was already experiencing anyway, thanks to my rapidly failing back wheel.
The sense of wobbliness persisted as darkness fell, and eventually I realized that it was down to hunger, as well as wheel problems and geological disruption, and started planning a chocolate stop, whenever I next spotted somewhere that might be warm. Almost immediately I spotted a layby, with a man standing next to his parked car, frantically flagging me down. He told me he had a hamburger for me, and spent a few minutes explaining in incomprehensibly broken English how it had come about that he happened to have a spare hamburger (it had something to do with the earthquake), then handed me the hamburger itself, got in his car, and drove off. I ate it immediately. It was still warm, and was just what I needed to get me through the last few miles.
And then I finally got to Akita, was welcomed by Sean, my host, in true cyclist fashion (i.e. beer, food and hot shower), and then collapsed gratefully into bed. The following day was spent sourcing spokes at a local bike shop, watching them being cut and rethreaded,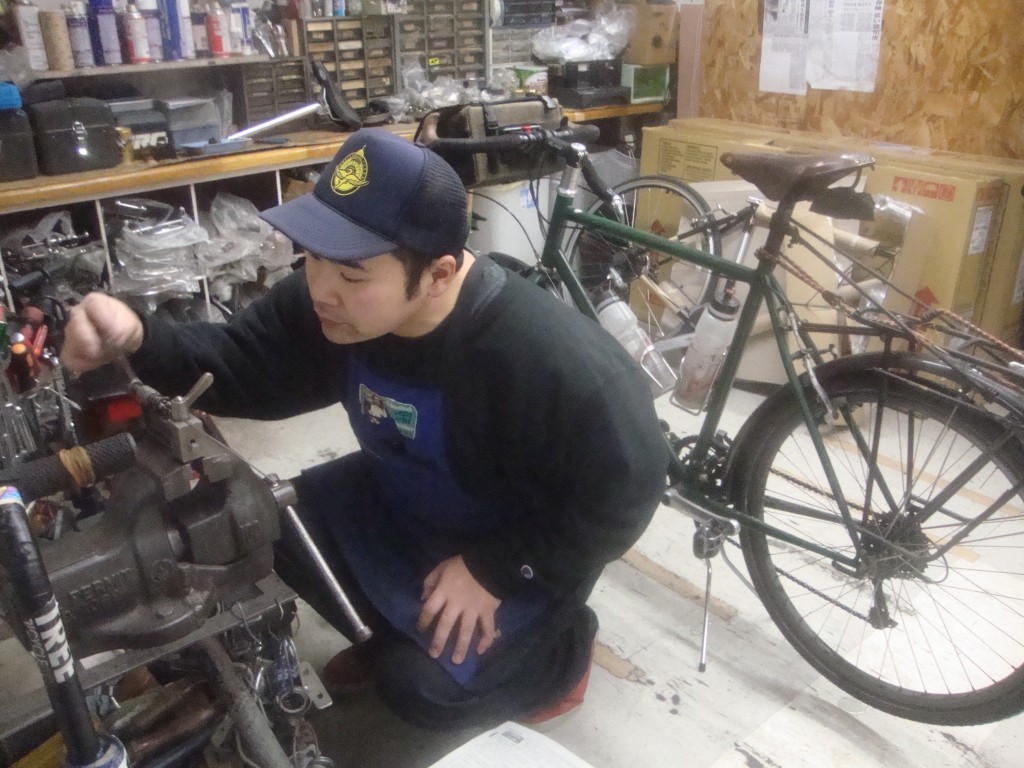 watching the mechanic exclaim over my beautiful (albeit filthy and broken down) bicycle,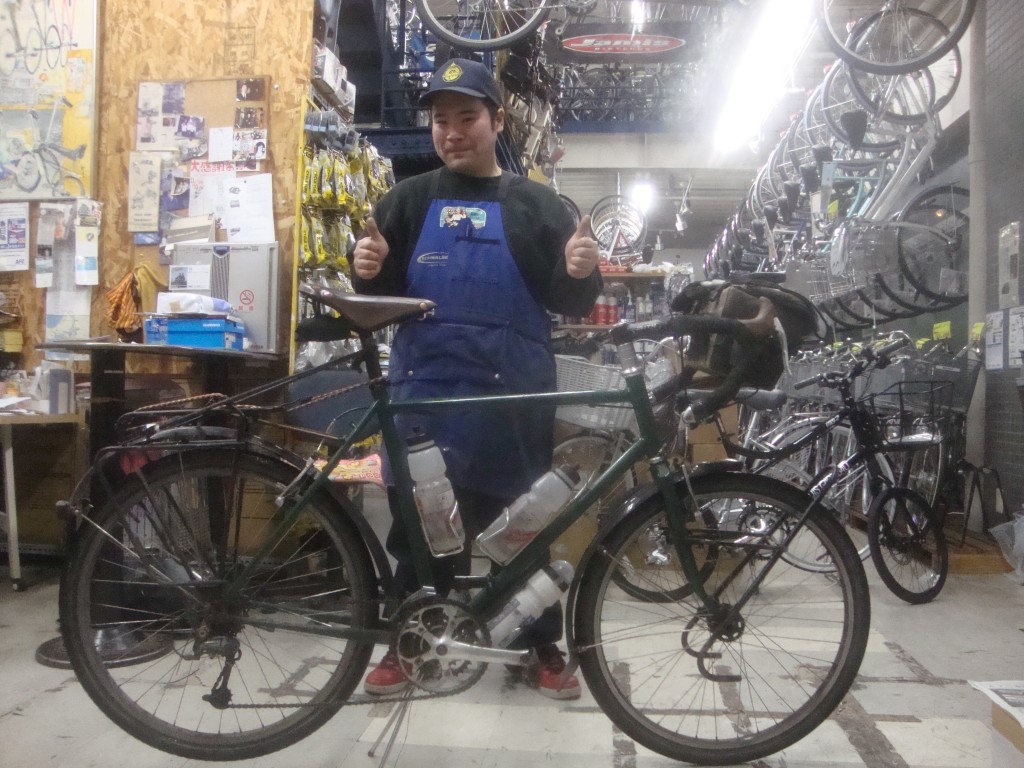 repairing and retruing my wheel (let's keep our fingers crossed that it'll last me till I get back to Tokyo), and enjoying the company of Sean and fellow bike nut Joe (a Yorkshireman!).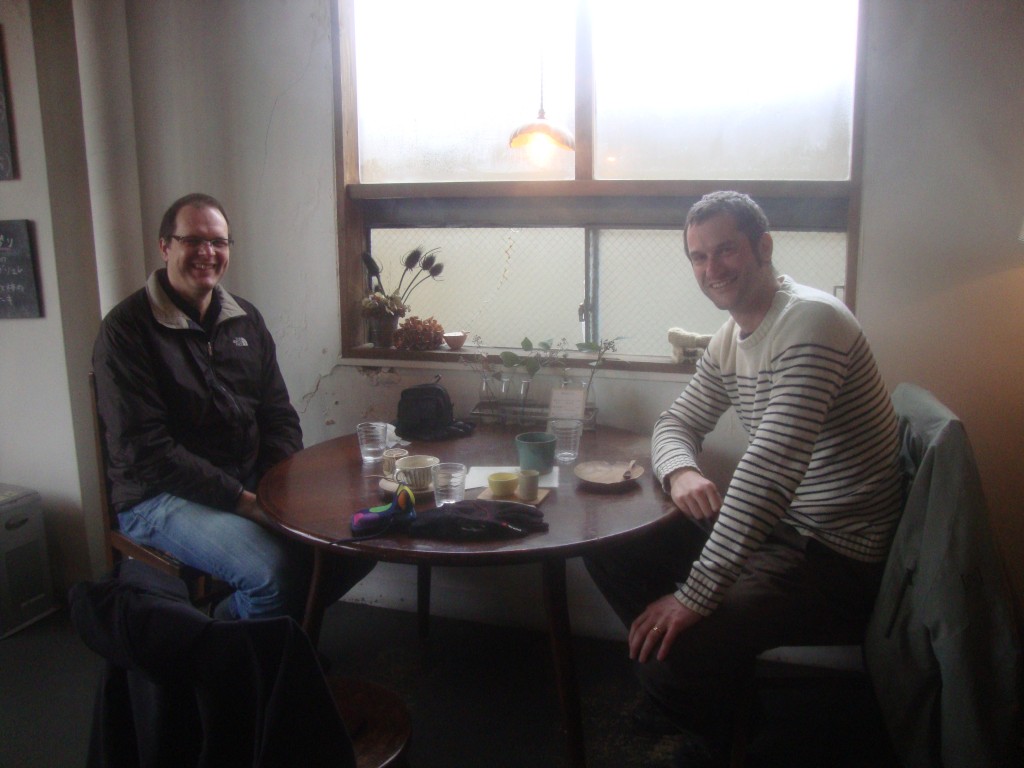 And tomorrow I set off again, aiming for Lake Tazawa, up in the mountains. The weather forecast is terrible, but after all the improbable good luck I've had in the past week, somehow I'm not at all worried.