About five years ago, I got my first road bike, and couldn't figure out how to change gear. I actually thought the bike was broken, so took it into Brixton Cycles, where Lincoln patiently explained how to use integrated shifters. (To his credit, he managed to keep a straight face.)
A couple of weeks later I decided to top up the air in my back tyre, tried to latch my pump onto the valve, failed, and ended up deflating it instead. I wheeled the bike round to Cavendish Cycles (now Fitzrovia Bicycles), and stood there, feeling like an idiot, while they showed me how to use the pump.
When I had my first puncture I was out on a ride on my own, miles from anywhere. I panicked, didn't know what to do, and had to phone a friend for step-by-step instructions. If she hadn't been able to help, it would have been a long long walk to the nearest train station.
And now I'm cycling round the world, on a bike I built myself (with a little help from my friends).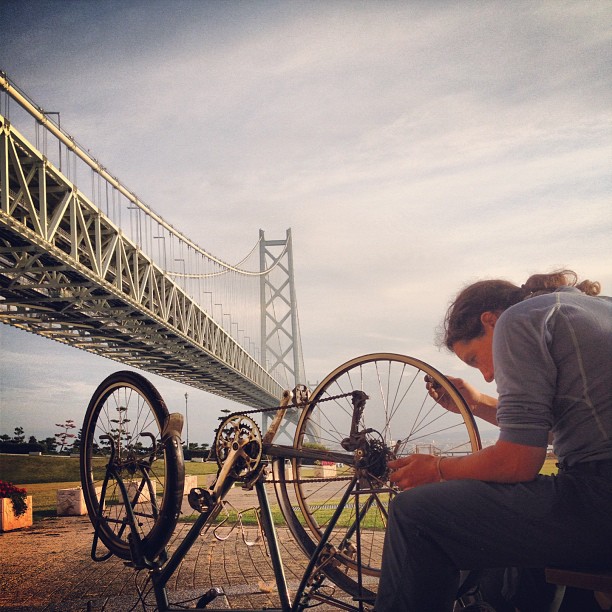 Photo credit: Kate Lines
I'm telling you these stories to prove yet again what we all know, but seem constantly to forget – that everyone was a beginner once, that we all start somewhere, and that there isn't a cyclist in the world who doesn't have several stories about stupid mistakes they made in their early days. (I still regularly feel like an idiot in bikeshops, and have decided to embrace it, as part of the eternal learning curve.)
As you'll have noticed, I am endlessly curious as to why there aren't more women doing what I do, and always looking for ways of trying to convince them that it's really not that difficult, and that they should give it a go, whether 'it' is cycling to work, cycling round the world, or learning how to ride a bike in the first place.
There are lots of things putting women off cycling. But one of the biggest is a straightforward fear of what will happen if – when – the bike gets a flat tyre. In fact, 'what do you do when you get a puncture?' is one of the questions I'm most frequently asked, by women and men alike. And my response is – I fix it, of course. It's really not that difficult, and I can't understand why it remains a mystery to so many people – even some who've been cycling for years.
An old housemate of mine, even though she cycled to work every day, and had done for years, would still walk the bike to a bikeshop whenever she got a puncture, and pay up to £20 for them to sort it out. Goodness knows how much time and money this cost her over the years. (I gave her a puncture tutorial last September, as one of my final acts before leaving.) And Anne Mustoe, who cycled round the world twice, alone, prided herself on never learning how to fix a flat. This, I suppose, shows that mechanical cluelessness needn't be the impediment that everyone thinks it is, but nonetheless, I can't help but wonder how many hours Mustoe wasted searching out bikeshops, shivering or sweating beside the road as she waited for a saviour when her tyres deflated in the middle of nowhere, hitchhiking and sitting on buses, and despairing of ever finding someone qualified to understand, let alone resolve her problem, when she could much more easily have sat down to fix it herself, and been back on the road within 20 minutes.
So I've made it my mission to teach as many women how to fix punctures as I possibly can. I started with Jessie, in Tokyo's Yoyogi Park, one afternoon last week. It took less than an hour, and was great fun.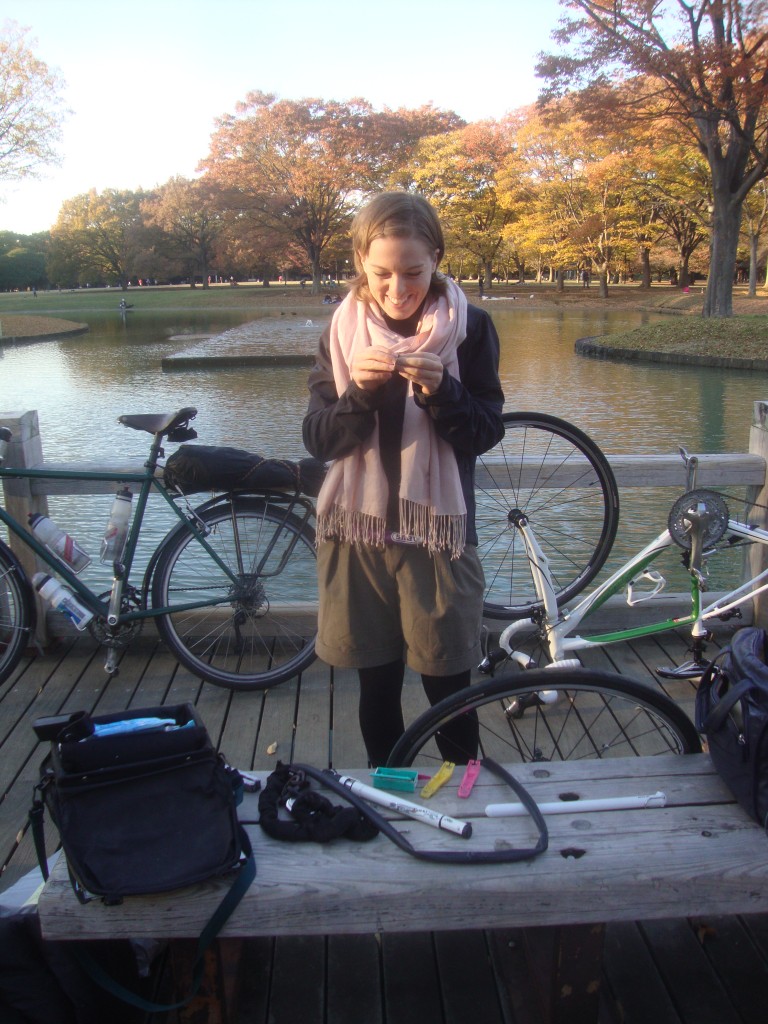 (Especially the bit where I got to stab her inner tube with my Leatherman multitool.)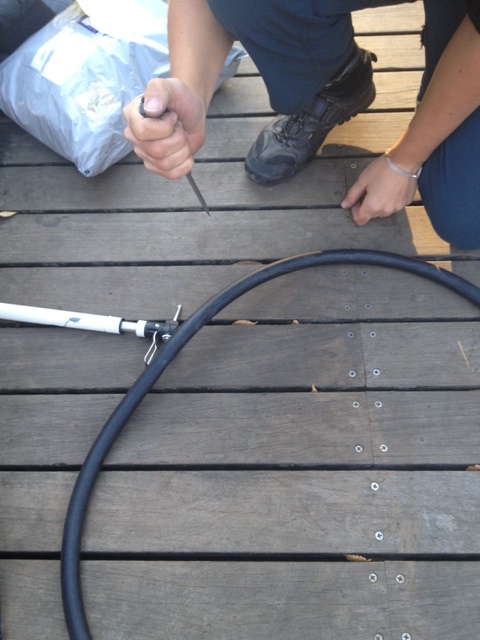 And I was amazed by how much of a difference this short lesson made to Jessie's cycling ambitions. As it turns out, the only thing really stopping her from putting her bike on the train and heading out to cycle in the gorgeous countryside a few hours from Tokyo was that she wasn't able to take her wheels off to put the bike in its bag. Now she knows – and she claims to be actually looking forward to getting a puncture, so that she can put her new-found skills to the test. (Pffft, she'll soon learn. Punctures are generally just an annoyance, even when you do know how to fix them.)
We made our way out of the park as the sun was setting, shivering with the first chills of autumn, but also glowing with capability and achievement (her) and the happy feeling of having given something back to the world for once (me).
I intend to do a lot more of this. If you ever find you're in the same city as me, and would like to spend an hour learning how to fix a puncture, please drop me a line – I'd be delighted to meet you. And if you already know how to patch a tube and pump up a tyre, why don't you go and teach someone else? Slowly but surely, everyone will learn, and more and more people will ride bikes, and the world will be a better place.
I think this initiative was at least partly inspired by Cyclofemme's current project – encouraging cyclists to sign a pledge that they will invest their "energy, strength, and passion to inspire one more woman to ride a bike."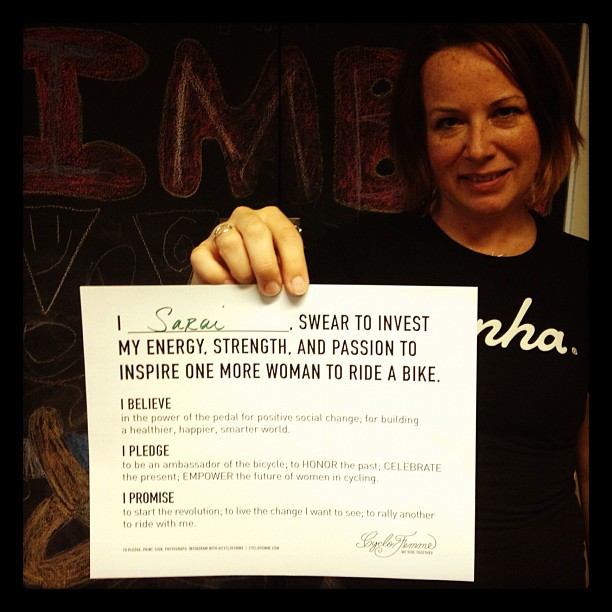 I will, of course, be signing the Cyclofemme pledge as soon as I've found somewhere I can print it off. And in the meantime, as well as doing all I can to inspire and encourage other women to put aside their fears and ride their bikes, I will also be helping them out with the very practical business of what to do when things go wrong.
Get in touch today to book your lesson!