Project Moderation ended up being a roaring success. (Though I am uncomfortably aware that the only way I could finally manage to achieve moderation was by turning it into something I could win at. Never mind.) The past few hundred miles have been a joyful and glorious exercise in pleasing myself. Here's how I did it.
I always let my mind wander when I'm cycling. This week I let my wheels wander as well. I stopped worrying about taking the fastest road and covering the most miles, and when I saw a signpost for an interesting-looking beach or village or temple, I'd make a detour to investigate. I found tiny fishing villages, stretched out alongside the sparkling sea, with row of baby squid hanging out to dry like underpants, and inland valleys, carpeted with golden-green rice fields and hemmed in by leafy mountains.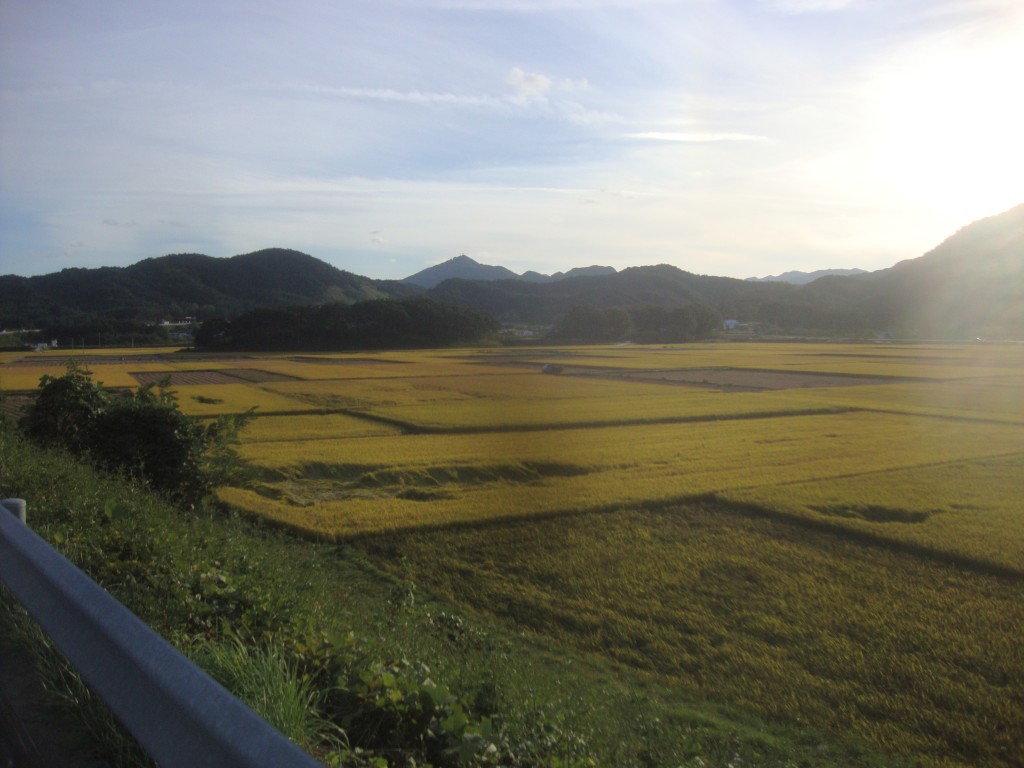 During the week, tourists and fellow travellers were in short supply, and I often had the whole coastline to myself. I savoured the quiet, the solitude, the sunshine, the sea breeze and the sensation of skirting the very edge of a continent I'd just sliced down the middle.
Sometimes I camped on beaches, listening to the waves roaring and seething against the sand and the insects whirring and chirruping among the pine trees.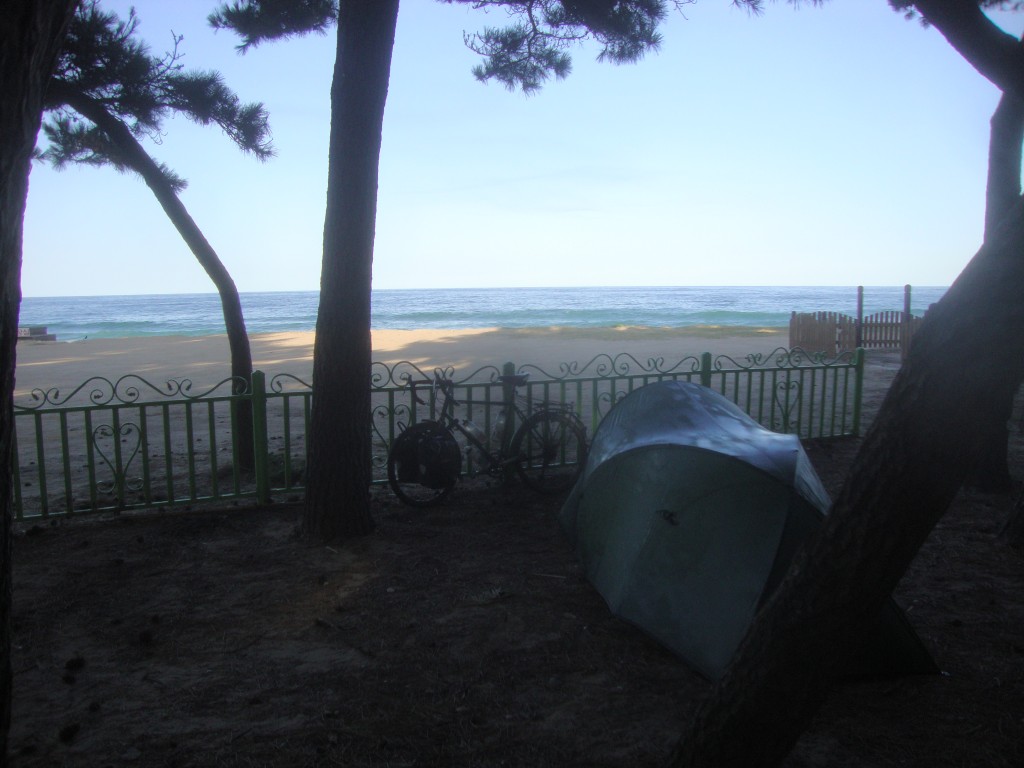 Once I stumbled across a secret garden, where the leaves were turning not just golden, but also scarlet and crimson and fuchsia, and enormous silvery cobwebs hung between all the trees.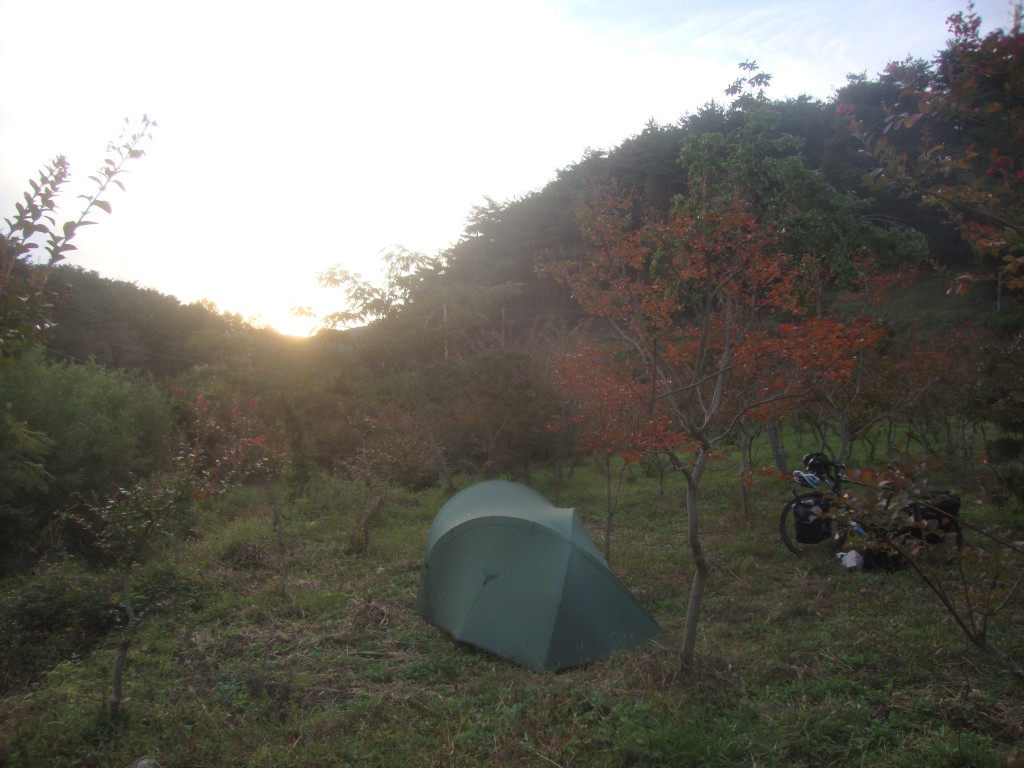 I set up my tent as the sun was setting, and slept imagining I was a fairytale princess, with friendly spiders spinning an enchanted fence to guard me from interlopers. When I woke up the dew had fallen; my tent was dripping wet, and every web was hung with diamonds.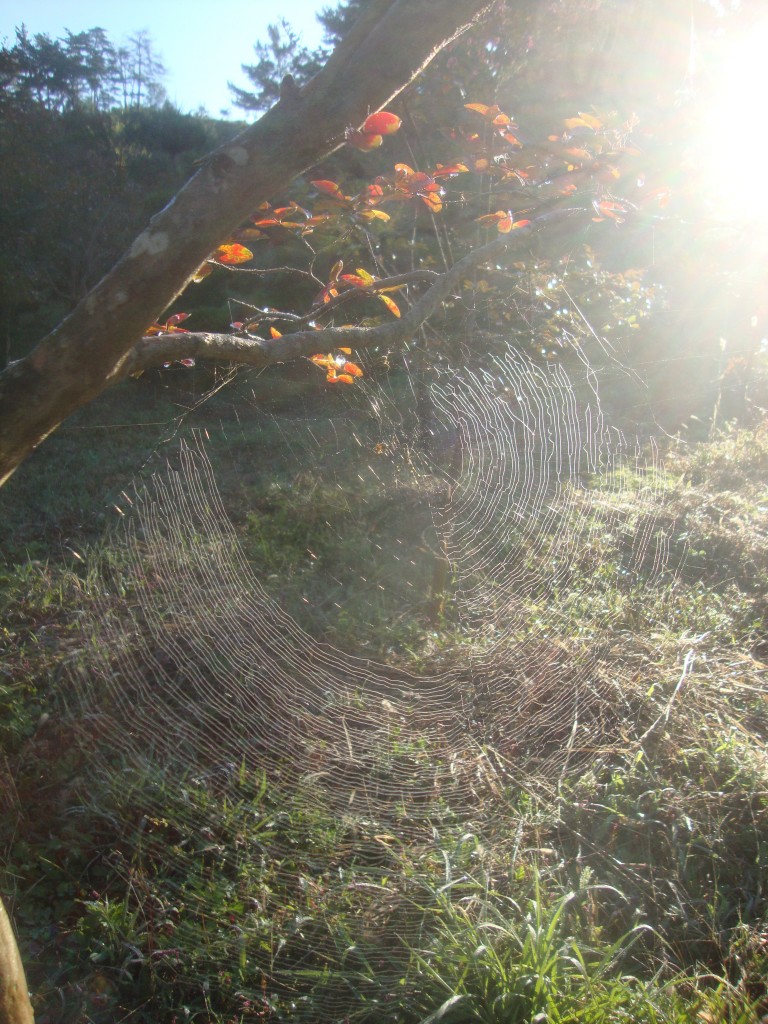 One morning I looked up from the deserted road only to see a tall German cycle tourist whizzing in the opposite direction. I hailed him with a wave and a shout, and backtracked to the nearest village to spend an hour watching sunlit waves crashing into the seashore and exuberantly swapping biscuits and stories of the road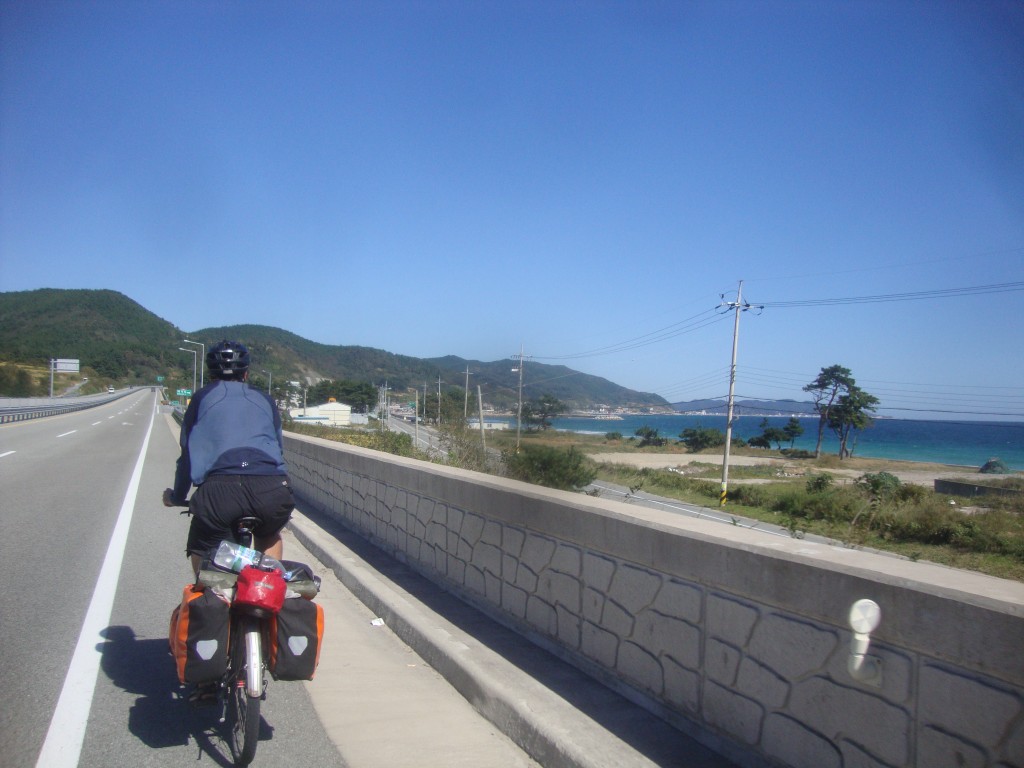 His name was Jonas, and he's been touring for over ten years (through Iceland, California, New Zealand, and even Wales), though only ever a month or two at a time, since unlike me he has real-life commitments: a chemistry PhD and a girlfriend who enjoys his company too much to let him go for any longer. But in many ways his experiences seem far richer than mine. When he decides on a country to visit, he'll then have a whole year to plan and research, and to study the language.  I often arrive at a border having only downloaded the guidebook the day before, and sometimes progress no further into the language than 'hello' and 'thank you'. Indeed, when I arrived in Korea, I noticed a curious and inexplicable mental resistance as I tried to acclimatize myself to yet another new culture. It's as if my brain has cottoned on to the fact that I'll be starting from scratch in a new country every couple of months, and decided that there's really not much point immersing itself in all things Korean, since I'll probably be changing gear and trying to teach it Japanese within just a few weeks. (And it would be absolutely right.)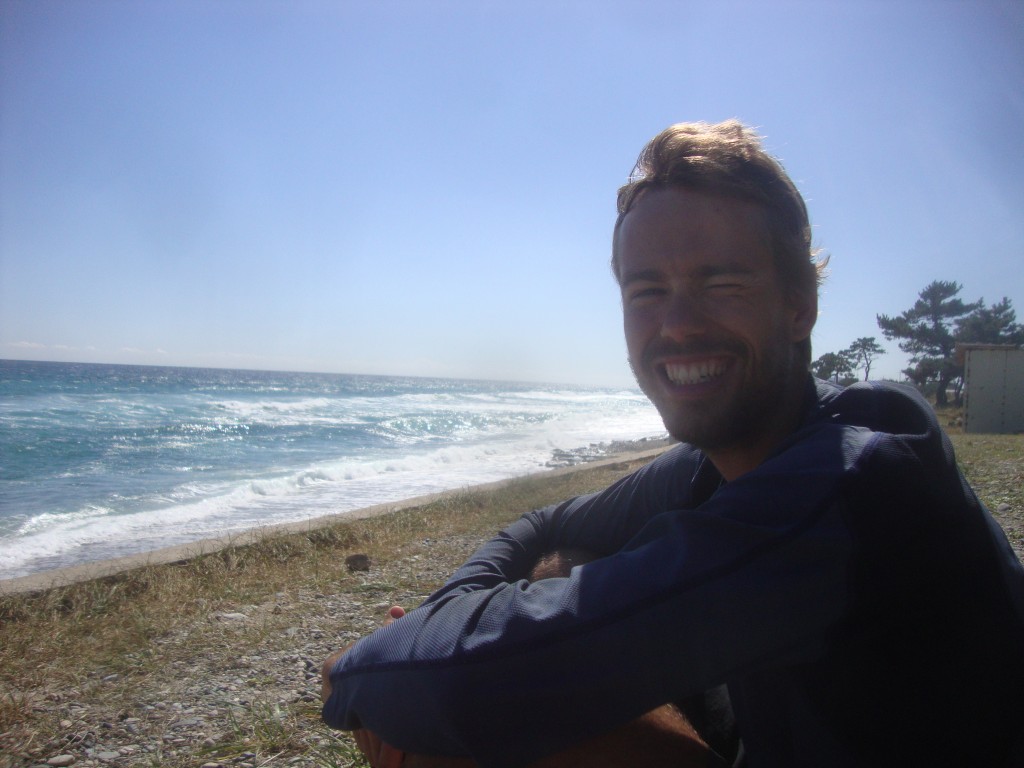 Like so many of the people I've met on the road, Jonas was an absolute pleasure to talk to. (I haven't managed to figure out whether the extreme niceness of fellow cyclists is just something that strikes me, because we all naturally get on well with people who have a lot in common with us, or whether cycle touring makes people nice, or whether only nice people choose to go on bike tours, or whether it's just sheer coincidence.) But he was heading north and I was heading south, so after a while we parted with a hearty handshake, a backward glance and a promise to stay in touch. I wonder if we'll ever meet again, in Berlin in a few years' time, or on the road, somewhere else in the world, or whether our friendship will be confined to this one happy but brief meeting, one sunny morning on the rim of a continent.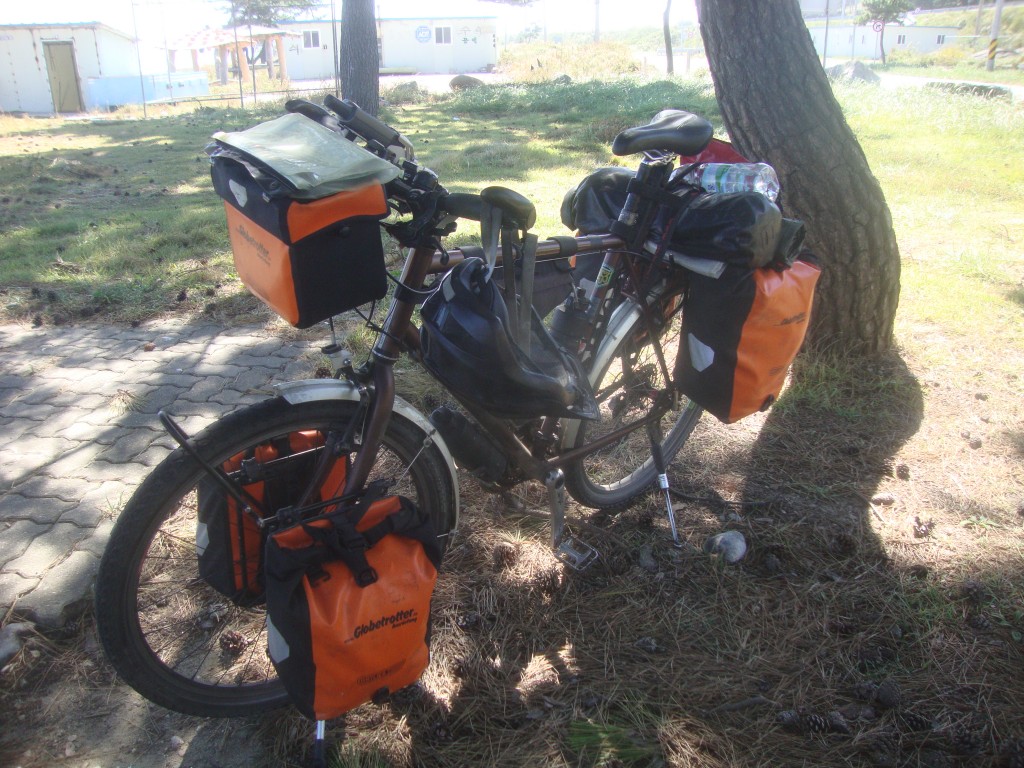 I continued meandering south, stopping whenever I felt like it, indulging my laziness and my appetites and settling into a bachelor lifestyle that was also slightly reminiscent of those nostalgic Enid Blyton books, hearkening back to a childhood none of us actually had, to the freedom of holidays free from adult influence, of riding bikes and camping in the woods, and stopping for an ice cream whenever you wanted, then stopping for another one an hour later if you felt like it. Every couple of days I'd treat myself to a large and lengthy lunch.
But, for the most part, my on-the-road eating habits, sketchy at the best of times, settled into a lazy and enjoyable routine of biscuits and noodles (I even discovered a brand of noodles that work just as well in cold water, meaning I didn't have to worry about finding hot water or firing up my stove). I set up camp early most days, and spent hours lounging in my tent, reading novels, exchanging bitchy emails with Moseman and gnawing my way through the contents of my food bag. I emptied it out one evening, and discovered I'd been carrying, among other things:
3 of those tasteless Chinese processed meat 'sausages'
a pack of pickled quail eggs
another pack of miscellaneous preserved eggs (gift from fellow ferry passenger)
one of those Chinese drinks that has beans, nuts, barley, etc. in it
a pack of pinenuts, with the shells still on (a host insisted I buy them, but I hate stuff you have to shell (bloody sunflower seeds!) – too much labour for too little gain)
a sachet of pickled veg
a bag of dried crabs (bought in Tashkurgan to frighten riding buddy; no idea what to do with them)
3 mini packs of Chinese biscuits, ground to dust
small bag of oatmeal (from Pakistan!)
most of a bag of spagetti (from Iran!)
two sachets of boil-in-the-bag rice (from Croatia!)
a miscellaneous collection of packet soups (one from as far back as Montenegro)
From all of this I deduce that, when left to my own devices, and if no one's watching, I am less of a superhero, and in fact somewhere between a wide-eyed child, a lazy bachelor, and my maternal grandmother, in whose cupboards we regularly discover groceries that passed their sell-by date back in the 1990s.