One of the things I loved most about being a cycle courier was that it turned the massive impersonal metropolis of London into a village, where several times a day – in fact, several times an hour – I'd run into someone I knew, riding past in the opposite direction with a whoop and a wave, or saluting as they pulled up next to me at the traffic lights, or emerging from the goods entrance of a building to find me standing beside their locked-up bike and grinning. There were days when the same two couriers might cross paths half a dozen times – whizzing past each other on Shaftesbury, then half an hour later following each other down Cannon Street, then running into each other in three different parts of the West End that afternoon, cackling with incredulity and joking about possible controller conspiracies, even though we both knew that it was just a string of coincidences, and that, given we spent 50 hours of our week riding the same streets, such coincidences were perfectly explicable and, indeed, to be expected.
I thought I'd miss this connectedness, this sense of being intricately woven into a community that both traverses and transcends physical space. But as it turns out, there is a similar community of long-distance cyclists, spread out across thousands of miles, occasionally crossing paths, and always discovering they're already connected by far fewer than six degrees of separation. We very rarely run into each other more than once – within a couple of weeks of meeting each other we might have ridden a thousand miles in opposite directions – but chances are that somewhere down the road they'll run into some other cyclist I've already met, or vice versa.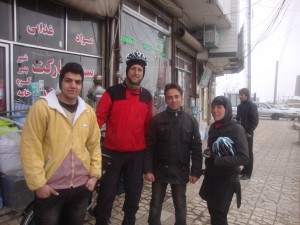 I can give you countless examples of this. Take, for example, the wonderful Johannes, whose company I enjoyed for a few days between Tabriz and Soltaniye back in January. Within minutes of meeting we established that we'd both stayed with the same host in Kirsehir, back in Turkey, less than a week apart.  Belgian Ben caught up with us and we rode together for a few days, then I turned south. (Ben and Johannes carried on towards Tehran, and Ben later ended up crossing Central Asia with a man called Yu Ito, whom I'd met in Yazd, and who crossed paths with Tomoko in central China, before she became a cyclist.)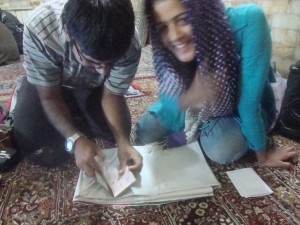 I didn't meet Johannes again, but one night when I was sleeping in a mosque between Yazd and Kerman I met an Iranian cycle touring couple called Omid and Fatima who had encountered him earlier that day (and had his autograph to prove it). And when I was in Lahore I met a German couple called Matthias and Veronika, on their way home after three years cycling round Asia. Within a couple of weeks they had flown to the Emirates, run into Johannes in Masqat, and were touring the Oman coast together.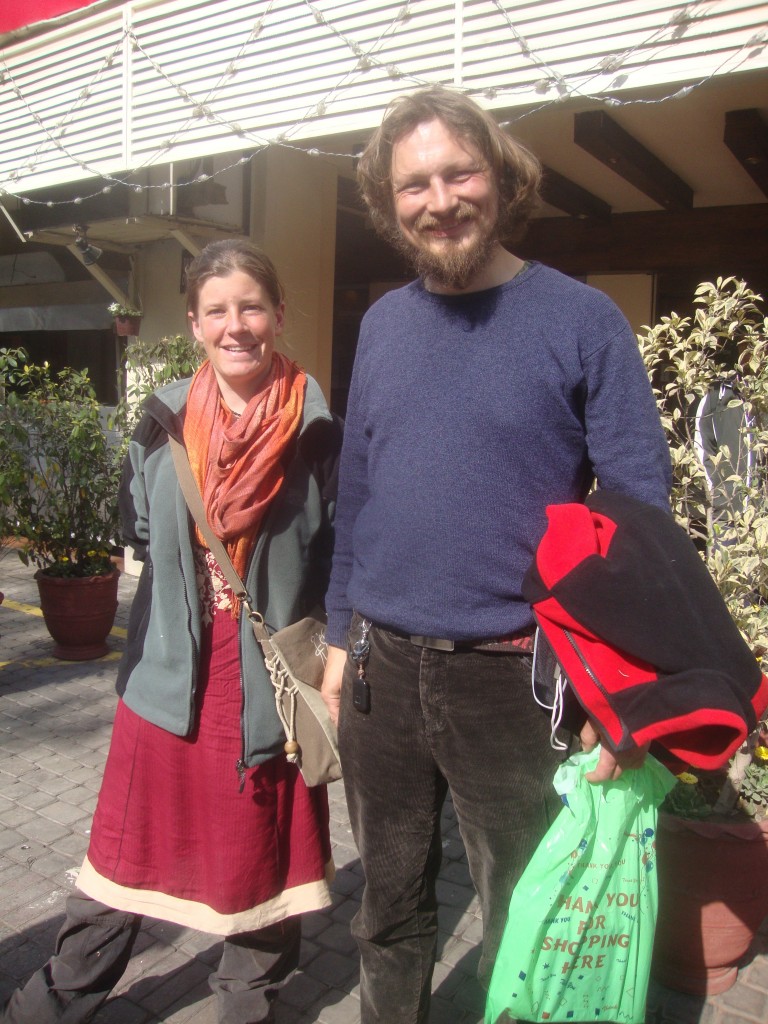 Even when I haven't met another cyclist in person, we'll still have several people in common. My new email buddy Eleanor Moseman is currently in Dushanbe, along with Chris, who babysat my bike for me in Goreme over Christmas. The other night she mentioned a Thai cyclist was staying in the same hostel as them.
"Ha! Is his name Sombat?"
"How did you know?"
So that's where he got to.
And the other night I had the great pleasure of dining with Bert and Thijs, the two Dutch cyclists I met in Goreme, and spent New Year with at Ercan's place in Sivas.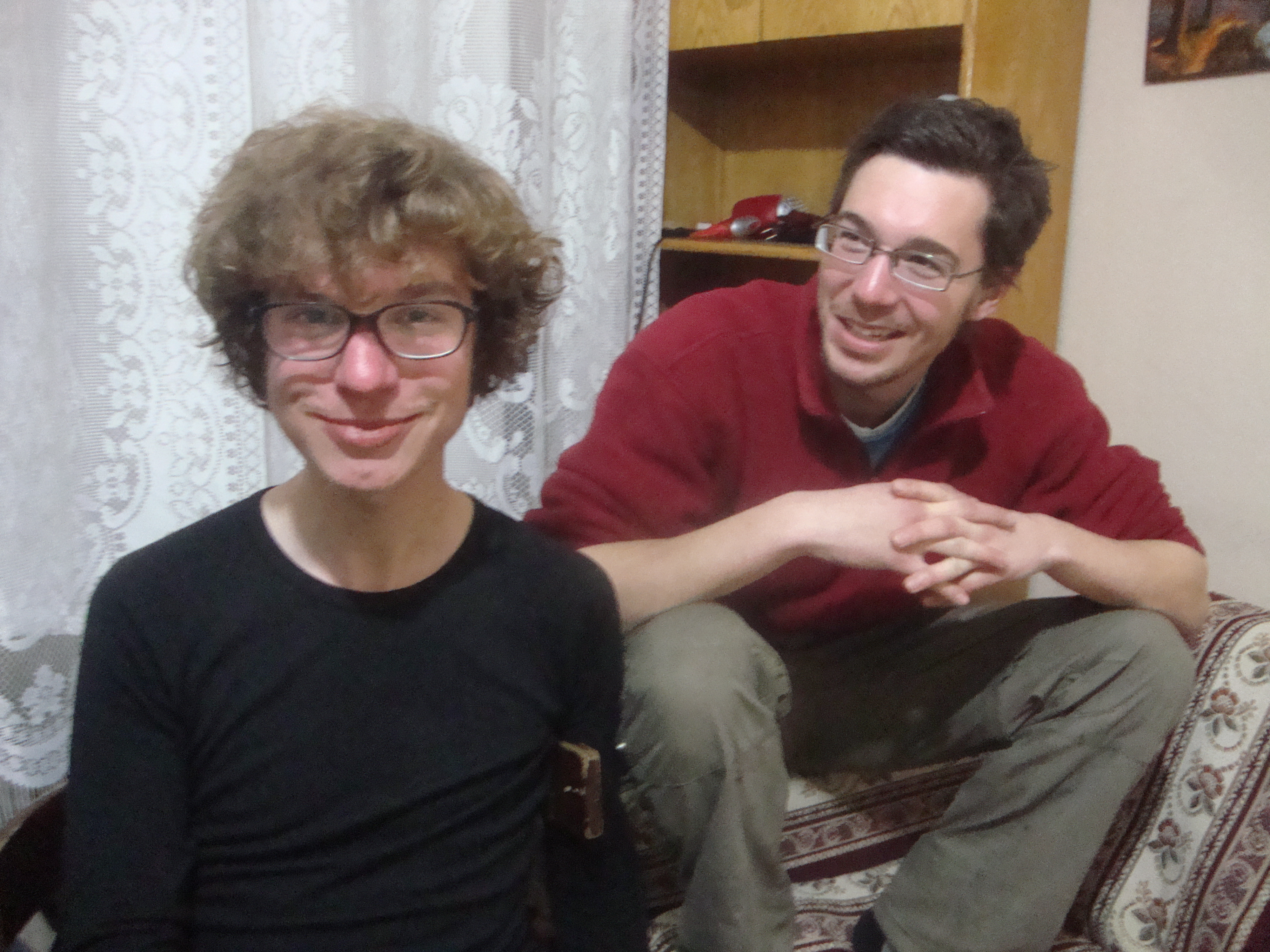 Since we waved goodbye in the snow and ice of Eastern Turkey they've battled through the mountains of Tajikistan, while I was chauffeured through the deserts of Balochistan. Our paths crossed again in Kashgar, but they were a couple of weeks ahead of me by then. However, as chance and good fortune would have it, they rolled into Hong Kong, their journey's end, just a few days after I arrived here by train to pick up my new visa (which may or may not happen this afternoon).
Although we haven't seen each other for over seven months, we now have a handful of friends in common. Hanging around in Dogubeyazit, waiting for a Fedex package, they met Michael and Anna, the friendly Austrian couple I crossed the Iran-Pakistan border with (so the  Austrians had already heard of me by the time they met me in Bam). And in Yazd, several weeks after I met Yu Ito there, chainsmoking over the breakfast buffet, they ran into Michael, my heroic Khunjerab companion (pictured below with one of our generous hosts at Koksil, who toasted our victory with smuggled beer and was in his pyjamas until five minutes before this photograph was taken).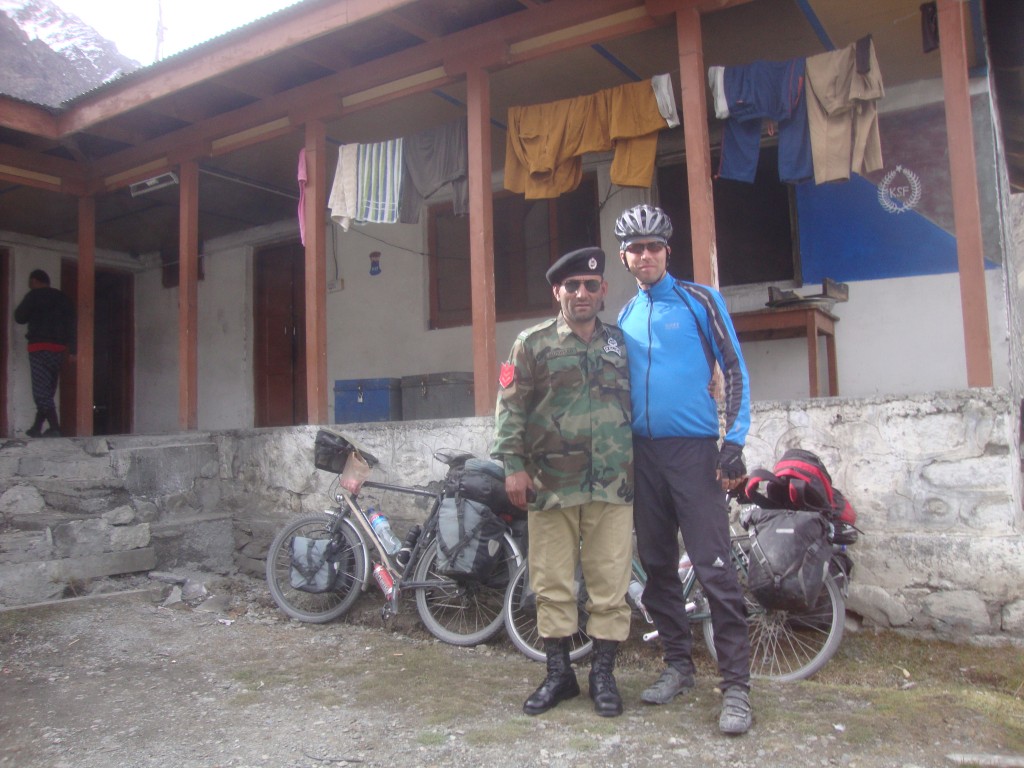 "Let's not say a proper goodbye – I'll see you somewhere down the road!" I'd apparently chirruped optimistically as I set off towards Erzurum that cold cold morning (I didn't remember this, but Bert did). And, lo and behold, so I had.
We spent a jovial evening eating and drinking – first in a Korean restaurant, where I was pleased to discover that, although both of them were skinnier than they had been when we first met, Bert's appetite was as inspiringly bottomless as ever, and then in the first Irish pub I'd ever been to (outside of Ireland), where they drank twice as much as me, twice as quickly. I remembered when we'd gone shopping for our New Year beers in Sivas.
"What do you think – six?" Thijs had asked.
"Two each – sounds good to me!" I responded.
"No no, I meant six each!"
And of course, we had all our adventures to catch up on. Thijs' girlfriend, who had flown out to meet them, looked increasingly bored as we waded into all the predictable and manifold details of our punctures and stomach upsets. To my disappointment, Bert would often stop me halfway through one of my anecdotes, because he already knew it from this blog. I hadn't been able to keep up with theirs, because it's in Dutch (although they have managed to corner the best URL ever – www.amazingcyclingadventures.com), so listened avidly as they told about battling through the snowdrifts in the Pamir mountains (perhaps next time I'll give Balochistan a miss, and go north of Afghanistan instead of south).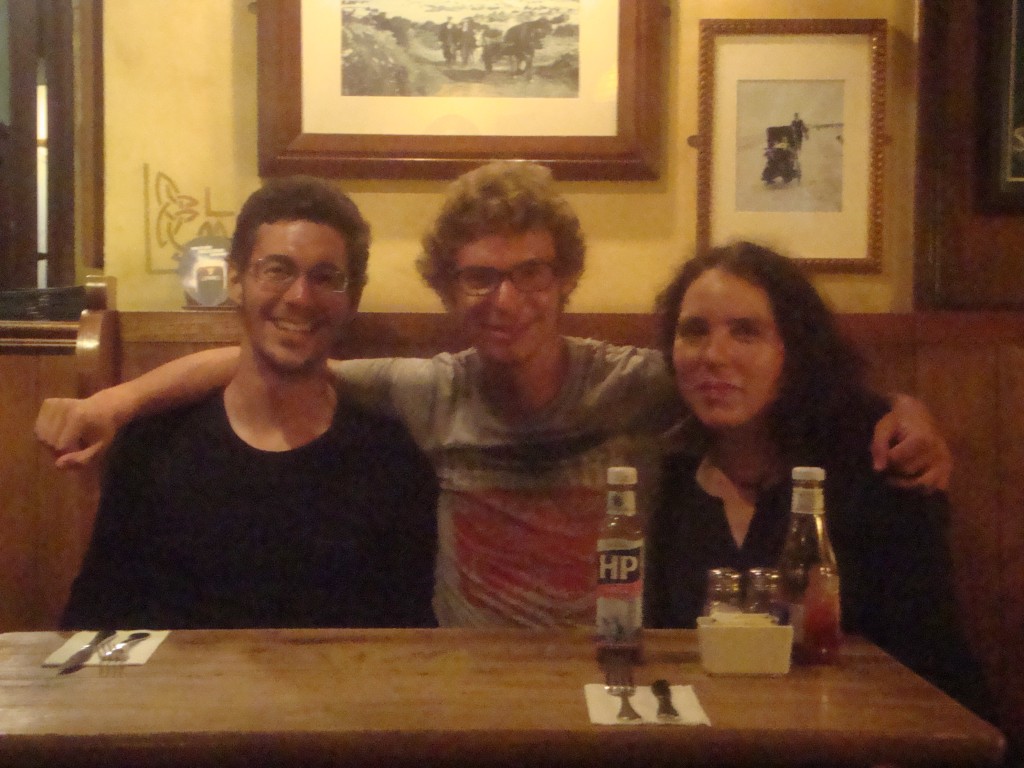 Yesterday was their last day in Hong Kong, and as I type they're on a flight back to the Netherlands, provided they managed to pack their bikes up and convey them to the airport, which was going to be the final logistical challenge of their ten months on the road. This Saturday they'll host a 'we've made it!' party in a local bar, and we all marvelled at the oddness of sitting here in the bright lights and stifling humidity of Hong Kong, knowing that they'd be keeping an appointment on the other side of the world, just a few days hence.
I waved them off with a bittersweet mixture of envy and curiosity, yet again imagining my own homecoming, which may still be several years and tens of thousands of miles ahead of me. And then I turned my attention back to the east. After that evening's dinner, I find I'm suddenly very keen to get to Korea.
(Not least because I'll be meeting up with these old friends, first encountered in Zadar, Croatia; last seen in Istanbul; currently just east of the Pamirs.)