In centuries past, Dunhuang was one of the most eagerly anticipated towns along the Silk Road, but these days only a hungry, thirsty, exhausted cyclist will really appreciate why. After a month of riding across the scorching, dusty, almost featureless desert, the ten miles of greenery I rolled through on the approach to the town felt like a breath of fresh air; a long draught of cold water. The road was shaded by avenues of dark green poplar trees, and cooled by the dampness rising from all the well-irrigated fields that lay alongside it, hemmed in by neat wooden fences. It seemed improbable, and almost magical, to have stumbled upon this little haven in the middle of several thousand miles of sand and bare rocks.
I eventually found the backpacker hostel, late that evening, tucked away amongst the orchards and vineyards at the southern edge of town, with enormous moonlit sand dunes rising up behind it. As I pulled up wearily in the darkness outside, I could see through the open door to a warmly lit courtyard, where a small crowd of westerners were sitting round a large table, playing cards, laughing, and drinking beer. The air was cool and quiet. Above my head the stars were starting to twinkle. For once, all was right with the world.
So I spent a couple of days treating Dunhuang as it was always meant to be treated, filling up on fruit, meat and beer (and, the town now being on the backpacker circuit, coffee and pancakes), lounging in the shade, watching the housemartens, and generally doing very little.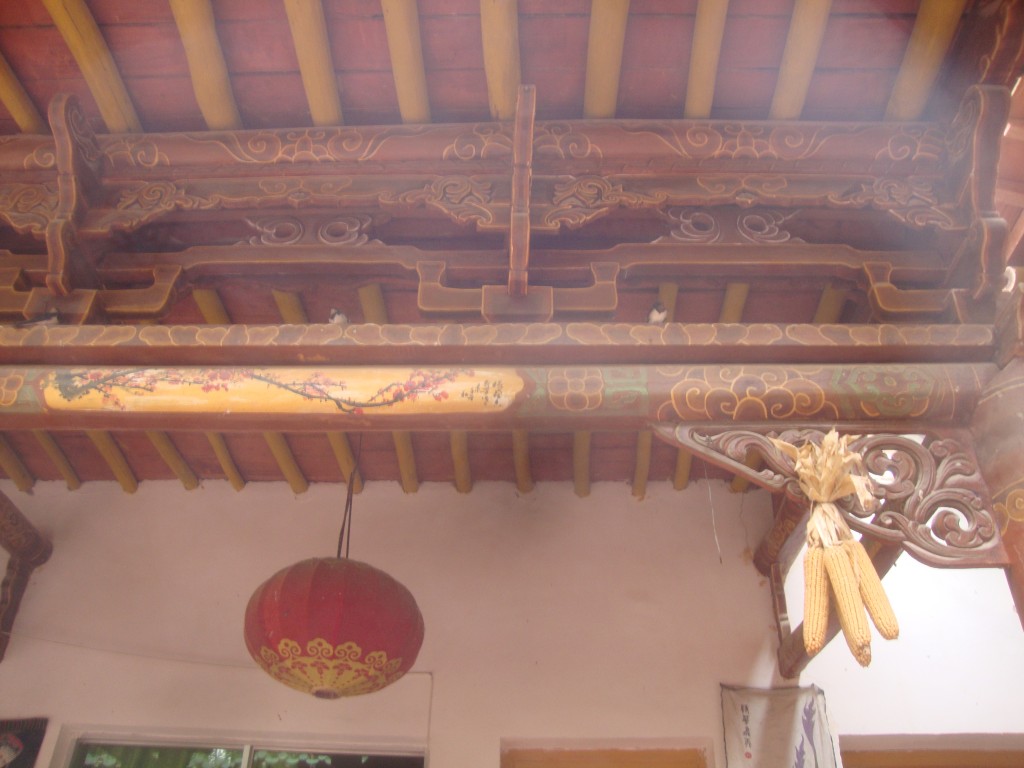 I always feel a certain guilt when I find myself in major tourist centres like this. The hostel was full of Europeans and Americans, who spent their days dutifully following the Lonely Planet around the local tourist attractions, while I sat around eating and emailing. To my great shame, I never even visited the world-famous Mogao caves. I was too tired, and it would have cost me several days' budget to get in. I reassured myself that I have another fifty years of travelling to come, and that I can come back and see all the cultural sites when I'm older and wiser (and richer).
And I reminded myself that what matters more on this journey is the spaces in between – everything I see and do and experience as I propel myself from one destination to another, where most travellers will be snoozing on the bus, or reading novels on the train. So far, although I've been lucky enough to visit places like Salzburg, Esfahan and Kashgar, my most vivid memories – and my most engaging anecdotes – are of the icy road winding over the mountains of Western Iran, the warm and often hilarious company of the hundreds of people who've hosted me along the way, the tiny and unexpected encounters and occurences that shape my days, the happy and triumphant glow of arrival after a difficult journey, and all the curious things my mind gets up to as I ride across those areas of the map where all there is is a thin red line and a few contours.
'The places in between' – it's the title of a book by Rory Stewart (which I've recommended before), about his almost incredible journey – on foot – across Afghanistan in the winter of 2002. I've always envied him for nabbing that title before I could, because in my mind it summarizes my modus operandi, and my reasons for travelling, better than anything else I've come across.
The places – or, to be even more accurate, the spaces – in between the things we know and name are, for me, the real stuff of life and of imagination. Both my undergrad and my masters theses explored this paradigm in various ways (and to increasing degrees of obscurity). The things we know – Dunhuang, with its long and well-documented history; any familiar word or thought or concept; the points on the map that help us recognize the shape of a country – are boring, inert, over-signified. Everyone takes the same photos of the Taj Mahal. People are having identical conversations, right now, in backpacker hostels all over the world. What lies between is still open to interpretation, to discovery, to originality; is still alive, and vibrant with potential.
Nothing very interesting happened to me in Dunhuang. I got back on my bike after a couple of days and rode south, first through the hot, golden, rippling desert, and then up into the peaks and passes of the Qinghai Plateau. The first two days were hard. As I approached the imposing wall of snow-capped mountains that marked the boundary of Qinghai and Gansu the desert began to tilt almost imperceptibly upward, and ferocious headwind whipped up. It took me more than two hours to cover the final 12km before the mountain road began, and then I was detained for another two hours by some extremely friendly policemen, who insisted I wait until the rain stop, as it was too dangerous to ride into the mountains otherwise.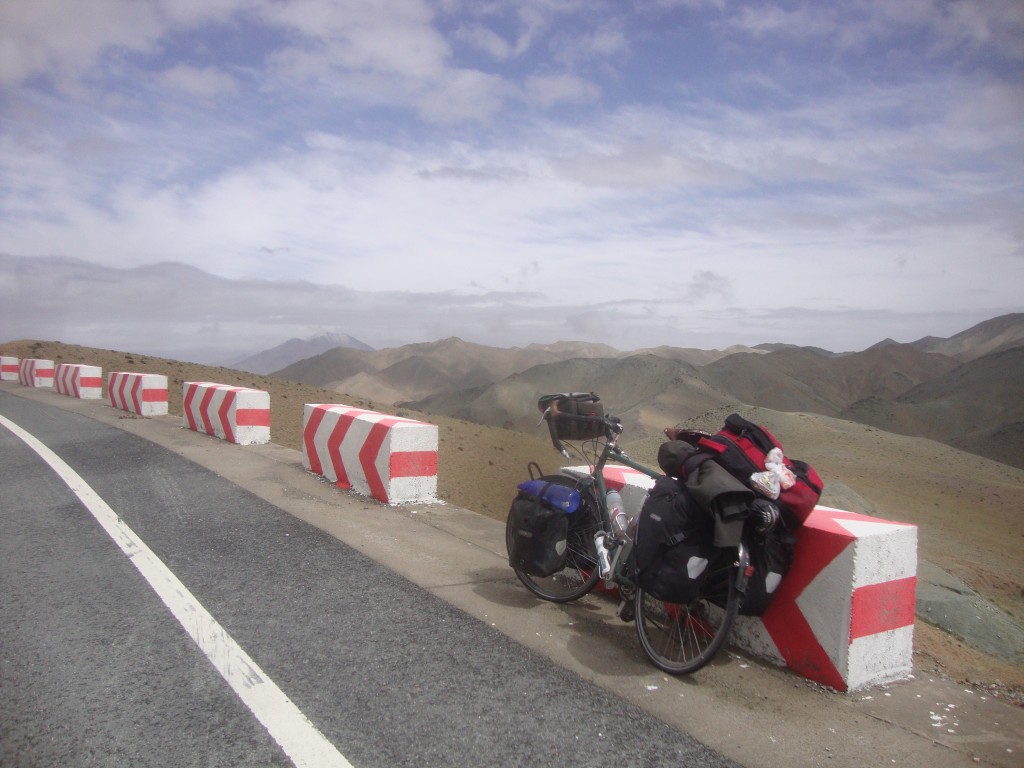 The first climb was long and slow and difficult. One of my knees had begun to hurt (this almost never happens), and all along I wondered if I'd made the right decision, and whether I should just turn round, retrace my steps to Dunhuang, and take the desert road as I had planned. Pride and stubbornness kept me going, and when I finally rolled over the top of the (3519m) pass I was rewarded with a new world – a vast, pale green plain, stretching off beyond the hazy horizon, further than the eye could see.
The next few days were some of the best I've had so far. All alone, I soared along an almost-deserted road, up over high passes, down onto wide plains, through grasslands and scrubs and sand dunes, past huge black and brown rocks and crags, alongside shimmering salt lakes and marshes, overlooked by snowy peaks, trailing clouds and the occasional gathering of camels, loitering impudently by the side of the road as if waiting for a bus. After several perplexing months of discomfort (cycling has been painful in various ways since the last week or so of Iran, long enough for me to wonder seriously whether I was ever going to enjoy it again), suddenly everything felt right and good and wonderful again. My legs never seemed to lose their strength. I rode long long days, starting at sunrise, only stopping when my stomach demanded to be fed, or when night fell.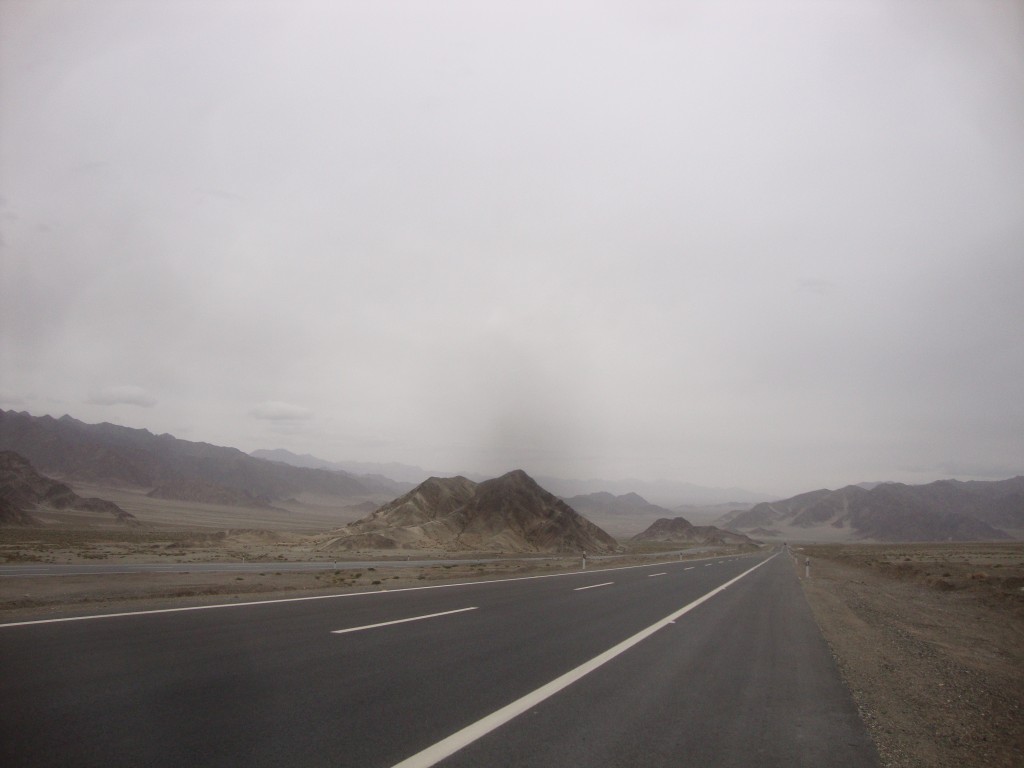 And, after the stultifying, suffocating heat of the Taklamakan Desert, the cool, clear air of Qinghai rushed through my head like a strong breeze through an untidy room, whisking away all those obsessive and inescapable doubts and worries that had piled up over the past month, and sending everything into a great whirl, so that, as I rode along, I found ideas and memories flowing freely through my mind – some of them long-forgotten; some of them entirely undiscovered. As my body fell in love with cycling all over again, my mind remembered its joy in solitude, and in motion, and in open, empty space. And I realized this had been a good idea after all.