One of the other brilliant things about China is that, for the first time in several months, I'm sharing the road with other cyclists. Well, that's not strictly true – after all, there were a lot of people on bikes in Pakistan. But I'm discounting those people for whom the bicycle is an economic necessity rather than a lifestyle choice. The probably wouldn't describe themselves as 'cyclists' anyway. The only exceptions were the national cycling team (who welcomed me to Lahore) and some lively chaps on road bikes who overtook me and Dad on our way out of Islamabad. (They looked very impressive, but turned us down with a mixture of alarm and incredulity when we suggested they join us for the ride up to Murree. 50km and more than 1500m of altitude gain later, we understood why.)
Anyway. Although I'm a few decades late to witness the great oceans of the proletariat in their identical overalls, riding their identical bikes on their identical way to work, I've still run into far more cyclists here than I have in almost every other country.
It started with Michael and me wheeling our bikes into the customs compound in Sost, and nudging each other in great excitement when we spotted the unmistakeable outline of a well-travelled touring bike, Ortlieb panniers and all. It belonged to Sombat, a Thai cyclist who had already covered South East Asia, Tibet, Nepal, India and Pakistan, and was now heading west on his world tour (which, interestingly, means there's a chance he and I will cross paths again somewhere). Having already crossed several 5000m+ passes in eastern Tibet, Sombat didn't feel he had anything to prove by riding up to Khunjerab, so was putting his bike straight on the bus and heading to Tashkurgan. Michael and I passed and were passed by him a couple of times on the remainder of the KKH (he rode more slowly, but we took longer breaks), and ran into him almost every day in Kashgar – and then he turned up again as I was leaving Kuqa, though there our paths finally diverged, as he took the mountain road towards Kazakhstan. I wonder where he is now.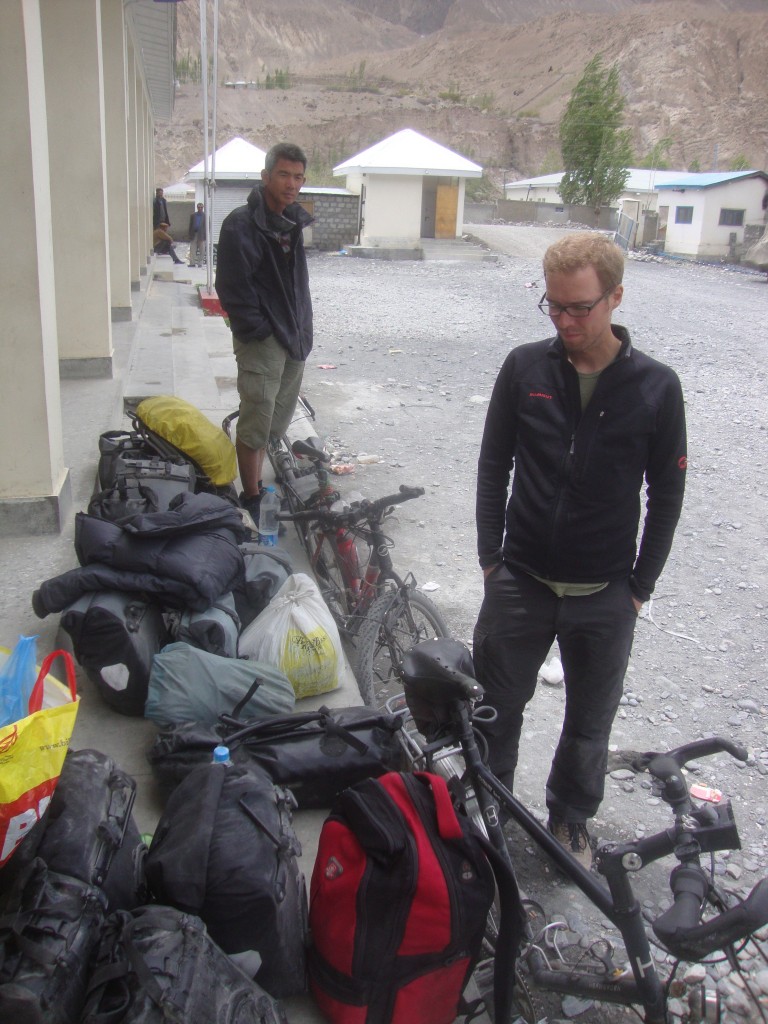 In the Old Town Youth Hostel in Kashgar (which is highly recommended, especially for cyclists, as it's based round a big courtyard) I was very excited to meet Tomoko, the first other solo female I'd come across. I wasn't sure if she counted though, because she hadn't actually started yet. After several months of backpacking through Asia, she'd decided she wanted to give cycle touring a go, so bought herself a brand new Giant mountain bike, panniers and a tent, and planned a route for Kyrgyzstan. She spent a couple of days hanging around in the hostel's courtyard, nervously making adjustments to all her kit, chainsmoking, and listening eagerly to all my advice, since I'd come over all maternal and was determined to do everything I could to make sure her introduction to cycle touring was a positive one, and that, once she hit the road, she'd stay on it. And she did. Last time I heard from her she'd made it to Bishkek, and was having a wonderful time.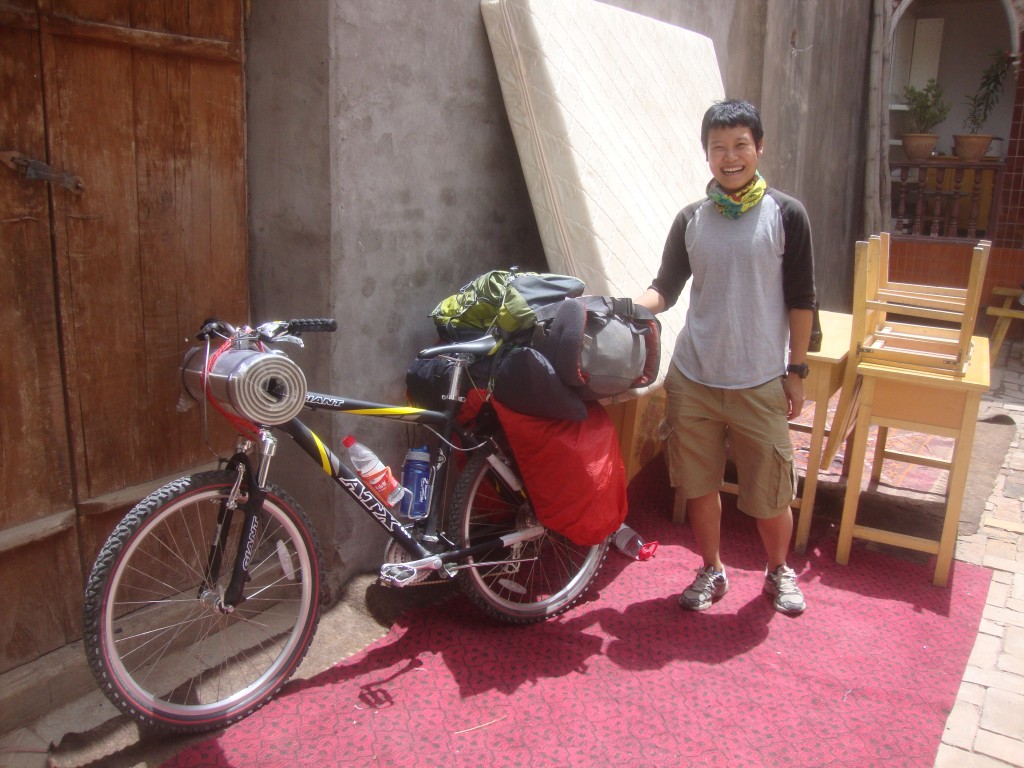 A day or two after I left Kashgar, and was struggling along into an evil headwind on my way to Urumqi, a minibus driver flagged me down and managed to convey, with great excitement, that another cyclist was up ahead. I wasn't able to make out what direction this cyclist was heading, so I stepped up my pace, hoping to catch up with them if they were going the same way as me. Half an hour later, I spotted that familiar silhouette barrelling towards me (of course – my headwind was his tailwind). It belonged to Shamoto, who was riding across China, aiming for Kashgar. We exchanged email addresses, and a couple of days ago he got in touch to say that he made it as far as Osh in Kyrgyzstan, and is now back in Tokyo, about to start working for a company. He hopes that someday he'll be able to head back to Osh, and carry on riding west.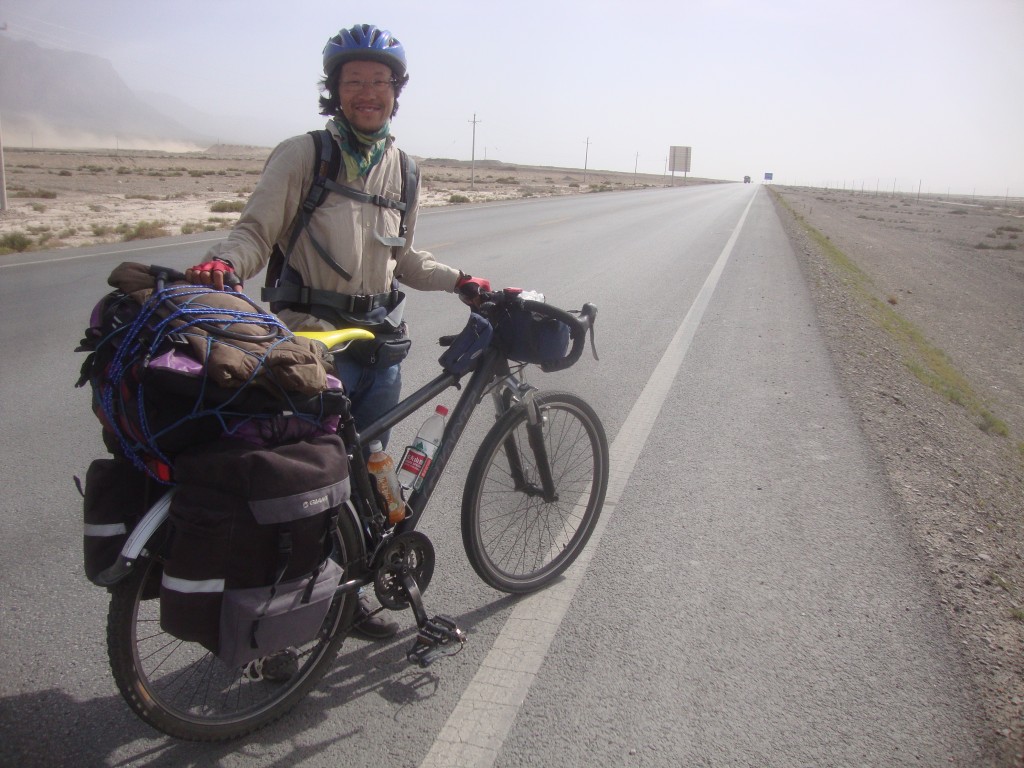 An hour or two later I passed a Chinese cyclist called Chen, who was riding a loop of China, starting from his hometown of Guangzhou (in the south east). From Kashgar he was planning to follow route 219 to Ali and eventually Lhasa, crossing the formidable wilderness of Western Tibet and passing Mount Kailash. It'll be an incredible challenge – most of the route between Kashgar and Lhasa is above 4000m and extremely remote, meaning that if he gets into difficulties, there'll be no one around to rescue him. The road is little more than a track, probably comparable to the KKH in Pakistan, and there are numerous unbridged river crossings. (I know all this because I was planning on riding that way myself, but my plans were scuppered by only being given a 30-day visa. Since it's illegal for foreigners to travel independently in Tibet, I wouldn't have been able to renew it, and it takes a lot longer than 30 days to cross the Tbetan Plateau. So, next time.) I shook his hand several times, and wished him luck.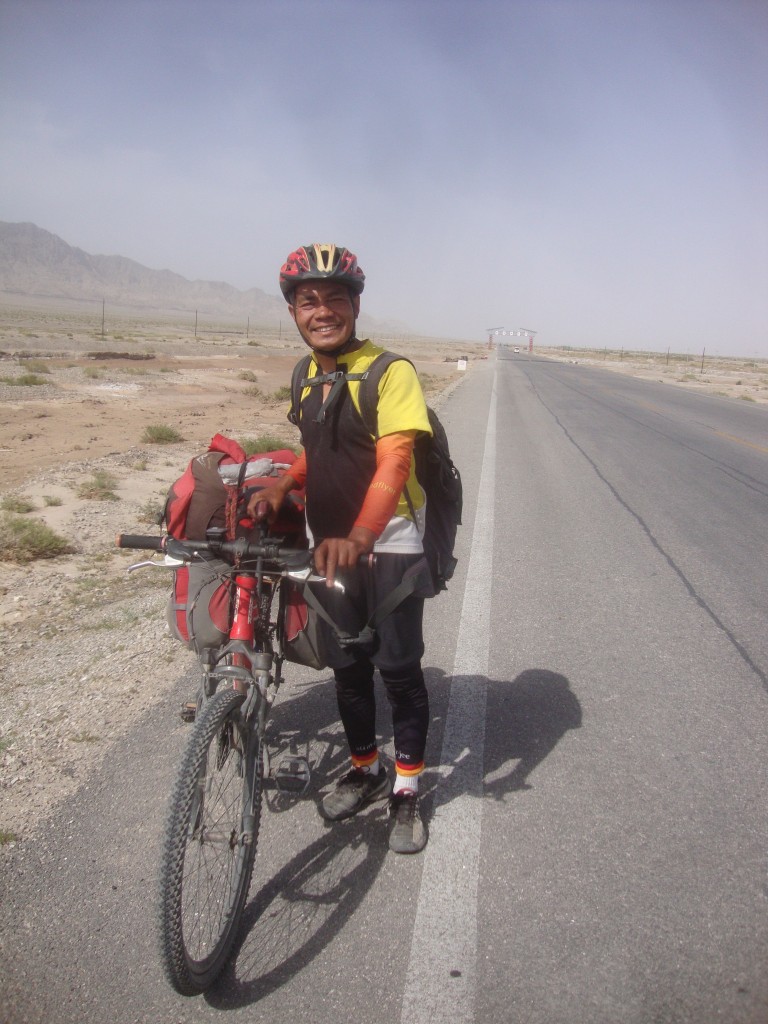 In Urumqi a local cycling club organized a welcome for me, and provided a peleton to escort me out of the city when I left yesterday morning. One of them even phoned me that evening, to check I'd made it to Turfan safely, even though he spoke almost no English.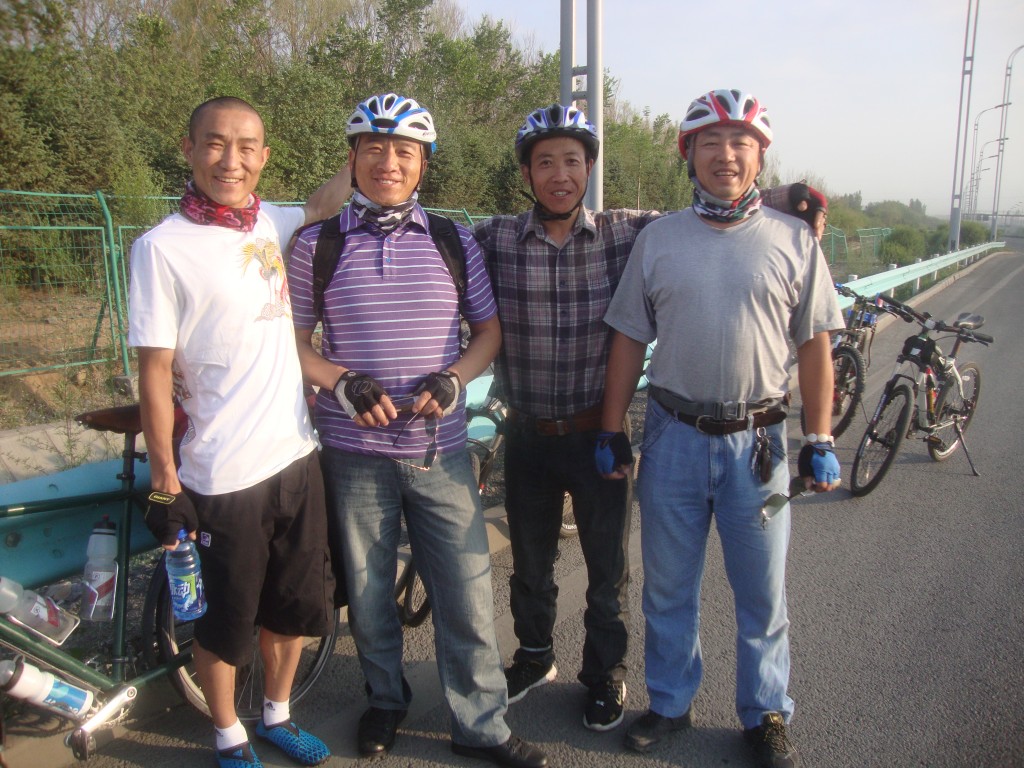 And a few miles out of Urumqi, a sleek lycra-clad roadie whizzed past me on a flashy carbon fibre bike, the likes of which I hadn't seen since Germany or Austria. A few miles down the road I caught up with him at a service station and we eyed each other's bikes, which couldn't have been more different: mine a carthorse; his a greyhound. I commented on how much faster than me he was, as a way of making friends, and was amused when he responded "I am man", in a 'well, duh' tone of voice.
(Aha. So it wouldn't have anything to do with the fact that your entire bike weighs less than my combined water bottles then, would it?)
But then he redeemed himself by buying me breakfast, and I forgave him. He set off again, and quickly disappeared over the horizon, but I ran into him at the next service station. ("You're fast!" said he. "No no, it's just the tailwind, said I." Why? Why didn't I just thank him and take credit for it?) Apparently, like me, he was unable to resist the siren call of the cold drinks. I asked where he was going, and he told me Lake Qinghai, which I assumed was one of Urumqi's local beauty spots, and perhaps the equivalent of riding to Brighton or Cambridge for the day (from London, I mean – I sometimes forget that people in other countries also read this).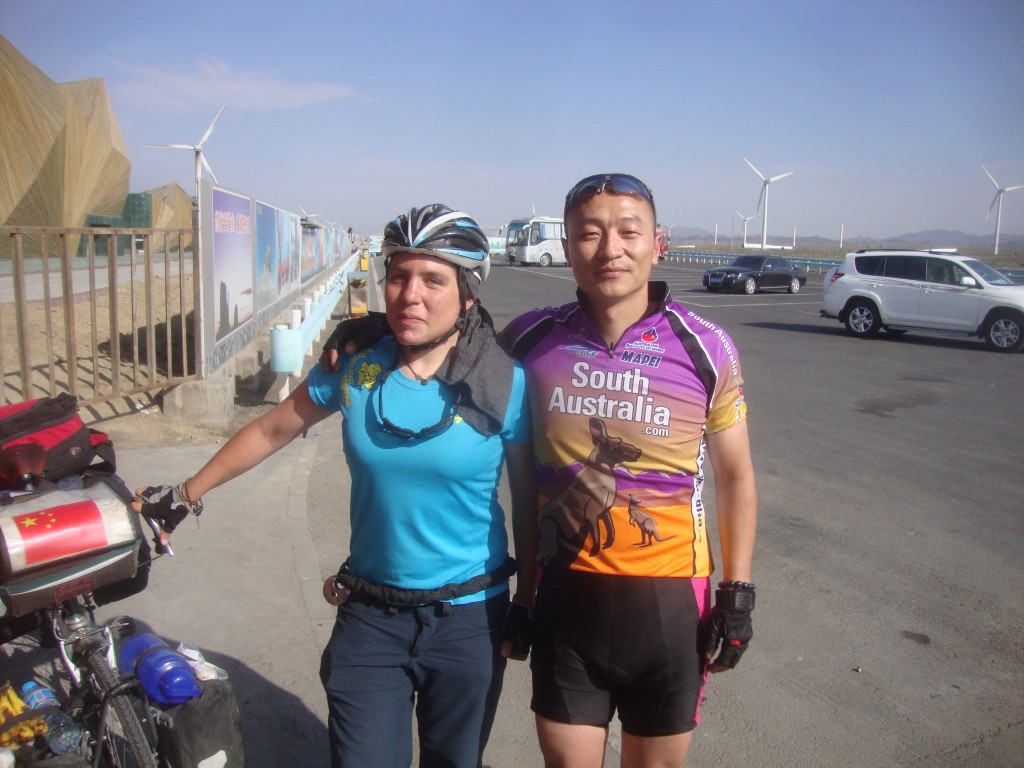 So imagine my surprise when I puffed and panted my way to the top of a hill the following day, to see his bike propped up against a fruit stall. He was equally surprised to see me ("You are fast!"), and sat me down and handed me a huge slice of melon, dripping with juice, which I gratefully sank my face into. It had been a horrendous climb, so we were both happy to sit there for a good long while, demolishing melons, swapping food, and sharing tales of our respective missions. I was wrong about Lake Qinghai – it's actually about 2000km away, near the centre of China (I'm heading that way myself). I was amazed that he intended to ride all that way with nothing more than a tiny backpack (and, presumably, a credit card), and he asked all the usual questions about how long I'd been on the road, and what my parents thought about it.
We leapfrogged for the rest of the day, and I suspect we will continue to do so for the next couple of weeks. It's sometimes nice to have company.