And from Passu it was on to Sost, the final town on the Karakorum Highway, and not even much of a town really – more just a collection of cheap hotels, money changers and customs buildings. It was from here that we'd get the bus to Tashkurgan, since the Chinese don't allow people to cycle for the first 200km or so after the border. But luckily the Pakistanis have no such restrictions, and our first task was to ride up to the top of the Khunjerab Pass, the world's highest paved international border crossing.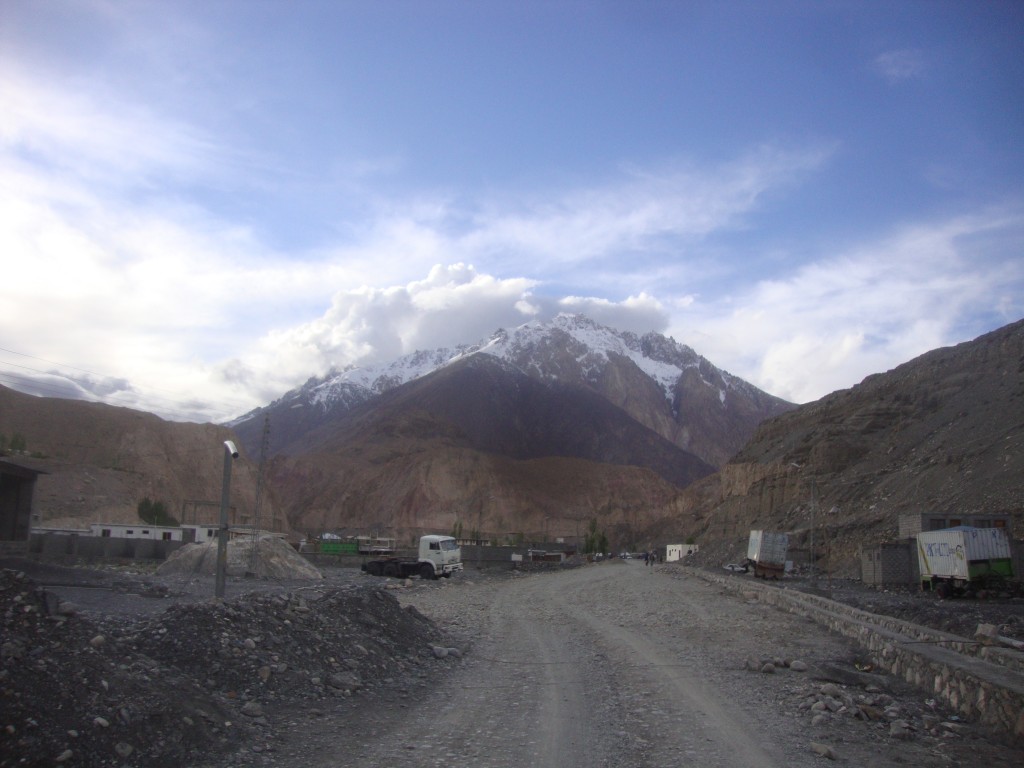 Again, I had been naive. I'd imagined Khunjerab to be just up the hill from Sost – perhaps a couple of hours' ride one afternoon, a leisurely photo session at the top, then back down in time for dinner, a hot shower and bed. It's actually almost 2000m (that's two vertical kilometres) higher. Like the Kaghan Valley, the Karakorum Highway ascends fairly gently for most of its length, following the Indus and Hunza Rivers. Sost is a relatively unscary 2790m above sea level. The real kick comes when the road leaves the river and climbs up over the pass. So, in a sense, the real challenge was yet to begin, and this was only Base Camp.
We spent the afternoon drinking tea, eating apricot cake (from the excellent Glacier Breeze Restaurant in Passu), and oscillating between nervousness and excitement over what lay ahead.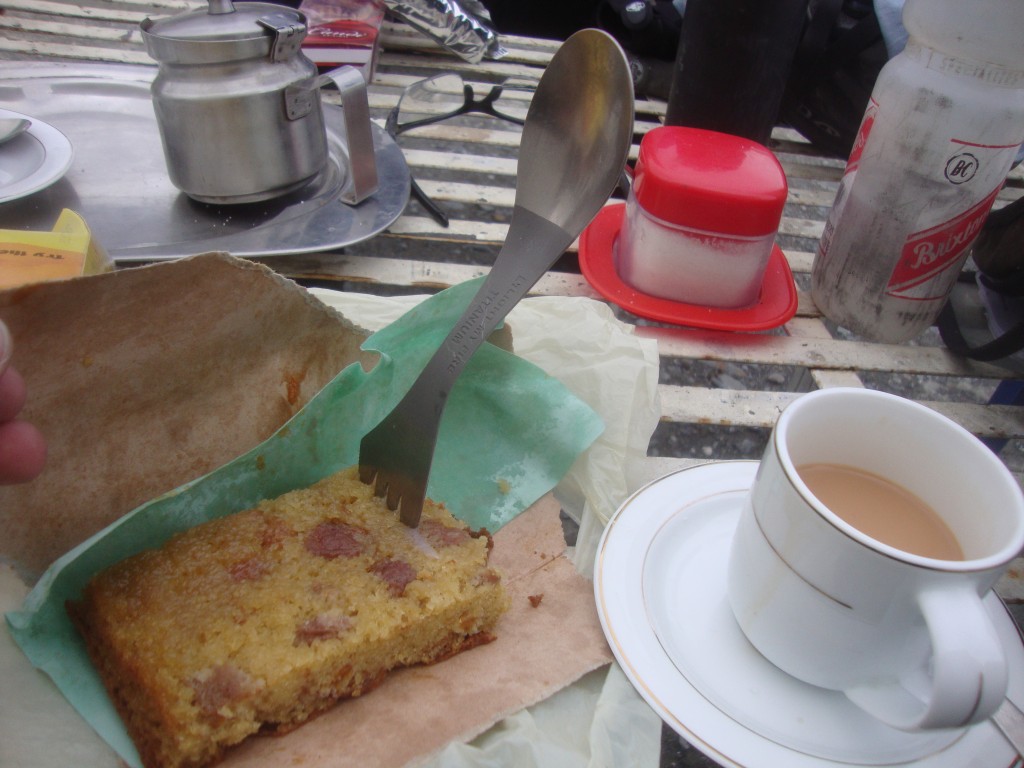 I went out for an evening stroll and returned with great glee, to report that I'd discovered a strip of perfect tarmac at the other end of town, leading encouragingly towards the pass. Michael spoilt my fun a little later by making his own enquiries, and discovering that the tarmac only went on for a couple of kilometres after Sost, and after that the road would be as bad as we'd experienced so far, and quite possibly worse.
Our assault on the pass would take us three days and two nights, according to the guidebook we were (by now obsessively) consulting. And of course, the road conditions might well prolong that. But still, it was only about 90km to the pass. Naively, we hoped that once we'd made it to the top, we'd cover the downhill back to Sost in a couple of hours. Sagely, we reminded ourselves that things are often a lot more difficult than they appear on paper, and that we really ought to know that by now. If the book said three days, it would probably take us three days, and possibly even longer.
We set off at 8 o'clock the following morning, assuring the gentlemen at the hotel that we'd be back within three days.
The first day's climb was uneventful, taking us gradually up the valley, climbing so slowly that the road ahead looked almost flat, and we were frustrated by our slow progress until we looked behind us. Every few kilometres we would pass a cluster of flimsy-looking tents, and a ragged gang of workmen laboriously hacking away at the road or the cliffs on either side of it. Occasionally they would be overseen by Chinese foremen, wearing neat red uniforms and bright yellow helmets, and driving 4X4s or enormous earth-moving equipment. The road surface was as bad as ever.
A few metres below us the Hunza River thundered and rushed along the canyon, an eerie shade of blue, owing to its high mineral content.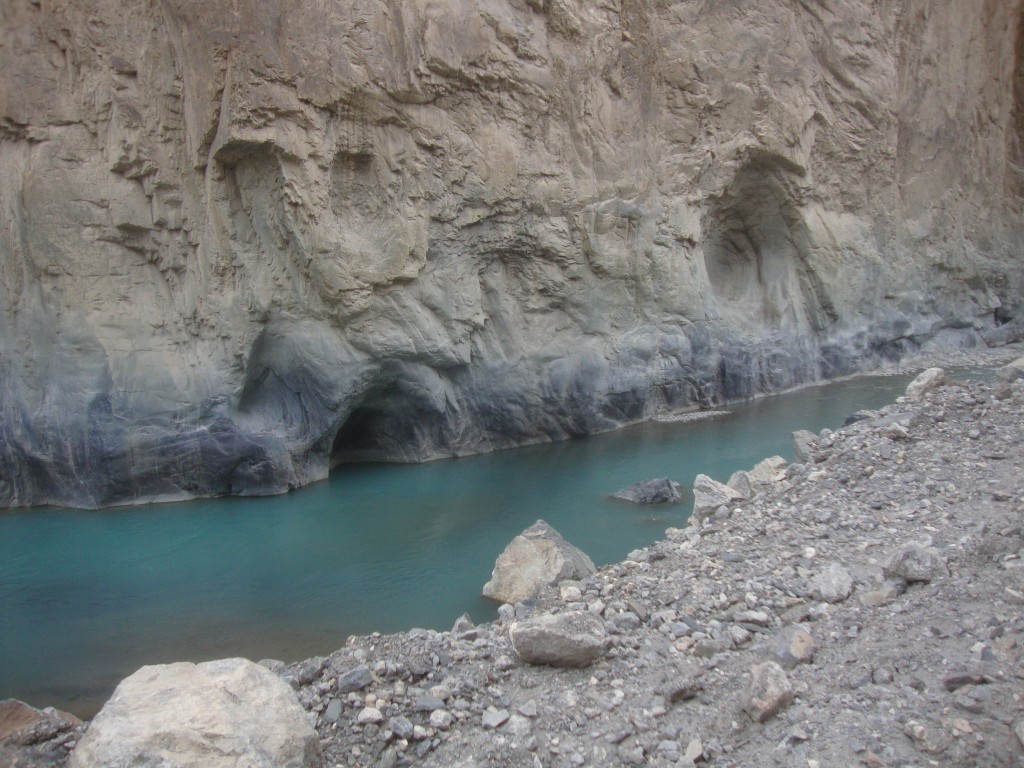 We arrived at the police checkpoint at Bar Khun late that afternoon. Although it didn't feel like it, we had already climbed over 800m, and were now at 3615m, cheerfully ignoring the generally accepted advice that, after 3000m, you should not ascend more than 300m in a day. (I would later find out that the caution I thought I was throwing to the wind was actually unwarranted – altitude sickness isn't likely to strike in earnest till well above 4000m.)
The two policemen at the checkpost were delighted to let us camp in their minuscule garden. I suspect that, since they're obliged to spend nine months of the year in this tiny isolated hut with nothing but each other for company, they were glad of the distraction.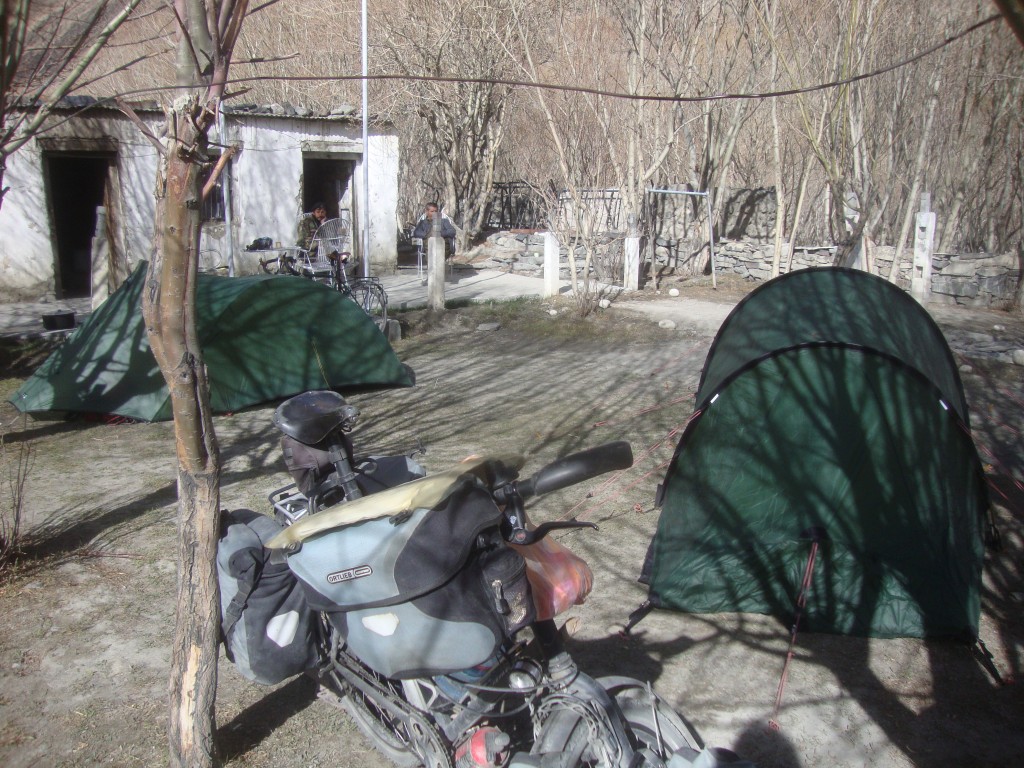 I hadn't had the opportunity to camp since somewhere in the middle of Iran, and was as delighted to unpack my tent and sleeping bag as I had been the very first night I used them. The policemen fussed paternally over us, bringing us cups of tea, and augmenting our little campsite with their own patio furniture. When we discovered that the elastic holding Michael's camping chair together had snapped, one of them, with characteristic Pakistani resourcefulness, produced a piece of wire and managed to rethread it within minutes. (We had been prodding ineffectually at it with one of my spare spokes.)
It was much colder than it had been in Sost, and after demolishing a pot of pasta (with a tin of aubergine I'd been carrying around since Kerman) we repaired to our tents just as it was getting dark, zipped ourselves into down jackets and sleeping bags, and tried to get as much sleep as possible, more and more nervous about what lay ahead.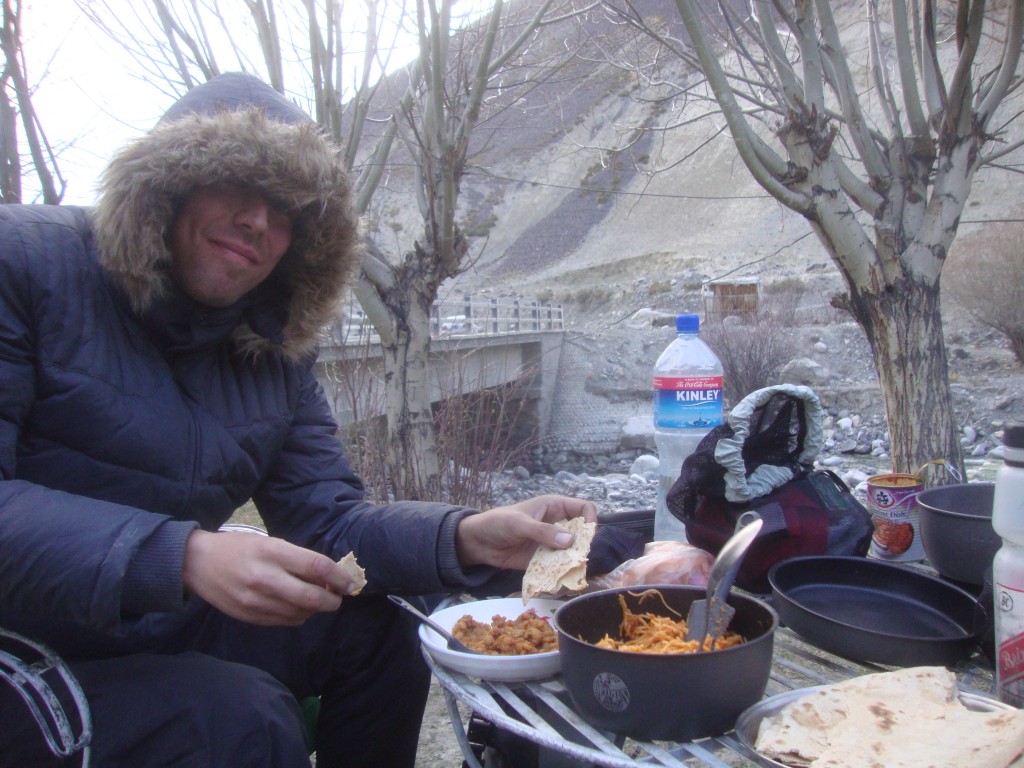 The next day was clear and crisp, with barely a cloud in the sky. For some reason I had always imagined climbing the Khunjerab Pass in thick white mist, so this was a pleasant surprise.
I woke up first, and was fishing unenthusiastically around in my panniers for stove and porridge oats when the two policemen beckoned me into their hut, where they had a pot of tea and a steaming pile of parathas waiting for us. We politely refused their offer to guard our heavy bags for us while we rode up the pass (let's save the discussion of folly and bravado for another time), assured them that we'd drop in again on our (hopefully triumphant) return, and recommenced our slow, juddering ascent.
There was one more checkpoint, about halfway between Bar Khun and Khunjerab, at Koksil, this one manned by a jovial crew of about ten policemen, some in full uniform, but most lounging around in tracksuit bottoms. Needless to say, we were given tea, and we sat for a while in their sunny garden, looking up at the KKH, which now left the river valley, and zigzagged up the mountain in a long series of switchbacks. Climbs like this were nothing new to either of us, but somewhere up there, we would start to feel the effects of altitude for the first time, and as yet we could only guess at how much that might slow us down, or whether it would keep us from reaching the top of the pass altogether.
It wasn't even midday when we set off from Koksil, and we veered between optimism and pessimism, at times thinking that we might polish off the pass and be back in Sost in time for tea, and at times wondering whether, with this terrible road surface and our ill-advisedly swift ascent, we might not make it up to Khunjerab at all.