People often ask me who my hero is. As a matter of fact I have several, and their number is always growing. And without them, I don't think I'd be where I am today, let alone have got here in the way I did.
My relationship with my heroes is more complex than just being inspired by them. Some of the people I've listed here only became my heroes after I'd gained a certain amount of experience in their field, and been able to understand the full magnitude of their achievements. Some of them I am perpetually grateful to, because were it not for what they've done (things like cycling from Dunkirk to Delhi back in 1963, before anyone had invented reliable gears, or merino baselayers, or the internet), it would never have occurred to me to do what I'm doing now, or even that it was possible.
I cannot overemphasize the importance of role models in my life. Most of us are not capable of realizing our dreams and ambitions – or even knowing what they are – without first seeing someone else blaze the way, and thinking 'oh yes, I'd like to do that'. When I read Alastair Humphreys' books and suddenly knew that I wanted to cycle round the world, it wasn't a decision I made then and there – I felt as if I had always wanted to do this, and just not realized until someone pointed it out to me. The fact that some people are able to set out on journeys like this without any example or precedent to follow makes them all the more heroic in my eyes.
And my heroes are always with me, in my mind, as much a cattle prod as an inspiration. When I was struggling through a sub-zero headwind in Turkey, every part of my body screaming out to me to stop, I kept thinking about Jure Robič, storming through his fifth RAAM, and just ignoring the extraordinary amounts of pain he was putting himself through. And when I found myself in a slightly compromising situation with two lecherous petrol pump attendants on the outskirts of Arak, I reminded myself that female cycle tourists have survived far worse. "What would Dervla Murphy do?", I thought to myself. "What would Loretta Henderson do?" I keep reminding myself that human beings have endured far more than I have, without many of my advantages, and that in comparison to them I have nothing to complain about. This usually helps me to shut up and keep going when the going gets tough.
And as well as the stick, there's the carrot. Some days I push myself along, thinking all the while that if I just keep going, if I just keep turning the pedals, eventually I will be over this mountain, across this desert, and home, and I will have cycled round the world, and I will belong up there in the pantheon with my heroes. Maybe.
So, here are the first few heroes who sprang to mind, last time I was asked, in the order they occurred to me. I'm sure more will occur to me in due course.
_____________________________________________________________________________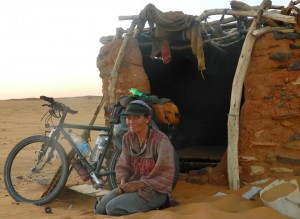 Loretta Henderson. Another solo female round-the-world cyclist, who I hoped I'd finally meet in person when we crossed paths in Turkey or Iran. Alas, we missed each other, and she's now somewhere in Africa. Loretta has a superb website, with photos that made my mouth water with excitement when I was still sitting at home working through my To Do list and longing to be on the road, and some of her blog posts are laugh-out-loud funny. (Especially this one, where she applies her trademark good humour and wit to the perpetual problem of unwanted male attention.) She also has a page devoted to WOW (Women On Wheels), with profiles of numerous other solo female cyclists. We are more numerous than you'd think, and if you're a woman thinking about getting on your bike, but worried that you're biting off more than you can chew, this is the place to come for inspiration and reassurance.
_____________________________________________________________________________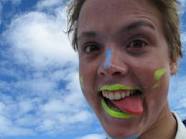 Sarah Outen. One of the very regular questions people ask when they hear I'm cycling round the world is "but how will you get across the oceans?" And I have to admit that that's where I'll give in and put my bike on a boat – or maybe even a plane. But not Sarah Outen. As well as traversing Asia and North America by bike, she's aiming to row across the Pacific and the Atlantic, for a completely human-powered circumnavigation of the globe. Quite frankly, she puts the rest of us to shame, and whenever one of my friends or family tries to tell me how impressive my adventure is, I point them to hers, stand back, and watch their jaw drop. She's still only in her twenties, and has already rowed solo across the Indian Ocean (netting herself three Guinness Records and an MBE), and written a book about it all. She's also an extremely lovely person, and I'm sure I'll be one of many people queuing to buy her a beer if we ever cross paths at the RGS.
_____________________________________________________________________________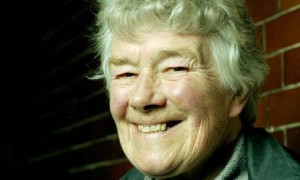 Dervla Murphy. She rode from Dunkirk to Delhi in 1963, through the coldest European winter of the century, and then across Iran, Afghanistan and Pakistan in the summer. She fought off wolves and bandits with her .25 pistol, suffered heatstroke, dysentery and broken ribs, was bitten by scorpions, smoked, drank and swore like a trooper, and covered greater daily distances than I often do, riding a singlespeed bicycle and wearing woollen underpants (by which I assume she does not mean the latest advances in technical merino). I first read her book Full Tilt back in 2007, and it was only when I reread it in preparation for this expedition that I realize how much it forms the bedrock of my ambitions and inspiration. Dervla went on to raise her daughter as a single mother in 1960s Ireland (something I imagine must have been as difficult as anything the road could throw at her), and is still travelling and writing books today, having turned 80 last November. When I grow up, I want to be exactly like her.
_____________________________________________________________________________
Beryl Burton. Every now and then I'll find myself having that argument about how women are weaker than men. You must know the one. Someone will point out that, no matter how strong or how fast a female athlete is, she will always ultimately be weaker and slower than the leading man in her field. (The last person to point this out to me was an indolent backpacker I met the night I arrived in Yazd, having cycled over 200km to get there from Toudeshk. He didn't seem to appreciate the absurdity of his position.) I have a variety of comebacks, but my favourite is Beryl Burton. It isn't difficult to know where to start enumerating Burton's achievements, because her crowning glory was unquestionably the 12-hour time trial record she set in 1967, which surpassed the men's record for two years. But it is difficult to know where to stop, because Burton dominated women's cycling during the 1960s and 1970s, setting around 50 national records, some of which have yet to be beaten. It's only because of the endemic sexism in cycling (which continues to this day, but don't get me started) that she isn't far more famous.
_____________________________________________________________________________
Annie Londonderry. My bicycle's namesake, Annie was the first woman to cycle round the world, 116 years before I set off on my own adventure. A Jewish mother of three from Chicago, she had never ridden a bicycle before she set off in 1894, and yet she managed her circumnavigation in 15 months, reinventing herself as "a new woman" in the process, and discovering a concurrent talent for publicity and self-promotion. Annie didn't cover the same long distances as later circumnavigators – indeed, she was criticized by some for travelling "more 'with' a bicycle than on one", but nevertheless, travelling solo through countries such as Egypt, Yemen and China is a daunting prospect even today. And the fact that women are still timid about taking to their bicycles, and still amazed by the sense of liberation they experience when they do, shows that Annie is just as much of a hero in the 21st century as she was in the 19th.
____________________________________________________________________________
Alastair Humphreys. A man who needs little introduction (but is getting one anyway), Al is an all-round adventurer (and all-round nice guy) who's most famous for his four-year bicycle journey all-round the world, about which he wrote two excellent books, which have gone on to inspire just about everyone who's currently cycling round the world, myself included. For me, Al's main strength is his honesty. In his books, he doesn't go to great lengths to aggrandize himself or his achievements (at least not overtly), and nor does he gloss over those times where he was lonely or miserable, or just wanted to give up on the whole thing. In his own words, "I cried a lot, I was scared a lot, and I wanted to quit most of the time." After reading his books I was under no illusion that my adventure would be a constant blaze of glory and exhilaration. On the contrary, I understood it would be the hardest thing I'd ever attempted, and that I probably wouldn't even comprehend how hard it might be until I was in the middle of it. Perhaps most crucially, I also realized that all the fear and self-doubt that had held me back so far would never completely disappear. You don't metamorphose into a superhero the moment you climb on the your bicycle and set off round the world. It remains a constant struggle. But, thanks to Al, I've realized that this struggle is very much worth it.
_____________________________________________________________________________
Graeme Obree. Another of those undeservedly obscure British mavericks, Graeme Obree broke the world hour record twice in the 1990s, riding a bike he'd designed and built himself, without any help from coaches, doctors or drugs, and beating rivals such as Chris Boardman and Francesco Moser. By rights this should have been impossible. I first heard of Graeme when I watched the film The Flying Scotsman, which also shows his ongoing struggle with clinical depression, which has led to two suicide attempts and an eventual diagnosis with bipolar disorder. I've experienced depression myself, and a lot of Graeme's autobiography was uncomfortably close to home. But it's also curiously uplifting. Hearing someone else describing my own dismal and painful feelings, almost word for word, and then seeing them succeed beyond their – and anyone else's – wildest dreams, is a reminder to me to follow all the advice I'm so good at giving to other people, and so bad at following myself, and a reminder that, if you consider yourself worthless, you're almost certainly wrong.
_____________________________________________________________________________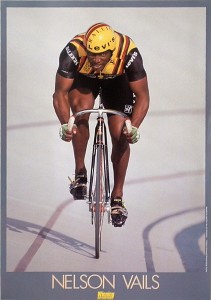 Nelson Vails. As I may have mentioned once or twice, cycling (much like the rest of the world, one might argue) is dominated by white middle-class men. Women are barred from competing in the Tour de France, and black men might as well be, given how many of them you'll spot in the peleton. (Back in the 1890s, Marshall 'Major' Taylor, arguably the greatest cyclist of his day, had his career impeded both officially and informally by racism, and judging by the current racial make-up of professional cycling, one might well argue that only the official impediments have so far been removed.) One of the many reasons for this is the amount of wealth you need behind you to launch a successful cycling career. You need a decent bike, and all the kit, and that costs money. You need a lot of time to train, which is difficult to find if you have to keep a job, a family and all the usual responsibilities going alongside cycling. Nelson Vails grew up in Harlem, the youngest of ten children. By the time he was 19 he was married, had children of his own, and supported them by working as a bike messenger in New York. I've been a bike messenger. It's one of the most exhausting jobs you can do. But Nelson Vails, incredibly, managed to maintain a hugely successful racing career alongside it. He would ride 40 miles every morning before work, and at the weekend, when most messengers would be lying around in bed or drinking beer, he was out training. During the 1980s he won gold at the Pan-American games and silver at the Olympics. And he has the most extraordinary thighs I have ever seen.
_____________________________________________________________________________
Chrissie Wellington. Her story is as improbable as those of Graeme Obree or Annie Londonderry. Chrissie Wellington didn't even start running until she was in her mid-twenties. Within a couple of years she was entering Ironman triathlons (that's a 2.4 mile swim and a 112 mile bike ride, followed by running a marathon), and beating her nearest rival by almost an hour. She has won every Ironman she's entered, and usually beats most of the men, as well as the women – when she broke her own record last year, her marathon time of 2:44:35 was second only to that of mens' winner Andreas Raelert. Chrissie seems increasingly likely to fulfil her (and my) prediction that it's only a matter of time before women outperform men, at least in endurance sports. Like many women, Chrissie suffered from eating disorders during her teens and early twenties; now she is able to say "I love my body. I am more than content with it. I take a holistic view and see it not just as the contours of my skin but as the muscles, sinews, bones and everything else." As I grow older, and come to realize the potential and limitations of my own body, this is a lesson that takes on increasing resonance.
_____________________________________________________________________________
Jure Robič. One of the world's greatest endurance athletes, Jure Robič died in 2010, hit by a car during a training ride near his home in Slovenia. In his all-too-short lifetime, he won the Race Across America five times, and set a new record for cycling 518.7 miles in 24 hours (in case you were wondering, that's an average speed of 21.6mph). Physically, he has achieved things most of us would consider impossible. But what's really fascinating about Robič is not his body, but his mind. According to this extraordinary article in the New York Times (the NYT has annoying subscription rules that mean links don't always work – if this is the case, try googling his name and the title 'That which does not kill me makes me stronger', or email me for a copy), Robič's "ability to produce power and transport oxygen ranks on a par with those of many other ultra-endurance athletes. He wins for the most fundamental of reasons: he refuses to stop." Robič wasn't a superhuman – he felt pain just like the rest of us, and probably a lot more than most. What differentiated him was his ability to accept it, to ignore it, to challenge it and to carry on in spite of it. It is he who lurks in my head on those difficult days when everything hurts, and I have to keep going but want nothing more than to stop. "What would Jure Robič do?" I ask myself "He'd keep going." And I do.
_____________________________________________________________________________
This post has ended up far longer than I expected it to, proving both the profusion of my heroes and my own ability to keep things concise. But I think I'm going to make it a permanent page on my website; somewhere I can go when I'm in need of inspiration – and maybe you too! And I will add more heroes to it as time goes on. Your suggestions would be very welcome.