For some reason I didn't want to leave Bam.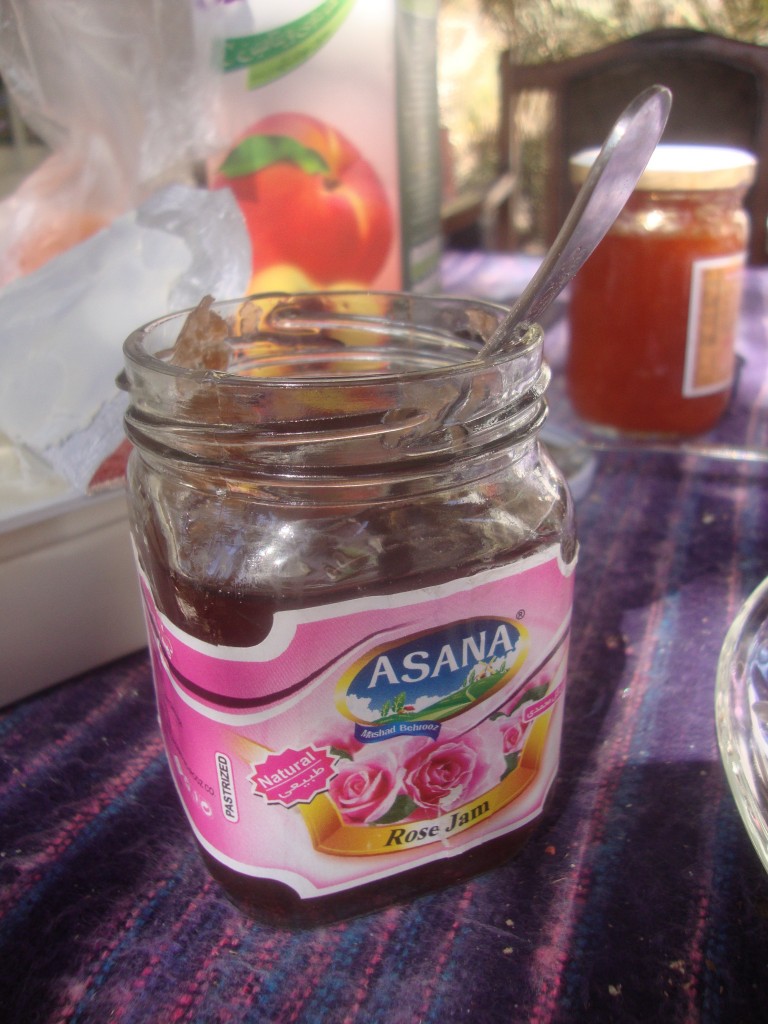 I got up at the crack of dawn, but instead of hitting the road, I sat in the courtyard on my own, eating a long slow breakfast, and writing the following email to my father.
I'm sitting here in Bam with all my bags packed and all my cycling clothes on, wondering whether or not to leave. For some reason I really don't want to. I don't feel scared. At least, I don't think I do. Last night I was excited and raring to go. But I didn't manage to get to sleep till at least 2, which means I'd be trying to ride today on four hours broken sleep. There was no hot water for my shower last night, and it went cold after 30 seconds this morning, so I'm grumpy and unclean and cold, as well as tired. There's no sign of Mohammad, the son of the owner, who's meant to be keeping an eye on the place. I suspect he's still asleep. I've knocked on his door a couple of times, but there was no answer, and I'm sure I could rouse him by knocking more loudly, but somehow I just don't want to.

All of this wouldn't usually be a problem – I've cycled in worse conditions. Somehow I just really don't want to leave. 'Trust your instincts', said Jay Griffiths at the beginning of this trip. But first I need to know how to read my instincts. Because this might be a premonition of Taliban ambushes just up the road, or an out-of-control truck with my name on it – or it might just be laziness. And I may never know.

Mind you, even if it is laziness, I can afford one more day here. At my current rate I can probably get to Zahedan in two days instead of three, and that still leaves me one day to spare. And after all, this visa was very expensive – I might as well use all of it. And I think there's also a chance I'll get scooped up by the police and driven to the border anyway, which would mean I'd take even less time. And Bam is a beautiful town – quiet and sunny, full of date palms and surrounded by rocky mountains and the beginning of the desert. I should make the most of it – I may never come here again.

So maybe it's just this fear of laziness that makes me feel so bad about wanting to stay another day. I imagine all the people back home, who seem to think of me as some kind of tough, athletic superhero, and wonder how their opinions would change if they could see into my head, and see how lazy I really am. I realize just how much my self-worth and self-esteem are still tied up with my immediate achievements, and by what harsh standards I sometimes judge myself. After all, who cares if I spend an extra day sitting in Bam? It's not morally wrong by definition. And I often complain about how little I see of the places I'm passing through. And I worked bloody hard for two years to pay for this trip – maybe I should learn to treat it as a holiday sometimes.

I'm also telling myself that I need to get as much rest as I can, while I can, because the next few weeks are going to be difficult, and opportunities for proper relaxation might be limited. But why do I feel this immense guilt for sitting still? Yesterday morning I stayed in bed for a couple of hours afer I woke up (I can't REMEMBER the last time I did that), but even though I told myself this was the best possible use of my time, I was still constantly battling with the guilt. And although I'll be partly relieved if I get a lift to the border, I'll feel guilty as well.

Ah well, it's too late to leave now. Looks like I have one more day's holiday.
So I spent a leisurely day in Akbar's courtyard, and found I was perfectly happy just to Sit Still and Do Nothing. After an hour or so I was joined by Michael and Anna, the smart Austrian couple who'd turned up the previous evening (it being a small world, or perhaps just a narrow road, they had heard about me from Bert and Thijs, whom they'd run into in Dogubeyazit the previous week), and we passed the morning swapping stories of our journeys to date and the lives we'd left behind, realising in the process that we got on far better than I do with most travellers I meet – often, once the initial enthusiasm of meeting another cyclist/foreigner has died down, you'll find you have little in common, and the conversation dries up very quickly.
Michael and Anna had recently quit their high-flying jobs in finance and consultancy, and were driving to South Africa, via India, where they planned to ship the Landcruiser from Bombay to somewhere on Africa's east coast. Unlike me, they had spent the last few years travelling extensively whenever they got the chance, and I was given extremely detailed advice for the entire length of South America. (This is already one of the legs I'm most excited about, and one of the reasons I'm determined to hang on through whatever the rest of Asia throws at me.)
I was fascinated by the differences between their expedition and mine – and for that matter, their lives and mine. In a slightly different world, I too might have ended up in a cushy Oxbridge milkround job, telling myself it was only for a few years, but finding it harder and harder to let go – and then finally escaping in my late twenties, just before children and responsibility would mean I was stuck forever. Although I consider this kind of career path the opposite end of the scale from where I've ended up, maybe it isn't so far away after all. I find myself drawn to people like Michael and Anna, partly because they're of the same mould as many of my university friends who did end up working in the City, and partly because, despite the superficial differences in our lifestyles, we're from the same social and educational background, we have similar outlooks, and we've enjoyed the same breadth of opportunity, even if we took advantage of it in drastically different ways.
We said our goodbyes that evening. I now had to cover the 300km to Zahedan in only two days, so needed to make an early start. They would be driving the entire distance in just a few hours, so could afford a lie-in.