And now back to the present. For the past week I've been in Islamabad, for the first big pitstop of my journey. I'm staying with an old friend from London, who works as a journalist out here, and after celebrating my 30th birthday last Friday, I gloomily plunged into another orgy of admin, planning, preparation and procrastination. This is, I've come to realize, a highly necessary part of the journey, but also my least favourite. In fact, when people ask me which part of my trip has been the hardest so far, I tell them about the year I spent tearing my hair out before I set off. (I whinged about it here and here, and in many of my pre-September 2011 posts.) Once I hit the road, everything got very easy.
Islamabad doesn't feel like Pakistan – or anywhere else, for that matter. It's a brand new city, only about 50 years old, and it looks more like a leafy, prosperous, introverted suburb than a capital. The numerous government buildings, NGO headquarters and large expensive houses are laid out in numbered rectangular sectors, each with its own market (this doesn't necessarily mean a market in the traditional sense – most of the markets here are clusters of well-appointed cafes and restaurants, overpriced shops, and the odd supermarket), linked by broad, leafy avenues. There is no centre, and most of the city's socializing takes place behind closed doors, either in one of the enormous mansions in which the embassies and aid agencies house their staff (often with several guards outside, who will check your name against their guestlist, and help you park your car), or in one of the embassy compounds in the diplomatic enclave – a heavily armoured and defended sector of the city, where more of the ubiquitous security guards will scrutinize your passport, and check your car over for bombs before they let you in.
Most people treat all this as a bit of a nuisance. My friend's new flatmate, a Swiss woman who works for the UN, was only allowed to move in once the flat had been checked over by their security team, and for the past three days we've been tripping over the trio of monosyllabic workmen they sent in to secure all the windows with shatter-proof film, fit the doors with extra bolts and industrial-looking locks (including that of my bathroom, which has been designated the 'safe room', and is presumably where we'll all hide next time the house is under siege), and install a white plywood kiosk outside the front gate, from which we'll be watched over by one security guard during the day and two at night. It's hard to say whether any of this is necessary, and the usual consensus is that the UN is a bit paranoid. I spoke to a British aid worker at a barbeque the other night, who's been living in a guesthouse for the past few weeks, because her agency's security team have turned their noses up at all the flats she proposed moving into (including this one). She reckons there's a good chance they're getting commission from the owner of the guesthouse.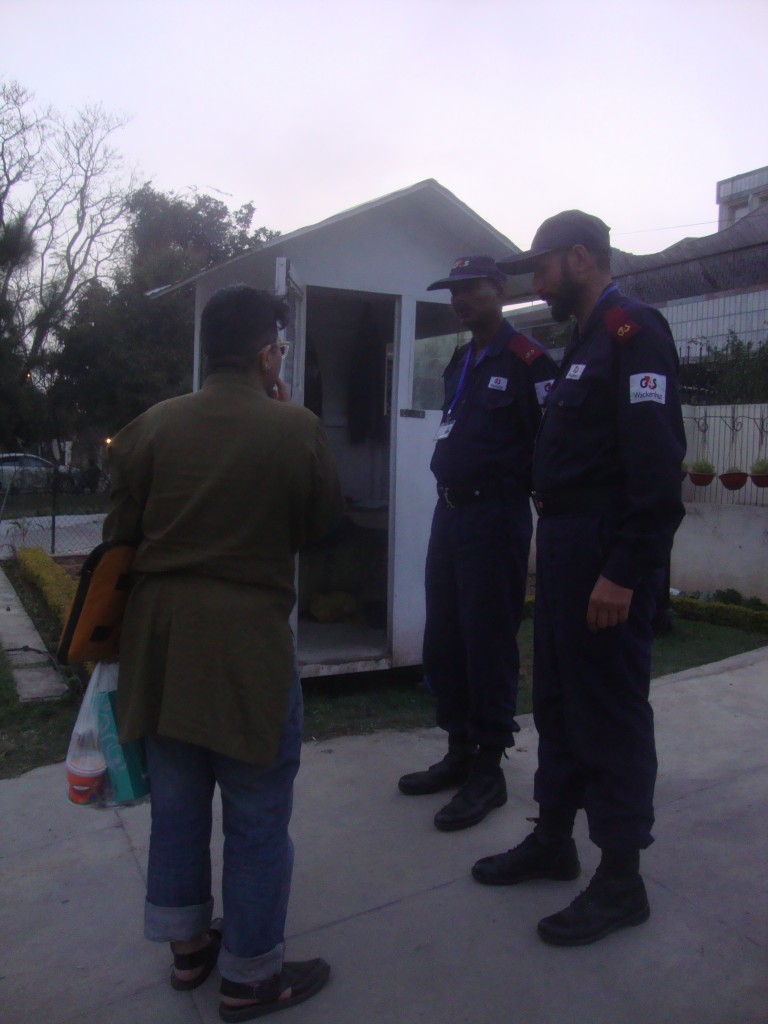 I tell you all this, not because I'm trying to impress you with my dangerous lifestyle, but in the spirit of the absurd. I had lunch with the Telegraph's Pakistan correspondent the other day and, over sushi and mocktails in one of Islamabad's five-star hotels, we laughed at how glamorous our respective lifestyles must look to people back at home, when, in actual fact, he spends most of his time online and on the phone, and I spend most of mine wondering how many miles it is till the next bathroom break, daydreaming about cake and worrying about my feet. Everyone's life has its risks and dangers – and some have considerably more than others – but when you're immersed in the living of it, you tend to preoccupy yourself with the more urgent day-to-day minutiae. When I was a cycle courier I was well aware that I might be killed by a left-turning lorry or an angry cab driver on any day of the week, but somehow I very rarely thought about it seriously enough to get scared. I was much more concerned with things like cold feet, sunburn, exhaustion, saddlesore, dehydration, rain, wind, lack of work, and whatever funny noise my bike happened to be making that day. These comforting banalities easily drown out one's mortal fears.
But then I realized – this was the Marriott Hotel, which just a couple of years ago was the site of one of Pakistan's most audacious suicide attacks of recent years. A truckload of explosives was detonated at the front gate, killing 54 people, injuring 266, and leaving an enormous crater outside the hotel. Declan Walsh neatly captures the shock and incongruity of the attack:
A few minutes after the 2008 suicide bombing of the Marriott, a hotel where I got my hair cut and had coffee with contacts, I found myself standing in the rubble, dazed by the enormity of the atrocity. A giant crater occupied the park, staff in bloodstained uniforms stumbled through the lobby, hunting for survivors, orange flames licked the ash-laden sky. Blood squelched underfoot.
Around the corner is expat haven Kohsar Market. My friend took me there to sample "Pakistan's best coffee" the day after I arrived, and casually pointed out the spot where Punjab Governor Salman Taseer was assassinated last year. There is no mark or memorial, and a juice cart stands over the spot where he fell. The well dressed Pakistani women on their way to the nearby hair salon seemed unconcerned. I was reminded, yet again, of all the corners of London where I know people have died. I always shivered inwardly when I turned left onto Southwark Bridge, where Seb Lukomski met his end, and yet, were it not for the graffiti on the pavement, you'd have no idea that a young man drew his last breaths at that spot. The lawyers of SJ Berwin hurry past on their way to work. In the park across Upper Thames Street, under the trees, office workers and dustbin men sit on adjacent benches, eating their sandwiches. In the Islamabad Marriott, I summon the waiter to complain about a hair in one of my tuna rolls. Life goes on.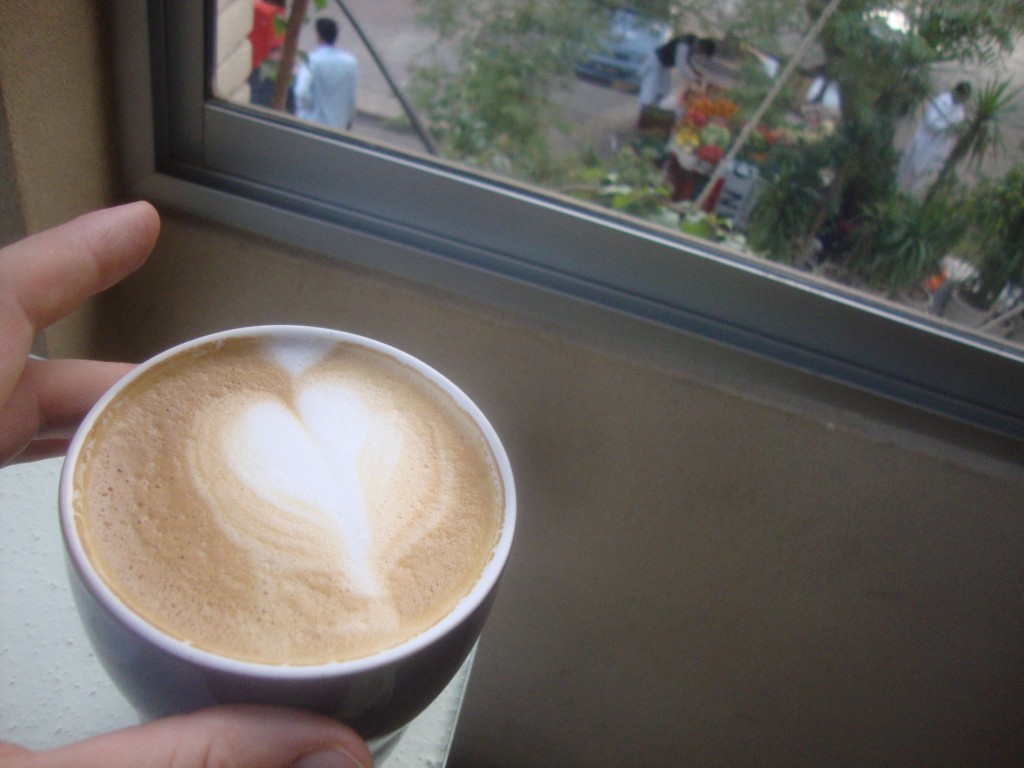 (That's where he was shot. Right there, behind the overpriced coffee.)
The social scene here in Islamabad is expensive and alcoholic, populated by a large crowd of well-heeled expats attempting to drown out their boredom with city and each other. There are parties every single night, if you care to go to them. At a No Ruz celebration the other night I assuaged my homesickness for Iranian food and chatted to a diplomat from South London, who used to live just a few minutes' ride from me in Forest Hill, though of course we never met. She was heartily fed up with the endless round of superficial socializing, and with having the same getting-to-know you conversations every single day, since the turnover of foreigners in Islamabad is so high.
I sympathized. I try not to admit it in polite company, but I am desperately bored of answering the same old questions about myself and my big adventure. My host has started introducing me to people and then running away, because he's heard it all so many times already. But of course, for everyone here I'm a novelty. People are particularly excited to hear that I came through Balochistan, since many of them aren't allowed to go near that part of the country by their employers (the US Embassy staff, in particular, are kept on a very tight leash). And many of them are jealous and extremely curious about Iran, for similar reasons – if you're a government employee, or have 'journalist' as your job title, you're unlikely to be given an Iranian visa, and most foreigners in Islamabad fall into one of those two categories. To my great disbelief, here in this enclave of celebrity war correspondents and grizzled former soldiers, I am seen as the daredevil.
"Oh, I couldn't do what you do!" exclaimed a British journalist, who's reported from Libya, Sudan and Egypt in recent years.
"This one's a complete nutter", remarked an up-and-coming Canadian aid worker to his wife. I think it was meant to be a compliment.
"You remind me of a friend of mine", mused a Yorkshireman in his fifties or sixties whose career in the army and as a private security consultant has taken him to the worst conflict zones of Somalia, Iraq and, for the past eight years, Afghanistan. "Crazy chap. He came through Iran too, and walked across Afghanistan, and — "
I couldn't believe it. I was being compared to Rory Stewart. I quickly changed the subject.