When I was planning this trip, I  found myself consciously resisting giving it any sort of name, brand image or overriding theme. Occasionally I thought I really ought to have some kind of running project to follow as I went along, but I felt much more keenly that deciding the nature of my journey in advance would end up limiting what it might become. I wanted to keep my expectations to a minimum. I even told myself that 'cycling round the world' was an idea I should be prepared to abandon, if something came up that made more sense.
I think I was right to do so – because many of the assumptions I did make about this journey have turned out to be completely incorrect. For example, I always thought that when I left London I would leave behind my bubbly social butterfly self, and become a lean, gruff, haggard, lonesome warrior, finding my own way through the world, going for days at a time without human contact or company, and becoming completely self-sufficient, both physically and psychologically. But, as it turns out, I have become more connected to the world than ever before. I imagined the trip as a long solitary meditation, as I crawled along between the road and the sky, not a soul for miles around. And there  have been a few days like that. But what sticks in my mind far more is the friendliness and hospitality of all the many many people I've met along the way. I didn't expect this at all. I had no idea the world would be such a welcoming place.
I've tried to show this in my records of the journey, even though I sometimes worry that these endless heartwarming tales of hospitality might get a bit repetitive. Even after six months, I'm still amazed by the constant generosity I've encountered, and keep thinking to myself "oh dear, this would never happen in the UK … and I must do something about that". It occurred to that the concerns of my friends and family before I left – that I'd be attacked, that I wouldn't be made welcome, that I'd be lonely – might reflect the way we in the UK treat strangers: with fear and suspicion, or simply with apathy and unfriendliness.
Less than two months before I was due to cross into Iran, the British Embassy in Tehran was stormed by a mob, and closed shortly afterwards. I received a few alarmed emails from friends and relatives, assuming that it was now far too dangerous for me to travel in Iran, and begging me to reconsider my route. But a couple of Belgian backpackers I met assured me that it would all be fine, and I should carry on regardless. Iranians are some of the friendliest people on earth, they insisted, and nothing like how they're portrayed in the Western media.
And of course they were right. The contrast with the baying mobs you see on the news is positively absurd. Many of the Iranians I met are well aware of how they're portrayed in the media, and asked me to tell people back in the UK that governments and people are two very different things. So the rest of this post will be an overt attempt to redress the balance a bit – to introduce you to some of the lovely Iranians who befriended and hosted and looked after me while I was in their country. And there were many more than I'm able to include here. I've selected the few of whom I have good photographs, or particularly entertaining stories, but bear in mind that there were dozens and dozens more, from the kind gentleman who hosted three hungry cyclists at a moment's notice in Soltaniye, to the many people who handed me cakes and sweets and drinks and fruit from their car windows as I rode along. (Would this happen in your country? Why not?)
_______________________________________________________________________________
These are the first people I met in Iran, an hour or so after crossing the border, when I was still nervous and bewildered, as I always am when dealing with the unfamiliarity of a new country after leaving one I've come to know and love (and leaving Turkey was quite a wrench), and also slightly scared that Iran would turn out to be hostile and anti-British after all.
But then a white car drove past me, braked and u-turned abruptly a few yards up the road, and pulled up alongside me in the layby where I was eating my lunch. A family of grinning Iranians got out, brandishing a video camera and all of their phones, and spent about ten minutes photographing me and my bike and each other, before getting back in the car and driving off, all of them waving. They spoke no English, but seemed delighted to see me, and I had no idea why this might be.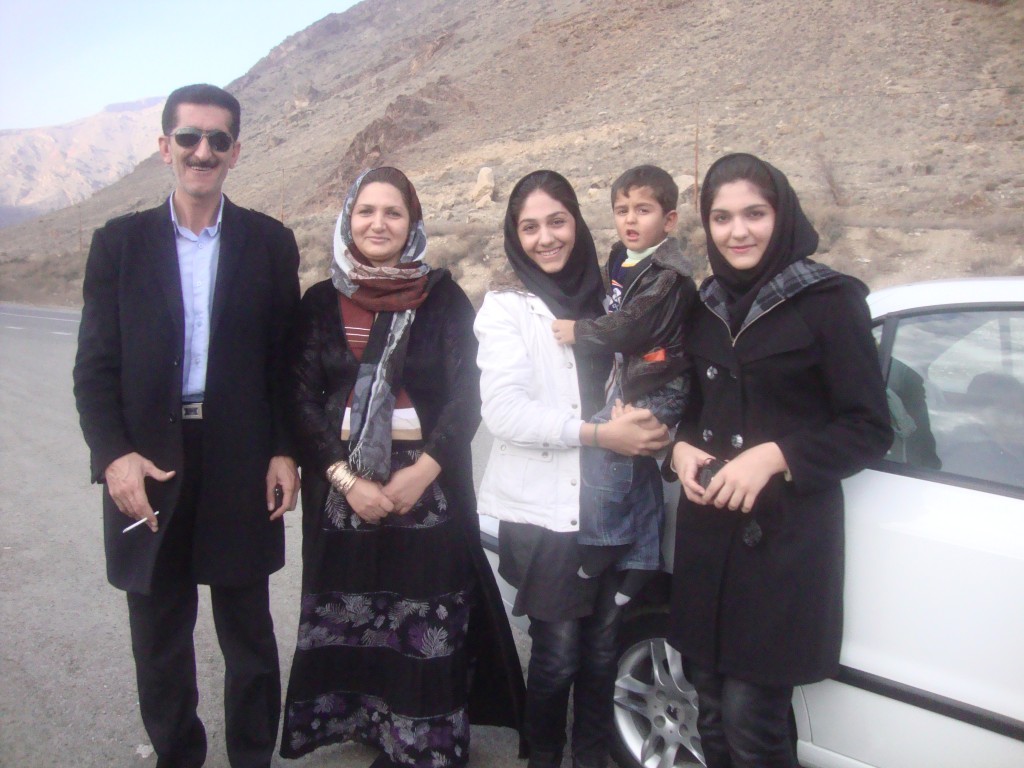 In the small town of Shirin Su, where I landed after one of my hardest, coldest days on the road, I was deposited in Zehra and Maryam's house by a gentleman who was either their landlord or a male relative – I never worked out which, and don't even know if they had any say in whether they'd be hosting me. But they treated me as though they'd been looking forward to my arrival for weeks. Maryam settled me down right next to the stove, fetched a blanket from the other room, just in case I still somehow managed to be cold, and spent the rest of the evening mothering me. Zehra brought out dinner, and then sweets, and then a tray full of fruit and bowls of sunflower seeds. And a steady stream of friends and neighbours arrived to inspect me, practice their scant English on me, inspect my family photos, and attempt to teach me Farsi. It was a lovely evening.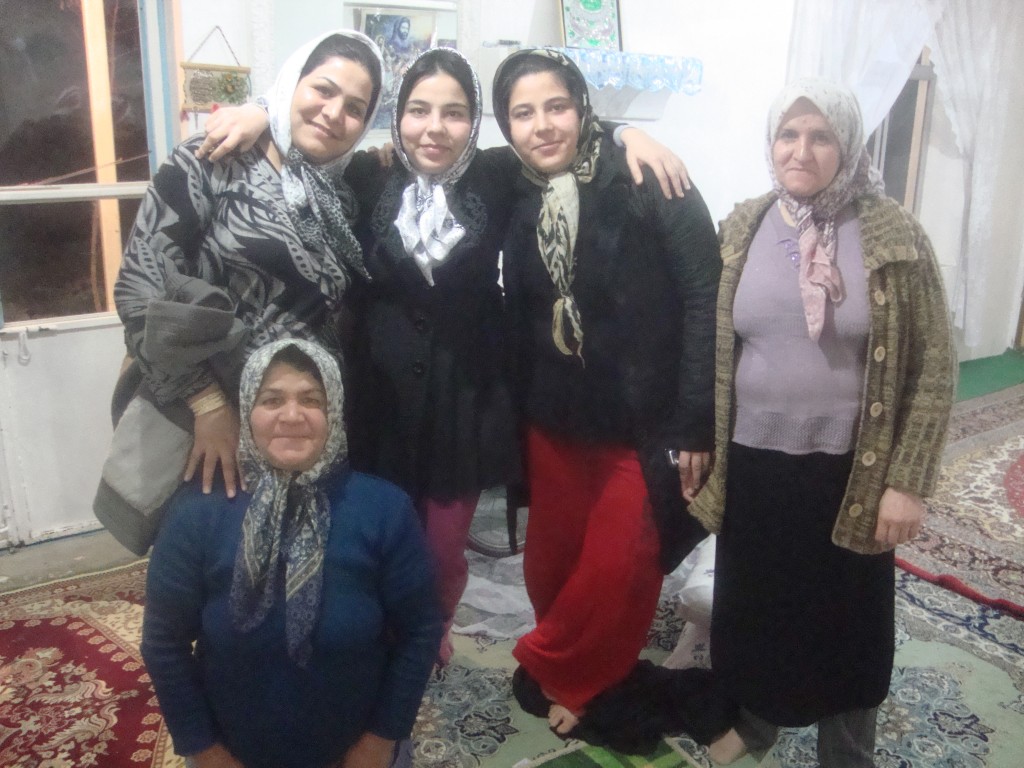 On my way to Esfahan, about 100km into the ride, with 100km to go, I stopped at a service station to go to the loo, fill my bottles, and top up on biscuits. It was about midday, and I still hadn't decided whether I was capable of making it to Esfahan that evening. I had camped more than a day's ride from the city, but less than two days' ride, meaning that I could either push myself through a 200km+ day (with several days of mountains already in my legs), or I could split the distance (e.g. 130km/70km) and arrive in Esfahan halfway through the next day, meaning that I couldn't really justify taking the following day as a (much needed) rest day, since I had to keep my daily average up if I was going to make it to Pakistan before my visa expired.
The service station (one of the first I'd come across in Iran) was run by an extended family, and presided over by an effervescent grandmother, who came and sat at my table with me, instructed one of the boys to bring me a cup of tea, and starting chattering to me in a mixture of Farsi, broken English and extravagant sign language. She had a whispery, papery voice, and every now and then would make some sort of lewd joke, and break out into gales of laughter. She suggested I stay and marry one of her grandsons (who looked like he was about seven), informing me with a lot of winking and smirking that he was a fine virile young man, and would get me pregnant within minutes. She asked to see a photo of my mother, picked it up, and gave it a flamboyant kiss. She spotted my cycle helmet, investigated it from all angles, then put it on right over her headscarf and started dancing around in delight. The rest of the family looked on and laughed. I was persuaded to have another cup of tea, and then some more biscuits. We all posed for photographs, and I wondered if I could convince them to let me camp at the service station. It was only halfway through the day, but the mountains had left me tired and grumpy, and I was beginning to be irritated by the legions of curious men who would slow their cars down to gape at me as they crawled past – then stop in the next layby, wait for me to overtake them, and repeat the whole performance.
But after two more cups of tea and a lot more chatter, I was ready to go again. The grandmother gave me a big hug before I got back on my bike. The whole family waved me off, and even though I was now riding into one of Iran's monstrous headwinds, I started to pick up speed. Fortified by their company and friendliness, I somehow managed to push my way all the way to Esfahan, earning the rest day I was so desperately in need of.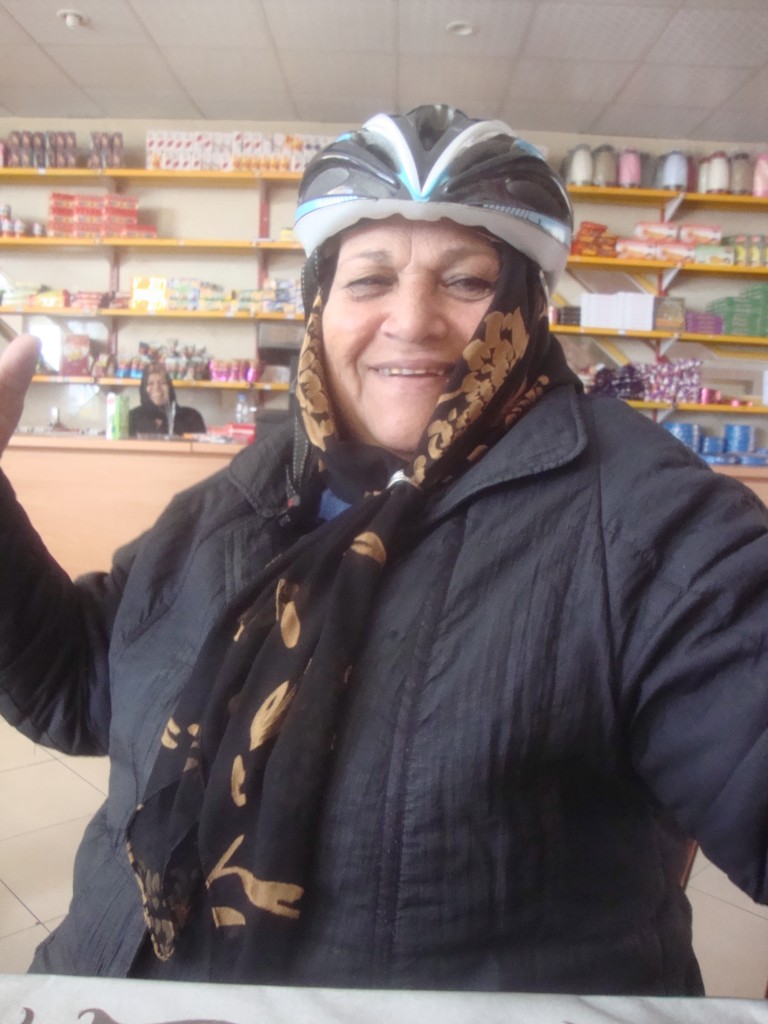 I never found out these women's names. I met them in a small village in the centre of Iran one afternoon, and they reminded me of other grandmothers I've met the world over.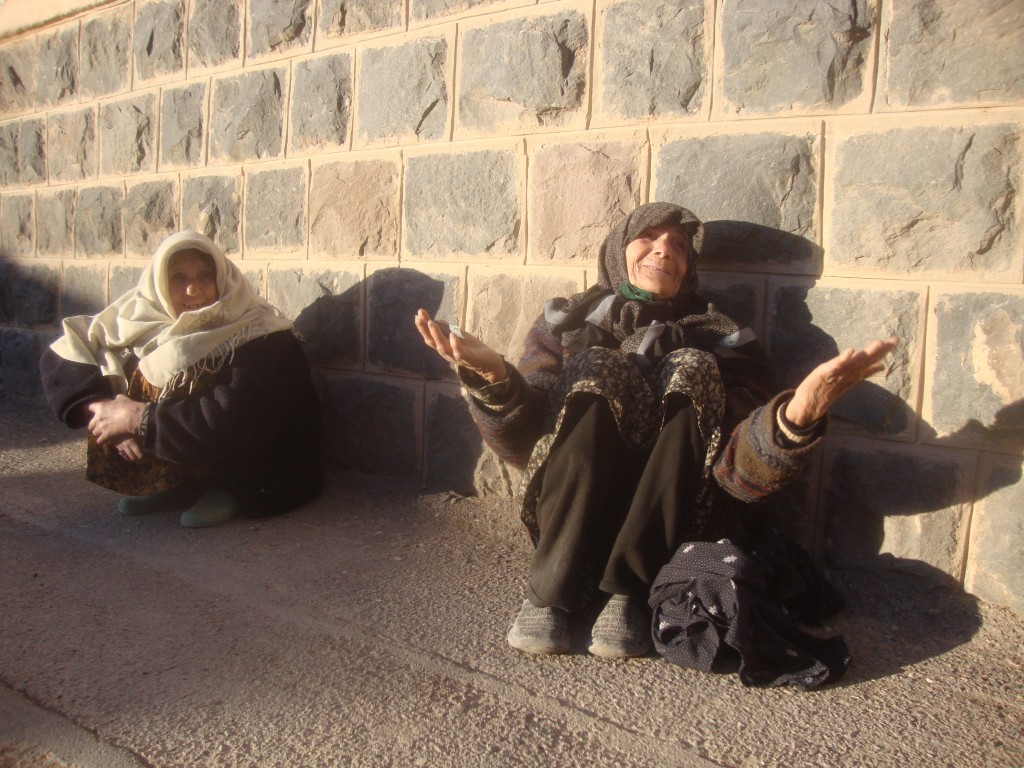 And this is Mohammed – meeting him was one of the highlights of my journey. He lives with his family in Toudeshk, between Esfahan and Yazd and, when he was only a young boy, became fascinated by the foreigners on heavily loaded bicycles who would pass through the village on the main road leading east. He began studying English so that he could talk to them, and eventually one day a German man turned up who desperately needed somewhere to sleep. So Mohammed took him home, and from that day forth he began hosting as many cyclists as he could. He and his brother's family now run a homestay (which they are in the process of upgrading to a proper guesthouse), and have begun welcoming other travellers as well as cyclists.
There's a surprising amount to do in and around the village (you can go for treks in the desert, climb sand dunes and visit wetlands), but for me the main attraction was the opportunity to sit around and do nothing. I usually take my rest days in cities, so that I can squeeze in a little tourism between all the long days in the saddle, but this means I spend the whole day walking around looking at buildings, and end up just as tired as I was when I arrived. In Toudeshk I spent hours sitting on the living room floor in the sun, while little baby Nasta played around me, and her mother Fatima pottered around in the kitchen. I washed my clothes, and spent a couple of hours scrubbing the grime of the Iranian winter off my bike. That was it. It was just what I needed.
I spent a night sleeping in a mosque on the long, dusty road between Yazd and Kerman. I set up camp in the corner of a large, warm, carpetted room, and as the evening wore on, quite a few families came to join me, staking out their own corners with blankets and pillows, pouring endless cups of tea, and frequently coming over to offer me food. And just as I was thinking of going to sleep, a couple of my own age came up to me and introduced themselves with great excitement.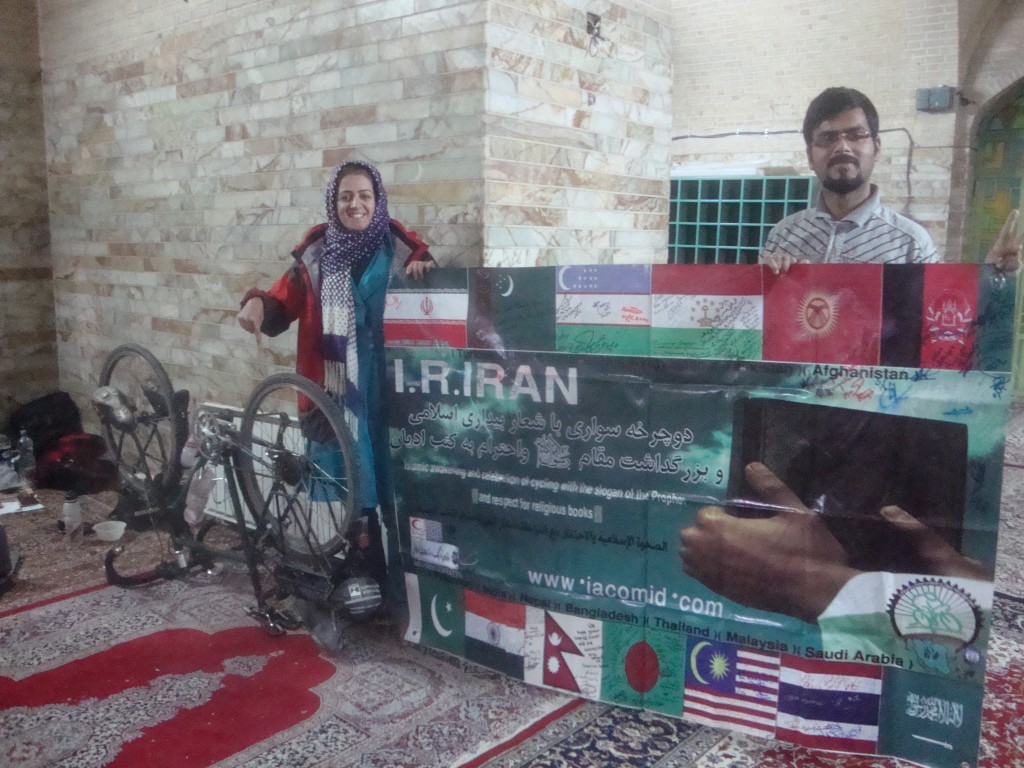 Their names were Omid and Fatima, and they had returned from their own cycle adventure less than two weeks previously – a six-month tour of Central Asia, Afghanistan, Pakistan, India, Nepal, Bangladesh and South East Asia. They unfurled a large banner emblazoned with all the flags of the countries they had visited and the words "Islamic awakening and celebration of cycling with the slogan of the Prophet and respect for religious books", and scattered with the signatures of people they'd met along the way. Fatima, with great pride, showed the the autograph of one of Khomeini's descendants, but I was more interested in a message from none other than Johannes, whom they'd run into earlier that day (so he and I must very nearly have crossed paths again).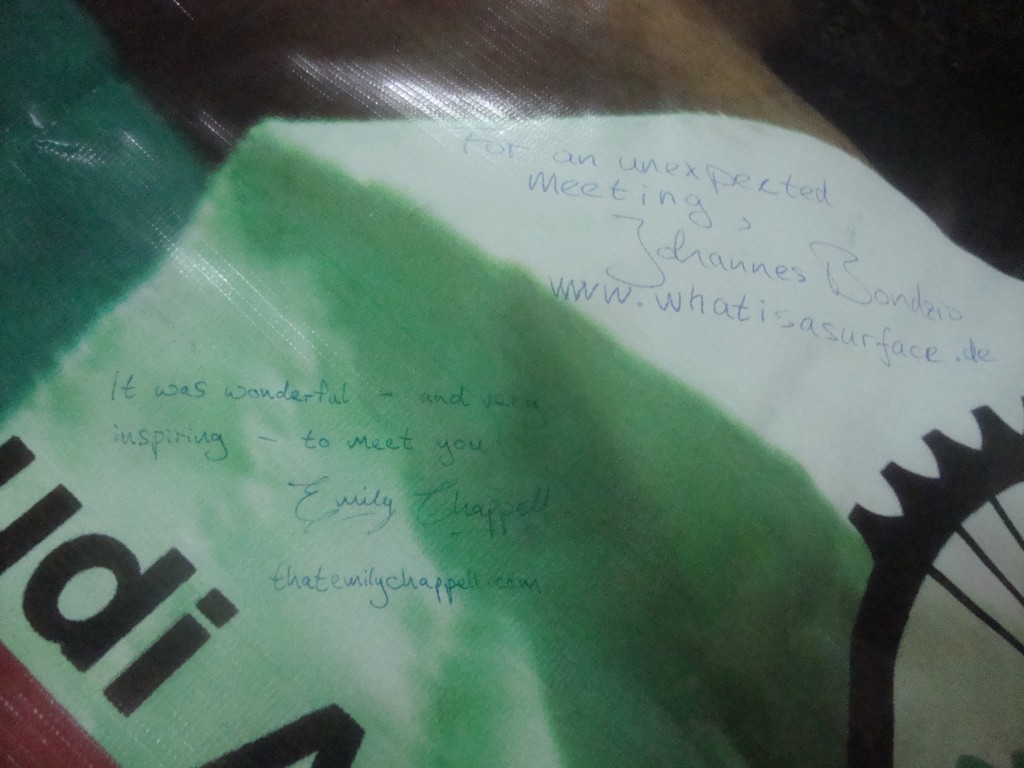 I wrote my own message next to his, and we spent the next couple of hours looking through all the different visas in each other's passports, and admiring each other's photos.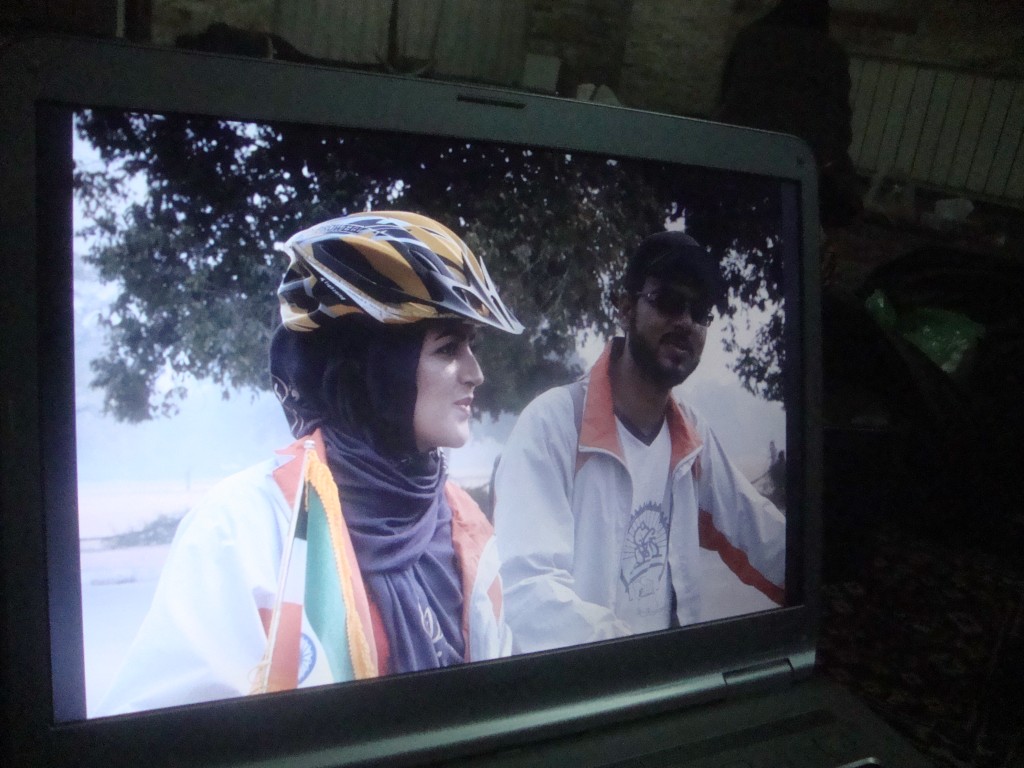 Theirs were pretty impressive.
And you can see their website here. It's all in Farsi, but there are lots of pictures.
A few days later I met Behnam. I had stopped a couple of hours into the day to buy bread in a grocery shop beside the road, and he invited me up into the cab of his lorry, for a breakfast of eggs, fresh bread, oranges and tea. His English was surprisingly good, and I discovered that he had completed a degree in translation studies in Esfahan, before becoming a lorry driver. (It reminded me of my own unorthodox career progression, from literature student to cycle courier.) Unlike some of the male drivers I'd encountered over the past few weeks, he and his two colleagues were unfailingly polite and friendly, and before they set off (they were heading for Tehran, with a load of cucumbers) I was presented with a large bag of oranges and some chewing gum, along with Behnam's email address and an exhortation to keep in touch. As ever, I can't imagine this kind of thing ever happening in the UK.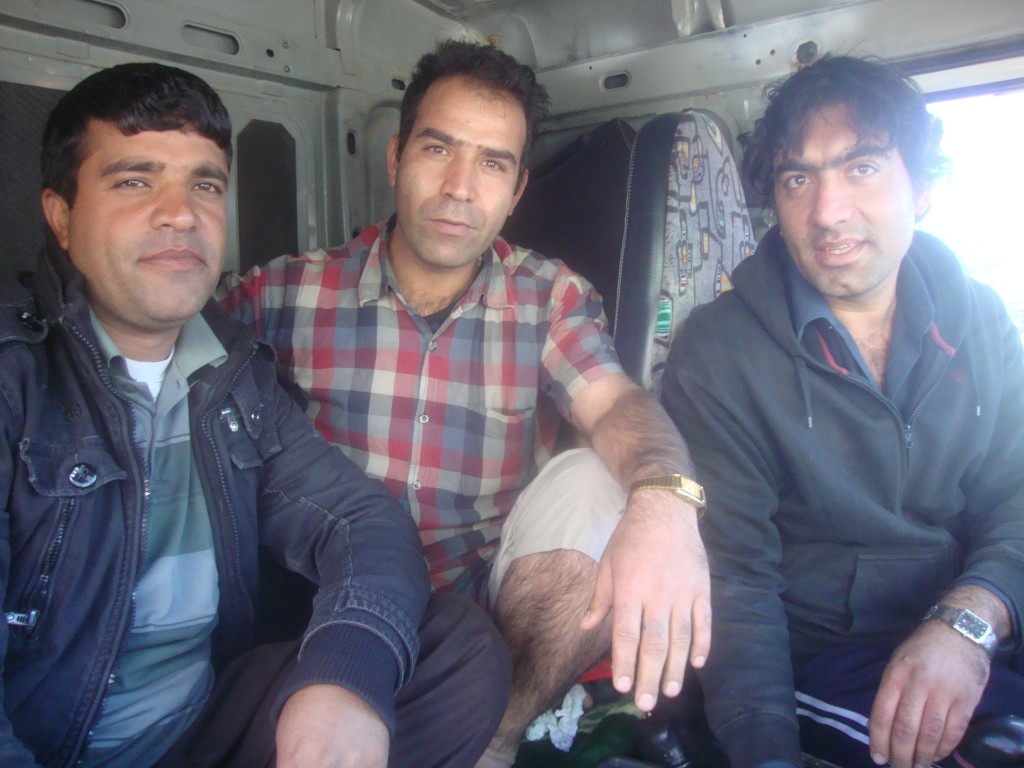 And, last but not least, here's Akbar. If you travel through Iran to Pakistan you're bound to meet him, because there's only one road through the desert, and when you get to Bam there's only one place worth staying – Akbar's Guesthouse, beloved of generations of travellers. The charming Akbar has been hosting overlanders for decades (I was reading a Jon Krakauer book – "ah yes, he stayed here once", remarked Akbar), and knows all there is to know about the local attractions (now substantially diminished since the 2003 earthquake) and the road ahead. I was looking forward to meeting him, but didn't know if we'd necessarily get on – many men in his position, well aware that they have become legends in their own lifetime, will insist on holding forth self-importantly, bending your ear for hours on end with all their well-worn stories, knowing that they command too much respect for anyone to consider interrupting or disagreeing with them, asking you questions about yourself and then talking over your response, handing out unsolicited and often unwelcome advice and sometimes even commandeering your entire itinerary. (A gentleman of this ilk in Kerman, ignoring my protests, virtually insisted that I take the train to Bam, since it was far too distant and dangerous for me to cycle. If my CouchSurfing host hadn't turned up to rescue me, I think he'd probably have driven me to the station personally and stood over me while I bought my ticket. Needless to say, I covered the distance comfortably and safely in a single day.)
Akbar is nothing like this. In fact, his company is extraordinarily restful. He's a mine of fascinating stories, but he's not going to drag them out in the same old droning performance for every single traveller who passes through. You get the impression that some of the tales he recounts haven't crossed his mind for years. And although he's probably heard every possible overland experience a thousand times over, he seemed as fascinated by my paltry anecdotes as he must have been by the very first cyclist he met. But he was also very happy just to sit companionably in the courtyard, drinking tea and eating oranges. He won't be asking you all the same questions you're so bored with by now (where are you from? where are you going? how do you like Iran? are you married?). He's heard it all before – he doesn't need to prove anything, and neither do you.
Bam was my launchpad for Balochistan, the lawless region that straddles the Iran/Pakistan border, which people have been warning me about ever since I decided to cycle that way. Everyone seemed to have an opinion on whether I should risk cycling that way, what safety precautions I should take, and how likely I was to be abducted or murdered. I planned to ask the advice of everyone I met in Bam, since they seemed more likely to give me accurate, up-to-date information than whatever hearsay and the internet had yielded up to now, but I still ended up being told something slightly different by everyone I spoke to. Akbar, who has seen thousands of people pass through Balochistan safe and sound, refused to be drawn into any of the scaremongering or speculation.
"Ah, you'll be fine," he assured me, and that was that. And of course, he was right.