Well hello! It's been a while.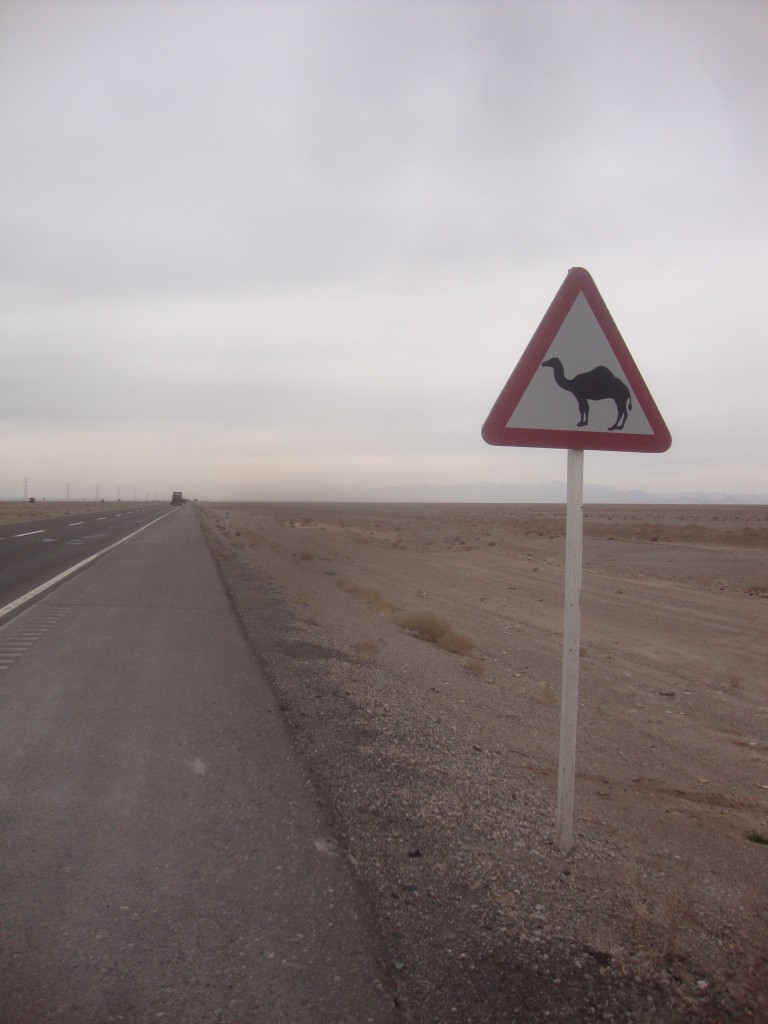 I'm now in Yazd, one of the world's oldest cities, near the centre of Iran. It's a grey, chilly day, and there's the heavy scent of rain in the air, but I don't mind, because I rode 136 miles yesterday, covering two days' distance in one, so that I could afford to spend a day off the bike today, sitting around, eating, catching up on my admin (and blog) and admiring the old town. I'm well into the desert now, and most of the older buildings are made of mud – beautiful sheer golden walls, little winding streets without, spacious courtyards within, and gorgeous blue-tiled domes and minarets on every horizon.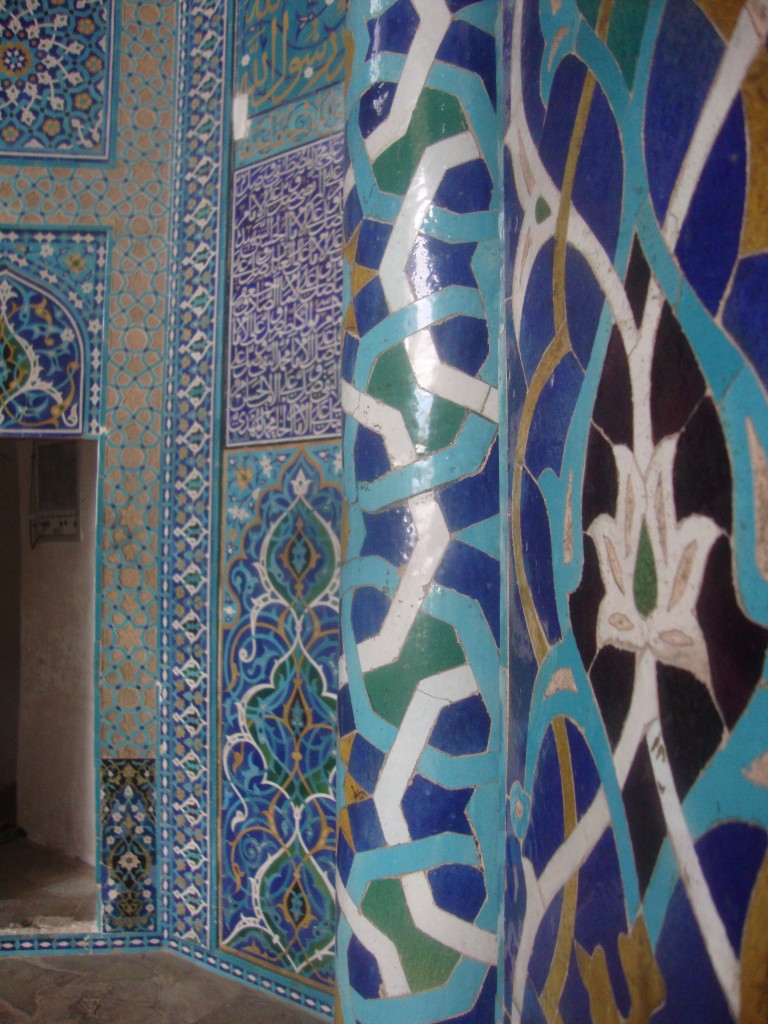 Iran has been tough so far, and I feel very definitely that this is no longer a holiday, but a proper expedition. However, I've come through relatively unscathed, and am enjoying the glow of success and achievement, and beginning to think that there's an outside chance that I really might make it all the way round the world. I'm five months in now, and am still happy. Nothing's gone seriously wrong, and I haven't yet faced a challenge I couldn't rise to.
The first challenge of Iran was the cold. After the freezing mountain passes of Turkey, I had assumed the weather would warm up, and was looking forward to riding into the spring. And for the first two days it was pleasantly balmy. I started camping again, and slept deeply and comfortably in my tent, without being woken up by cold toes every half an hour. In fact, sometimes in the middle of the day, I'd even find my feet were too hot. I was still riding through mountains, but unlike in Turkey, the road seemed to wind gently in and out of them, rather than going straight up and over the top, so there was a lot less climbing (although a fierce headwind made the going almost as tough at times).
A few miles before Tabriz I heard a bicycle bell behind me, and a few seconds later a large cyclist on a fully laden tourer whizzed past me, grinning. I whooped with surprise and delight – he was the first cyclist I'd met on the road (all the others were in hostels and campsites), and it seemed marvellously unlikely and incongruous that we should have found each other, here, in the middle of nowhere, in the middle of Iran, in the middle of the winter. His name was Johannes (see his website here), he was riding to India, and we quickly discovered that he had also stayed with Kahraman in Kirsehir, less than a week after I'd passed that way myself. We carried on into Tabriz together, devoured a kebab, bonded over our mutual obsession with merino, and agreed to ride east together the following day.
Immediately after Tabriz the road started to climb again, and we spent a long hard day battling upwards, every now and then checking Johannes' altimeter to reassure ourselves with how many metres we'd gained in the past hour. And as the road went steadily up, the temperature went steadily down. We camped in between snowdrifts in a frozen orchard, and when we woke up, Johannes' thermometer told us it was -10. It carried on telling us it was -10 for the next few days, until we realized that that was as far down as it could detect, and that the actual temperature was probably far lower.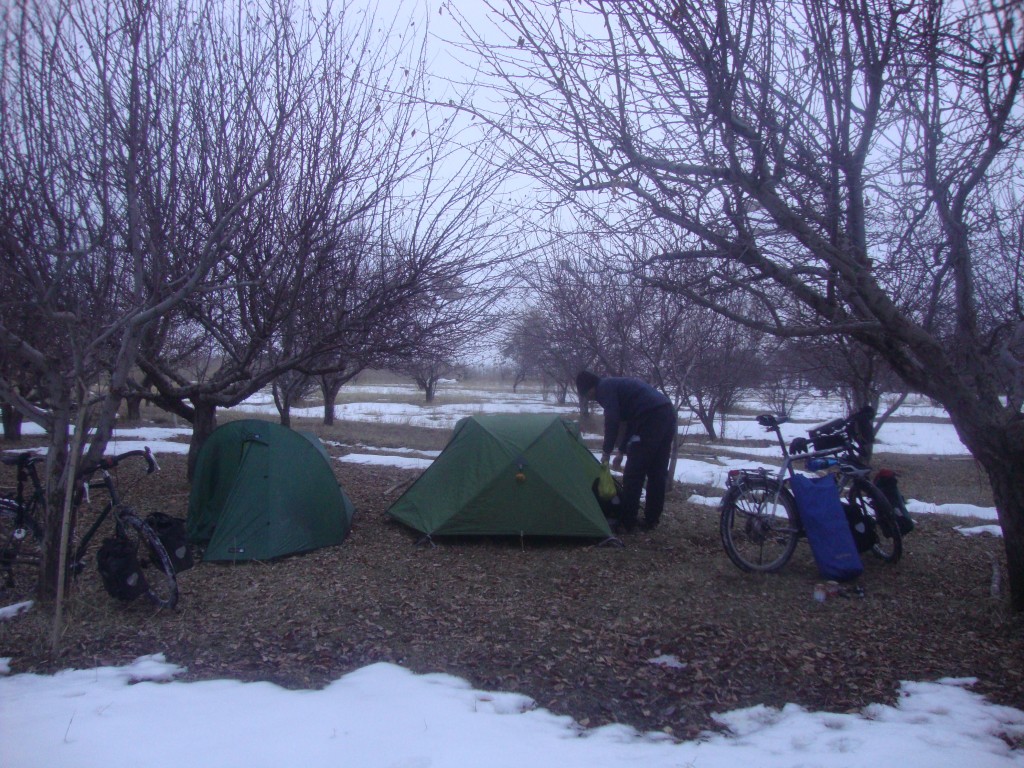 The following night we were lucky enough to find a Red Crescent station at the exact moment we decided to stop, and were able to spend a comfortable night playing chess with the paramedics, revelling in their hot shower, and sleeping on their floor. When we set off the following morning we realized that it had snowed again in the night – the road was a mess of slush and ice, and although the sun was bright, the temperature was still uncomfortably low.
A couple of hours into the morning, a truck roared past, tooting frantically, and skidded to a halt a few metres ahead of us. The driver jumped down from his cab, motioned to us to wait while he dialled a number on his phone, and then handed it to the mystified Johannes.
"Hello?" he said, assuming (as did I) that he'd be speaking to some member of the driver's family, who happened to speak English and wanted to welcome us to Iran.
"You speak English?" he continued, and then "I'm sorry – where are you from? Oh, Belgium!"
Suddenly I realized what was going on.
"Ask him his name!" I interrupted, excitedly.
And sure enough, it was Ben, whom I'd ridden with to Doğubeyazıt, and left behind when he realized (at the very last minute) that he wouldn't be able to use cash machines in Iran, and would need to spend a couple of days withdrawing enough cash to see him through the next month. He had now made it to Iran, but given up trying to ride through the snow and hitched a lift in a lorry. And the driver who'd stopped us somehow knew that his colleague had a cyclist on board, so when he saw two other cyclists, he decided that we should be put in touch with each other.
A few minutes later, the lorry carrying Ben overtook us, with Ben himself hanging excitedly out of the window, and after promising to have lunch with the driver at his family home in Zanjan, the three of us continued in convoy. By now the sun was warm enough to melt the ice, leaving behind a damp and horrible mess of mud and grit, which our wheels flung up onto the face and bike of the rider behind us as we slipstreamed each other the remaining 30km to Zanjan. When we arrived at the driver's house (after struggling to keep up with a friendly taxi driver who offered to show us the way) I discovered that my face was speckled all over with brown splashes of mud, like enormous freckles, and my panniers and bike were caked in dirt.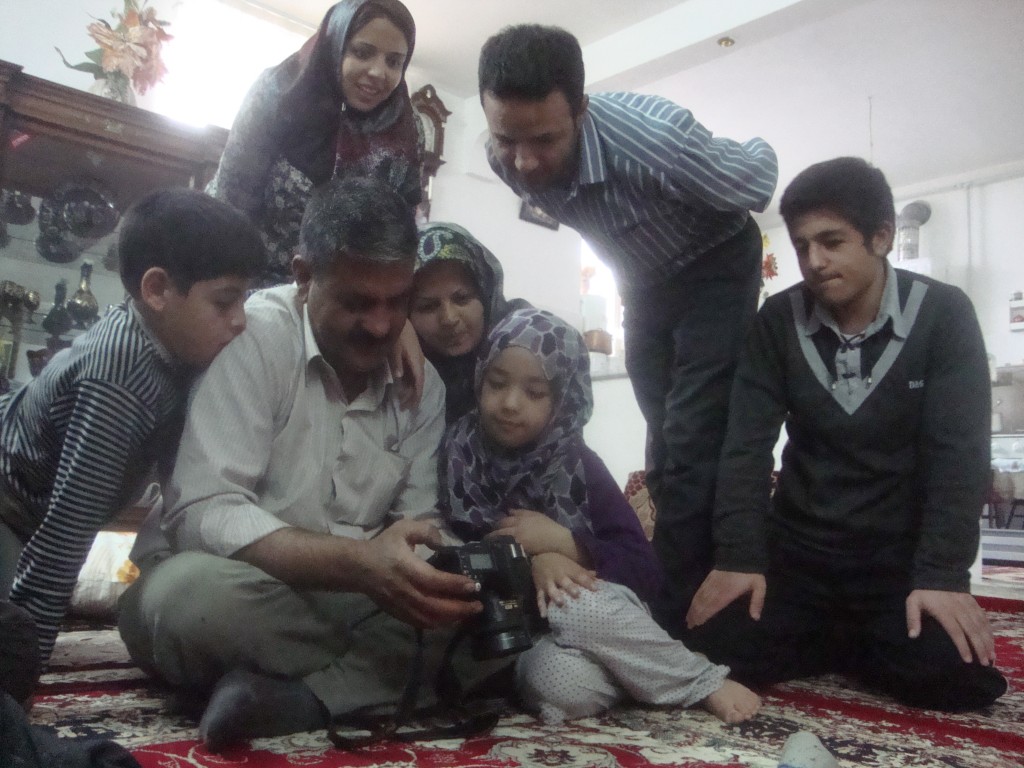 We spent the remainder of the afternoon filling up on chicken kebabs and large plates of buttery rice, and enjoying being in a warm, clean room, with warm friendly people, before heading out to the outskirts of town to pitch our little village of tents in yet another frozen orchard. It snowed again during the night, and when we packed up the next morning we left three white outlines on the ground, for passersby to puzzle over.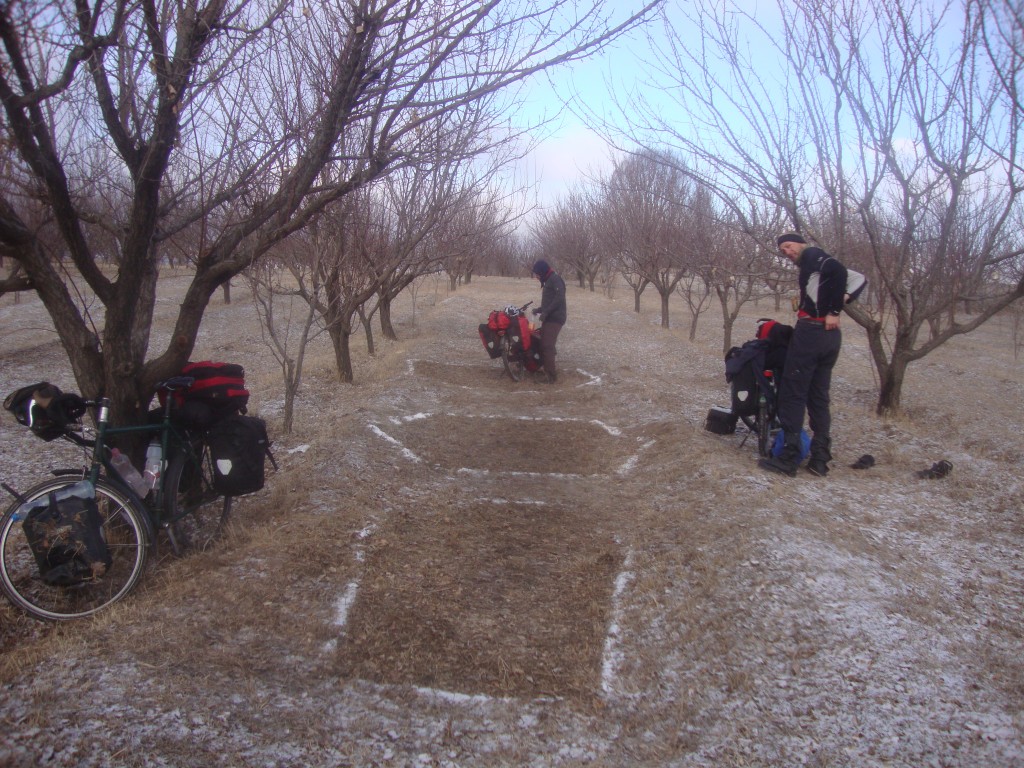 Ben and Johannes were heading towards Tehran, where they both had friends, and I planned to ride with them as far as Soltaniye, before striking out over the mountains for Hamedan, my next stop. We arrived in Soltaniye just before lunch, shared a pot of tea before saying goodbye, and then decided to explore the town's impressive mausoleum – the third largest dome in the world, and once the centrepiece of the 14th century Ilkhanid capital, though now it dwarfs the tiny town, its enormous turquoise roof visible for miles around against the snowy plain and jagged mountains that surround it.
It was bitterly cold, and as we wandered through the unheated building my fingers began to sting – no matter how I tried, I couldn't warm them up. We backtracked slowly through the snow-encrusted streets, and decided to have lunch before going our separate ways. Crammed onto a park bench we gnawed our way through fresh flatbreads, white cheese and a pot of rose-petal jam, our movements frantic and jerky with the cold. I was growing more and more concerned about the road ahead. From Soltaniye I was planning to ride due south, cutting straight across the mountains, and I was already shivering uncontrollably. I had no idea how much further the temperature might drop, how icy the road would be, how steep the climbs, and whether I'd make it to the next town by nightfall, or be forced to camp alone in probably the lowest temperatures I had experienced. Judging by my map, the road I planned to follow was a back route, with very little in the way of settlements or services.
I checked the map again, and found that, if I continued another half a day's riding down the road we had followed so far, there was another road leading south to Hamedan. It would be a longer ride, but this was a main road, and there would be petrol stations, and Red Crescent paramedics, and even friendly lorry drivers to rescue me if anything went wrong. I took a deep breath and asked Ben and Johannes if they could cope with my company for another day. To my relief they said yes, and we finally got on our bikes and set off, still shivering.
But we were clearly meant to stay in Soltaniye. Within seconds, Johannes had a flat tyre, and after another twenty minutes of trying to fix it, he managed to break his rear axle. We were stranded, and it looked likely that poor Johannes might have to take a train to Tehran, and wait around there while someone posted him a new axle out for Germany. Luckily, Iranians came to our rescue. The family outside whose house we had stopped brought us a tray of tea, and then a bag of fruit. Someone else came up and handed us a bottle of (alcohol-free) beer.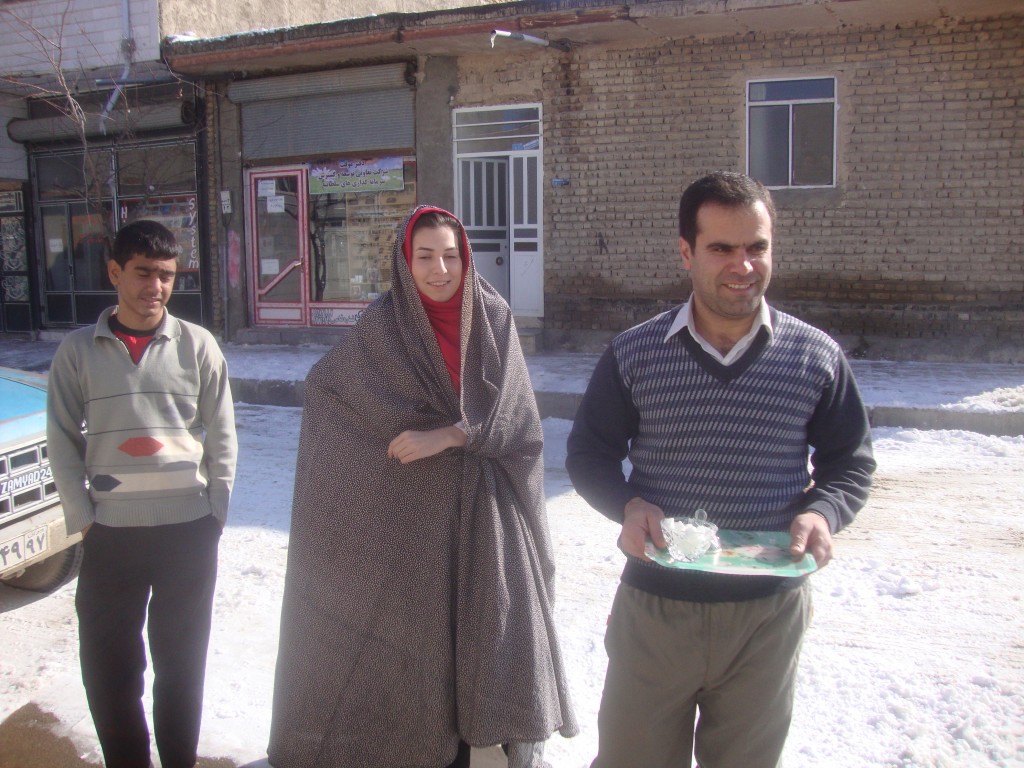 And then a friendly English-speaking man drove past, sent Johannes off to a bike shop in Zanjan with a friend of his, and bundled me and Ben around the corner to his house, where we spent the rest of the afternoon warming up, and eventually celebrating as Johannes returned victorious from Zanjan, bearing cakes and a brand new axle, which, despite our misgivings, he had managed to find.
The following morning we said our goodbyes – to our host and to each other – and I set off on my own, having fortified myself with a good night's sleep and decided to brave the mountain road after all. It was a crisp, clear, beautiful day, but the air was still frighteningly cold. But it was a strangely satisfying ride. Up I went, over the line of mountains that marked the edge of Soltaniye's plain, and down onto the plain on the other side, nothing around me but blue sky, bright sunlight, and miles upon miles of glistening white snow, rising up into mountain ranges on every horizon. The road was mercifully clear, and I sped along it, knowing that there were only three towns I would pass that day, and slightly unsure of whether I'd be able to reach the third before darkness fell.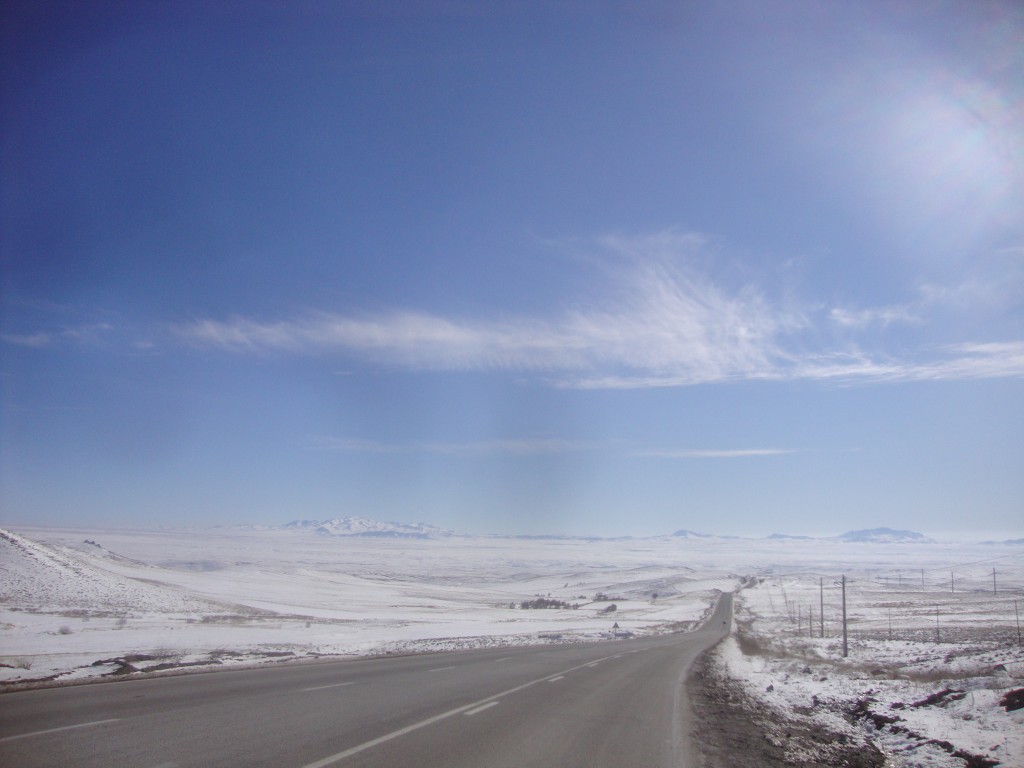 With this doubt circling in my mind, I pushed myself, legs and lungs burning, through the dazzling, otherworldly wilderness, and rolled exhaustedly into the small town of Shirin Su just as the sun was sinking behind the mountains. As I sat in a friendly teashop, warming up and contentedly listening while the men of the town debated where I should be sent to sleep (in the end on of them wheeled my bike around the corner to his family home and I spent the evening falling asleep over tea and supper), the light slowly faded away, until nothing but a brilliant orange glow remained on the horizon, clashing curiously with the streetlight outside, under which my bike sat, a stranger in a strange town.