After the whirl of gluttony and socializing that was Christmas, I had mixed feelings about being back on the road. It would be a relief to be back on the bike, and back to my simple, solitary existence of riding, eating and camping, without having to worry about other people's plans and preferences. But leaving a hostel full of friendly cyclists to spend the next two or three weeks riding through sub-zero temperatures on your own is like trying to pull yourself out of a warm cosy bed on a frosty February morning, only much much harder.
My ears still ringing with the farewells of İstanbul's cyclists (and my head still pounding with the results of Laurens' 6TL red wine) I returned to the Köse Pension in Göreme, for a touching reunion with Annie, and an only-slightly-less-touching reunion with Chris, the friendly Swiss cyclist who'd been babysitting her for me (and who will be working at the Köse Pension until March, in case you're passing that way and fancy saying hello).
And within a couple of hours, two more cyclists had turned up – this time a Dutch pair called Bert and Thijs. This was getting ridiculous. As I commented to Thijs, I'm beginning to realize that what we're doing – all several hundred of us – is really not that special after all. In fact, perhaps it's just another version of the gap year circuit.
Bert and Thijs were planning to follow the same route as me to Sivas, but first they wanted to hang around and explore the delights of Cappadocia for a couple of days – Bert had already booked a hot air balloon flight for the next morning. We discovered that they were planning to stay with the same WarmShowers host as me in Sivas – a chap called Ercan, who for me was somewhere between a long lost friend and a major tourist attraction, since he had already hosted my friends Matt and Andy from London, and Dean, an internet and not-quite-real-life acquaintance, whose blog and travels I've been following with great interest.
We talked for a while about riding to Sivas in a convoy and descending upon poor Ercan en masse. But they were in no hurry, and I had business with the road. So I said my farewells the night before, got up before the sun rose, waved goodbye to Bert, who was waiting to be picked up by the hot air balloon company, and rode off into the mist.
The first day back on the road was always going to be tough, and it was made tougher by the fact that I was riding over 1000m above sea level, over a terrain that never seemed to be entirely flat and hills which, curiously, seemed just as difficult to pedal down as they did to pedal up. The landscape was no less magnificent than usual but, shrouded in white snow and grey clouds, it somehow seemed a lot less inspiring, and the distant horizon never seemed to draw any closer. But I reminded myself that all I had to do was press on. Eventually the fitness would come back, my lungs would expand, my red blood cells would multiply, and my weary legs would remember how much they actually enjoy turning the pedals around all day.
It had got a lot colder since I left Göreme before Christmas, and I felt that this was where the winter really began – even though the days are now getting longer, January and February are always the cruellest months, and I'm now heading away from the tourists and temperate climate of western and central Turkey into the wild east, which people in İstanbul and Ankara refer to as 'another country', and where temperatures regularly drop below -20.
But of course, the world – and the Turkish – continue to look after me. When I stopped to buy peanuts at a petrol station, the lone pump attendant invited me into his office, introduced himself as Bayram, and made me drink four or five cups of tea while he practised his entire English vocabulary on me, showed me photos of his family, admired mine, and helped me lift my bike onto a newly built, not-yet-open, and therefore quiet lane of the highway when the time came for me to press on.
A similar thing happened later that afternoon, when a restauranteur beckoned me in, poured me a tea, watched me drink it, poured me another, and refused to take any money.
A couple of hours later I crawled downhill after the final pass of the day, and started to look for somewhere to camp, with limited success. The whole landscape was covered in snow, with only a couple of threadbare trees scattered about, meaning that there was not only nowhere I could hide, but no shelter from the biting easterly wind. I unenthusiastically inspected a couple of deserted buildings on the outskirts of a village, and then decided to head into civilization, to see if I could get permission to camp in someone's garden.
The town of Büyüktuzhisar isn't very big, but its people must be some of the kindest I've ever met. I asked the first two men I saw if there was anywhere I could camp, and while they were scratching their heads and phoning their friends, a car pulled up and its driver (who spoke German) instructed me to follow him to the belediye (town hall), where he escorted me straight up to the mayor's office and introduced me to the major himself, who was sitting behind an enormous shiny desk, flanked by Turkish flags. Within minutes he had invited me to spend the night with his family, and within an hour he had locked up the belediye for the day and my tired legs were struggling to keep up with his car as he drove slowly back through the village to their house.
So rather than camping in the snow, I spent a happy evening in a warm house with friendly people, and slept for ten hours under a thick duvet, before continuing on my way the following morning, even more firmly convinced that Turkish people must be some of the loveliest in the world.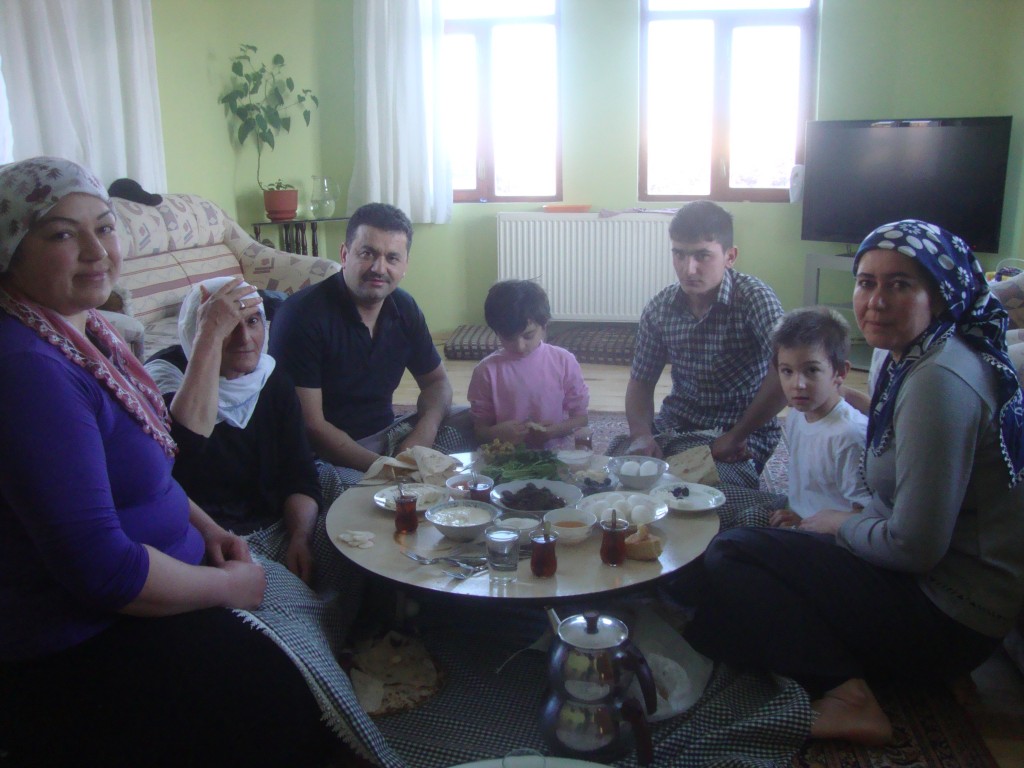 The following evening a similar thing happened. I rode into the tiny village of Hanlı, asked a man if I could camp in the grounds of what appeared to be the town hall (to which he laconically replied 'yes' and carried on his way), and before I'd even started unpacking my bike, a sweet-faced woman of about my own age approached me, introduced herself as Elif, informed me (through sign language and tone of voice) that it was far too cold to camp and invited me to stay at her house.
She led me off through the muddy, icy village streets, and I spent the rest of the evening rolling around the living room with the three adorable children she lives with – I never worked out whether they were her siblings or nephew and nieces, but I don't think they could have been her own children, because she blushing showed me a photo of a goodlooking young man on her phone, and managed to convey that he was her fiance. None of them spoke English, and I know approximately ten words of Turkish, but somehow that didn't matter at all. Little Layla and I taught each other to count in our respective languages, everyone looked through my family photos with great interest, and we sat happily in each other's company, watching glitzy Turkish soap operas and drinking cups of tea, both of which seemed to go on forever.
So the cold weather really hasn't been a problem so far. In fact, I'm having rather more trouble with the heat than with the cold. Elif's family seemed to spend most of their time in their small living room, which was heated to an absurd temperature by a large woodburning stove. I was constantly mopping my brow, trying to disguise the fact that I was literally dripping with sweat. Every now and then one of the women would feed another handful of logs into the stove, and shortly afterwards a scorching wave of heat would roll around the room, exactly as happens when someone sprinkles water on the coals in a sauna. I was worried that, after the endless cups of tea, I'd be up and down to the (outdoor, iced-over) toilet all night. But I must have sweated out all the liquid, because once they'd made me up a bed and left me to my own devices, I opened the window, let in the blissful cold night air, and slept 'like a clubbed seal', as the Swedes (apparently) put it.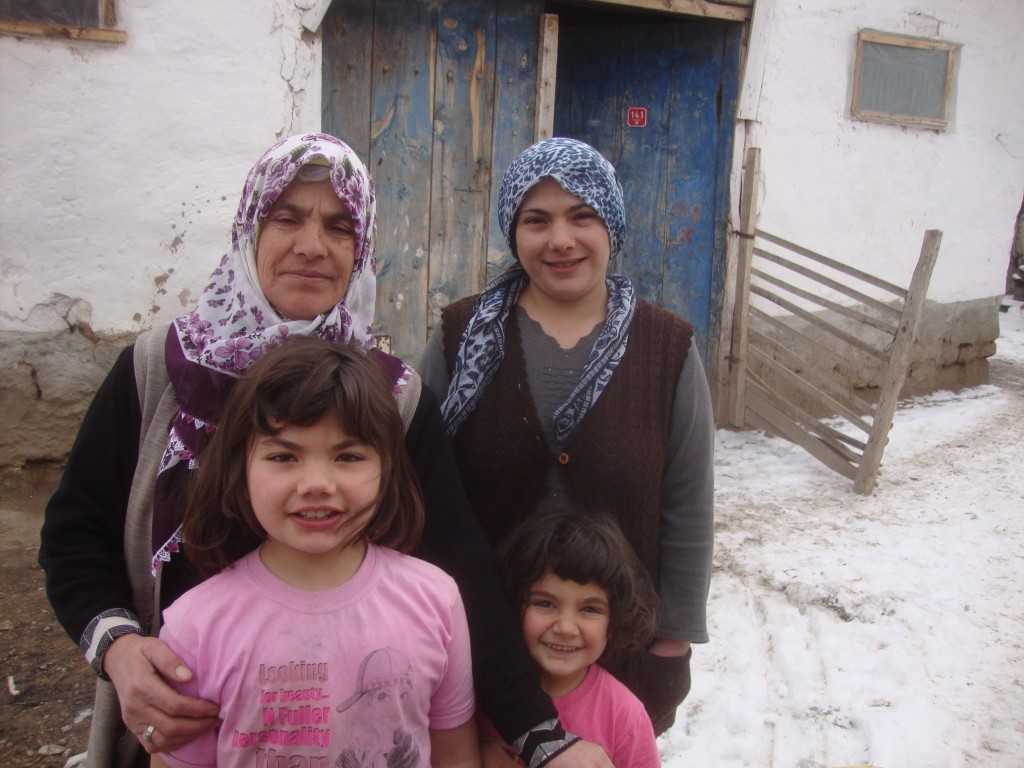 The following morning, after a long and leisurely breakfast, I said a fond farewell, aware at the back of my mind that we'd almost certainly never see each other again, and set off to ride the final 60km to Sivas.
The wind had picked up overnight, and was now driving fiercely into my left side, like an enormous invisible hand trying to nudge me into the road. The first 30km were uphill – one of those tiny gradients that appears to be flat, so you curse yourself for being slow and unfit, and only realize when you look behind you that you'd actually been going uphill all along. Small flecks of snow were flying horizontally across the road in front of me, thought I couldn't tell whether it was actually snowing, or whether they were being blown up from the vast white steppes on either side of me. In some places the snow had begun to drift across the road, and I rolled carefully across it, not yet sure of how well my new tyres would keep their grip.
There wasn't much traffic on the road, but three times lorry drivers stopped and tried to persuade me to accept a lift to the nearest town. One of them even offered to take me all the way to Iran. And when I finally found a petrol station, after three hours of battling along straight roads towards empty horizons, I was taken in and given tea, just as I have almost come to expect.
I thought I was about halfway to Sivas at that point, but as so often happens after a difficult stretch of road, it was downhill all the way from then on, and only about ten minutes after I had passed the SIVAS 10KM sign (with a small inward cheer), I found myself in its suburbs, starting to worry about how I was going to find Ercan's house, since all I had was a phone number, and no phone.
But the world continued to look after me. I pulled up at the otogar (bus station), thinking that this would be as likely a place as any to find a phonebox, and a good landmark for Ercan to direct me from – and was immediately accosted by a policeman, who bundled me into his kiosk, poured me a cup of tea, asked me where I was from and where I was going, and handed me his mobile phone.
Ercan came out on his bike to pick me up, and told me he had a surprise for me. Somehow, the two Dutch guys I'd met in Göreme had managed to get to Sivas ahead of me, and were currently taking showers in his apartment. I was torn between delight, incredulity and shame. Delight because it would be wonderful to see them again. Incredulity because I didn't understand how they had managed to leave Göreme after me, and yet still get to Sivas before me. (Had they found a faster road? Why hadn't I seen them ride past me?) And shame because they had seemingly covered in only two days (or maybe even one) a distance it had taken me three days of hard slog to ride.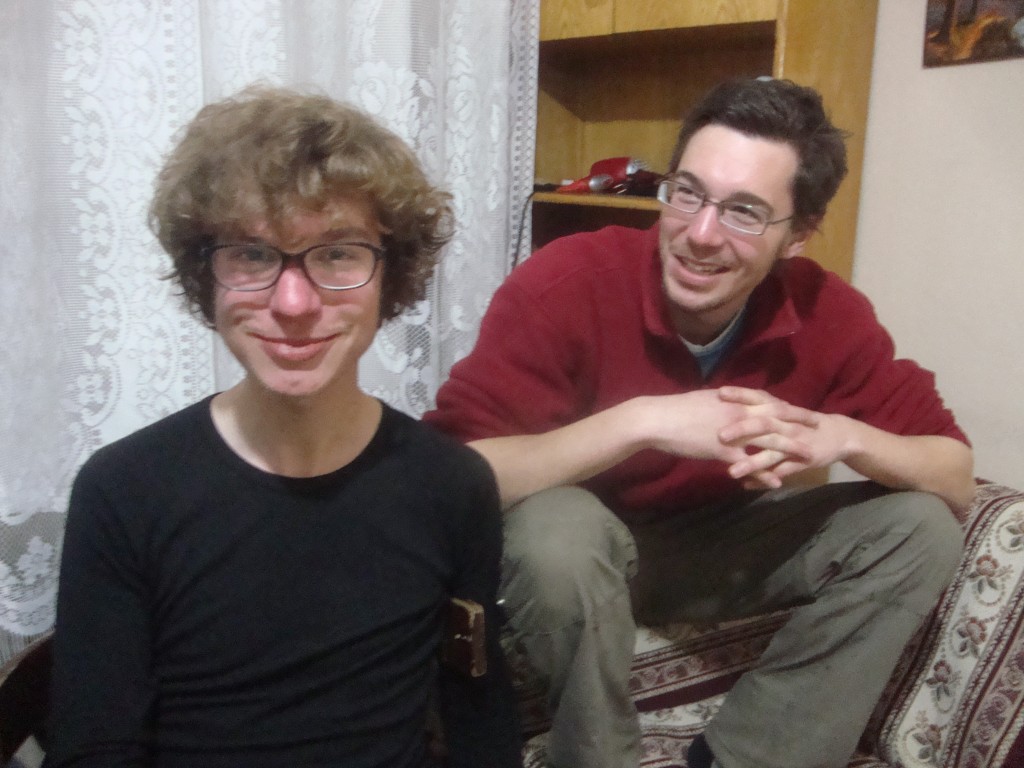 But as it turns out, our journeys had been fairly similar. Bert's hot air balloon ride was cancelled (because of the fog), so they had left Göreme only a couple of hours after I did, and had been 30-40km behind me the whole way. They also met Bayram, who showed them a photo he'd taken of me, and finally overtook me when I was busy breakfasting with Elif and her family, arriving in Sivas only an hour or two before I did, much to Ercan's concern.
It was a quieter New Year's Eve than usual. I spent the evening with Ercan at the dental clinic where he works, drinking tea, talking about god and fate, and performing for the occasional patients who came in and wanted to meet this crazy girl who'd cycled all the way from England. Ercan checked my teeth for me, and gave them a clean bill of health, which was a great relief after all the sugar I've ingested over the past month (one lump of sugar per cup of çay, plus all the junk food I cram in when cycling), gave me a tutorial in brushing my teeth, and informed me that the costly cosmetic dental treatment I've been needing for years would cost next to nothing in Turkey.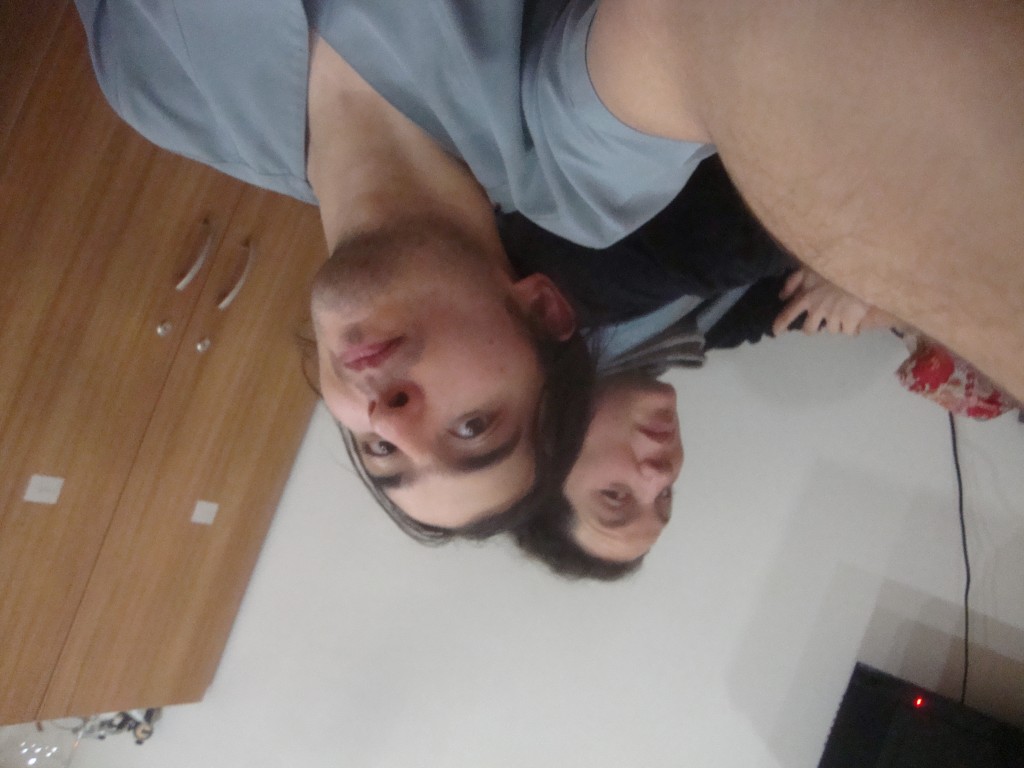 And then we saw the new year in with Bert and Thijs, and I drank a single beer and went to bed – a marked contrast with last year, when the stroke of midnight saw me sitting on the roof of my house in London, sipping champagne and watching the fireworks all over the city.
It's been a good year.