I rolled up at the Kose Pension in Goreme the other day, grinning broadly as I realized that this was definitely the end of Chapter One.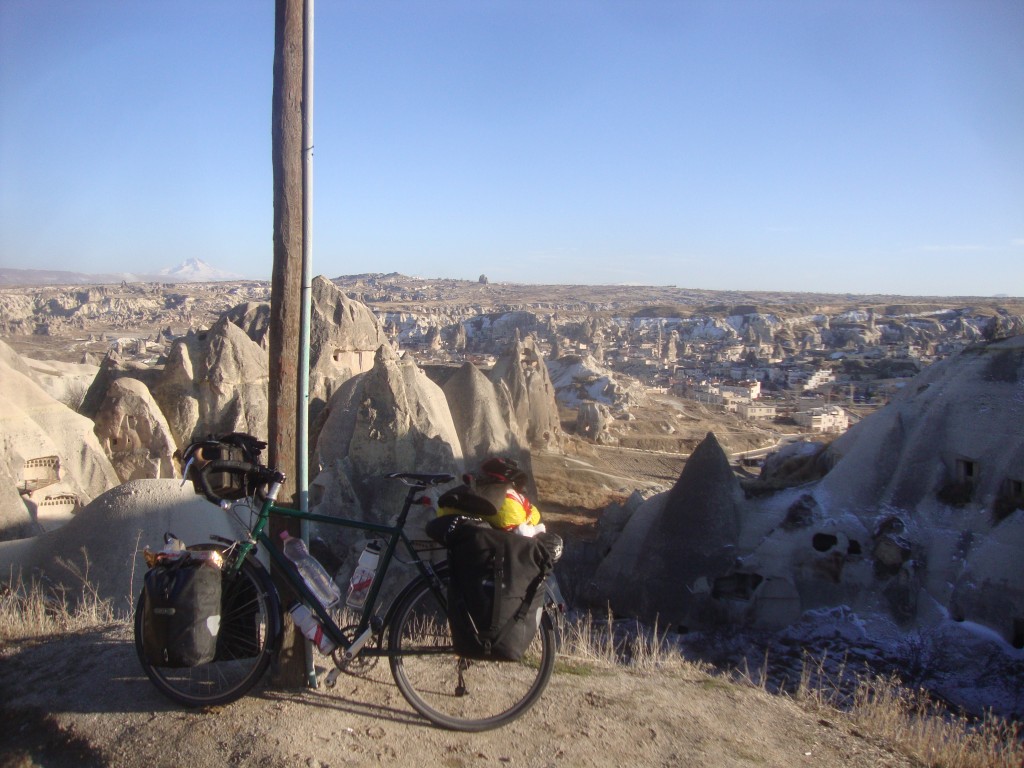 Now I have two non-bike weeks to look forward to, and a chance to relax, reflect and catch up with family before I get back on the bike and head out into the frozen wastes and sub-zero temperatures of eastern Turkey. And I grinned even more broadly when I noticed a rugged-looking Koga Miyata bicycle sitting outside the house – and a Surly Steamroller propped up on the terrace. I had inadvertently stumbled upon a nest of cyclists.
One of my hosts in Ankara had mentioned a Swiss round-the-world cyclist who'd stayed with him a few weeks previously, and was now in Goreme for the winter, working in a hostel. I'd decided that I'd try and find this cyclist when I was in town, to swap stories, borrow tools, and see if he knew of anywhere I could leave my bike for the next two weeks. There are dozens of hostels and guesthouses in Goreme, so this could have been quite a task, but by one of my regular strokes of luck, the room my sister had booked was in the exact same place where this chap – Chris – was spending the winter. The Steamroller belonged to a Canadian cyclist called Raphael, who was on his way from Paris to New Delhi, and also breaking for Christmas in Turkey.
My poor sister turned up to find me deep in conversation about headwinds, bottom brackets, Iranian visas and the comparative merits of Schwalbe and Continental tyres. (Chris initially had Continentals, and his puncture-count is well into double figures (34!). Raphael is running Schwalbe Marathon Plus (like me, though his are thicker), and hasn't had a single flat in 8,000 kilometres.)
So yesterday was mostly spent fiddling with my bike. My sister brought me out a whole bag of spare odds and ends from the lovely people at Brixton Cycles, and the bike is now shiny and new-looking and ready for the next few thousand miles. I've cleaned the whole thing, replaced the brake pads and the tyres (though they were still going strong, and the front one hadn't punctured at all), trued the wheels, put on a new chain – and even taken apart and regreased my hubs, under the watchful eye and patient instruction of Raphael. I'm still hesitating over whether to replace my brake and gear cables. I have all the parts I need, but I've never fitted a gear cable before (owing to time constraints, Ryan ended up doing that bit of the build) and since everything's running smoothly at the moment, my inclination is to leave it as it is, rather than make it worse by trying to fix it. Maybe I'll screw up the courage today…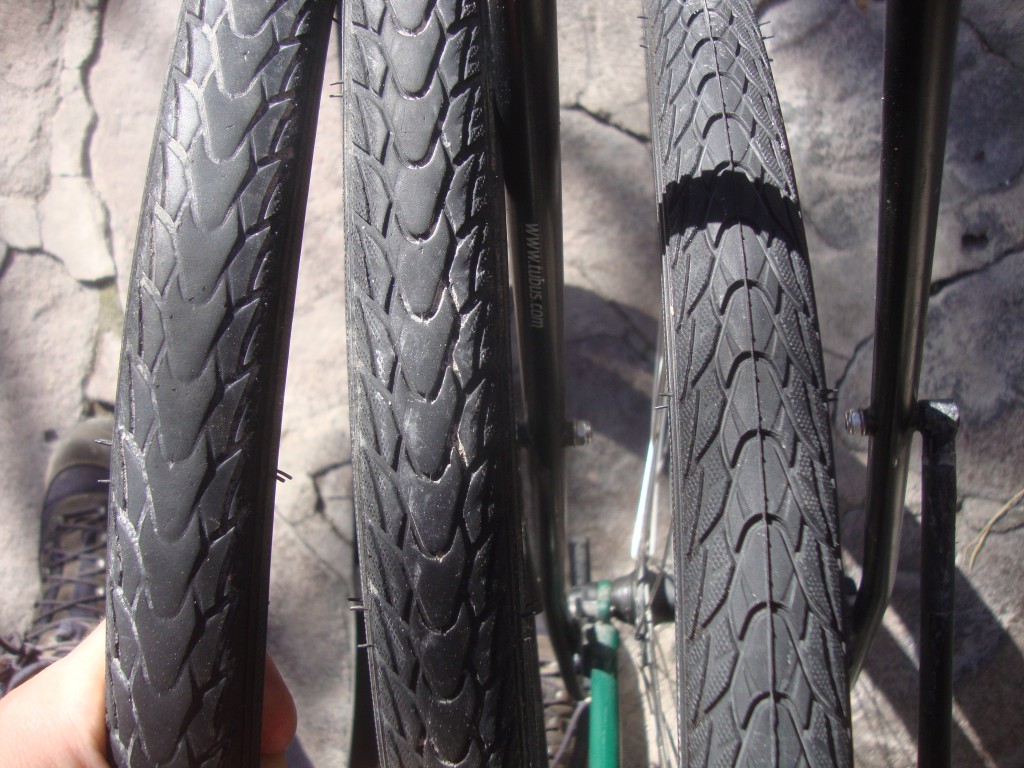 (L-R: back tyre, front tyre, new tyre.)
But quite soon I'll be leaving it all behind for at least a week, and setting out to explore Turkey the more conventional way – on foot and by bus. And, much as I'll miss it, I suspect it will do me a lot of good to be without the bike for a while. There are times where I feel I've let it take over my life entirely – I spend most of my time riding it when I'm not asleep, and on rest days I often find myself wondering what to do with my time. (What do people do when they don't have bikes to ride? How did I spend my time time before I started cycling?)
Since I've been on the road, although I've been generally very happy and have no regrets, I have occasionally felt frustrated by the superficiality of a lot of my experience. When I was a courier I was able to retrace my pedalstrokes and experiences and emotions over and over again, and I had plenty of empty hours on park benches to reflect on my life and write it all down. Seeing the same streets and parks and buildings day after day, month after month, season after season, gave me a much richer and more nuanced appreciation of them than I could ever get if I just rode past them once or twice looking for a road out of the city. I had time to build up relationships with security guards, receptionists, baristas and other couriers, slowly, piece by piece, over several years. And once I'd got through my first winter, which was effectively just a narrow and exhausted cycle of riding and sleeping, I found the rhythms of the job brought my mind to life in a way I had never known before.
So far it hasn't been quite the same with cycle touring. I get a lot of time to think and theorize while I'm riding along, but in the evenings I'm generally too exhausted to write any of it down, and a lot of what goes through my head ends up being forgotten. I meet wonderful people, and get to talk to them for whole evenings, rather than just minutes at a time – but then in the morning I leave them behind and have to start all over again from the beginning. And when I manage to find an internet connection to update my blog, what I write is usually postcard-style reports of where I am, what I've seen and how amazing it all is, rather than the rambling reflections I used to enjoy when I wrote my courier blog.
Chatting with Chris and Raphael over the past couple of days, I found out that each of them has his own project, running alongside the cycle tour. Raphael is a photographer – see his blog here. And Chris visits local schools in every country he passes through, gives talks about his trip, and asks the children to draw him pictures of their houses, which he then passes on to a school somewhere down the road – see his website here.
So maybe I need a project. Something to do so that my days off become productive rather than lethargic (though there is always room for lethargy in the cycle tourist's calender). After all, it's hardly sacrilege to suggest that there might be more to life than cycling.
I'll think on this over the next two weeks. But in the meantime, I'm going to make the most of the opportunity to think – and write – about something other than cold feet, mileage and what-I-did-on-my-holidays. I'm aiming to put up one blog post every day until the 26th (when my sister flies home and takes her laptop with her). This'll give me the chance to flush out some of the backlog that's built up in my head (all those posts I've wanted to write for ages but not had the chance), and hopefully to come up with something that doesn't actually bore me to tears.
And also – I've no idea how regularly I'll be able to update this website once I get to Iran. So maybe it's a good idea to get ahead.