And then it was a nice, easy, comfortable day along the flat main road of the Kosovan interior to Prishtina. It was a busy, dusty, fairly boring road, but I didn't mind – although I love the mountains, it was nice to be able to just put my head down and bomb along at 20mph again.
Prishtina was a disappointment. It reminded me of Gurgaon, near Delhi, where I spent a few difficult months in 2007. The city is growing too fast (too much US funding?). Everyone's driving around in the biggest cars they can possibly afford, the roads are dusty and congested, and there's a thick layer of brown smog hanging over the place, which made the blue sky look like it needed a wash, and was visible for miles around.
I'd planned to spend a day or so there, exploring and recuperating, but the previous night's hotel room had meant I wasn't as much in need of it as I would have been, so, together with an affable Australian I'd run into in the guesthouse (spotted a Surly Long Haul Trucker sitting under the stairs, and instantly knew I was in the presence of another cycle tourist and that we'd spend the evening sipping beers and swapping stories, which we did) I gladly rode out of the city and spent a couple of days getting lost in the hills near Serbia.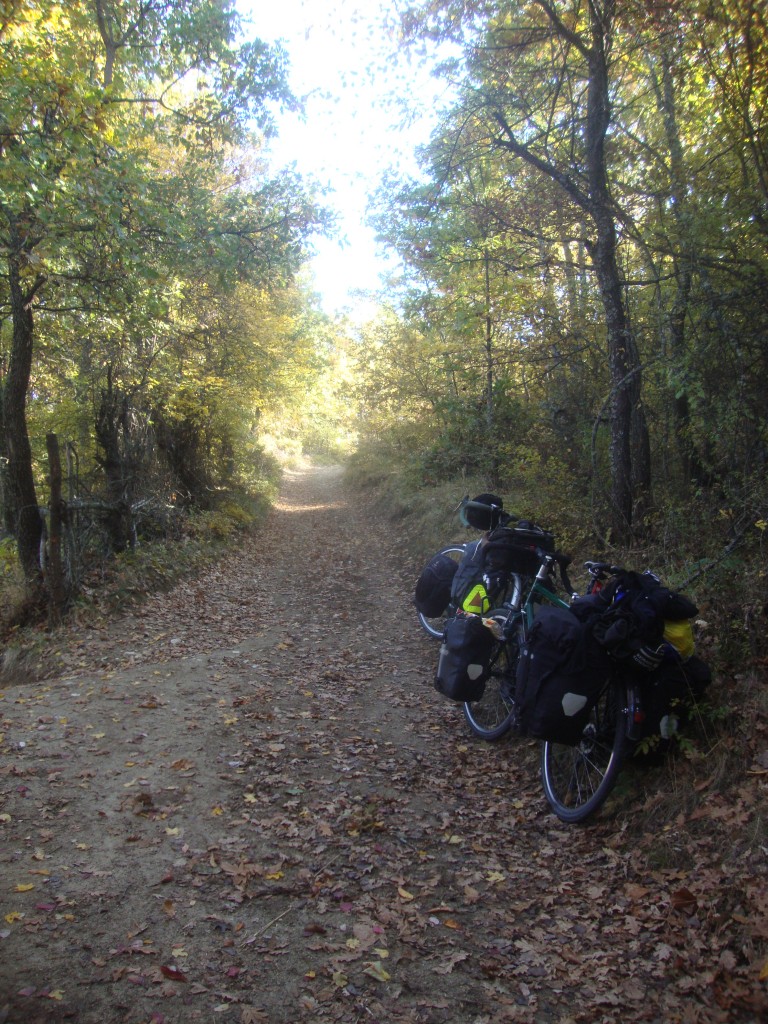 We were slightly worried about the border crossing into Serbia. Because the Serbians still consider Kosovo part of their territory, they were likely to make life difficult for us, and a lot of the advice I'd read suggested that it would be a better idea to divert south into Macedonia, since the Serbian border guards will often refuse to let you in if you have a Kosovan stamp – or even if you don't have a valid Serbian entry stamp (which of course the Kosovan border guards won't have given you).
We decided to take a gamble. Since I'd come in through the back door, I didn't have any entry stamps, and the Australian is one of those lucky buggers with multiple passports, so he could just hand them his UK one, rather than the Australian one he'd been using up to now.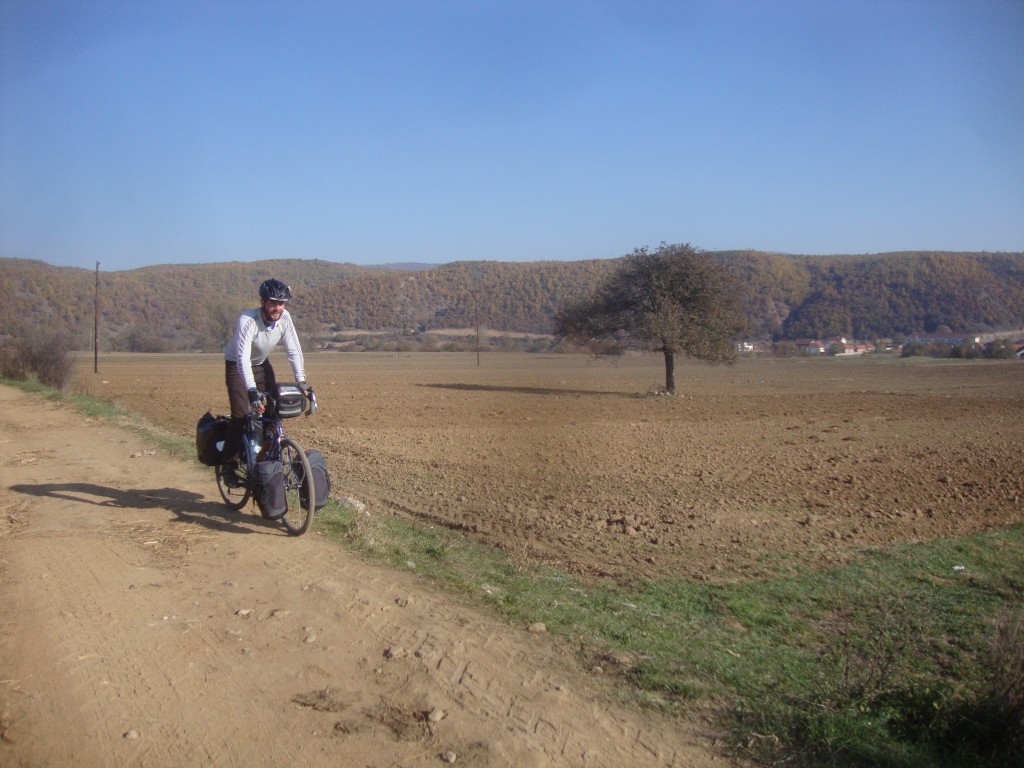 As we stocked up on food in Podgragje a 4×4 drew up and some tall burly Kosovan police officers got out. One of them spoke a bit of English, and asked us where we were planning on heading. When he heard we were going to try and cross the border to Serbia he sucked his teeth and shook his head, and opined that we almost certainly wouldn't get through but, well, we could have a go if we really wanted to. Oh, and did we realize there was a really steep hill up to the border, and we probably couldn't get up it on bikes?
We thanked him and told him we'd give it a try anyway, rather than backtracking to another crossing, or riding all the way to Macedonia. They got in their van and followed us up the road for a bit, jovially pointing us in the right direction when we got to a junction. And then we found them waiting at the top of the hill, presumably either to see if we'd make it to the top (it was a mere molehill compared to the mountain passes of the last few days) or to watch us come back with our tails between our legs when the Serbian border guards turned us away.
And of course, we got through with barely any problem, correct in our suspicion that a small back-road border crossing would be staffed by lazy guards who would rather just send us on our way than worry about documenting and reporting our puzzling lack of entry stamps.
We camped on a nearby hillside, and when we woke up the tents, and both bikes, were covered in thick white hoar frost. Winter is definitely on its way.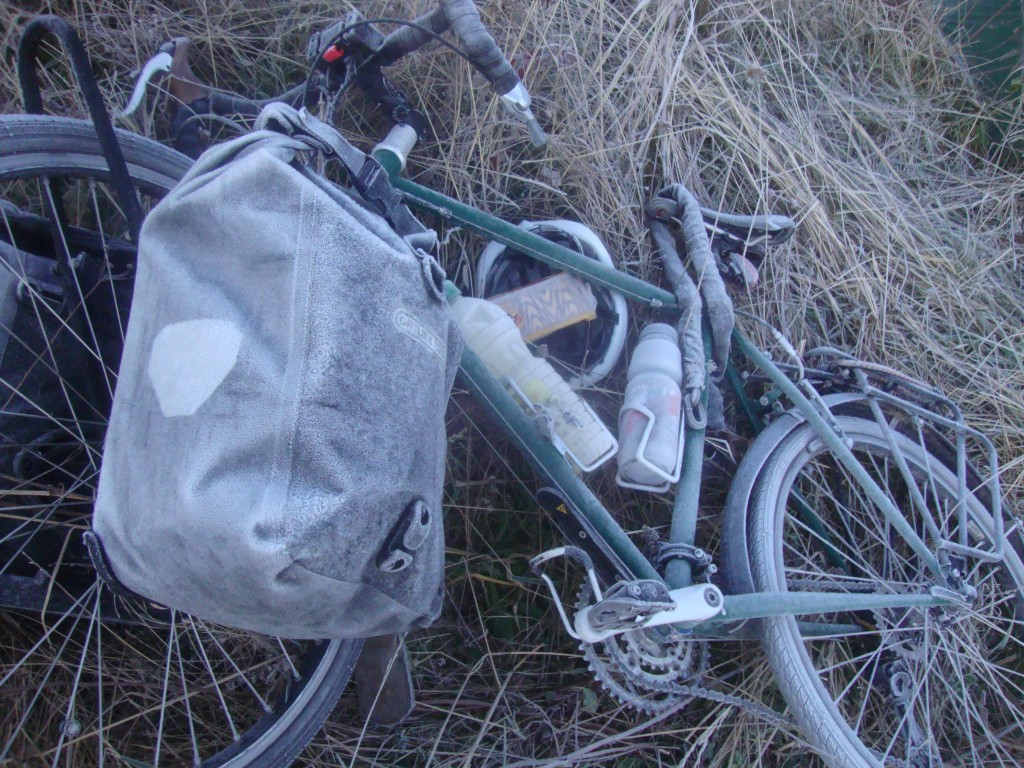 That morning just about the first thing we saw was a sign warning us about landmines, but we figured we'd probably been ok, camping in a field that had clearly been farmed and grazed within the past year.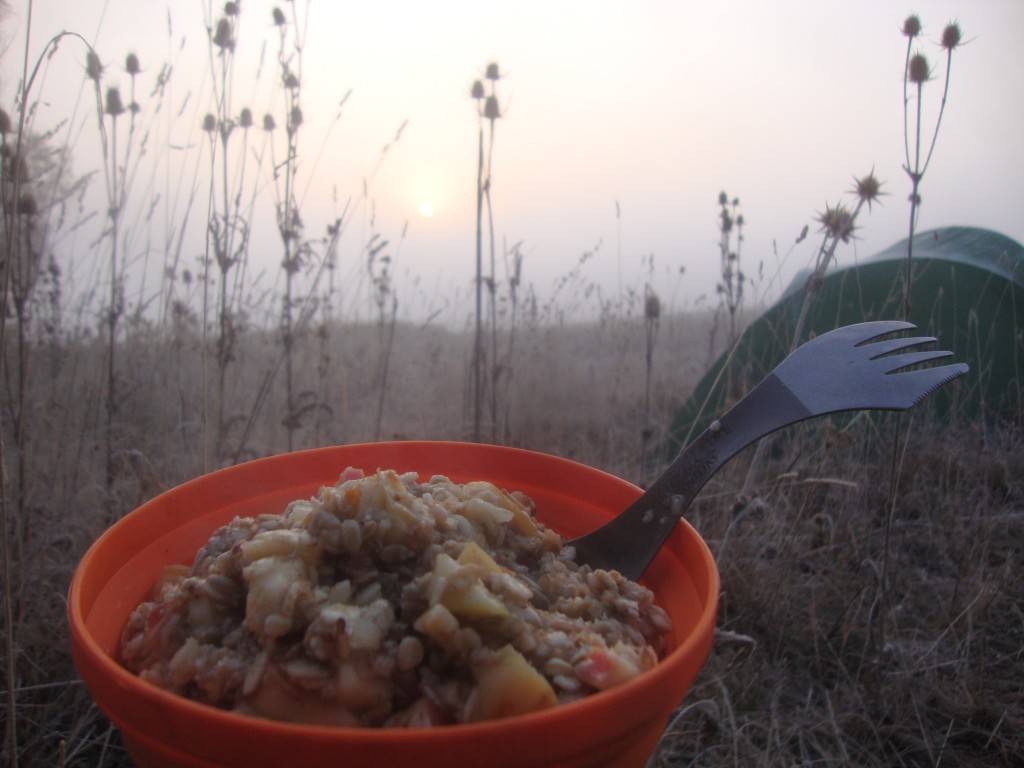 The following evening we stopped to fill our bottles at a roadside tap just before sunset and were approached by an old man from a nearby building site, muffled in several layers of jumpers and trousers against the cold. As ever, we somehow managed to have a conversation with almost no language in common, and within a few sentences he had invited us over to the half-built house, where the builders were just packing up for the day, and told us we could camp in one of its rooms.
There were no windows or doors yet, and barely any roof, but the building was still surprisingly warm, and we discovered that the room next to ours would be inhabited by an elderly security guard named Mile, insulated by a stack of cement sacks, and warmed by a large brazier. Once we had set up camp we paid him a visit, swapped beer for coffee, and exchanged a few sparse queries about each other's lives and families. Mostly we just gazed happily into the fire, delighted to be out of the cold mist that had begun to swirl around outside, and excited about having a whole house to ourselves (despite the lack of windows and doors) and an unlimited supply of water, and a warm chimney running up the wall next to my tent. I've stayed in a couple of five-star hotels in my life, but have never been so viscerally excited as I was by these simple luxuries.
The following morning the builders returned just as we were packing up. The man who'd invited us in the night before had brought a box of warm apple pastries from his wife, and we were also given a jar of honey and a bag of apples, and waved off anxiously into the morning mist, which gradually faded away as we crawled up yet another mountain pass to the border with Bulgaria.
The following day we finally arrived in Sofia, where I was due to pick up my replacement Kindle from the offices of one of Trek's distributors. (What it is to have sponsors…) I had no idea what to expect. Maybe it would be a massive warehouse full of bikes and bike parts, where they'd welcome me as a brother in arms and insist I camp out in one of their workshops. Or maybe it would be a soulless office where no one would speak English, and they'd be too busy to do anything other than just hand me the package and wave me goodbye.
As it turns out it was somewhere in between the two – except that, owing to a series of miscommunications and crossed wires, they had no idea who I was, or that I was meant to be collecting a package from them. I was very much reminded of my days as a courier, when I'd often arrive to pick something up, only to find that no one had any idea who'd booked the job, or where or what the package might be, and I'd get to drink coffee and clock up waiting time while they ran around making phonecalls trying to figure things out.
Except this time there was no paid waiting time, and the very real possibility that the Kindle was lost in transit, never to be found. There followed an inconclusive couple of hours where I tried chasing Royal Mail, my Trek contact and my father, and they wondered who this fetid tramp was cluttering up their offices and demanding to use their phones and internet.
But eventually we made friends and being bike people they were suitably impressed by my endeavour. I was offered a glass of wine and a multitool, and eventually one of the secretaries started making phonecalls, and tracked the package down to the local post office. I was driven over to pick it up in the company van, and then returned to the office before being given a hero's send-off.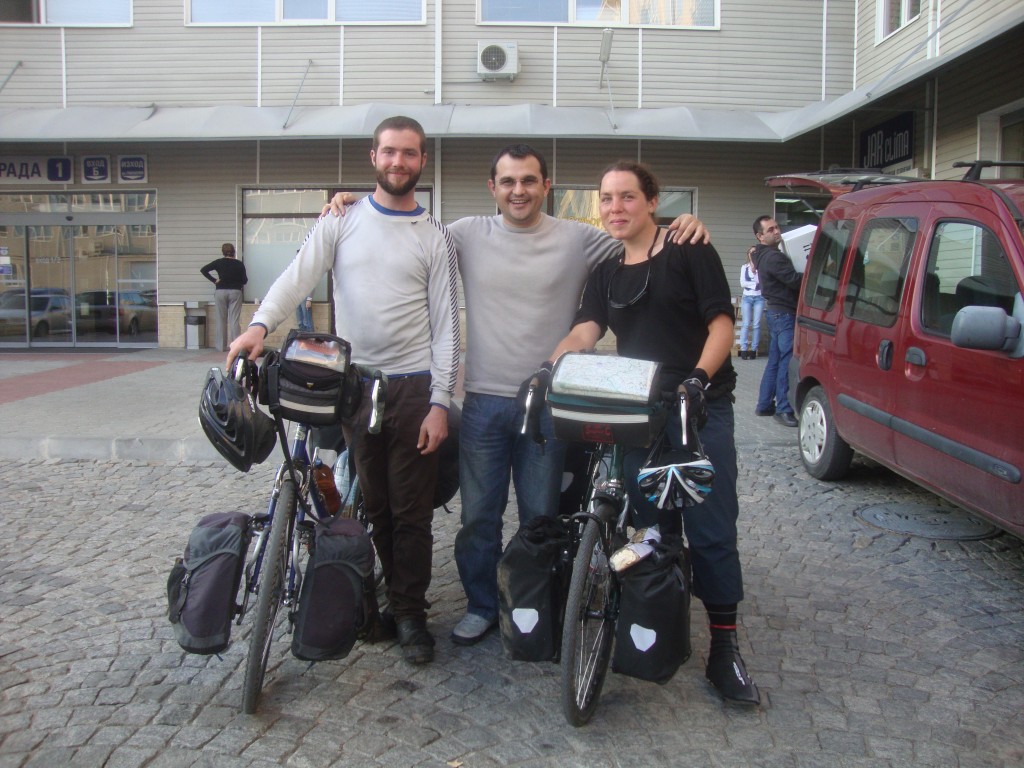 The Australian and I tottered off exhaustedly and found a cheap hostel five minutes down the road (where they gave us free dinner AND all-you-can-eat breakfast, which made it very much worth it as far as I was concerned), and the following morning I headed out alone to try and cover the 100 miles to Plovdiv before sunset.
And I've been here for the past few days, gladly and gratefully luxuriating in yet more Balkan hospitality. My lovely ex-landlord, whose house in East Dulwich I very happily inhabited until I left London, has put me in touch with colleagues of his here in Plovdiv, and since I arrived I've been fed, washed, accommodated and generally mothered to within an inch of my life.
I almost don't want to leave – but there are mountains to be climbed, and Istanbul's now less than a week away. I'll be back on the road tomorrow.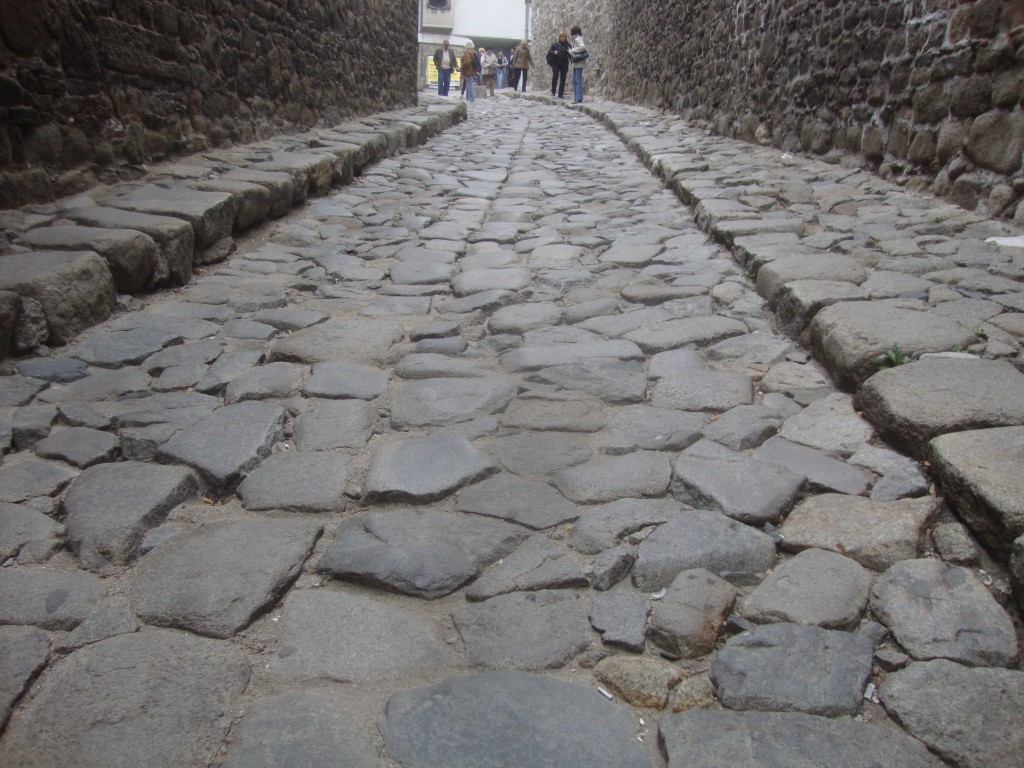 (But not this one.)