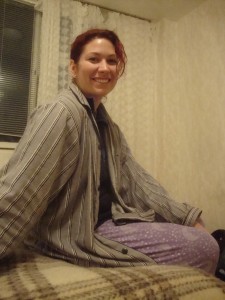 This is Jez. I met her in that hostel I stayed in in Sofia last week, and she very kindly invited me to stay with her in the small town in central Bulgaria, where she's lived for the past two years, teaching English with the US Peace Corps.
But unfortunately I had no plans to pass that way – my route through Bulgaria was to take me east to Plovdiv, then north to cross the Shipka Pass and visit the Buzludzha Monument (a massive concrete monument on top of a mountain, built to commemorate the formation of the Socialist movement in Bulgaria – there are some fantastic photos of it around, if you're procrastinating and have Google to hand), through the medieval capital of Veliko Tarnovo, and then east to the Black Sea Coast and Turkey.
So I reluctantly turned down the invitation, headed off for my pitstop in Plovdiv, and then, on Tuesday, rode north to Shipka, just on the edge of the mountains.
I'd had three days off, and done plenty of eating and sleeping, so I should have been riding like the wind. But somehow nothing felt quite right. I couldn't shake the tiredness, my stomach was complaining so much that I eventually had to stop eating, and my muscles were aching terribly. And my muscles never ache, not even when they're tired. I realized I must be getting ill. What bad timing!
I pitched my tent next to an abandoned sports field on the outskirts of Shipka, and spent a long, uncomfortable and mostly sleepless night watching my condition deteriorate. A couple of times I got up and walked slow laps of the field, hoping to stretch out my sore legs. It was a beautiful night, cold and clear and starry, and I could see both Shipka and Buzludzha monuments glittering on top of the nearby mountains.
But by 4am I knew it would be foolish to try and reach them that day, and was wondering whether I should limp all the way back to Plovdiv and try to cadge a few days' hospitality from my hosts there. And then it occurred to me – that nice American girl who'd invited me to stay lived less than 50 miles down the road – and what's more, it was a flat road, running alongside the mountains rather than going over them. I sent her an email, asking if she remembered me and if the invitation still stood.
By 7am she'd responded enthusiastically, and by 8am I was on my way. It was a hard day's ride. I was properly ill by now, shivering and headachey, and my skin sore and prickly. And, having barely eaten or slept, I had almost no energy. Three times I had to stop by the side of the road and sleep. Progress was slow, and painful.
But I managed to find the town, and Jez's flat, sometime in the afternoon – and, after submitting a brief apology, and assuring her that this was very out of character, curled up on the mattress she'd put out for me, and proceeded to sleep for the rest of the day, and the whole of the night.
Jez had to leave for a flight at 5am on Friday, and I was worried I might still be comatose by then, but luckily a Thursday of sitting, reading and snoozing did the trick (along with the superb dinner Jez cooked me that evening), and this morning I was well enough to climb back on the bike, ride through a couple of hours of snowy darkness, and then battle over a mere 700m pass to make it to Veliko Tarnovo, where there's a cheap hostel with lots of free food, and a very good outdoor and bike shop. So I'm going to take everyone's advice and have another rest day, as well as stocking up on winter clothes, bar tape and KMC chains.
But honestly – how do I keep finding all these guardian angels? And what would I have done without them? And how can I ever hope to thank them?
(And do I have unfinished business with Buzludzha?)