I'm told the Germans have a saying:
Guests, like fish, smell after three days.
It's a warning not to outstay your welcome.
But cycle tourists, of course, smell from the moment they turn up – which is why I'm all the more impressed and grateful that so many kind souls have taken pity on this sweaty, stinking, starving cyclist, invited her into their home at the end of the day, turned a blind eye to her bedraggled appearance and offered her such luxuries as FOOD, HOT WATER and a WARM BED.
I could write pages and pages about everything I saw and did as I crossed the Balkans, but I don't have time, so I'm just going to tell you about some of the lovely people I met. I'm sure that'll give you an idea of how wonderful it all was.
Montenegro
I left sunny Dubrovnik and headed down the coast to Tivat, watching the mountains get even taller as I rode into Montenegro, and knowing that the following day I'd be turning east and riding right over the top of them. I stopped in Tivat, where Fabien (the Frenchman who rescued me in Slovenia) had put me in touch with a friend of his.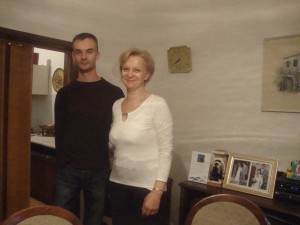 So I spent a happy evening with Dalibor and his mother, being shown photographs of the beauty that is Montenegro (and of Dalibor as a little boy once he'd gone to work the following morning), and felt like part of the family by the time I left, laden with lemons and tangerines and pomegranates from their garden.
And then I left, to ride up the 29 switchbacks that would lead me from Kotor, at sea level, over the top of the massive limestone cliffs that surround it, finally away from the Adriatic, and over the top of the pass into the new world of the Montenegrin interior. (Mountains unnerve me less now. I love the way the whole world changes around you every time you cross over a pass.)
Very little of Montenegro is flat, and most of it is nearly vertical. But it makes up for that with its extraordinary beauty. And finally it was autumn! Everywhere around me were steep slopes covered in a tapestry of gold and bronze and copper, with the occasional fiery flash of red, and the slow, winding roads up over the mountains gave me the perfect opportunity to enjoy it all.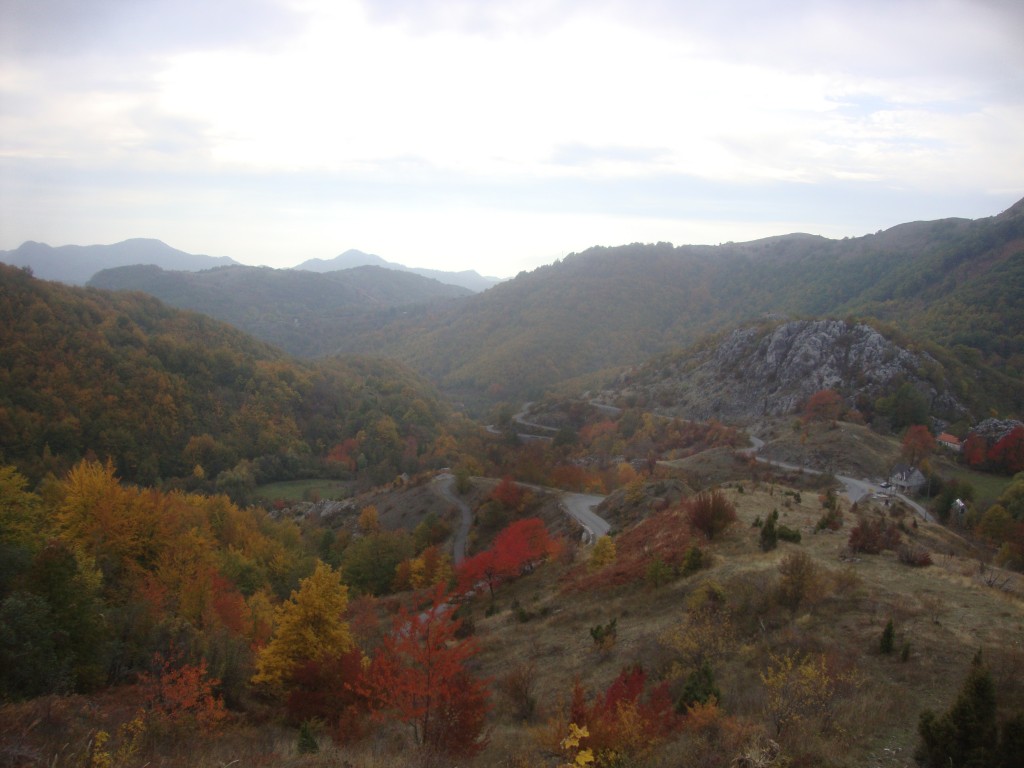 The following day I was battling up a long long hill in the blazing sunshine (still warm enough to make me sweat) and stopped to catch my breath at a hairpin bend halfway up, admiring the view of a railway line that emerged from a tunnel on the opposite hillside, crossed the valley on massive stilts, and then disappeared into another tunnel on the other side.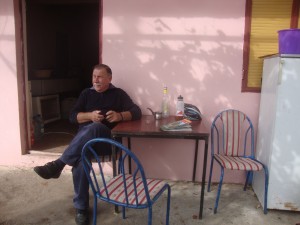 There was a house next to the road, and an old man sitting outside it, drinking vodka and watching the world go by. He noted my arrival with great interest, and eventually invited me to join him, and I spent a happy half-hour sipping coffee, discussing our respective families in the small vocabulary of English, German and Montenegrin we shared, and numbing my palate with his homebrewed vodka, hoping it would also numb my legs for the remainder of the climb.
The days that followed were beautiful, but tough. I was riding from sunrise to sunset, shivering through the frosty mornings, and then running with sweat by the end of the afternoon. Everywhere I passed there were people chopping wood, driving it down the road in trailers and piling it up outside their houses – a reminder that winter isn't far off.
Kosovo
The day I crossed into Kosovo was another glorious one, and I set out early to cover the mountain pass I'd chosen over the more trafficky border crossings in the valleys. My first climb and descent were accomplished before the sun had burnt the last of the mist from the valleys which meant I spent half an hour descending into freezing fog and then had to stop in a little local cafe for half an hour to coax the feeling back into my fingers.
And then – up up up! I didn't realize until I got to the top that this would be the highest pass I'd climbed yet. The road wasn't steep, but it went on and on, and up and up, winding its way across the lower hillsides, and then rising in switchback after switchback as it ascended the seemingly impenetrable wall of rock at the end of the valley.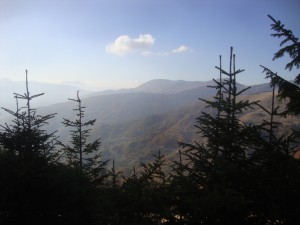 At lunchtime I lit my stove and boiled some water from a nearby stream for tea – and realized that I hadn't seen a car, or another human being, for well over an hour. As I rode up above the treeline, the view got better and better, and I looked back with awe – and a certain amount of pride – at the road I'd already covered.
And then, finally, I was at the top, level with some of the mountaintops I'd been admiring for the past two days, and blessed with a view over Montenegrin mountain ranges to the west, and down into Kosovan gorges to the east. I spent about 20 minutes up there, savouring the glow of triumph, eating chocolate biscuits, and knowing that I'd soon be dropping down out of the sun, and that the descent would be cold and challenging, with my muscles already exhausted by the climb.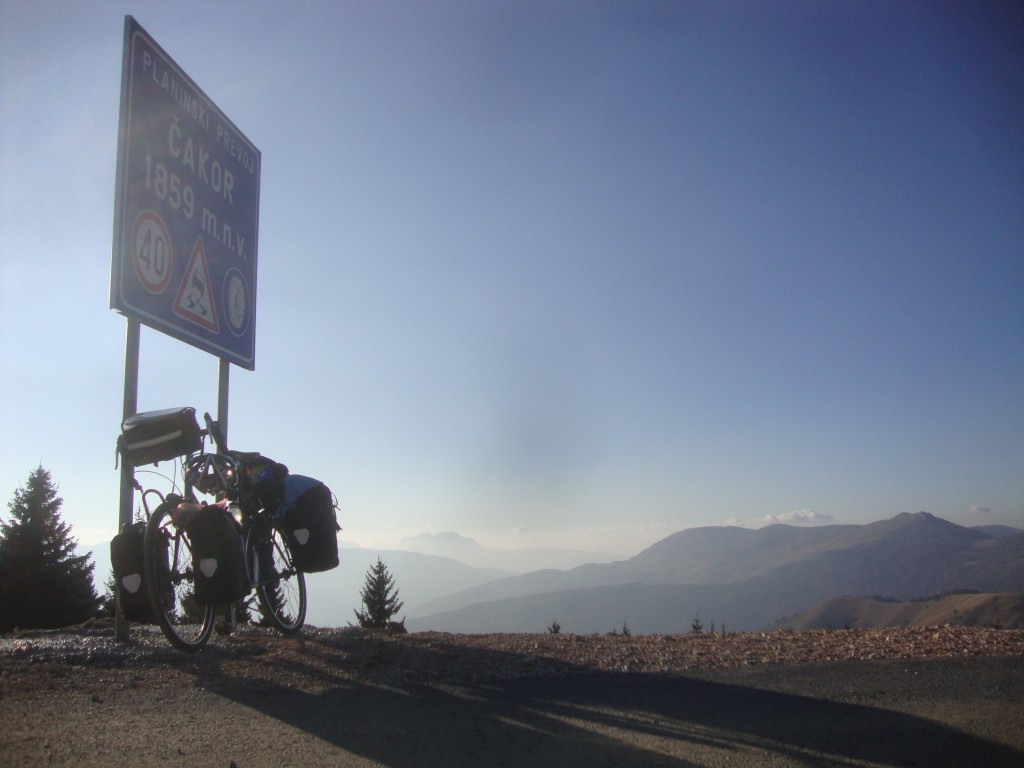 An hour later I was many hundreds of metres lower, riding alongside the river with towering cliffs riding up on either side, bristling with pine trees wherever they could gain a roothold, gazing wistfully at the last rays of the sun on the tops of the mountains, and wondering whether I'd make it to Peje in time to find a bed for the night, or whether I should just give in and pitch my tent somewhere in this gorge.
The border crossing had been non-existent – the tarmac ended, the road crumbled away into the river for a few metres, so that no car or motorbike could possibly get past (well, that explained the lack of traffic), and then a rough rocky track led a few kilometres through the gorge before the tarmac resumed on the Kosovan side. I'd felt extremely intrepid and daring as I bumped along the track, knowing that probably no one else had passed this way for days, but was slightly concerned that now I was in landmine territory, and should really stick close to civilization if I could.
So when I saw a cluster of buildings down on the tiny floodplain below the road, I headed down another bumpy track to ask them if I could camp there for the night. It was an out-of-season holiday resort – one big building with a hotel and restaurant, and a cluster of small log cabins and outbuildings. The only person I could find was an old man, who looked exactly like a Welsh farmer, and turned out to be the owner. He summoned a younger man who could speak English, and I asked if I could possibly camp somewhere on their land, secretly hoping that I might also be given access to running water and toilets
"Of course!" said the older man, through his translator, "Anywhere you like!"
I was cold, tired, hungry and desperate to rest, and this was the best news I could possibly be given. I broke into spontaneous smiles, and thanked them both profusely.
But there was more. After a brief conference in Albanian, the younger man turned back to me.
"My boss – he is worried you will be cold. He says he give you a room, gratis." And, so that there could be no mistake about this, "For free – no money."
I couldn't believe my luck. I wanted to hug the old man, but instead just shook his hand very very warmly, and thanked him in every language I could think of.
And then it all happened very quickly. The younger man wheeled my bike away and locked it in a garage, then carried my luggage up to a large, clean, comfortable hotel room, handed me the key and disappeared. I stood there for a minute, surveying my new kingdom, and teetering between laughing and crying.
And within half an hour my damp tent was pitched, my flysheet draped over the wardrobe door, my sleeping bag was hanging up to dry in front of the radiator, my appliances were plugged in to charge, and I was luxuriating under a hot shower with half my laundry and a large bottle of shampoo that someone had left there. I hadn't washed, or even taken my clothes off, for several days, and was amazed when I looked in the mirror to see that I looked much the same as I always do, give or take a few salty sweat stains on my face.
And a couple of hours later I crawled, naked, into the big double bed, spread myself out to all four corners the way you never could in a sleeping bag, and fell asleep with the feeling of clean cotton on my clean skin.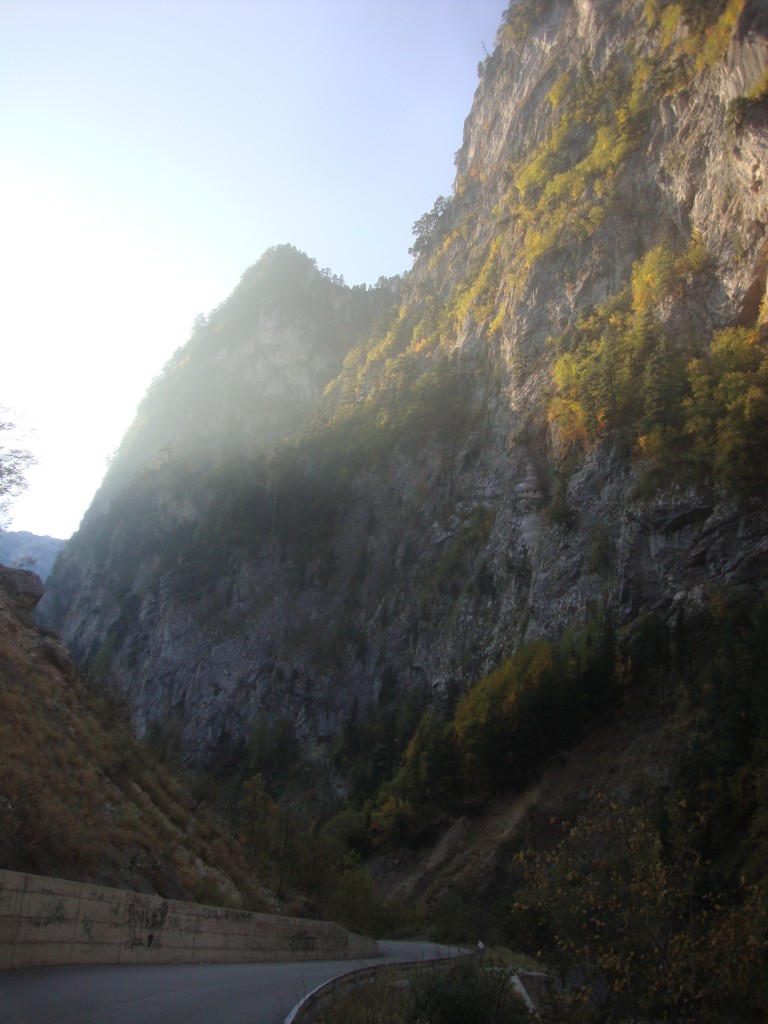 (To be continued.)