…or How A Journey Will Always Expand To Fill the Time Allotted To It.
So I sped into Slovenia with very little in the way of plans. My only deadline was that I had to meet a friend in Trieste on the 9th, which was still over a week away, and Slovenia's not a big country. It looked like I could probably ride across it in a couple of days if I really wanted to. So first I rode over to Bizeljsko, on the eastern border with Croatia, where a friend's parents had offered me a warm shower and a hot meal – this would be my first rest day since I'd left Munich, since when I'd crossed Europe's biggest mountain range (albeit not at its highest point), and I was determined to make the most of it.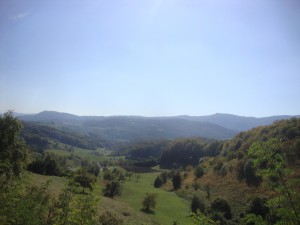 It turns out Slovenia is a glorious country of forests and mountains and vineyards and churches. It's already near the top of my list of places to come back to, and is a lovely place for cycling. The roads are, for the most part, quiet, well-surfaced, and deliciously hilly and bendy. There are none of those terrifying straight-up-and-down passes that I struggled with in Austria. The road will generally wind its way around the edges of hills, giving you plenty of switchbacks to catch your breath, and then fabulous views to take it away again. And one this I definitely prefer about hills – or mountains – is that you have a much keener sense of the progress you're making. Not only do you get to enjoy little moments of triumph whenever you reach a summit – you also feel like you've opened a new chapter of your journey every time you cross into a different valley. It's not like the vast lowlands of Belgium and parts of Germany, where a single landmark, like a tall factory chimney, might well be in your sights for most of the afternoon, making you feel like you're not really getting anywhere at all.
So I spent a happy (and sleepy) couple of nights with the Demsic family, being fed till I bulged and introduced to the local wine and honey schnapps, and then, on their advice, set off towards the Slovenian Alps, to see a bit more of the country before my rendezvous in Trieste.
A couple of evenings later, I found myself pootling along the banks of Lake Bled in northern Slovenia, after a blisteringly hot day's ride from Ljubljana (my first capital city since London, where I treated myself to a coffee in the market square and several bags of fresh fruit and veg that had probably been picked just that morning), where my excitement at the enormous rocky mountains I was approaching was somewhat diminished by how difficult they were to see through the heat haze and the rising dust. Apparently Slovenia hadn't had any rain for nine weeks, and it showed. I enjoyed swooping along some of the winding mountain roads of the foothills, but by late afternoon I was overheated, dehydrated, and looking forward to the cool night air once the sun had gone down.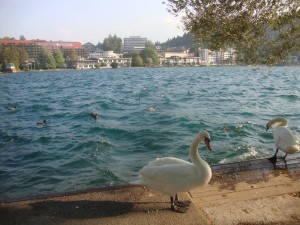 Lake Bled was beautiful, and apparently I wasn't the only one who thought so. As I rode along the promenade I encountered a steady stream of people – both tourists and locals – out on bikes and on foot, enjoying the last rays of the sun, and the the view of a church tower peeking through the trees on the lake's only island, overlooked by a medieval castle perched on a rocky outcrop, high above the town. I passed a man of about my own age, riding a mountain bike alongside a tiny boy, on an equally tiny bike, and slowed right down to let them pass, knowing from experience that small children are prone to sudden and unexpected changes of direction. We exchanged smiles and, indicating my panniers, he called out,
¨So are you cycling across Europe?¨
¨No – around the world!¨ I replied, feeling the fraud I always do.
This predictably piqued his interest, so we stopped for a chat, and he asked me about my plans for the next couple of days. When he heard that I was planning to ride over the 1600m pass between Kranjska Gora and Bovec he sucked his teeth in alarm, and asked if I knew about the torrential rain that was expected that night. I was aware that the weather was due to change, but was almost looking forward to it. I had a bag full of winter clothes that hadn't yet been used, and was starting to think that the whole trip so far had been a bit too easy. He was less optimistic, and told me that he had spent years working as a trekking guide in the area, and knew that there was likely to be snow on the highest passes that night, and strongly recommended I consider a different route. We looked at my map together. I was hemmed in by the Alps – there was no way to Trieste without crossing them, or travelling all the way around them. He suggested a slightly lower pass to the east, which I could ride part of the way up and then take a train over the top – but this, of course, was against The Rules. Otherwise, my only option would be to backtrack, possibly as far as Ljubljana, and then ride along flatter roads to the coast. I wasn't keen on this. He wished me luck, and went on his way.
Later that evening I was sitting outside my tent in a campsite next to the lake, watching the sun sink behind the mountains, and still warm enough not to need anything more than a baselayer, when a cyclist went past, and halfway through nodding hello, I realized it was the same man. He had come looking for me, to offer me somewhere to stay if I thought better of my plan to ride to Bovec and wanted somewhere to shelter while the worst of the weather subsided. I had just been through my bags and laid out my clothes for the next day – digging out all my waterproof kit for the first time – and was starting to feel properly nervous about what lay ahead, even though I knew I could do it, and also that there would be much greater challenges further along the road, and I had better use this as an opportunity to toughen up. So, although I was touched and grateful for his offer, and happily exchanged contact details, I assured him I was extremely unlikely to be taking him up on it, because I had to be in Trieste by Sunday. We chatted outside my tent for a while. As a fellow outdoorsy type he was extremely interested in all my kit, and I was equally interested in how a Frenchman – his name was Fabien – had ended up in this remote corner of the Slovenian Alps. It turned out he'd been working as a guide in the Balkans for the past decade, and when he came across Lake Bled a few years ago, he simply fell in love with the place, and has been here ever since. He told me about a trip he'd made into the mountains over the last couple of days, to look for the bears who apparently still live there (he didn't manage to find any, but had pictures of their pawprints, with fearsome-looking claws). And then we said our farewells and I settled down for my last night of dry weather, even though it seemed impossible that this beautiful sunny weather could be about to end so abruptly.
But it did. Before I went to bed, clouds had started to drift across the night sky, covering the stars, and I was woken several times in the night by wind and rain lashing against the tent. I woke up early, and stayed huddled in the sleeping bag for half an hour, savouring the last few moments of warmth and dryness, before plunging out into the deluge, strapping my sodden tent to the bike, and setting off into what would have been the dawn, my waterproof trousers swish-swish-swishing against the top tube of the bike.
It was the worst weather –  and the most challenging landscape – I'd seen for a long time. I struggled up steep hills at what felt like less than walking pace, sometimes with the rain blowing so fiercely into my eyes that I could barely see. Strong headwinds meant that even going downhill I had to pedal along in a low gear, and sometimes I feared I'd be blown off the bike into one of the gorges I was skirting. Although it was no longer dark, it never really got light – the clouds were just too heavy and low – so I rode along with my puny LED lights flashing hopefully into the rain and mist, hoping that the traffic would be going slowly enough to spot the soaked cyclist battling along into the weather.
Within an hour I was soaked to the skin. It turns out my faithful Swrve hoodie, which has kept me warm and dry through three courier winters, and which was lovingly reproofed before I left, no longer keeps the water out, so it looks like I'll have to sort out an alternative before I hit any more Weather. And just to make it the perfect storm, my rear brake pads suddenly wore out, which I discovered, to my alarm, as I descended a steep hill and found I was unable to stop, no matter how hard I squeezed both levers.
I had planned to make it to Kranjska Gora (the start of the climb) and decide there whether to carry on or turn back, but in the end I made the decision about halfway there. I was already soaked and freezing, my brakes were barely functioning, and I had a climb ahead of me that would be harder and higher than any I'd done so far. Although I was still full of energy and in good spirits, it didn't seem likely that this would last all day, and it felt like a very bad idea to risk running out of power, food, daylight or brake pads somewhere out in the middle of nowhere in the pouring rain.
So I turned back. And yes, I hated myself for doing so. I felt like I'd failed or, worse, that perhaps I could have crossed the mountains easily, and had just chickened out through laziness or cowardice. But as I'm sure many explorers will reassure me, sometimes turning back is the right decision. It doesn't mean you've failed. It might well mean that you live to fight another day. I told myself all this repeatedly as I battled back through the rain towards Bled. It took over two hours, during which I passed an annoying road sign that informed me that bicycles weren't allowed on the main road, so attempted a detour that took me two miles down a 20% road to the bottom of a gorge – which turned out to be a dead end, so I had to come all the way back up again. (At least I learned that I can cope with 20% gradients fully loaded, in the rain, which was probably my only triumph of the day.) In the end I just ignored the sign and followed the road. Nothing bad happened.
And then I was back in Bled, following the map the Fabien had drawn me to help me find his house, and hoping fervently both that I'd find it and that his invitation had been genuine. Thankfully my fortunes started to look up. He rode past me on his mountain bike, and seemed almost as delighted to see me as I was to see him.
And within minutes I was in his warm dry flat, being handed a towel and pointed towards the shower.
¨What time did you start this morning?¨ he asked.
¨Ummm. About 7.30? What time is it now?¨
He offered some French expression of incredulity.
¨I think it's time for some food and some wine!¨
So we spent a happy afternoon demolishing risotto, red wine, really good French cheese and a bottle of chamomile schnapps someone had given him. And then we got out all his local maps and planned me a new route over the mountains, that would easily get me to Trieste in the two days I had left.
And then, incredibly, the rain started to ease. Within an hour it had stopped altogether, and gaps had started to appear in the clouds, through which massive vistas of snowy white mountains could be seen. We opened the window, and the air was cold and crisp and smelt like winter – already the sticky, balmy, dusty heat of the previous day felt like a distant memory. In the space of a few hours, summer had ended and winter had begun.
Shards of sunlight started to break through the clouds, and we finally gave in to our urge to be outside again, rushing downstairs, flinging ourselves into his van like firemen when the alarm bells ring, and roaring off to go and look at it all. I've already written far too much here, so I'll put some photos in the next post for you to look at.