So far cycle touring has been a relatively solitary pursuit for me. This all changed a week ago, when I was joined for the Trieste-Dubrovnik leg by a friend from Ireland. I was slightly nervous that my hermit-like self would struggle to live in such close proximity with someone else for more than a few hours, but luckily I've managed to rearrange my living habits and share my tent without too much difficulty, and she's been very tolerant of my whimsical and time-consuming habit of finding my way out of cities by just riding around in circles until I accidentally end up on the right road.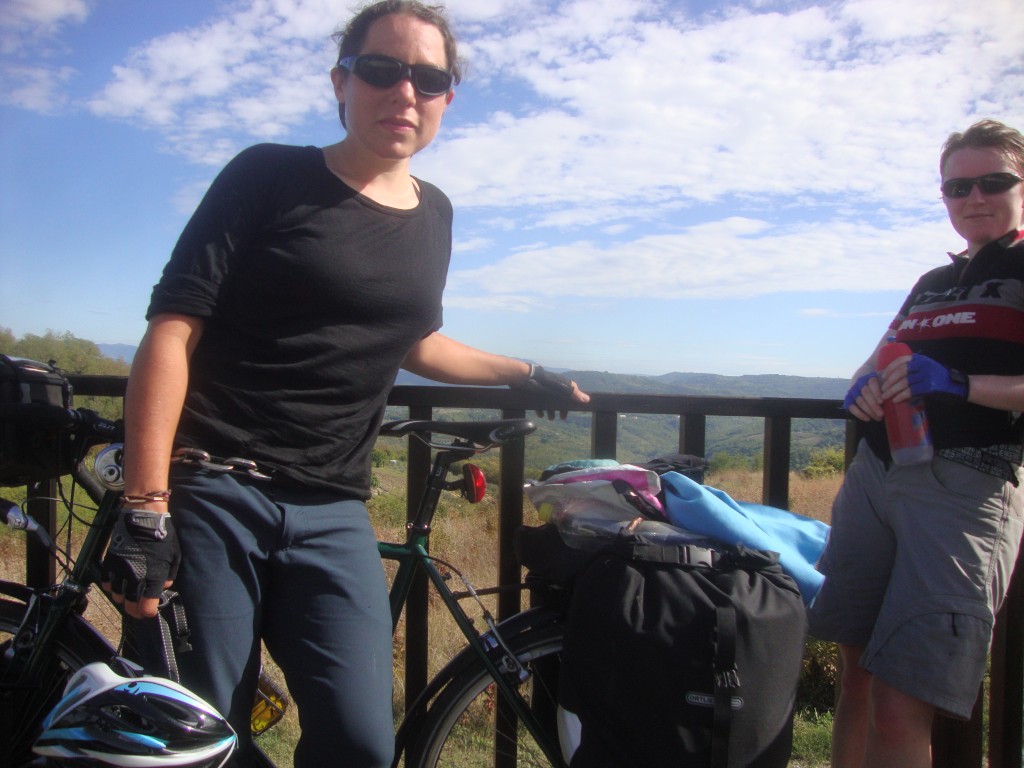 Until now I'd only crossed paths with one or two other cycle tourists, but it seems the Croatian coast is bristling with them. On the island of Krk we picked up a very well-laden German called Oliver, and rode with him as far as Pag.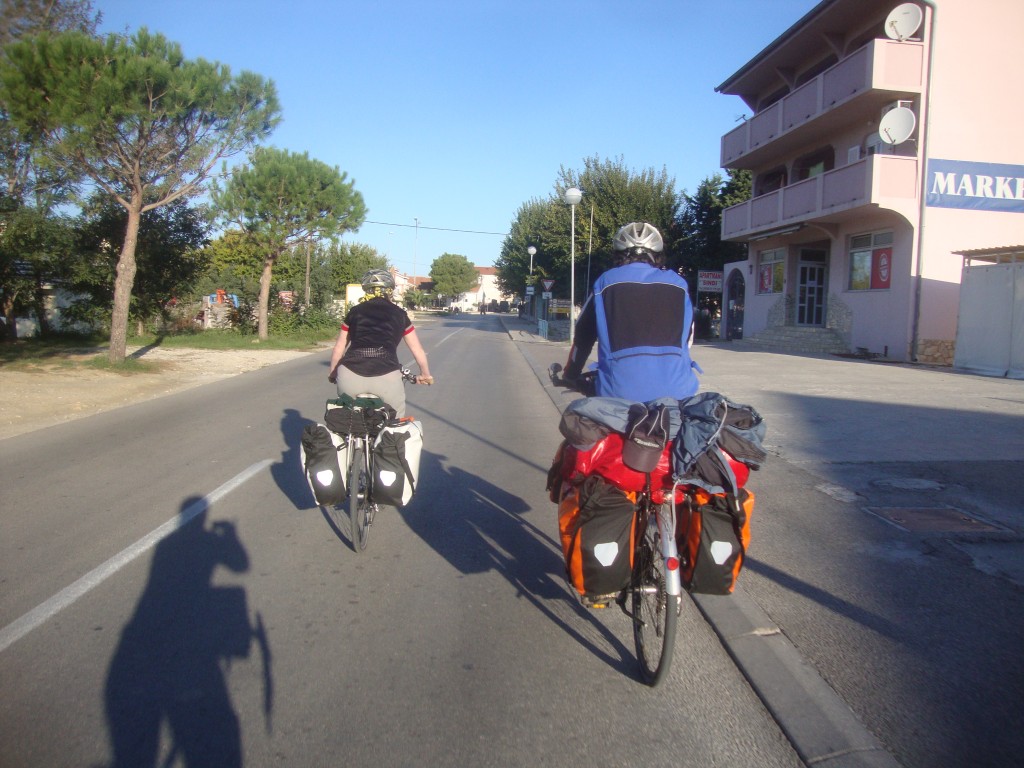 Shortly after bidding him farewell we were hailed by a couple of American men in their fifties, going in the opposite direction, who eagerly plied us with advice for the road ahead, and cycling touring in general (they were travelling with barely any luggage – ˝there's this thing called a credit card…˝). We all posed for photos in every different permutation, and with everyone's camera except mine, which had run out of battery. I'll try and update in due course.
They told us there was a Swiss couple a few miles up the road, and sure enough, half an hour later, we roared past them, only to be overtaken once more when we reached Zadar.
Cycle tourists are so rare, that when you see another dusty, four-panniered bicycle on the horizon, or parked in a campsite, it's like spotting a long-lost relative, and you?ll instantly find yourself drawn into a long and enthusiastic conversation of where you've come from, where you're going, what disasters have befallen you on the way (usually very few), and the minutiae of every single different piece of kit you're carrying.
We stopped for coffee in Zadar, trying to figure out what to do about my Kindle, which we'd just discovered had a cracked screen. And within minutes we were approached by a smartly dressed Korean couple who, it turns out, were cycle-tourists themselves. I could hardly believe it – they looked immaculate, and we were still steaming with the sweat and dust of two nights' wild camping and three days'  riding.
But they were – and what's more, they were veterans, with rides through Australia, New Zealand, South East Asia and Africa under their belts, as well as being actual celebrities in Korea, with several books and a TV series to their name. (Their website doesn't seem to be working at the moment, but here's a link, just in case it recovers.)
They'd arrived in Zadar a couple of days previously, and immediately been approached by a chap who runs a sort of DIY bicycle community co-op place, who invited them to stay there, and who, when he turned up a few hours later, also invited us to stay there. And I felt instantly at home. It was a big, brightly painted room, with bookshelves at one end, a work bench covered in tool and miscellaneous bicycle parts down one side, and piles of zines and pamphlets and anarchist stickers in several languages (just the thing when one's kindle no longer allows one a bedtime story).
We slept long and well, and I'm now overdue my breakfast. Plus, I must sort out a replacement for my kindle and perhaps consider getting on the road again, since my friend has a flight to catch in Dubrovnik in six days.