OK, OK, so I'm getting a bit behind with my reporting. I've been pretty spoilt so far, staying with friends every couple of days in Germany, all of whom were happy not only to give me the use of their spare bed, larder and washing machine, but also to leave me alone with a laptop for a few hours, to update you on my adventures. But I've been out on my own for the past week or so, and too lazy, tired or clueless to find an internet café.
My apologies. I'll try harder in future. And in the meantime, here's a brief summary of what I've been up since I left Munich.
I rode to Salzburg, and almost sang with joy at my first sight of the Alps. There are real cycle couriers in Salzburg, and they look highly incongruous, darting and skidding in and out of all the cobbled streets and historical buildings. I followed one for a while – a skinny chap with a mohawk, a stickered track bike and a worn-out sprocket dangling from his bag, but he spotted me, and clearly wasn't in the mood for making friends, because he disappeared down a busy side street, where I couldn't follow him because of my bags.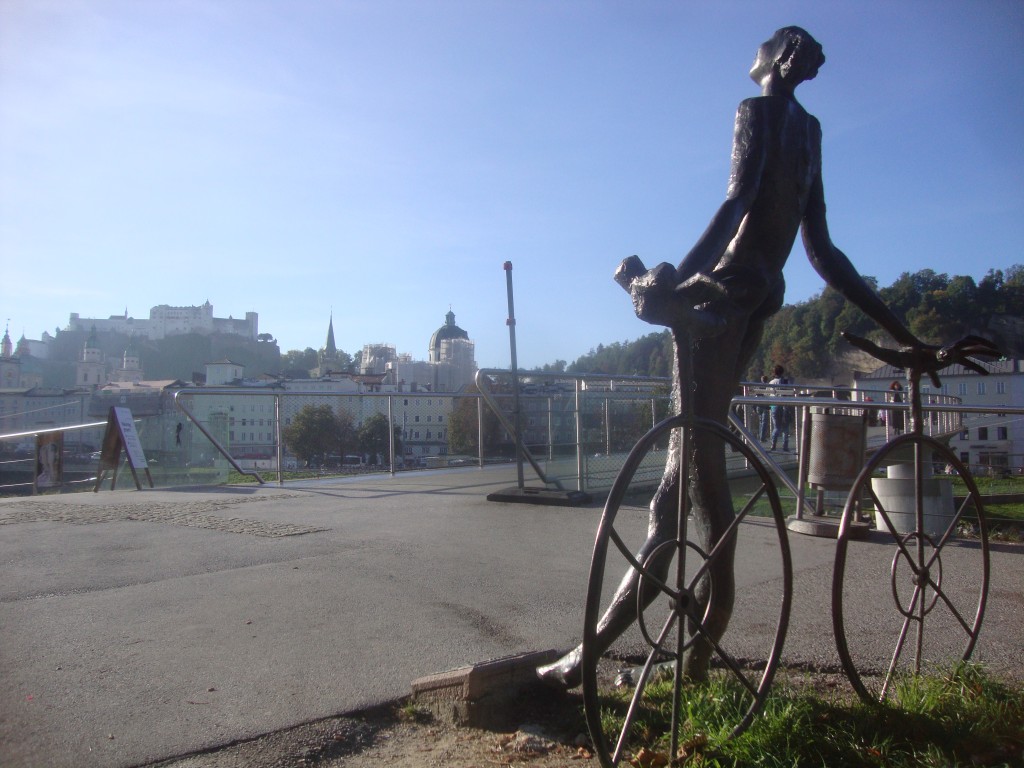 And then I was into Austria, and tackling my first serious climbs. The views were worth it – and, amazingly, the weather was still gloriously hot and sunny, even though by now we were almost into October.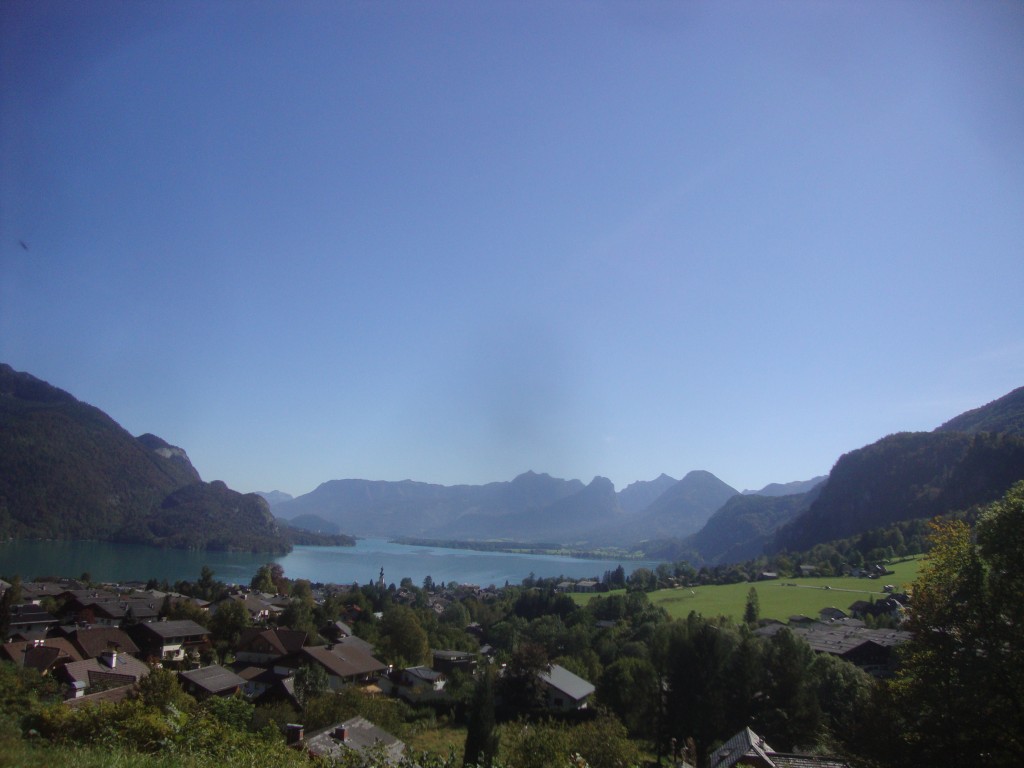 Every morning I'd wake up to thick white mist and a tent soaked with dew – and then, sure enough, as soon as the sun made it over the hills (sunrise happens a lot later here, because the horizon's so much higher), my skin would start to sizzle and drip with sweat, and when I stopped for a snack I'd spread the tent out on the grass and it would be dry within ten minutes.
To my surprise, I found that the new landscape made me slightly nervous. I've always loved mountains, but somehow, as I rode over the first massive ridge that led me out of Salzburg and away from Germany, I had the sense of there being no return, and of being very slightly trapped among these massive rocky outcrops, a very long way into the continent, a very long way from the sea. As I rode through villages, I found myself wondering how their inhabitants coped with the isolation, and with being so cut off from the world. Silly really, given that I was brought up in an area that many would consider similarly isolated.
But it occurs to me that I'll probably always feel most comfortable in landscapes that are reminiscent of the rolling hills and valleys and almost-mountains of Mid Wales. And also that this sense of awe is one of the things I'm travelling for. I look forward to the slight terror I'll feel as I approach the Himalaya or, many many months from now, the Tibetan plateau or the great plains of North America. As a Briton, I'm not used to being more than a couple of hundred miles from the sea. And yet, when I lived in the UK, I very rarely went to the coast. And when I lived in Delhi, I never felt this sense of fear, or perhaps you'd call it unheimlichkeit, even though I was further inland than I'd ever been. This, I suppose, is because I never had as acute a sense of where I actually was, geographically, because I hadn't made the journey to get there – I'd just sat on a plane or a train, and daydreamed while someone else propelled me forward.
Curiously, I find it very hard to wrap my head around the fact that I have come all this way – from Wales and Wiltshire and London – on my own, by bicycle, covering every inch of the route under my own steam. I just can't summon the sense of scale and achievement I think I ought to feel. In my head, there's very little connection between the Brecon Beacons and the blue-gold clouds of Flanders and the vineyards of the Rhein and the scorching climbs of Austria, despite their all being part of the same continuous journey. But perhaps this deeper engagement with the landscape is one of the more subtle symptoms. Its differences don't always strike me outright, but they often quietly unnerve me, sometimes without my even realizing it.
When I was a courier, I gradually learned to recognize the ways in which my mood would be affected by all the little trials of the job – bad traffic, no work, physical fatigue, cold, heat, rain, other people's bureaucracy. Perhaps, in my new employment (if that's what you could call this), I'll have to learn a whole new set of influences, and the changing landscape must, inevitably, be one of the most significant.
To finish off my update: I crossed from Austria into Slovenia and, on my first morning in the country, found myself riding through rocky river valleys that reminded me everso slightly of the Wye Valley, which I'd soared along on the first morning of the ride, exactly a month previously. I'd known very little about Slovenia before I arrived, but I felt instantly at home.