It couldn't have been better.
I was worried about all sorts of things. I assumed that saying goodbye to my family would be one of the most harrowing experiences of my life (it wasn't), and was very concerned that I'd set myself too hard a target for the first day (Llanidloes to Newport is about 90 miles, via the Brecon Beacons), and worried that I'd have lost a lot of my fitness, since I've barely ridden my bike for about a month (I was deliberately taking it easy, to give last month's stupid knee injury a chance to recover). And I've been ill for most of the past week, and I'm not used to riding such distances with this much weight on the bike, or with such low gearing.
It seemed very likely that the going would be slow, or painful, or both, and I left at 7am, so as to give myself as much time as possible.
And I needn't have worried. It was a beautiful clear day, and as I set off the sunshine was just starting to creep across the tops of the hills. The air was crisp and autumnal, and there was thick white mist lying in the valleys, waiting for the sun to rise high enough to burn it off. The first few miles were a steady climb up to Llangurig – one of those annoying inclines that looks flat, so you curse along at 7mph, wondering why it is you're so slow, and worrying that you've forgotten how to ride a bike.
And then I turned left at the top of the Wye Valley, got my second wind, and spent the next few hours soaring along smooth, quiet roads, skirting the edge of the valley, with the river to my right, overlooked by massive rocky heathery crags, watching the sun break through the early-morning haze and fill up the valleys, filling my lungs with the scent of damp leaves and pine needles and the fruity whiff of roadkill, and singing at the top of my voice.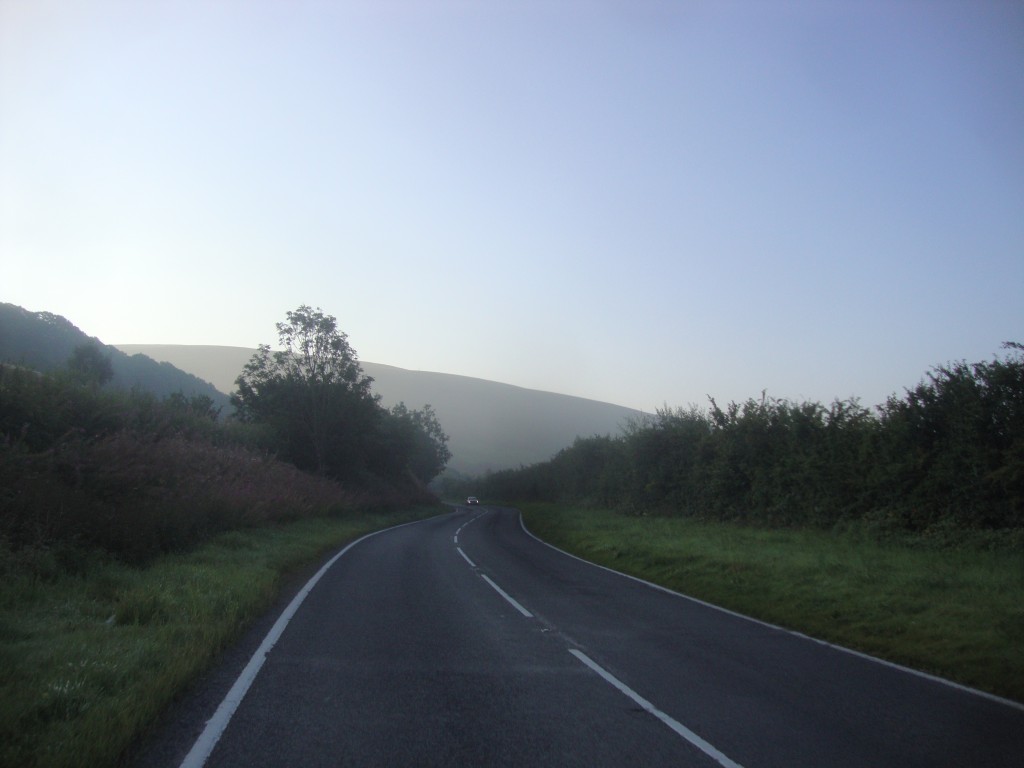 My mother drove past me on her way to work, an hour or so into the ride, and said later that she couldn't believe how far I'd got already. Apparently I was charging along like a galleon in full sail.
This must have continued, because at 12.45 I found myself in Abergavenny, looking at a road sign that said NEWPORT 18 MILES, and wondering how I'd managed to come so far, so fast. I doubt this will continue, but it's a very encouraging start.
And I rode the whole way with a smile on my face, remembering how much I love the bike, the road and the sky. This was a good idea. Thank goodness.