I'm still in Munich, rediscovering the joy of riding around a city with no particular aim or destination. One of the friends I'm staying with tells me that if you're lost, or trying to get your bearings, the best thing to do is to walk around in circles, or spiral out from a single point, because that way you'll get a much better perspective on where everything is in relation to everything else than you would if you just strode hopefully off in a straight line.
I tried it, and it worked.  Over the last couple of days I've been going nowhere in particular, just pootling along through Munich's parks and squares and sunny tree-lined streets, crossing the same bridges time and time again, doing laps of the Englischer Garten and Theresienwiese (which is currently bulging with the tents and fairground rides of Oktoberfest, and emitting a steady stream of unsteady revellers in lederhosen), following my nose through the old city, and gradually making the place my own – much as I imagine my old housemate's cat was doing when she moved in, and spent a whole morning just walking from the hall through into the dining room, pausing for a moment by the window, and then disappearing behind the armchair, over and over again. When I told my (cat-obsessed) controller about this, he said she was probably just calibrating her internal GPS.
I've been here less than a week, but every time I ride up the long curving hill to the flat where I'm staying I recall my first night here, when I followed Farid home on his Brompton after meeting outside the old town hall in Marienplatz, and the following night when I rode home alone on my unladen bike, tipsily but successfully, after my introduction to Oktoberfest, and last night, when three of us rode back together, with not quite enough lights between us, and the night air was still so gloriously warm and fresh that we talked about staying up all night and riding to Salzburg for breakfast. Just as I did in London, I'm layering memories over memories, day after day. This is what gives each street its character, and why any place will look different after a few months from how it did the very first time you saw it. Because, back then, you didn't know what lay around all the corners.
I was worried – or perhaps just concerned and curious – about what would happen on this trip, now that I'm mostly going to be riding in a straight line rather than in circles. I knew lots of London's streets and parks intimately, and would watch the leaves change colour day by day, and notice how the shadows fell differently as the days shortened, and how the light changed with the seasons. I'd sometimes sit in a square in the summer, watching people sunbathing and picnicking, and remember how, a mere six months ago, it had all been under snow and ice, and I'd been the only one there, shivering in a corner. I still assume I'll find other ways of experiencing and appreciating the places I pass through, but maybe from time to time I will need to stop, and orient myself, like I have in Munich.
I've also realized, or remembered, that I'm terrible at being a tourist. I'm neither organized enough to get myself to all the sights of a city, nor diligent enough to study them for the requisite amount of time, photograph them from all appropriate angles, and pay attention while someone tells me about their historical and cultural significance. When I was riding along the Rhein, I eventually gave up stopping in all the picturesque little villages. They looked just as pretty from the bike as they would from the pavement, and there are probably already millions of identical photos of each building. I was much more excited by the comparative wilderness I found when I rode over the hills. What I'm trying to say is – tourism bores me.
I would rather just wander. I probably haven't ticked off as many of Munich's famous landmarks as I ought to have, but I've found lots of little hidden corners and odds and ends that probably almost no one knows about, which consequently makes them feel far more like a personal discovery. I had places like this in London – little tiny squares and gardens and monuments and sculptures tucked away in the city, that wouldn't be worth making a special trip to see, but which are a rare delight when you stumble across them on your way to somewhere else. I'd often keep them to myself, and not tell any other couriers about them, so I'd be assured of a bit of peace and quiet when I wanted it.
In the streets west of the Englischer Garten I found all sorts of little flourishes, like this: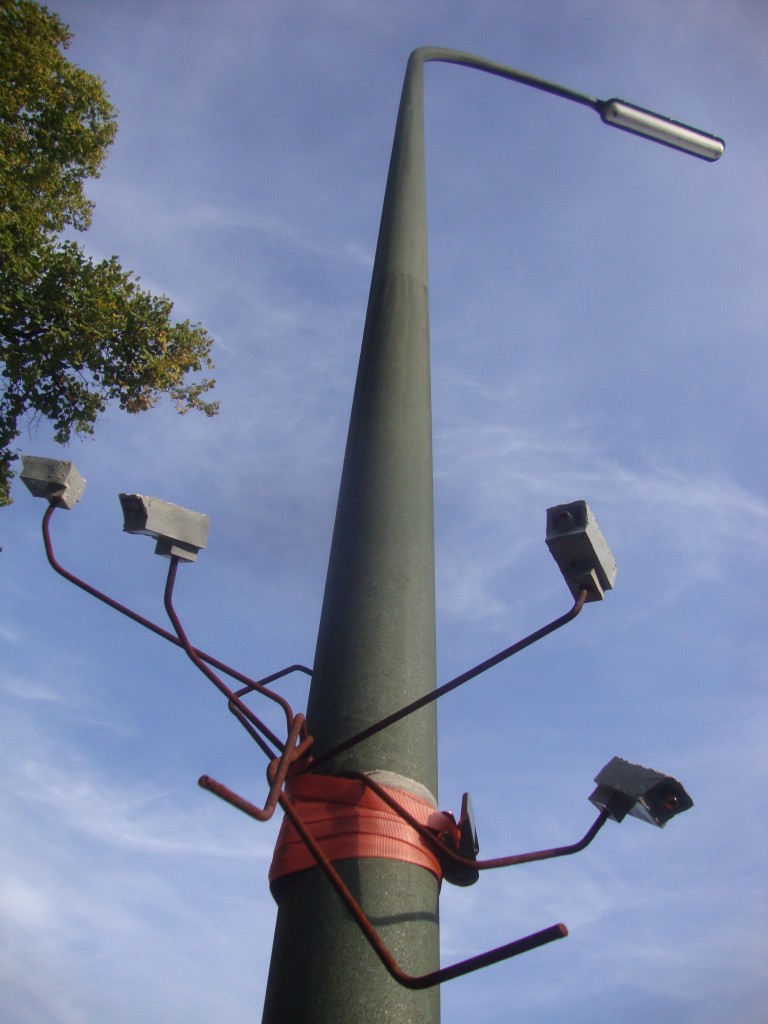 And this: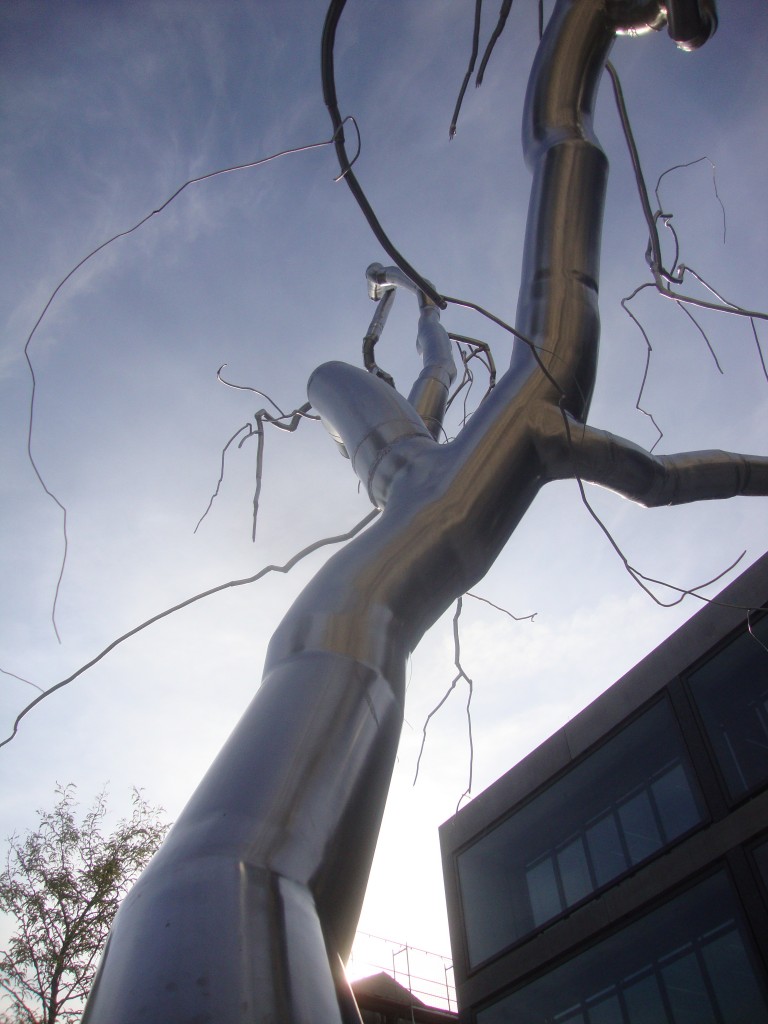 And this: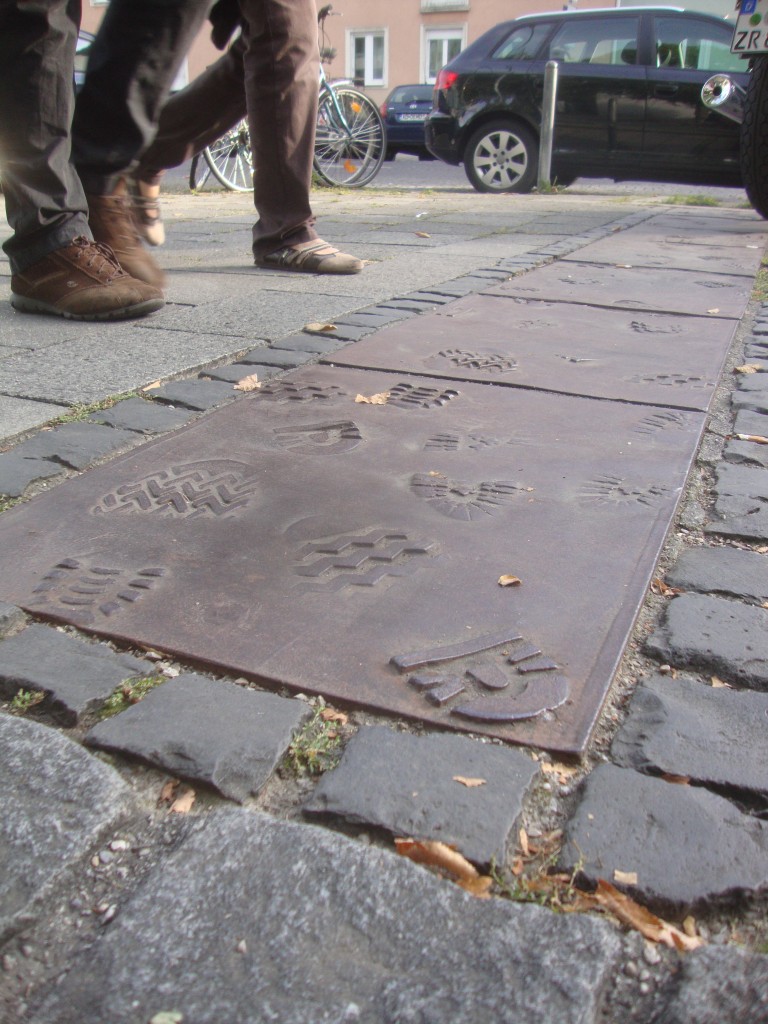 And look at this! (Very old bicycle in the Deutsches Museum.)