And now I'm in Frankfurt. Getting here wasn't entirely straightforward.
"It's just straight down the Rhein and turn left at Mainz," advised my friend in Koln. "Keep the river on your left, you can't go wrong!"
So I did. I left her apartment at 5.30am, rode through the empty streets to the banks of the Rhein, and started out along the cycle path. (The cycle paths in Europe so far are by and large excellent – well surfaced, well signposted, well designed, and pretty much everywhere you want to go.)
At first I was stumbling along through the pre-dawn twilight, passing the occasional super-keen commuter or jogger, but mostly on my own. Then the sun came up.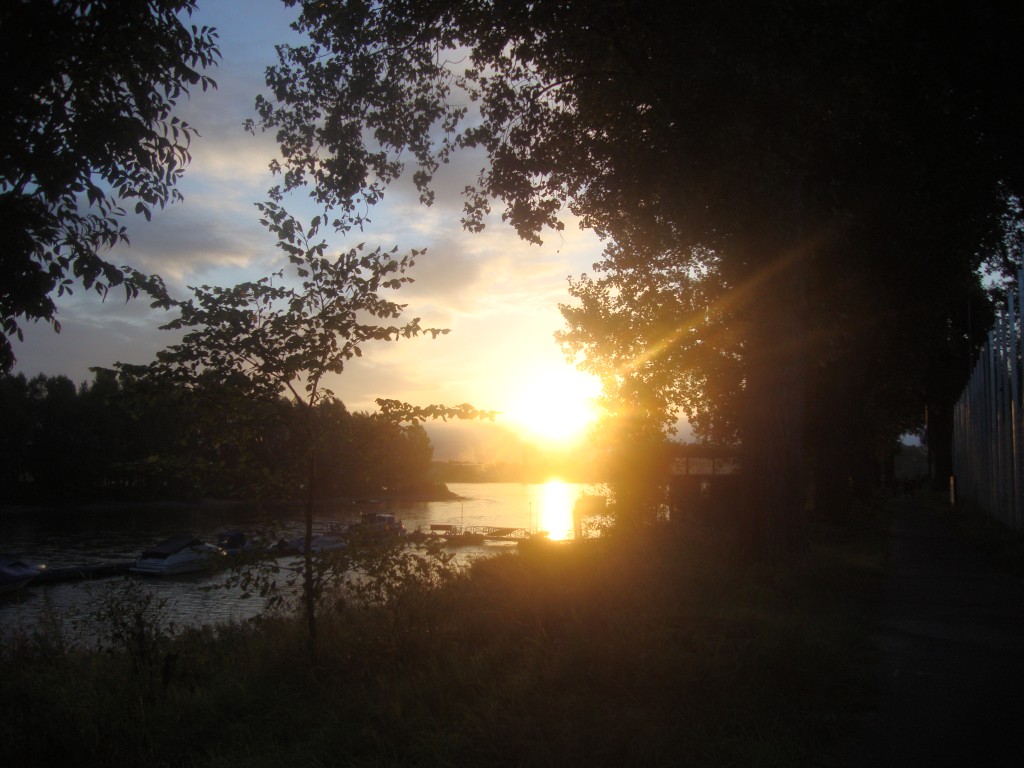 It was a glorious day.
And – oh my god – you have to go for a cycling holiday along the Rhein. It's paradise. A beautiful river valley, with steep wooded sides and the occasional castle, perched on a rocky crag or peering through the trees. There are biergartens every half mile or so, and when I got a bit further south I started to see my first vineyards. I'm already vowing to come back sometime in my early middle age, and spend a happy fortnight wobbling from winery to winery, eating sausages, and staying in all the guesthouses along the way.
But then…
Sometime after lunch, following an hour or so of feeling vaguely disjointed, and not really recognizing any of the names of the towns I was passing through (but not being unduly worried, since the river was still, after all, on my left), I happened to look at an information board in a village I was passing through, and found out that the river on my left was no longer the Rhein – it was now the Mosel. Somehow, when the two rivers met at Koblenz, I had managed to follow the wrong one. Curses.
I consulted the map. I was now several miles west of the Rhein, and in another river valley with very steep sides. It never even occurred to me that I could backtrack. I rode a few miles until I found a bridge, then took a deep breath and set off to ride over the top.
And within minutes I remembered how much I love climbing, and realized that I had actually been slightly bored with charging relentlessly along the valleys. I geared down and got into the rhythm of the climb. When I first started riding this bike I found that I could no longer stand up on the pedals and honk my way up the hills – the extra weight I'm carrying made the bike sway and wobble so much that this really didn't feel efficient, or even all that safe. But I must have adjusted my body and riding style to the bike over the last couple of weeks. Now when I ride it unladen it feels like there's something wrong with it, but when it's carrying my four panniers, tent and barbag, I can dance on it the way I used to on my track bike. I'm intrigued to know which new muscles I must have developed to be able to do this.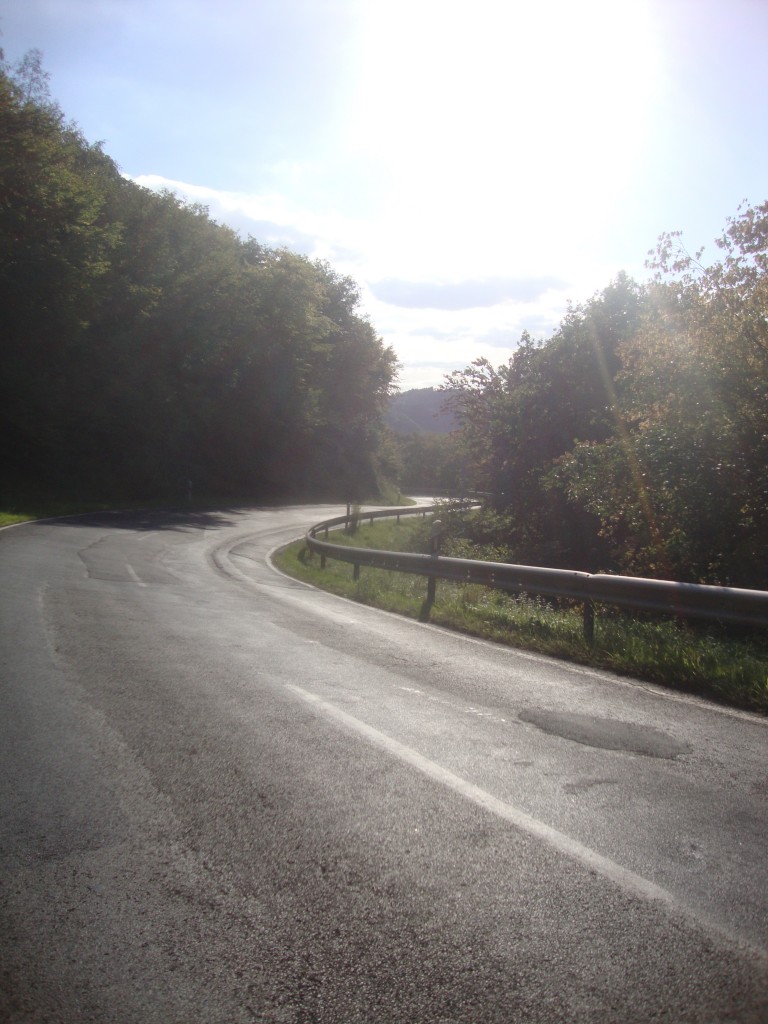 It was my first proper climb on the Continent, and what a beauty it was! The afternoon sun was blazing down on me, I could feel the heat prickling on my face, and see the sweat pooling and running down my arms, and my legs and lungs were burning deliciously. I stopped being afraid of the Alps. And as I rounded the final hairpin bend, and the summit drew into sight, I saw a view that easily surpassed all the touristy postcardy scenery of the Rhein valley.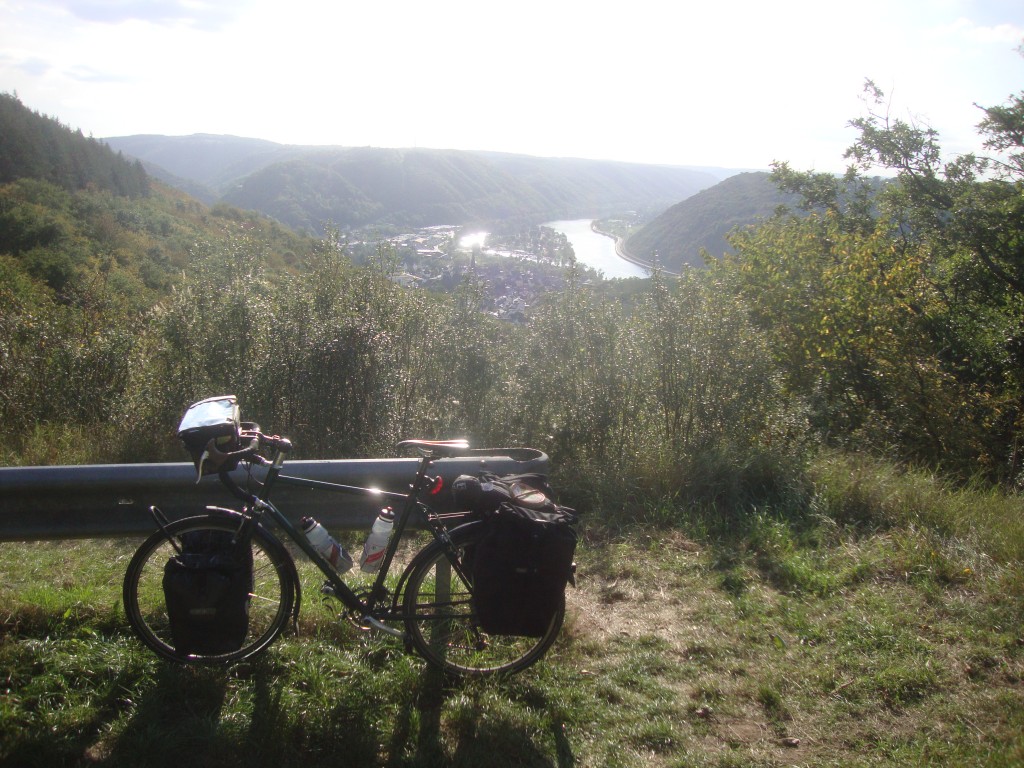 And just there on the brow of the hill was a miraculous apple tree, groaning with fruit.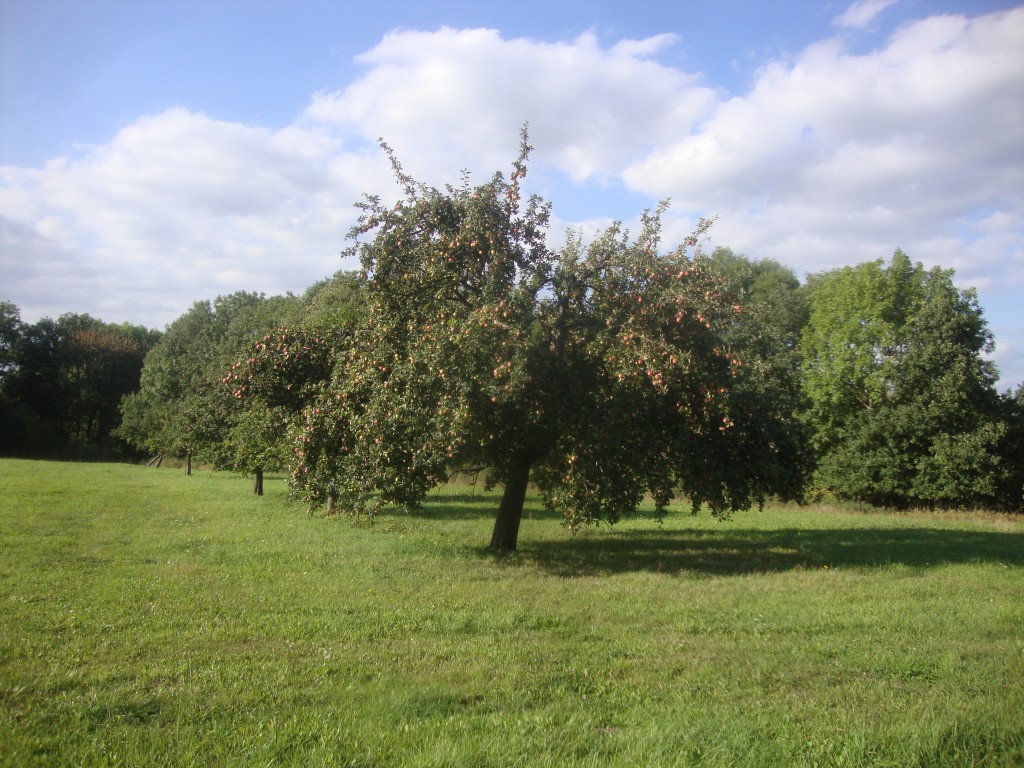 I picked as many apples as I could cram into my panniers. (Filling the space left by the apples I'd scrumped on my way through Kent, and carefully eked out until Tuesday.)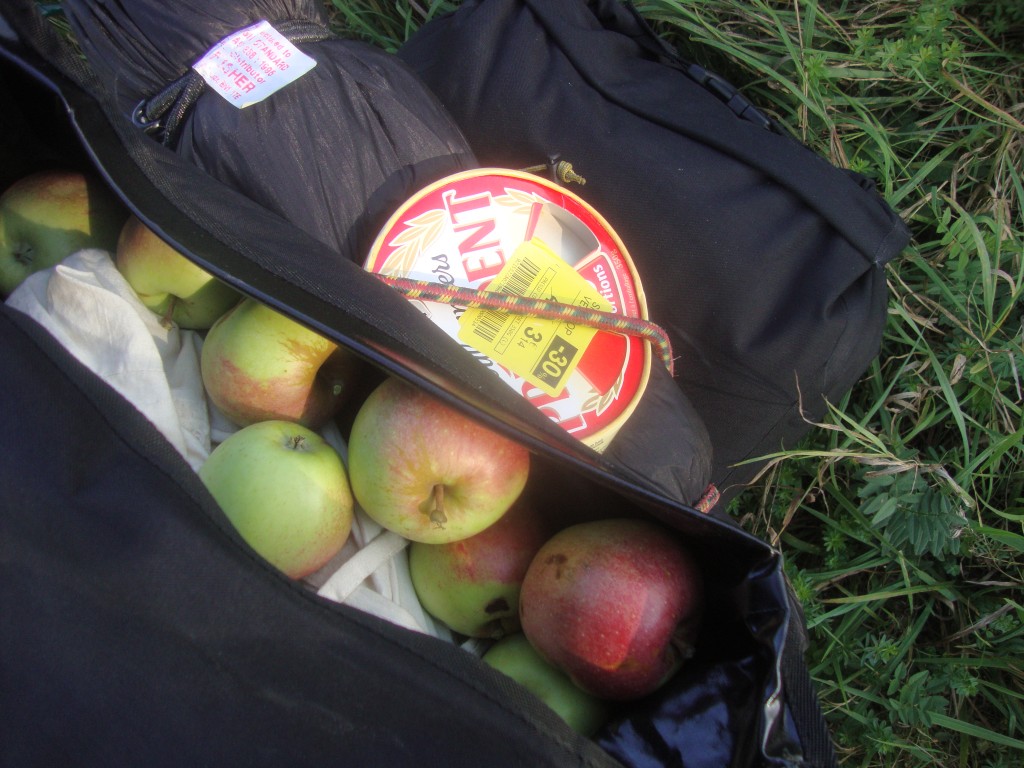 And then I struck out across the plateau, eventually found a pine wood to camp in (another reason why getting lost was actually a stroke of luck – I'd never have found anywhere to hide down in the valleys) and fell asleep at about nine, after watching the sun set from inside my tent (to escape from the midges).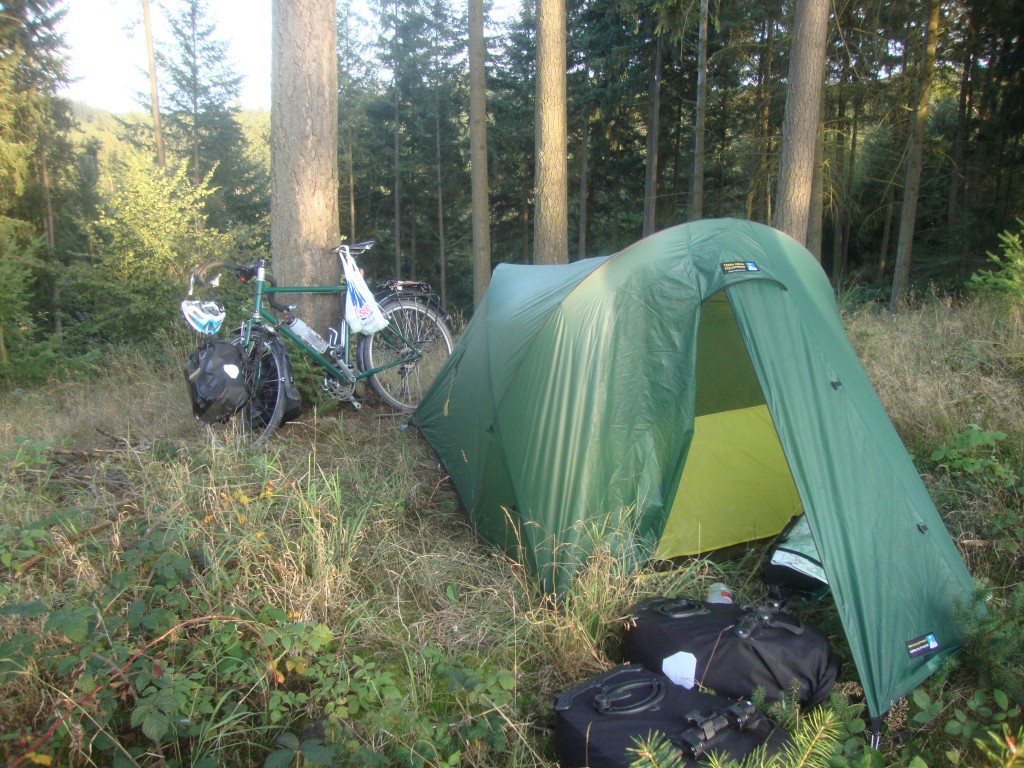 I woke up at six, cycled into a misty sunrise, and was back on the Rhein before lunch. And drinking beer in Frankfurt by teatime, dazed and giggly with exhaustion, and marvelling at how far away and long ago my pinewood campsite already felt, even though I'd woken up there just that morning. I suspect this will be a constant feature of the trip.