Once upon a time, many years ago, when I was eight, my father and I went on an adventure to Glaslyn, a mountain lake about 20 miles from our house. He rode his 1987 Muddy Fox; I rode a tiny pink step-through, with a miniature rack-pack and a Sturmey Archer three-speed hub, of which I was ridiculously proud.
We rode all the way (though I believe I had to walk up some of the hills), and when we got there we pitched the tent in the heather beside the lake. It was like sleeping on a sprung mattress. We shared a sleeping bag, which Dad has clearly regretted ever since, because whenever we tell anyone the story of our adventure (which, needless to say, has ascended into Chappell family mythology), he takes great delight in pointing out how much I farted, and how little sleep he got as a result (leading me to speculate that his immediate discomfort has since been amply offset by the opportunity to embarrass me in front of everyone I've ever brought home).
It's only recently occurred to me that this was my very first experience of cycle touring. I suppose it's only become particularly significant since I decided that this is how I'd be spending the majority of the next five years. (Before I'm tempted to start claiming I was born to be a cyclist, let's remember that I didn't actually learn to ride a bike till I was seven, far later than most of my peers, and there were significant chunks of my youth where I didn't cycle at all.)
Last night, 21 years after our first adventure, I convinced Dad to ride out to Glaslyn again. We took separate sleeping bags this time. We even considered separate tents.
In some ways it was a dry run for my trip, though I do have the nagging feeling that you can't actually prepare yourself very well for something this massive – no matter what teething problems and foolish mistakes you manage to iron out before you leave, there will be just as many waiting for you in the first few weeks on the road.
And as it turned out, it was more of a wet run than a dry run. We knew it was going to rain that night, but wrote a few more hills into the route anyway, and ended up racing nightfall and rainclouds, getting the tent pitched just as darkness fell and the heavens opened. But we still giggled with delight as we sat inside and opened the beers we'd had the foresight to pick up in Caersws. I love my tent, even though I know there'll be times in the next year when I'll be desperate to escape from it. It appeals equally to my yearnings for domesticity and simplicity, and fills me with the same excitement I felt when building treehouses and igloos as a child.
The wind and the rain kept us awake most of the night – but I found I didn't mind at all. I lay and listened to it, and thought about all the other places in the world where I might listen to the rain battering my flysheet, and happily consoled myself that this sleepless night was all part of the process of acclimatization – much like the first night I spent on an Indian sleeper train, miserably trying and failing to lose consciousness. Every time after that, I slept like a baby, as I expect I will in my tent once I've got used to being so close to the elements.
I must have dozed off eventually, because when I woke up the rain was stopping. White misty clouds were rolling past, just above our heads, sprinkling the tent with drizzle from time to time, and then gradually lifting to reveal the lake behind us. By the time we had finished our breakfast I had spotted a couple of improbably patches of blue sky, and as we rode back along the dirt track to the main road, the sun came out.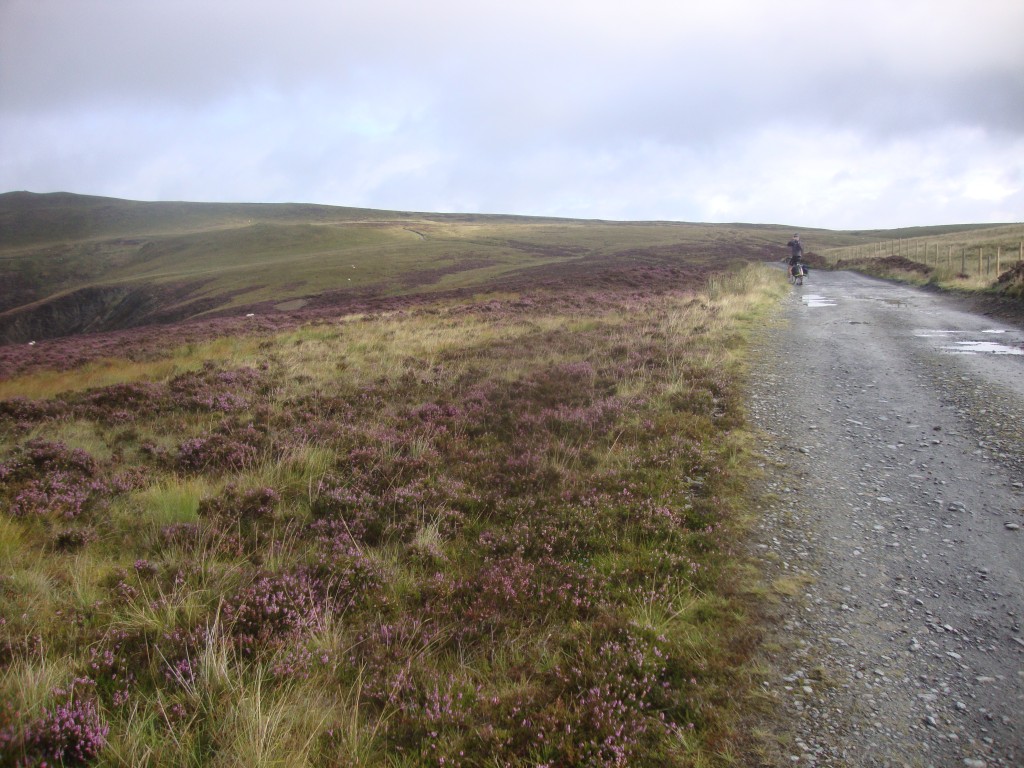 (Incidentally, my bike handled the dirt track beautifully, and even coped with being ridden across the heather in the dark. It's surprisingly stable, even when fully loaded. I'm used to throwing myself around on a track bike, using my weight to steer and so forth, and had assumed I'd have to be a lot more careful riding with this much luggage, but the weight is so well distributed, and the frame so precisely engineered, that I find I can still use lots of the same manoeuvres I did on my fixie, moving my own weight around in relation to the bike without worrying that the panniers will unbalance me. Well done Ryan!)