You're not going to get anything interesting from me till I'm actually on the road, unless you're interested in endless photos of my To Do list and the small handfuls of nuts and bolts and miscellaneous screws I've started picking up from bike shop floors.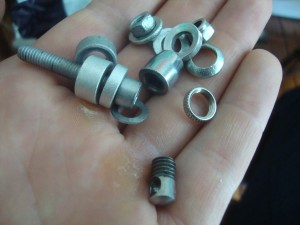 Pre-trip life is tedious. I'm couchsurfing my way through my last week as a courier – during which no couriering is actually taking place, because I fell off my bike a week ago, and my right knee is still twice the size it should be. (My stupidest accident ever – I simply lost my balance and toppled over. Needless to say, there were lots of spectators.) So I'm dutifully alternating between a hot water bottle and a pack of frozen peas, battling with the guilt and glumness of not being able to cycle, resisting the temptation to throw wisdom to the wind and go out on my bike, and trying to get through boring administrative tasks like researching insurance policies and applying for visas.
So until I have tales of adventure and photographs of distant horizons to entertain you with, I recommend you ignore this website and go and read about people who are already on the road. Particularly Loretta Henderson, a solo Canadian round-the-world cyclist who's currently riding the Karakorum Highway. (And oh my goodness, I get butterflies in my tummy when I read her blog. I wish I was there now!) Her website also has a gallery of Women on Wheels – other solo female cycle tourists she's come across. There aren't many, but they do exist.
A friend of mine (who should really know better) recently said he wouldn't be surprised if I ended up in the record books for my circumnavigation. I had to inform him that I'm well over a century too late to be the first woman to cycle round the world. Annie Londonderry did it in 1894. And dozens have done it since then. Rob Penn, in this podcast, reckons that about 200-300 people are cycling round the world at any one time.
"So definitely no records then!" laughed my friend. "Well, you'll have to write a book when you get back."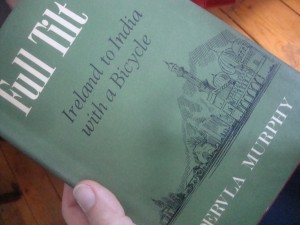 That's slightly more probable – after all, I am rather fond of writing. But there are already an awful lot of books about long-distance cycling. I stole this one from my grandmother's house at the weekend.
If you haven't heard of Dervla Murphy, you're in for a treat. She rode from Dunkirk to Delhi in 1963, through the coldest European winter of the century, and then across Iran, Afghanistan and Pakistan in the summer. She fought off wolves and bandits with her .25 pistol, suffered heatstroke, dysentery and broken ribs, was bitten by scorpions, smoked, drank and swore like a trooper, and covered greater daily distances than I expect I will, riding a singlespeed bicycle and wearing woollen underpants (by which I assume she does not mean the latest advances in technical merino). I read Full Tilt five years ago, and it's only as I reread it today that I realize how much it forms the bedrock of my ambitions and inspiration.
(Dervla Murphy is giving a talk in London on the 15th September, which I am very annoyed to be missing by about a week – but you should definitely go! Buy a ticket now, before they sell out.)
And there are loads of other books. I've already ranted about Anne Mustoe. And you may also have heard of Josie Dew. And more recently there's been a crop of young gentleman cyclist-writers, starting with Alastair Humphreys, who set off on his round-the-world trip more or less ten years before my own departure. There's also Danny Bent, who rode from England to India a couple of years ago, Chris Smith, who rode from Bewdley to Beijing, and Tom Kevill Davies, AKA The Hungry Cyclist. My friend Andy Welch is working on a book about his travels through Europe, the Caucasus and South Asia, and his sometime riding partner Tom Allen has just finished a first draft of his.
Tom also has some sound things to say on whether it is actually worth writing a book about your adventures. And Alastair Humphreys offers some characteristically sound advice on why you shouldn't.
And maybe I won't. After all, there will be far more to this trip anyway than the bits I'm able to tell people about. And there are already so many cycling books around that lots of them are now self-published – not necessarily because they aren't any good, but because the market's close to saturation point. I might get to the end of my trip, (always assuming I'll make it), spend a year writing up my diaries, and then realize I've just reiterated everything everyone else has been saying for the past ten years. Or I might find an entirely new story to tell. We'll have to see.
Perhaps just a blog will be enough.